Masterson to start for Triple-A Indianapolis
With Taillon being called up Wednesday, veteran righty will fill in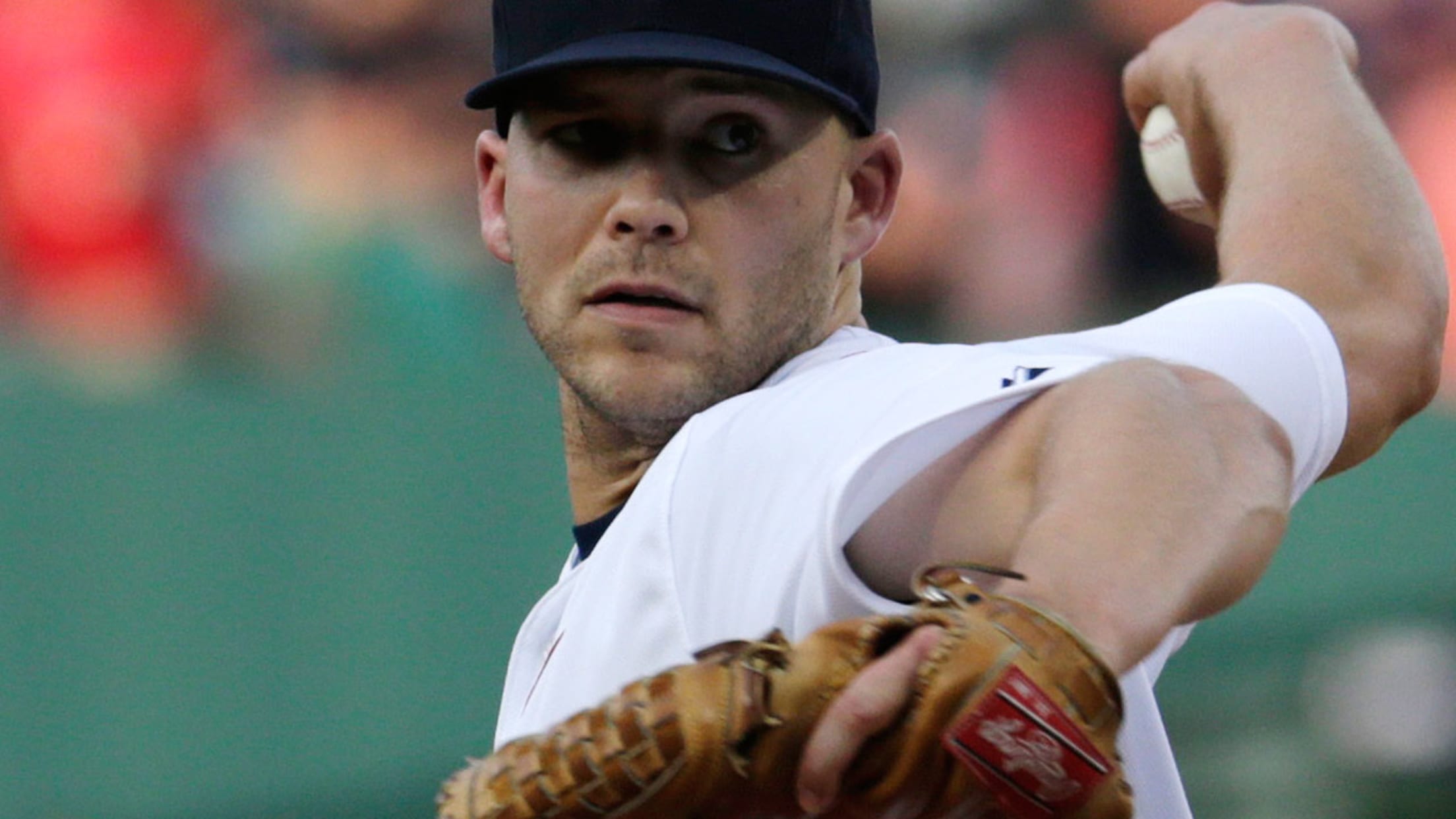 Justin Masterson went 4-2 with a 5.61 ERA in 18 games (nine starts) for the Red Sox in 2015. (AP)
PITTSBURGH -- With Jameson Taillon at least briefly leaving Triple-A Indianapolis' rotation, veteran right-hander Justin Masterson will join the mix.Masterson, signed to a Minor League deal in April, will start for Indianapolis on Wednesday. That rotation spot had belonged to Taillon, but the Pirates' No. 4 prospect will be called
PITTSBURGH -- With Jameson Taillon at least briefly leaving Triple-A Indianapolis' rotation, veteran right-hander Justin Masterson will join the mix.
Masterson, signed to a Minor League deal in April, will start for Indianapolis on Wednesday. That rotation spot had belonged to Taillon, but the Pirates' No. 4 prospect will be called up to make his Major League debut.
Masterson started for Class A Advanced Bradenton on May 29, and he pitched 1 1/3 scoreless relief innings for Indianapolis on Sunday.
The Bucs signed Masterson hoping he would bolster their pitching depth. From 2010-13, the 31-year-old right-hander posted a 4.05 ERA while pitching at least 180 innings per season for the Indians.
"There's positives," general manager Neal Huntington said. "It's still not the power that Justin Masterson had when he was really successful at the Major League level. You still see the life in the fastball, but it's not the mid-90s power-sink that Justin had when he was so successful.
"We're still working to get him back ... to get the mechanics to where he's comfortable with them and build the arm strength. We're still in that phase."
Rotation revamp?
Pittsburgh's rotation shuffle involved more than just slotting in Taillon on Wednesday. Struggling left-hander Francisco Liriano was pushed back from his scheduled start that day until Saturday, the second game of a three-game series against the Cardinals at PNC Park.
The pushback provides Liriano, 1-4 with a 7.43 ERA over his past five starts, with more time to work in between starts.
What will become of right-hander Juan Nicasio after Tuesday's doubleheader start? That remains to be seen. Nicasio could stay in the rotation or move to the bullpen if Taillon remains in the Majors.
"It would be dependent on how he was throwing and how he fit the rest of the club," Huntington said. "That will continue to be our decision process with him. ... Whether it's in the rotation or if we decide that Jameson stays in the rotation, be it now or at some point in the future, what's the strongest five? And then what's our strongest seven [relievers] behind that?"
Around the horn
• Right-hander Ryan Vogelsong, who had surgery on Thursday to repair multiple facial fractures, returned to the Pirates' clubhouse on Tuesday afternoon. He will remain with the team as he continues to recover.
• The Pirates' dress code for their one-day, out-and-back trip to Denver on Thursday was posted on a video screen in their clubhouse Tuesday afternoon. The directions were pretty straightforward: "JEANS OKAY. PENGUINS JERSEY."
The Bucs are fully supporting the Pittsburgh Penguins, who have a chance to clinch the Stanley Cup on Thursday night at Consol Energy Center. The Penguins can become the first Pittsburgh team to win a major sports championship at home since the 1960 Pirates.
• Pittsburgh is expected to call up right-hander Wilfredo Boscan from Triple-A Indianapolis to serve as its 26th man during the second half of Tuesday's doubleheader.