Bucs start 2020 season on road vs. Rays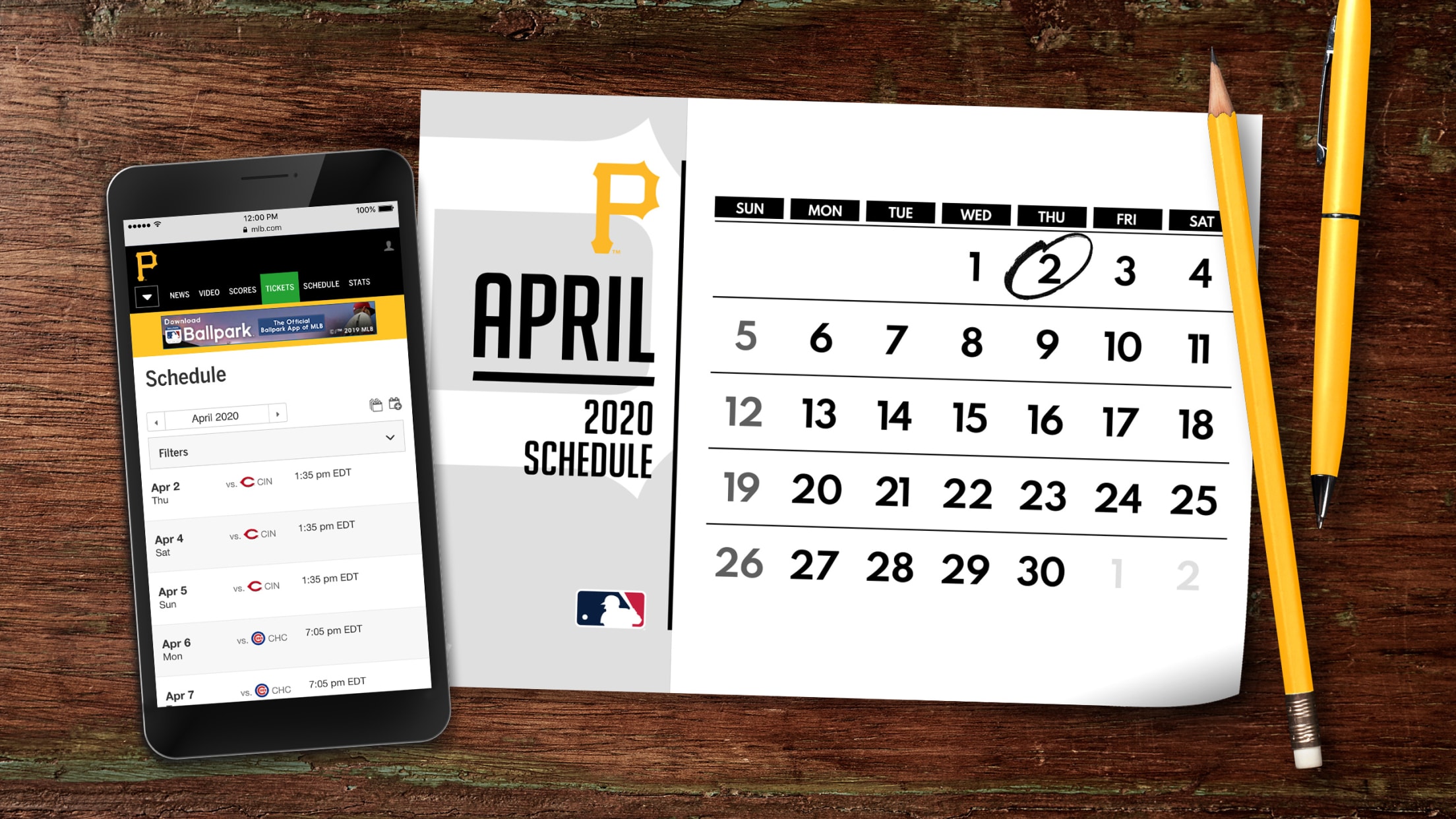 Continuing two recent Opening Day trends, the Pirates will begin the 2020 season on the road with a designated hitter in their lineup. On Monday, Major League Baseball released the 2020 regular-season schedule for all 30 teams. The Pirates won't have to travel too far north of their Spring Training
Continuing two recent Opening Day trends, the Pirates will begin the 2020 season on the road with a designated hitter in their lineup.
On Monday, Major League Baseball released the 2020 regular-season schedule for all 30 teams. The Pirates won't have to travel too far north of their Spring Training home in Bradenton, Fla., when they break camp, as they will start the season at Tropicana Field against the Tampa Bay Rays on Thursday, March 26.
"I had a bunch of friends and family reach out to me," manager Clint Hurdle said, "because most of my family lives in Florida, and we've got a lot of friends on the west coast of Florida that shared with me the significance of us opening at the Trop next year."
It will be the third time in four seasons the Pirates line up in an American League ballpark on Opening Day, having begun the 2018 season in Detroit and the '17 campaign in Boston; it's the fourth straight year Pittsburgh starts away from home.
• Bucs' spring schedule released
Right-hander Chris Archer might feel at home, though, as he made four straight Opening Day starts for the Rays at Tropicana Field from 2015-18. The Bucs could see some familiar faces during that three-game opening series, too, as the Rays are set to bring back former Pittsburgh pitchers Charlie Morton and Tyler Glasnow as well as outfielder Austin Meadows.
"I saw that [St. Petersburg is] where we're going to be," said Archer. "I didn't really put too much thought into it, because there's so much more to be done here. I have, I think, eight or nine starts left. That's all I'm focused on. Next year's not here yet."
With the amount of turnover the Rays have had, the lineup Archer will be facing in March 2020 won't look a whole lot like the squads he played with during his time with the Rays.
"It's a different team," he said. "The teams I played on and spent the most time with ... those dudes, they're not there anymore."
One opening series trend is going to end next year, however. Each of the last three seasons, the Pirates had at least one of their first three games postponed due to inclement weather. That won't happen under the roof at Tropicana Field.
The Pirates' first road trip of the season will take them from St. Petersburg to Chicago, where they'll play three games against the Cubs at Wrigley Field from March 30 to April 1. Then they will head home for their PNC Park opener against the Reds at 1:35 p.m. ET on Thursday, April 2.
The Pirates' Interleague schedule includes visits from the Yankees (June 16-17), Blue Jays (June 19-21), Red Sox (July 3-5) and Tigers (Aug. 18-19). In addition to St. Petersburg, they will travel to Baltimore (April 10-12), New York (May 5-6) and Detroit (Sept. 8-9) for Interleague series.
The Pirates' longest homestand of the season runs from July 31 to Aug. 9 and includes series against the Cardinals, Brewers and D-backs. They will finish the season at home, hosting the Cubs and Reds during a six-game homestand from Sept. 22-27.
Rodriguez placed on injured list
In order to make room on the 25-man roster for Monday starter Mitch Keller, the Pirates placed right-hander Richard Rodríguez on the 10-day injured list with right shoulder soreness, retroactive to Saturday. It's not the first time the reliever has experienced issues with that shoulder -- he was sidelined for 10 days in June 2018 with right shoulder inflammation.
Rodriguez last pitched on Friday against the Cardinals, getting tagged for four runs (three earned) on three hits, including a home run, in a third of an inning. The poor outing ended what had been an excellent run for Rodriguez, who'd posted a 0.35 ERA since June 1. In 54 appearances this season, Rodriguez has a 3.72 ERA and a 1.39 WHIP.
Rodriguez will be eligible to return on Aug. 20, during the Pirates' series at home against the Nationals.
As for Keller, he's likely here to stay this time around, as Hurdle noted the Pirates intend to keep him on the 25-man roster for the remainder of the season.