Pirates' bullpen lets another lead get away
Hudson allows game-winning home run Wednesday vs. Brewers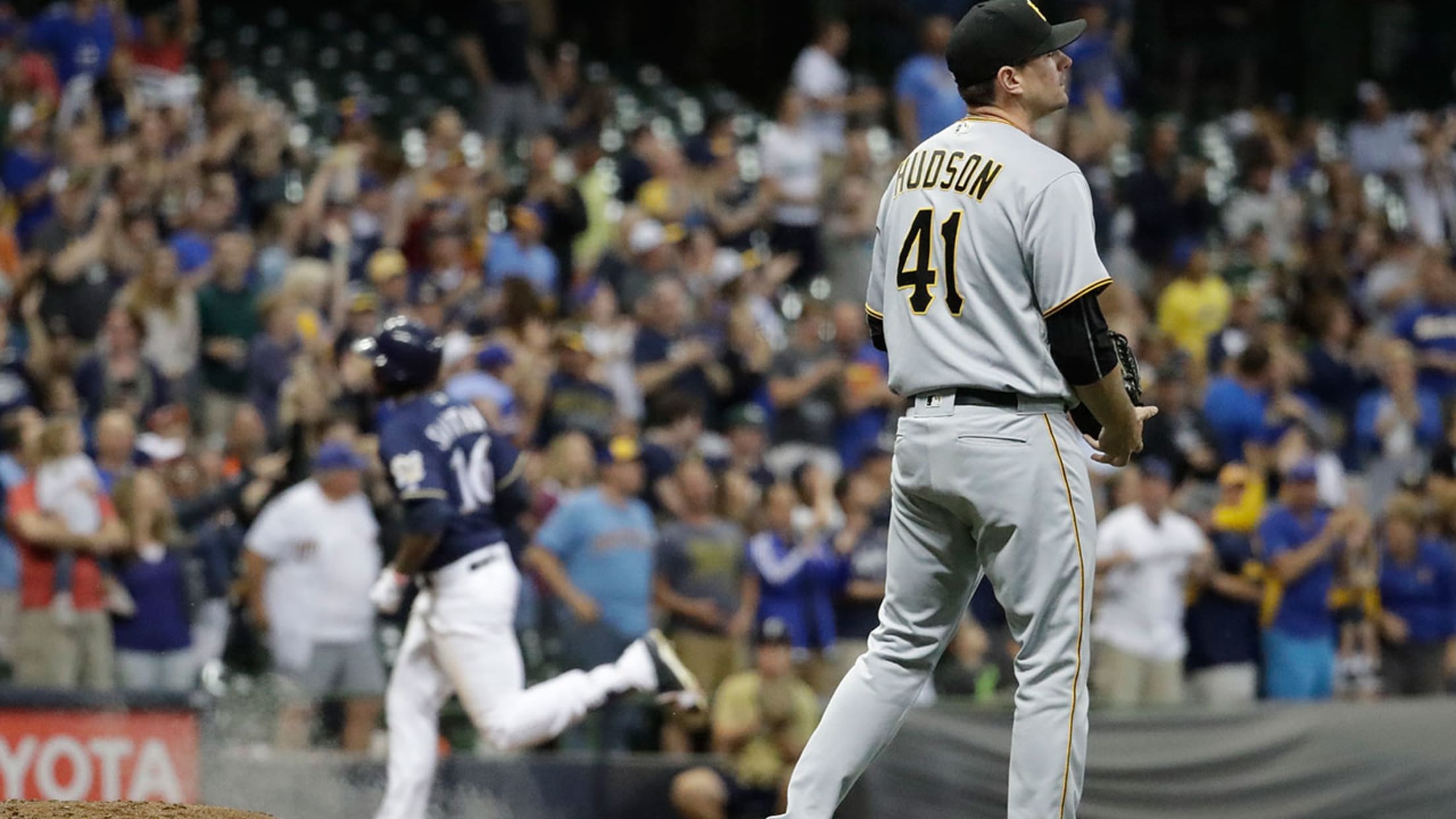 After a string of effecitve outings, right-hander Daniel Hudson allowed a game-winning home run Wednesday vs. the Brewers. (AP)
The Pirates' 4-3 loss to the Brewers on Wednesday night was a microcosm of their last month.Most of the lineup played a part, from Adam Frazier's three hits to Josh Bell's solo home run and a hit apiece from the streaking Andrew McCutchen and Jordy Mercer. Their starting pitching was
The Pirates' 4-3 loss to the Brewers on Wednesday night was a microcosm of their last month.
Most of the lineup played a part, from Adam Frazier's three hits to Josh Bell's solo home run and a hit apiece from the streaking Andrew McCutchen and Jordy Mercer. Their starting pitching was good enough, with Trevor Williams working into the seventh inning.
But their bullpen couldn't finish the job, as Daniel Hudson relieved Tony Watson and served up a go-ahead homer to Domingo Santana with two outs in the seventh inning.
"We had the two guys up to work it the way we wanted to work it," Pirates manager Clint Hurdle said. "We didn't get the result we want."
Rather than pulling within three games out of the National League Central lead with a chance to sweep in Thursday's series finale, the Bucs fell to 33-39 and now sit five games behind the first-place Brewers.
With McCutchen leading their lineup and Felipe Rivero locking down any lead that gets to him, Pittsburgh has won seven of its last 11 games. But as the July 31 non-waiver Trade Deadline draws near, the Bucs must establish themselves as a contender in the NL Central -- and they might be closer to that status if not for a series of disappointing defeats, games that slipped through their fingers.
Watson blew a one-run lead in Atlanta on May 23 and a pair of ninth-inning leads as the Pirates lost back-to-back games in Baltimore on June 6-7. Last Friday, Juan Nicasio entered the ninth with a one-run lead, and the Pirates wound up losing to the Cubs, 9-5. Then came Wednesday.
Given a two-run lead heading into the seventh, Williams allowed the first two batters he faced to reach safely -- Keon Broxton on a single to left and Orlando Arcia on a double. With pinch-hitter Eric Thames on deck, Hurdle called upon the left-handed Watson.
"As a starter, your mentality is you want to finish outings. You never want to come out in the middle of an inning," Williams said. "At the end of the day, I know I did my job as a starter, and I have no problem turning it over to the bullpen."
Watson, the former closer relegated to lower-leverage work a week and a half ago, won both of his lefty-on-lefty matchups. Thames slapped a run-scoring groundout and Eric Sogard struck out. Hurdle continued to play the matchups, calling in Hudson to face the right-handed-hitting Santana.
It's been an up-and-down season for Hudson, but this month had brought mostly the former. Over his previous nine appearances before Wednesday, he had allowed one run in 7 2/3 innings while holding opponents to a .115 average. The demoted setup man had shown enough to be thrust back into the late-innings mix.
Hudson entered with two outs and a runner on second. He fell behind in the count against Santana, 2-0, and his third pitch -- a 96.3-mph fastball -- landed over the right-field fence.
"He did a good job of sitting on it and shooting it that way," Hudson said. "Typically my fastball is more effective at the top of the zone, but you just have to tip your cap to Santana and go get him next time.
"It's tough. Seems like I get going a little but then have a little hiccup like this. It's a bump in the road, and I'll be ready the next time they need me."