Bucs, Reds join to celebrate Father's Day
Clubs don special apparel to raise funds for cancer research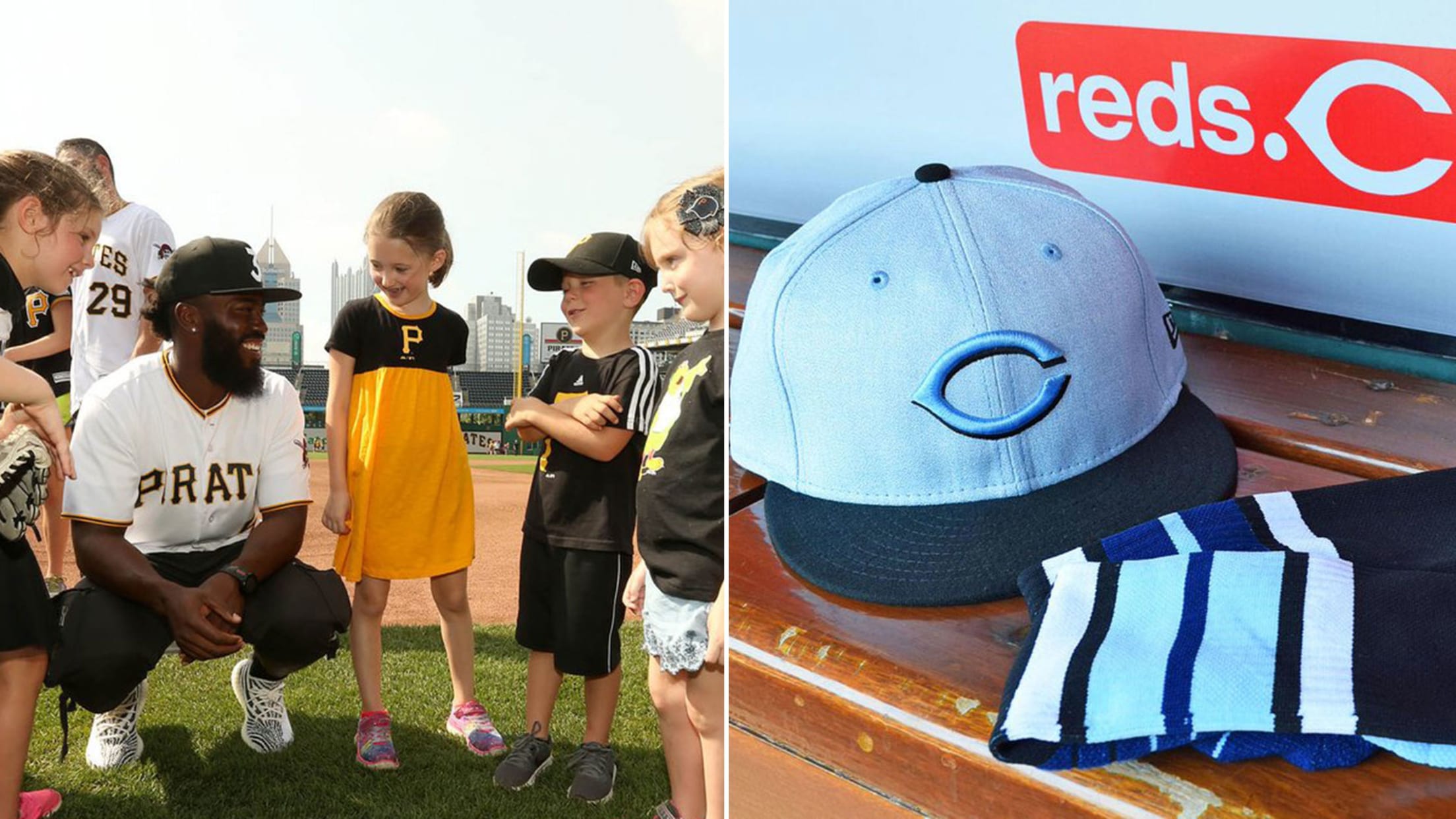 PITTSBURGH -- In honor of Father's Day, the Pirates and Reds continued the league-wide efforts to raise awareness and funds for prostate cancer by wearing special caps and apparel.Both teams sported the symbolic blue ribbon on their jerseys, wore blue caps and special blue fleece hoodies, and had the option
PITTSBURGH -- In honor of Father's Day, the Pirates and Reds continued the league-wide efforts to raise awareness and funds for prostate cancer by wearing special caps and apparel.
Both teams sported the symbolic blue ribbon on their jerseys, wore blue caps and special blue fleece hoodies, and had the option to wear blue-dyed socks. All royalty payments from the sale of the apparel will be donated to the Prostate Cancer Foundation and Stand Up To Cancer.
• Shop Father's Day gear
Father's Day also wraps up the annual Prostate Cancer Foundation Home Run Challenge, which gives fans across the league the opportunity to make a one-time donation for every home run hit by their favorite MLB team from June 1-17. Every dollar donated from the Home Run Challenge goes directly to the Prostate Cancer Foundation to aid cancer research.
The best seat in the house is one next to Dad. 🎟 pic.twitter.com/1AQA0zq3Zh

— Cincinnati Reds (@Reds) June 17, 2018
Pirates second baseman Josh Harrison reflected on what playing on Sunday meant to him. It marked the first Father's Day for Harrison as a father of two, as he welcomed his second daughter to the world last fall.
"It's a special day," Harrison said. "I get to take time to appreciate everything my dad has done for me, and at the same time, try to emulate those same things toward my daughters. It just puts things in perspective to know that we're blessed."
Reds right-hander Jared Hughes -- who is the father of a 1-year-old son and expecting a second child in November -- expounded on what he finds exceptional about being able to play on Father's Day.
"Playing Father's Day baseball is pretty special, especially in the sense that my dad taught me the game," Hughes said. "I do appreciate that and everything he did for me growing up. But it's also special because this game is something that helps me provide for my family. I know it's a huge sacrifice for my wife and family to travel all over the place. They do a great job."
The Pirates and Allegheny Health Network kicked off Father's Day by hosting Catch for Cancer, a fundraiser event for prostate cancer awareness, on the field at PNC Park early Sunday morning.
Fans were encouraged to raise awareness and funds for prostate cancer awareness and then afforded the opportunity to play catch in the outfield. Additionally, they received complimentary tickets to Sunday afternoon's game and met with Harrison, Jameson Taillon and Francisco Cervelli, taking pictures and receiving autographs.
This morning, we partnered with Allegheny Health Network to host
"Catch for Cancer," a fundraising and awareness event for prostate cancer.

Fundraisers played catch on the field and met with @JTaillon19, @jhay_da_man and @fran_cervelli! ⚾️ pic.twitter.com/Ps7rvh7OEZ

— Pirates (@Pirates) June 17, 2018
Harrison, who has participated in the event in years past, said he felt it was important to give back to the people making an effort to help with the fight against cancer. The event also meant a lot for Taillon, who had surgery on May 8, 2017, to treat testicular cancer.
"They're bringing awareness to catching and detecting cancer early," Taillon said. "It's an issue that hits home to a lot of those people that are out there, so I think we all felt it was important to try to meet everybody who was out there for doing such a good job fundraising."
Mason Wittner is a reporter for MLB.com based in Pittsburgh.