PNC Park takes food offerings to a new level
Variety, creativity were on display at Pirates' annual event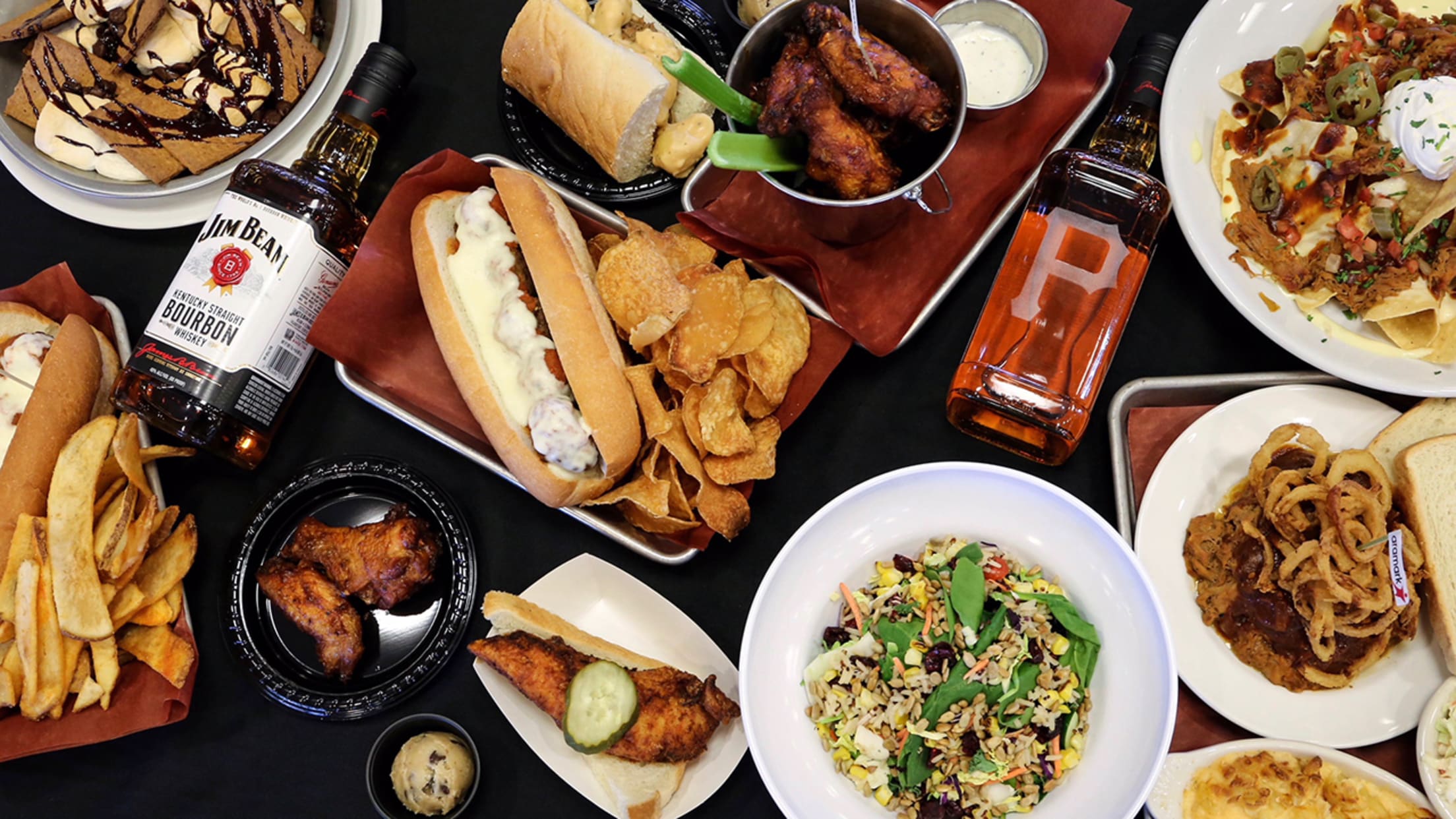 Not too long ago, the term "ballpark food" primarily referred to hot dogs, hamburgers, peanuts, popcorn and Cracker Jack.There certainly isn't anything wrong with continuing to partake in those classics. However, Major League teams have upped their game substantially in recent years when it comes to the variety, creativity and
Not too long ago, the term "ballpark food" primarily referred to hot dogs, hamburgers, peanuts, popcorn and Cracker Jack.
There certainly isn't anything wrong with continuing to partake in those classics. However, Major League teams have upped their game substantially in recent years when it comes to the variety, creativity and deliciousness of the food they make available to their fans.
The Pirates proved that again on Monday.
There weren't any reporters from the Food Network or Bon Appetit magazine at the team's annual "What's New at PNC Park" event -- but had there been they would have come away impressed with the bevy of new offerings that were unveiled.
Levy Restaurants, the Pirates' concessionaire for the premium seating areas, introduced items such as Butcher Baker Cheesemaker (hand cut cheeses and meats with artisan chutneys, mustards and honeys), Turkey Burgers Sliders (with sundried tomato pesto, sautéed mushrooms and smoked gouda cheese on mini brioche buns), Housemade Chaurice Sausage (with roasted spring onion, apple thyme chutney and thick griddled crostini) and a Banana Peppers and Crispy Pepperoni appetizer that Executive Chef Adam Holt called a "real fun gastro pub-style snack."
The most enticing item, however, was the Pittsburgh Paella -- which featured kielbasa made from scratch, pierogis, stuffed cabbage rolls, sauerkraut, peppers and onions displayed in a 3-foot round metal pan with breads, rolls and gourmet mustards to accompany.
"That will be featured on Opening Day in our Lexus Club," Holt said, referring to the Pirates' home opener against the Minnesota Twins at 1:05 p.m. ET on April 2. "But keep an eye on that because we're going to use it in different ways throughout the season. It may turn into a nice stir fry selection one day, or a giant nacho platter for another game. We're going to have a lot of fun with it this year."

Aramark, which provides food service for the general seating areas at PNC Park, also flexed its culinary muscles. Among the exciting items that General Manager Keith Petrie and Executive Chef George Drakulich talked about were Nashville Hot Chicken Taco Trio (breaded hot chicken, slaw, mozzarella cheese and dill pickle chips in flour tortillas) and Pulled Pork Pierogie Hoagie (saucy pulled pork with potato and cheese pierogies topped with crispy onions).
In addition, Aramark unveiled several items that will available in the newly branded Jim Beam Left Field Lounge (formerly the Hall of Fame Club): Vegan Greens and Grains (kale, spinach, roasted corn, carrots, quinoa, brown rice, cranberries and sunflower seeds tossed in a sriracha carrot dressing), Grilled Hawaiian Chicken (lightly seasoned grilled chicken breast on a bed of brown rice-quinoa pilaf topped with pineapple-pepper salsa) and Cookie Dough Sundae (housemade chocolate chip cookie dough, cherry vanilla ice cream, whipped cream and sprinkles).
After the impressive lineup of eats was put on display, Pirates President Frank Coonelly told the members of the media covering the event: "This is the time where we all get to sit down and try out some of these great food items. Happily, we're right at the lunch hour, so help yourself. Please don't leave without having the opportunity to enjoy some of this great food."
Just for the record, no one had to be told twice.
In the nonfood category, the biggest change at PNC Park during the offseason was the renovation of the Pirates Clubhouse Store merchandise shop out in left field. The process involved installing new flooring, fixtures and lighting as well as a new sound system and TV monitors. It also included building a new 650-square-foot exterior addition.

"We have pushed all of the points of sale outside by building this extension to the Pirates Clubhouse Store," Coonelly said. "We picked up 25 percent additional floor space [inside] to have even more great Pirates merchandise and products for our fans to choose from."
"Anything to enhance the shopping experience is what we tried to do here, along with upgrading the overall selection of products that the fans will have the opportunity to buy," added Jason Hill, regional director for Pirates merchandise partner Fanatics. "The new addition will allow fans to have a faster checkout experience -- a better, cleaner checkout experience. It will really help move them through the store so they can get back to enjoying the game and the other festivities."
Jim Lachimia is a contributor to MLB.com.