Heart of the Ballpark: Fred Ortiz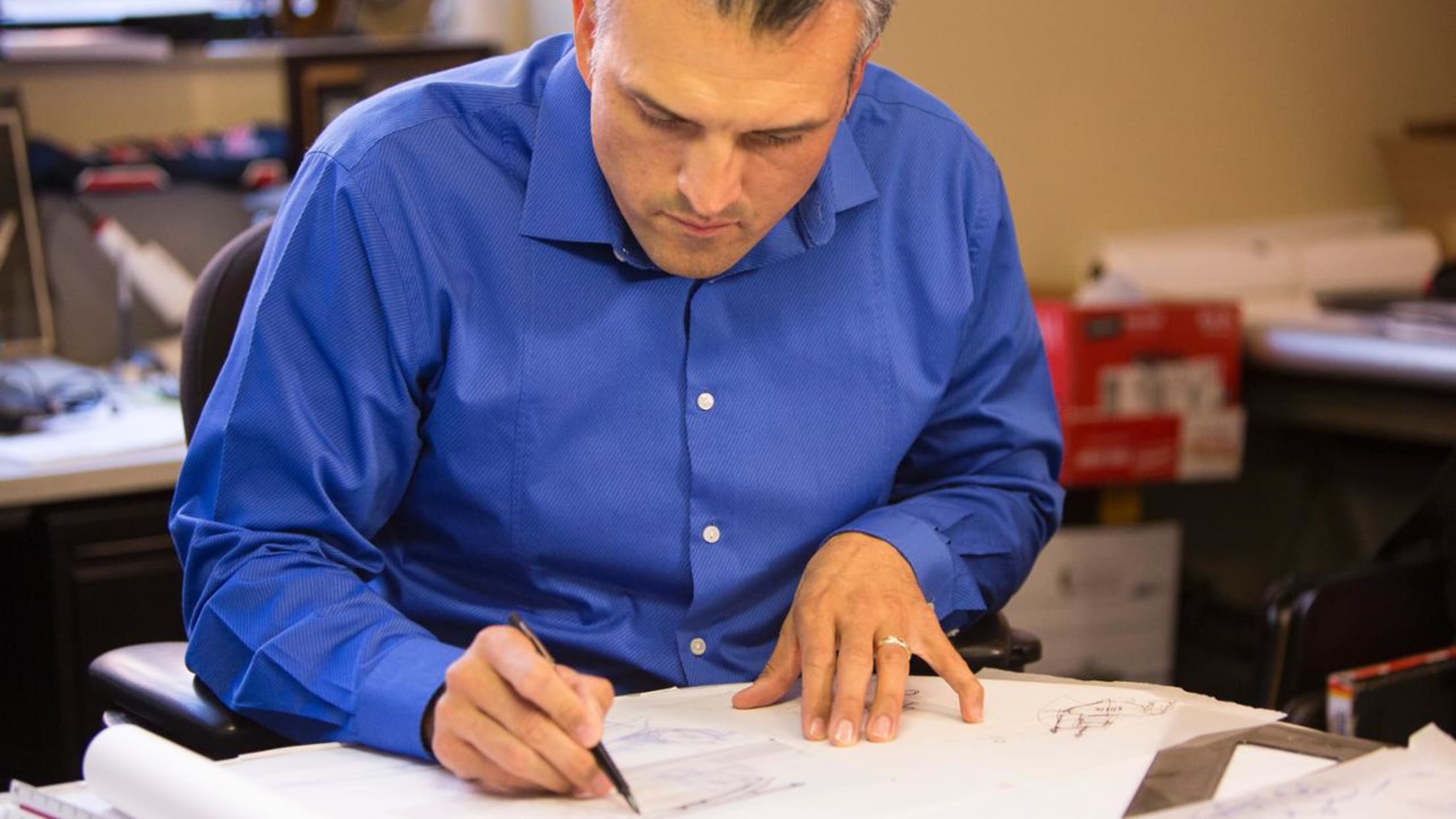 June 10, 2019
At the peak of construction over 1,500 individuals will be on site and working behind the scenes to build Globe Life Field. Take a look at the individuals under the hard hats, underneath the safety vests, and behind the construction of the future home of the Texas Rangers.
#HeartoftheBallpark: Follow along at the Globe Life Field Social Channels:
Facebook: Globe Life Field
Twitter: @GlobeLifeField
Instagram: @GlobeLifeField
Meet HKS Principal Architect Fred Ortiz
HKS Architect Fred Ortiz spent many of his summer nights in college watching Ruben Sierra take the field, Rafael Palmeiro slug a home run to center and Nolan Ryan accomplish the ultimate pitchers' feat, a perfect game.
"I remember walking along the concourse at the old ballpark and seeing the large vomitory and the western light hitting the grass, and the white uniforms the Rangers were wearing. It was just a wow moment, it was awesome," Ortiz said.
Ortiz's sports passion dates back to when he was given the opportunity to play football in college, though after the football program was disbanded following his freshman year, he took the opportunity to further his education.
"I always went into [college] thinking 'wow, I can go to college on a full scholarship, study architecture, and play football," Ortiz remembered. "As an 18-year-old, aspiring to be a tight end for the Dallas Cowboys, I had to drop that dream and I just stayed at UTA and I focused on my education."
While Ortiz dreamed of playing professional football, he also fantasized of a career in architecture. The El Paso native remembers telling his elementary school teacher his dream career was to "draw buildings", and he never let go of that vision.
"I remember as a kid walking through my house and trying to visualize the floor plan, and drawing the floor plan," Ortiz recalled. "Then, when it came to playing sports, like baseball, I would be the one, not just creating a lineup, but I would actually draw the diamond and draw the players' names."
The UTA graduate took his memories from Arlington Stadium, and later Globe Life Park, to create a longer lasting vision, by drawing the athletes he saw on the field in colored pencils and pastels on black canvas.
Ortiz furthered his collection by getting autographs from the athletes, a collection he still holds nearly 30 years later.
"I love my drawings. It's my connection to baseball and that interaction that I had with these major league ball players."
Now a principal architect at HKS, Ortiz has taken his career back to Arlington, working to build the future home of the baseball team that gave him so many memories throughout his life.
While sports architecture isn't necessarily what Ortiz always envisioned, his latest project combines two of his passions, as an athlete and architect.
"I never thought that I'd be doing what I'm doing right now. I get to design beautiful buildings and I've been able to do some really interesting smaller scale projects, but the idea of thinking that I could design a stadium was eye opening," Ortiz said.
When HKS was bidding for the Rangers future home, Ortiz knew he wanted to be part of it. At 1.8 million square feet, Globe Life Field is the largest project the architect has been involved in.
"I love sports and then all of the sudden now I'm someone that can lead an effort and the design on how people are going to get to experience the thing that they love," Ortiz said.
Ortiz is not just designing a sports facility, but a home to the team that he has watched since college, and building another landmark for the city that started his architectural career.
"To build something for the City of Arlington, where I went to school and where I spent so many years of my life, it's like contributing to something bigger," Ortiz said. "I feel very blessed and honored to be part of an architectural firm that has the opportunity to work on a project like Globe Life Field."