What's real and what's not in the AL West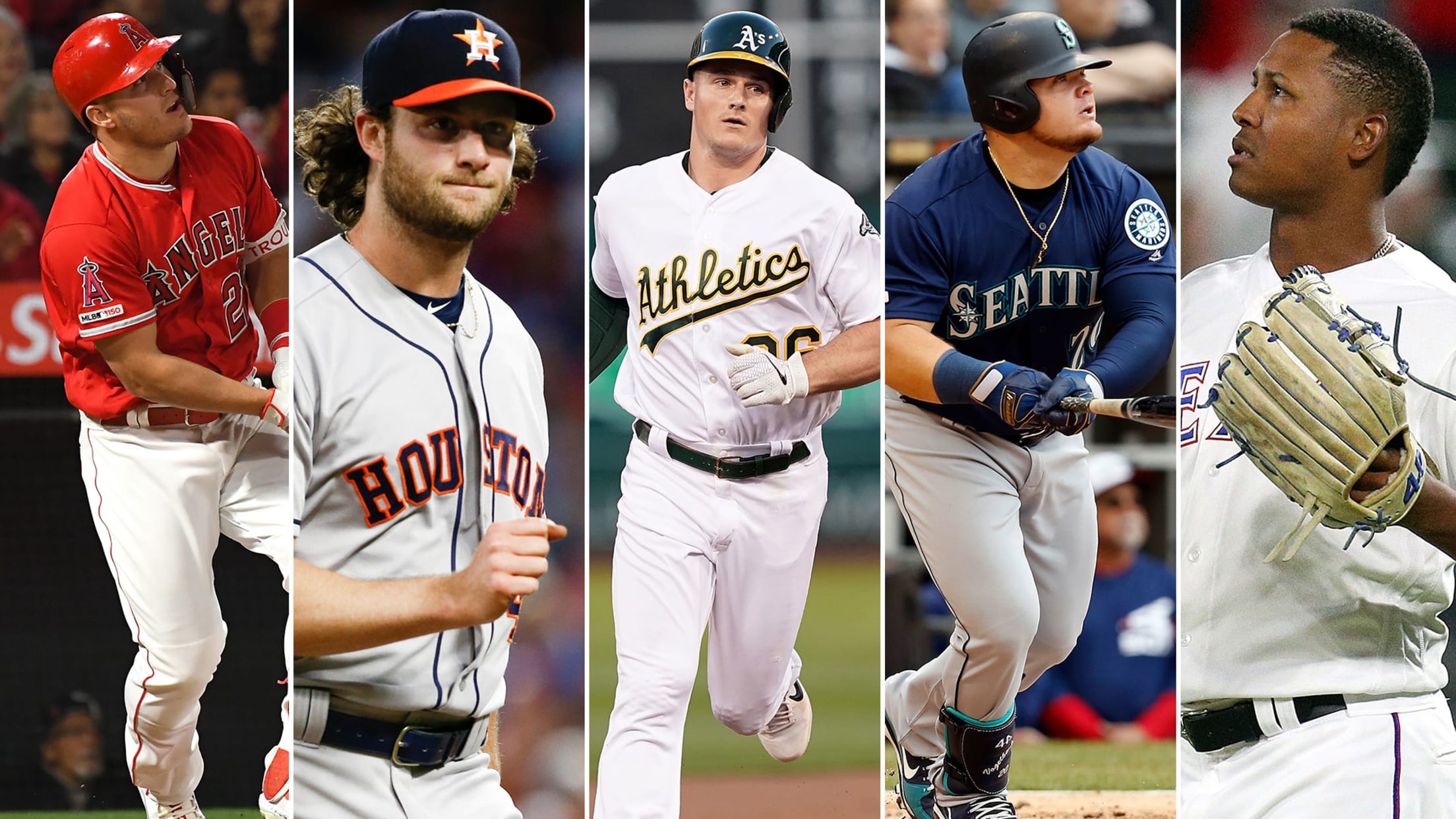 The phrase, "It's early," echoes loudly for both the contenders and pretenders at this stage of the season. Yet as the 2019 regular season prepares to flip the calendar to May, the sample sizes are growing to a point where some of the trends that we've seen are becoming more
The phrase, "It's early," echoes loudly for both the contenders and pretenders at this stage of the season.
Yet as the 2019 regular season prepares to flip the calendar to May, the sample sizes are growing to a point where some of the trends that we've seen are becoming more credible. Essentially, the four-week mark is a good barometer to gauge which of the things that we've seen thus far hold water, and which might soon be an afterthought.
Here's a glance at what's real and what's not for each of the five AL West clubs.
Angels
What's real: Mike Trout has been in a slump by his standards recently, but he's still off to another incredible start this season. Trout has worked to cut down his strikeout rate (down from 20.4 percent in 2018 to 12.5 percent this year), and he's been walking more than ever (up to a whopping 26 percent, by far the highest in MLB). Trout is in his age-27 season and he's showing no signs of slowing down.
Highest walk rate among 186 qualified MLB hitters
1. Mike Trout: 26%
2. Carlos Santana: 18.9%
3. Jason Heyward: 18.4%
4. (tie) Bryce Harper: 17.5%
4. (tie) Juan Soto: 17.5%
What's not: Zack Cozart is hitting .109 with only one extra-base hit, but he's suffered from some bad luck. According to Statcast, Cozart's expected batting average is .190 -- not necessarily what he or the Angels would like, but still a sizable 81 points higher than his actual production. Also, Cozart's average exit velocity is 87.5 mph, which is his highest in a season since Statcast was introduced in 2015. His 18.6 percent strikeout rate is slightly higher than his career average of 16.3 percent, but hits should start dropping in soon.
Astros
What's real: The depth of Houston's offense, which is averaging five runs per game. Five regulars have an OPS higher than .900 -- Alex Bregman, George Springer, Jose Altuve, Josh Reddick and Michael Brantley -- and two others -- Carlos Correa and Robinson Chirinos -- have an OPS higher than .870. And that doesn't include Tyler White, who leads the club with a .435 on-base percentage. The Astros can beat you in a lot of different ways with the bat.
What's not: The so-so starting pitching. Yes, the Astros entered Wednesday with a 4.22 ERA from their starting staff that was middle of the road in the Majors, but back-to-back rough starts by Gerrit Cole (eight earned runs Saturday) and Collin McHugh (nine earned runs on Sunday) have greatly skewed that number. Both had been terrific prior to those outings. Take away those two clunkers, and the starters' ERA is a solid 3.22.
Athletics
What's real: Matt Chapman's offensive breakout. We saw the seed being planted during the second half of 2018, specifically after the All-Star break, when he hit .309 with 14 home runs and a .961 OPS. Now, his ability to get on base is reaching an elite level. Chapman has a .407 OBP while slashing .311/.407/.633, with eight homers. Entering his prime at 26 years old, Chapman's bat is catching up to his AL Gold Glove Award-winning defense, and he's emerging as one of the top players in the game.
What's not: Joakim Soria's 7.30 ERA. Soria has never finished a season with an ERA above 4.05. At 35, he is getting older, but the right-hander still carries a lively fastball that works well in the back-end of the bullpen. His 7.30 ERA through 14 games is inflated due to a few bad outings, including a blown save in Wednesday's loss to the Rangers. A deeper look will reveal that he's only allowed runs in four appearances, but four runs were allowed in two of those three.
Mariners
What's real: Domingo Santana's hot start. The 26-year-old won't likely keep up his AL-leading RBI pace after 27 in his first 25 games, but the rest of his numbers are actually pretty similar to what he put up in a breakout 2017 season with the Brewers, when he hit .278/.371/.505 with 30 homers and 29 doubles in 151 games. Santana's line this year is .306/.372/.491, and he's on pace for 30 homers and 30 doubles, so those numbers are certainly possible as he appears fully recovered from his 2018 struggles.
What's not: Daniel Vogelbach's .783 slugging percentage and 1.238 OPS. The 26-year-old certainly appears capable of being a quality designated hitter, and his combination of power (eight homers) and batting eye (15 walks) in his first 77 plate appearances are intriguing indeed. But to be realistic, some regression is in order unless the Mariners just discovered a better combination of Ken Griffey Jr. and Edgar Martinez in their primes. Griffey set the franchise record for slugging percentage in 1994 at .674, while Martinez owns the top OPS of 1.107, set in '95.
Rangers
What's real: The Rangers have a 5.62 team ERA, ahead of only the Orioles. Texas has real pitching issues. Three starters are coming off Tommy John surgery and Edinson Volquez is already on the injured list with a sprained right elbow. Drew Smyly and Shelby Miller are still trying to get on a roll. Spring Training injuries to Luke Farrell and Yohander Mendez, and Jason Hammel's unexpected retirement were big blows to their depth.
The bullpen also has issues. Closer Jose Leclerc has struggled with his fastball command, and veterans Jeanmar Gomez and Jesse Chavez have been roughed up as well. The Rangers have four rookies on the staff -- starter Adrian Sampson and relievers Brett Martin, Kyle Dowdy and Jeffrey Springs -- who are unproven and taking on key roles.
What's not: Nomar Mazara is off to a sluggish start offensively, but that should change. He is too talented to let this slow start linger as the weather turns warm. Joey Gallo and Delino DeShields have heated up and Mazara should as well. As if to prove it, he homered twice in Wednesday's 6-5 loss to the Athletics.