Pelham among prospects to be called up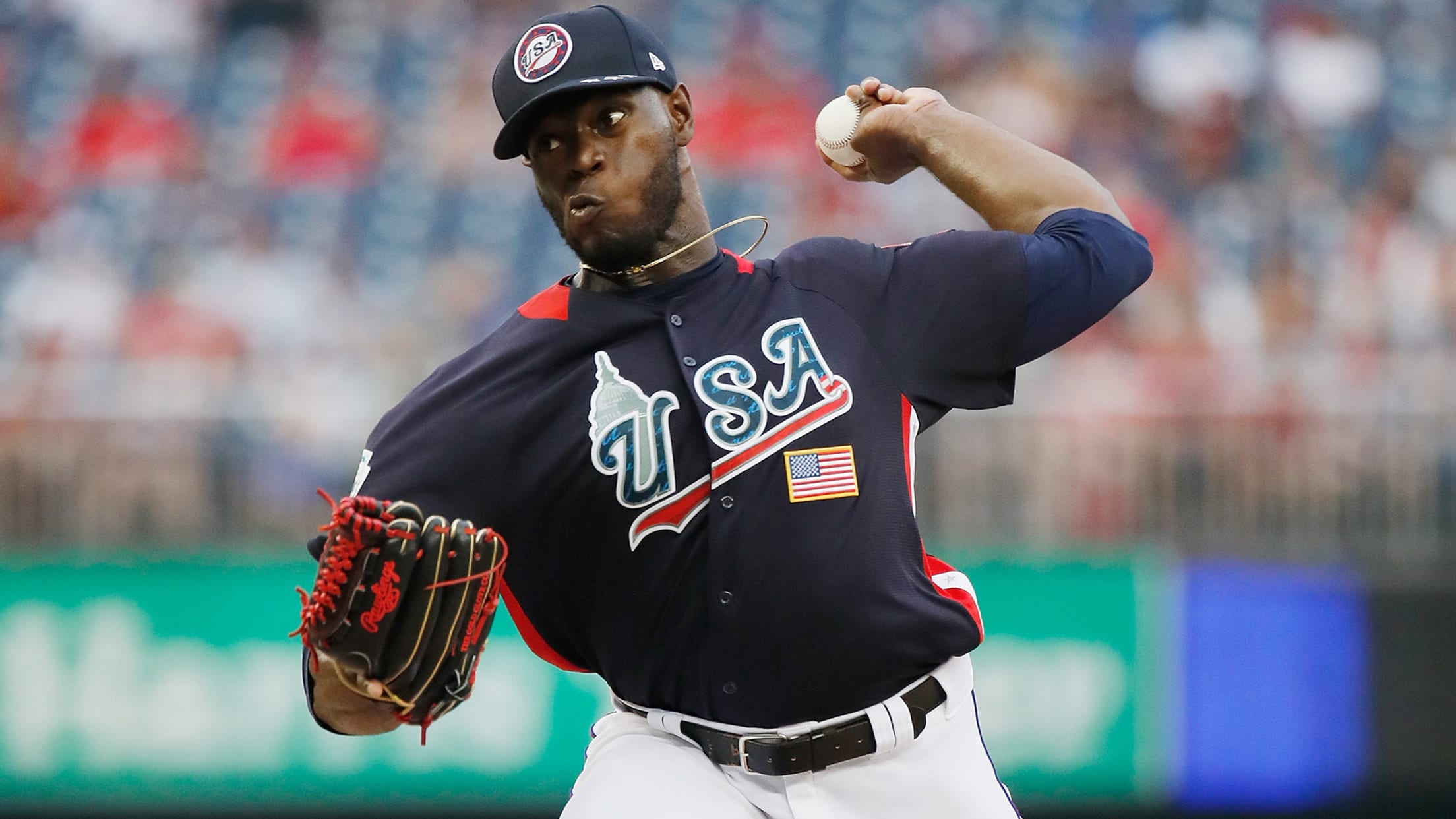 WASHINGTON, DC - JULY 15: C.D. Pelham #58 of the Texas Rangers and the U.S. Team works the eighth inning against the World Team during the SiriusXM All-Star Futures Game at Nationals Park on July 15, 2018 in Washington, DC. (Photo by Patrick McDermott/Getty Images) (Patrick McDermott/Getty Images)
ARLINGTON -- Left-handed reliever C.D. Pelham has completed a meteoric rise through the Rangers' farm system and will be among the September callups.Pelham, a 33rd-round pick in 2015 out of Spartanburg (S.C.) Methodist College, will join the Rangers on Tuesday along with outfielder Willie Calhoun, and pitchers Adrian Sampson and
ARLINGTON -- Left-handed reliever C.D. Pelham has completed a meteoric rise through the Rangers' farm system and will be among the September callups.
Pelham, a 33rd-round pick in 2015 out of Spartanburg (S.C.) Methodist College, will join the Rangers on Tuesday along with outfielder Willie Calhoun, and pitchers Adrian Sampson and Austin Bibens-Dirkx. Infielder Hanser Alberto will be activated off the disabled list.
Pelman, the Rangers' No. 16 ranked prospect according to MLB Pipeline, began the year at Class A Down East and pitched in 23 games with a 1.95 ERA and 34 strikeouts in 27 innings. He was promoted to Double-A Frisco midway through June, and had a 6.16 ERA with a 1.74 WHIP in 24 games.
"He's always been extremely athletic and had a big arm," general manager Jon Daniels said. "Got some confidence and pounded the strike zone. Pitched in the upper 90s; slider really effective, like the way it plays off the fastball. This last month in Frisco, he had a little bit of a transition period.
"We'll expect he'll have it here as well. I think most likely he'll be in camp next year, and we'll see where we are. He'll get more seasoning next year, but good opportunity to come up here and see the speed of the game and the environment. He's a guy that we see factoring in for us in a significant way down the road."
Sampson joined the Rangers on Nov. 2, 2016, when he was claimed off waivers from the Mariners. At the time he was coming off Tommy John elbow reconstruction surgery and the Rangers knew it would be a two-year process. He earned September consideration by going 8-4 with a 3.77 ERA and a 1.27 WHIP in 19 starts and 14 relief appearances at Round Rock.
"We'll take a look at him," Daniels said. "It's been a long road back. I think he could make a start here at some point. He may come out of the bullpen. Long road back from surgery. We'll have him here as a starter option -- our initial thought."
Calhoun, the second-ranked prospect in the organization, was expected to be a callup, but his playing time will be limited because of the Rangers' crowded outfield. He is a left fielder and the Rangers have both Joey Gallo and Shin-Soo Choo in front of him.
"Come up here and continue the work that Willie's been doing," Daniels said. "There may be some at-bats, but it won't be regular at-bats for him, as we're constructed right now. Right now, we've got somebody that sits on a regular basis. It won't be regular at-bats for him as of today. An injury could change that."
Daniels said there were others who received consideration. Among those passed over were pitchers Jonathan Hernandez, Chris Rowley and Ricardo Rodriguez. All three are on the 40-man roster.
"We talked about a number of guys," Daniels said. "We don't have spots for all of them."
Sampson and Pelham had to be added to the 40-man roster. The Rangers had only one spot open so right-hander Andrew Hutchison was taken off and outrighted to Round Rock. That effectively ended his audition for a spot in the Rangers' 2019 rotation.
Rangers beat
• Class A Spokane in the short-season Northwest League was the only Rangers' Minor League team to reach postseason. The Indians won the second half of the North Division to advance to the Northwest League playoffs.
• The Rangers team in the Dominican Summer League is in the finals against the Rays. That best-of-five series is tied 2-2 with the championship game scheduled for Tuesday.
• Left-handed pitcher Joe Palumbo was scratched from Monday's start for Double A Frisco because of fatigue. He will continue his recovery from Tommy John elbow reconstruction surgery in the Instructional League.