Palumbo allows 7 runs in 2nd career start
Rookie left-hander lasts 2-plus innings in defeat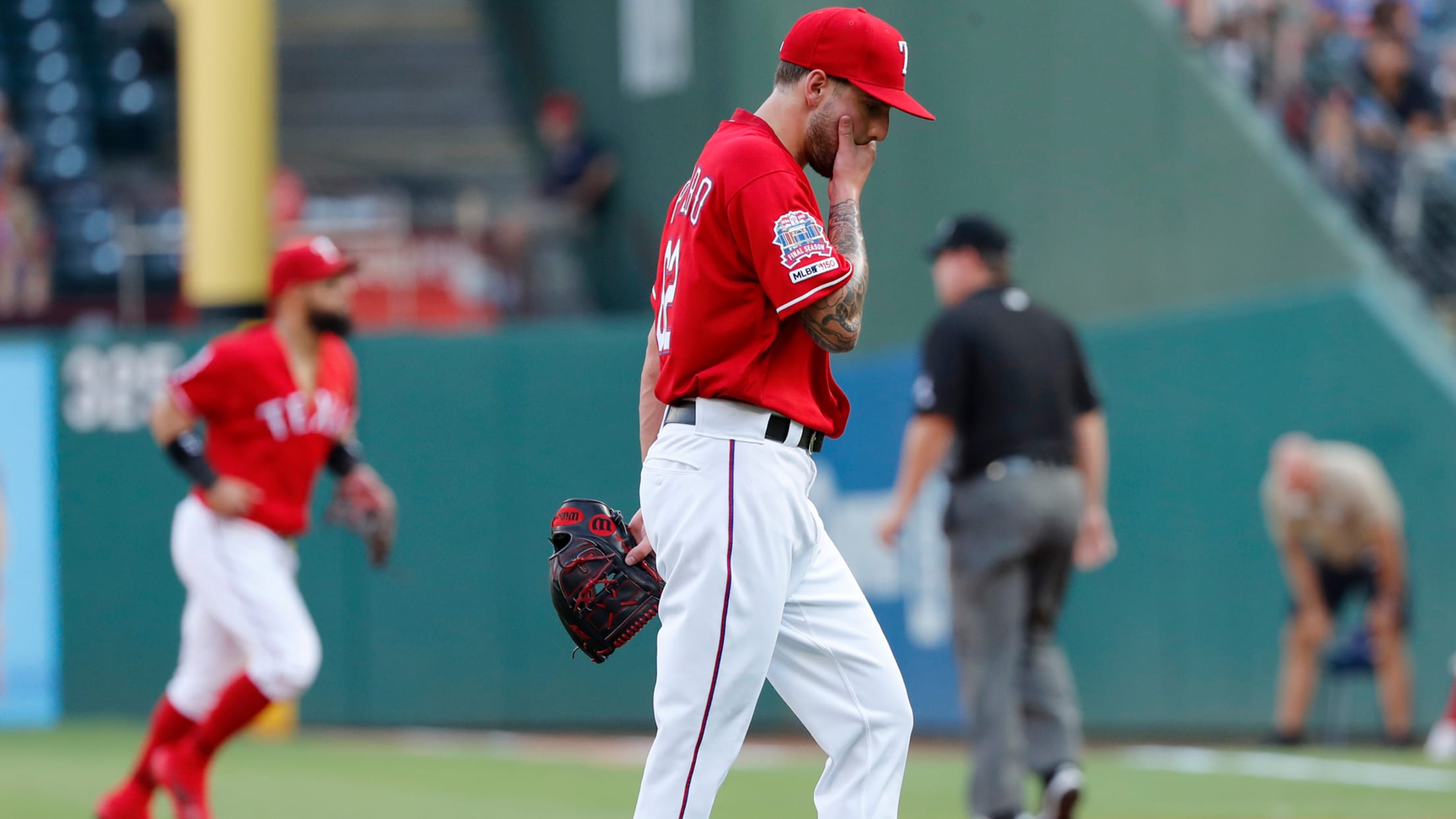 ARLINGTON -- This was not supposed be a spot start for rookie left-hander Joe Palumbo. Both manager Chris Woodward and general manager Jon Daniels said the Rangers wanted to take a good look at Palumbo this time around. The Rangers may be rethinking that after Palumbo, called up from Double-A
ARLINGTON -- This was not supposed be a spot start for rookie left-hander Joe Palumbo. Both manager Chris Woodward and general manager Jon Daniels said the Rangers wanted to take a good look at Palumbo this time around.
The Rangers may be rethinking that after Palumbo, called up from Double-A Frisco for Wednesday night's game at Globe Life Park, allowed five runs in the first inning and two more in the third in a 10-4 loss to the Indians.
Jesse Chavez is the other factor entering the Rangers' deliberations. Chavez, who is supposed to be a setup reliever, picked up the Rangers bullpen by going five innings, allowing one run and throwing 59 pitches on Wednesday. His work was a reminder that Chavez has made 74 starts in his 12-year career, possibly giving Texas another starting option if it chooses to subtract from the bullpen.
Chavez has a 0.58 ERA and 0.94 WHIP in his last 21 appearances dating back to the beginning of May. That's getting harder to ignore now that he is getting stretched out. He threw 47 pitches over three scoreless innings in his previous outing against the Reds last Friday.
"It's hard not to [consider]," Woodward said. "It's definitely an option. We are going to discuss it and see what makes the most sense. Chavez has done a great job for us all year, especially the last couple of months."
This was Palumbo's second start for the Rangers. He allowed four runs in four innings in a start against the Athletics on June 8. In that one, he threw three scoreless innings before allowing four runs in the fourth.
That was the first game of a doubleheader and was only a spot start, but the Rangers liked what they saw and decided to give him another shot after deciding it was time for Drew Smyly to work out his troubles in the bullpen. Palumbo is ranked as the No. 7 prospect in the Rangers' farm system by MLB Pipeline, but Woodward admitted how he responds to an outing like this is a concern.
"Young kid goes out and gives up seven," Woodward said. "We have to be mindful of his psyche. I don't want this to snowball into something that will prevent him from having success. We'll talk about it as a staff and see what the best option is."
Palumbo did seem to take the loss hard.
"Tough go today," Palumbo said. "I let the team down today. I wish I could have been better."
Palumbo ran into trouble right away, as Francisco Lindor smacked his first pitch into left field for a single. Oscar Mercado bunted Lindor to second and Carlos Santana brought the Indians' star shortstop home with a single to center. Palumbo then hit Jordan Luplow with a full-count pitch and retired Jose Ramirez on a pop to short.
Then with two outs, Palumbo got ahead, 1-2, to Jason Kipnis, a left-handed hitter who entered the game hitting .187 against southpaws. But Palumbo put a curveball in the heart of the strike zone and Kipnis crushed it over the Rangers' bullpen in right-center field for a three-run home run. It was his first home run off a lefty this season and second in his last 137 at-bats going back to last season.
"The breaking ball that Kipnis hit out was elevated," Woodward said. "Just looked like a bad pitch."
Roberto Perez followed with a home run on a 2-0 fastball, this one an opposite-field shot down the right-field line that snuck just inside the foul pole. Palumbo pitched a scoreless second, but he walked Santana to open the third. Luplow doubled home Santana and scored on a single by Ramirez. Palumbo's night ended with a walk to Kipnis.
"I think they did a really good job looking to attack his fastball clearly from the first pitch of the game," Woodward said. "They didn't miss too many off them. They were all over him. They were not letting the fastball get by without having a good rip at it."
The Rangers now have to decide what's next for Palumbo. They have an off-day on Monday, which is five days from now and gives the Rangers an opportunity to skip that spot in their rotation. After that, they have 13 games in 13 days heading into the All-Star break.