Top farm systems: Middle infielders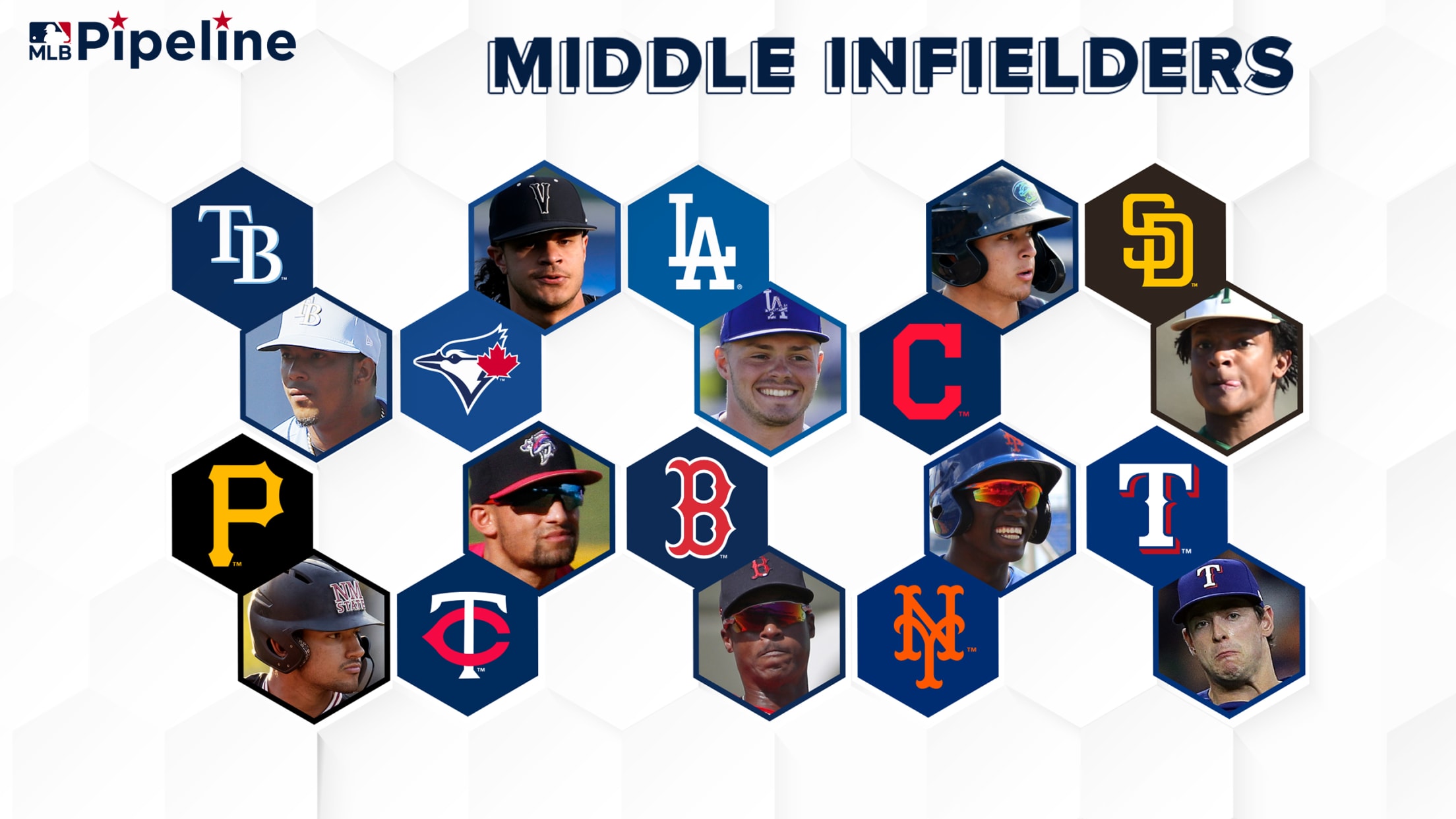 After beginning our deeper dive into all 30 farm systems by ranking the top organizations at catcher and corner infield, it's now time to move to the middle infield positions. Below are our top 10 rankings of the systems with the best middle infielders, with the top such prospect for
After beginning our deeper dive into all 30 farm systems by ranking the top organizations at catcher and corner infield, it's now time to move to the middle infield positions.
Below are our top 10 rankings of the systems with the best middle infielders, with the top such prospect for each organization in parentheses. We're operating under the assumption that all players selected in the 2020 Draft will sign pro contracts.
1. Rays (Wander Franco)
Franco, MLB Pipeline's No. 1 overall prospect, is one of three switch-hitting Rays middle infielders on the Top 100, along with Vidal Brujan (No. 45) and Xavier Edwards (No. 72). That Tampa Bay's Top 30 list features three more switch hitters in Greg Jones (No. 10) -- the club's first-round pick from the 2019 Draft -- Taylor Walls (15) and Lucius Fox (25) speaks to the type of athletic, versatile players the club likes to target and develop. Arizona State shortstop Alika Williams, whom the Rays selected with the 37th overall pick in this year's Draft, certainly fits that bill.
2. Blue Jays (Austin Martin)
Martin ranked second only behind No. 1 overall pick Spencer Torkelson on the Draft Top 200 but ultimately fell into the Blue Jays' lap with the No. 5 pick. Revered by scouts as the best pure hitter in this year's class, Martin gives the Blue Jays a dynamic up-the-middle talent to go along with 2018 first-round pick Jordan Groshans, No. 75 on the Top 100. Overall, the Blue Jays have nine middle infielders on their current Top 30 list. That group includes six international signees, two of whom (No. 6 Orelvis Martinez and No. 18 Rikelvin De Casto) received seven-figure bonuses.
3. Dodgers (Gavin Lux)
Dodgers fans got their first look at Lux, MLB Pipeline's No. 2 overall prospect, last fall after the former first-round pick (2016) tore up the upper Minors. Michael Busch, the club's first-rounder from '19, was viewed by scouts as one of the better pure hitters in his class and currently ranks sixth on the Top 10 second basemen list. Lux and Busch help comprise a group of six middle infielders on the Dodgers' Top 30 list.
4. Indians (Tyler Freeman)
The Indians' system boasts one of the deeper middle-infield crops in baseball, with eight such players appearing on the club's Top 30 list. While Freeman (No. 96 on Top 100) and No. 7-ranked second baseman Aaron Bracho are the headliners, the Indians also have four middle infielders in their Top 10 (No. 6 Brayan Rocchio and No. 10 Gabriel Rodriguez) and two more with upper-level experience (Yu Chang, Ernie Clement). What's more, Cleveland added another athletic infielder in the first round of this year's Draft when it took prep shortstop Carson Tucker, the younger brother of Pirates shortstop Cole Tucker, with the No. 23 overall pick.
• Best farm systems: Catchers | Corner infielders | Outfielders | Left-handed pitchers | Right-handed pitchers
5. Padres (CJ Abrams)
Abrams, whom San Diego selected with the No. 6 pick in the 2019 Draft, was ranked as MLB Pipeline's No. 25 overall prospect ahead of his first full season after the ultra-athletic shortstop garnered Rookie Arizona League MVP honors in his pro debut. He gives the organization another exciting middle-infield prospect to go along with Gabriel Arias (No. 10), a plus defender with a cannon arm and untapped offensive potential who signed for $1.9 million in July 2016. Fellow international signees Tucupita Marcano (No. 12) and Reginald Preciado (20) both show promise on both sides of the ball, and Owen Miller (11) and Jake Cronenworth (17) are high-probability big leaguers.
6. Pirates (Nick Gonzales)
The Pirates were thrilled to find New Mexico State's Nick Gonzales, the 2019 Cape Cod League batting champion and one of the more revered all-around hitters in the 2020 Draft, still on the board for them with the No. 7 pick. His bat and profile provide the organization with a nice complement to current top prospect Oneil Cruz (No. 64 on Top 100), a high-risk, high-reward, 6-foot-7 shortstop with a truly explosive left-handed bat. Nineteen-year-old Liover Peguero (No. 5 on the Pirates Top 30 list) has a big up arrow next to his name after coming over from Arizona in the offseason Starling Marte trade, and the club has a Top 10 second baseman in speedster Ji-Hwan Bae (No. 11).
7. Twins (Royce Lewis)
Lewis, the No. 1 overall pick in the 2017 Draft, is No. 9 on the Top 100 and No. 3 on the Top 10 SS list. He reached Double-A as a 20-year-old in 2019, then took home MVP honors in the prestigious Arizona Fall League, where he played a host of positions, including third base and center field, for the first time. 2019 first-round pick Keoni Cavaco (No. 7) and seven-figure international signee Wander Javier (No. 8) join Lewis inside the Twins' Top 10 and help to former a larger group of seven middle-infield prospects on the club's Top 30 list.
8. Red Sox (Jeter Downs)
Not only do the Red Sox have Downs, currently No. 44 on the Top 100 and No. 8 on the Top 10 SS list, they also have a pair of former second-round picks inside the top half of their Top 30 list in Matthew Lugo (No. 11) and C.J. Chatham (No. 13). Not far behind those two on Boston's Top 30 are switch-hitter Brainer Bonaci (No. 15), a very promising teenage prospect whom the club signed during the 2018-19 international period, and 2019 second-rounder Cameron Canon (No. 17). It shouldn't be long until 2020 first-round pick Nick Yorke, a second baseman from the California prep ranks, enters the mix.
9. Mets (Ronny Mauricio)
As the only team on this list with two Top 100 prospects in Mauricio (No. 62) and Andres Gimenez (No. 84), the Mets stand out more for their impact middle-infield talent than their overall depth. Outside of the duo, the club has just two other middle infielders in its Top 30 in Shervyen Newton (No. 15) and Carlos Cortes (No. 22), though the former, a switch-hitter, does show quite a bit of promise at the plate.
10. Rangers (Nick Solak)
The Rangers don't have a Top 100 representative up the middle, though they do have the No. 6 prospect on the Top 10 2B list in Nick Solak, a 2019 mid-season trade acquisition from the Rays, who posted an .884 OPS with five homers and 17 RBIs in his first Major League audition. The Rangers' No. 5 prospect also is one of eight middle infielders on the Rangers Top 30 list, headlining a group that includes international standouts Maximo Acosta (No. 6), Anderson Tejada (No. 8) and Osleivis Basabe (No. 19), as well as former top Draft picks such as Jonathan Ornelas (No. 27) and 2017 first-rounder Chris Seise (No. 28). The club also added one of the top middle infielders in the 2020 Draft in Justin Foscue, taking the Missouri State second baseman with the No. 14 pick after he ranked 32nd on the Draft Top 200.