Rangers GM takes stock of Texas' season so far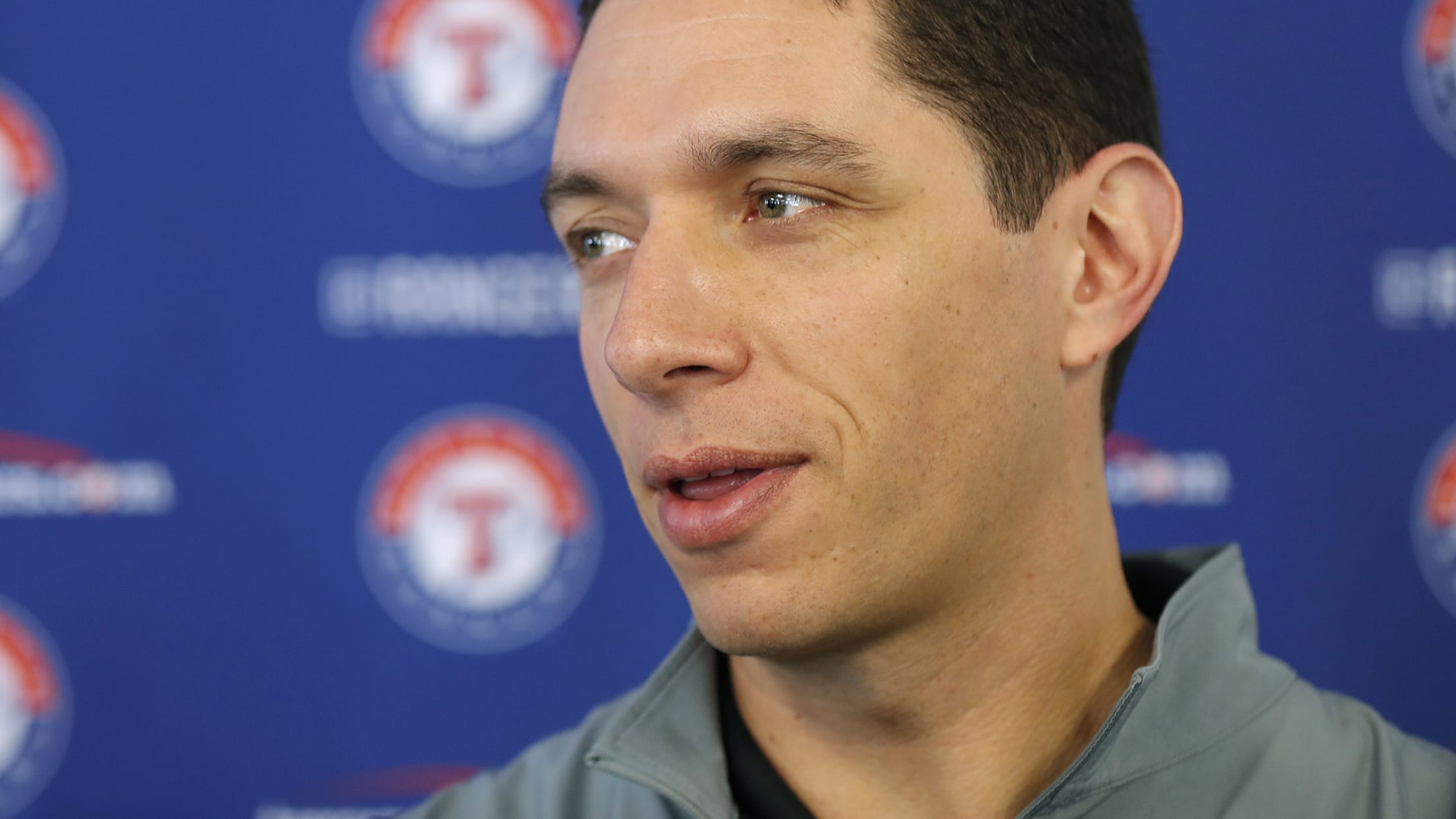 BOSTON -- With a record above .500, the Rangers find themselves in the thick of playoff contention following a 67-win, 95-loss 2018 season. It may only be June, but the club has shown the potential to vie for a postseason spot. General manager Jon Daniels is with the Rangers in
BOSTON -- With a record above .500, the Rangers find themselves in the thick of playoff contention following a 67-win, 95-loss 2018 season. It may only be June, but the club has shown the potential to vie for a postseason spot.
General manager Jon Daniels is with the Rangers in Boston for their four-game series against the Red Sox and discussed the state of a team that is making noise in the American League West.
The Rangers were at the bottom of the division standings and owned the fifth-worst record in the AL last season. They didn't want to take on an all-or-nothing outlook to address their future, though. The team turned a five-game losing streak in May into its current 18-8 winning stretch.
"I think we said at the beginning of this season that we weren't going to place limits on the club," Daniels said. "I think kind of where we are, you get around the Winter Meetings and there's almost a need to kind of fit in one of two buckets: You're either all-in, odds-in favorites or you're tanking. We didn't really view it that way.
"I think where we go from here is going to be dictated by how the club plays and also the opportunities that are there in front of us. Both the opportunities that we want to continue to develop some of the guys here, and also the opportunities externally ... I think we'll stay true to our mindset of trying to balance -- continue to place a priority on the next few years. I don't see us looking to short cut anything. But you've got to be open-minded to how the club's played and respect that. These guys have been very good so far.
"And it's early. I'm not getting [ahead of] myself or any of that either. They've played really well and I don't think it's been luck. I think they've genuinely played well. They're in every game, they're a competitive group. We've got to respect that."
Daniels has been pleased with the Rangers' rotation, which had a 4.93 ERA entering Tuesday's game.
"[The biggest surprise has been] the overall offensive approach the guys have bought into, coupled with the development of the starting pitching," Daniels said. "Even though it's not five 24-year-olds necessarily, but [Ariel] Jurado's clearly taken steps, Adrian Sampson at a different stage of his career, different path to get here, has clearly taken steps. I think the work that the staff has done with Lance [Lynn] and Mike Minor, they've taken steps."
Minor, who is 5-4, struck out six and allowed only two runs over eight innings on Monday in the Rangers' win over the Red Sox, lowering his ERA to 2.52 in a no-decision.
When asked about the future for Minor, who has one year remaining on his contract for the 2020 season, Daniels said, "I'm not really ready to address it publicly right now. I just want to enjoy it. I think Mikey has become one of the better starters in the game. He's always had that ability and that pedigree, and he had the years there with the injuries and the bullpen and last year was almost a bridge year to get back into the rotation. I just want to enjoy it right now. He's answering a lot of questions along the way. We're in the middle of June. We're not getting ahead of ourselves other than I think it's a reasonable time here after the Draft to step back and recognize the fact that this team has played well to this point."
The Rangers are taking care of business step-by-step as the season progresses. They wrapped up the Draft last week and are approaching the Trade Deadline in July. They have a path for their team and Daniels doesn't expect the next month of baseball to cause a sudden shift in that.
"Overall we know which direction we're going in," Daniels said. "I don't think it's going to change all that dramatically. There's not going to be a huge swing of a pendulum based on a hot streak, one way or the other. We have a pretty good sense of where we want to go over the next few years."
Asked if the Rangers would give up their future assets to add to the roster for a long-term piece, Daniels said, "Most likely if we were to do that, it would be for someone with control beyond next year … Our job right now is to explore all the options."
If the Rangers were to tap into their pool of prospects in order to make a move, Daniels said any Major League team has the pieces to do so.
"I kind of laugh at that question every year because I think just about any team, whether they're a top farm system or the worst farm system, could acquire, not Mike Trout, but most players on the trade market. Any team that wants to push in has that ability."