Rangers put emphasis on future entering 2019
Daniels won't put cap on club's potential with strong lineup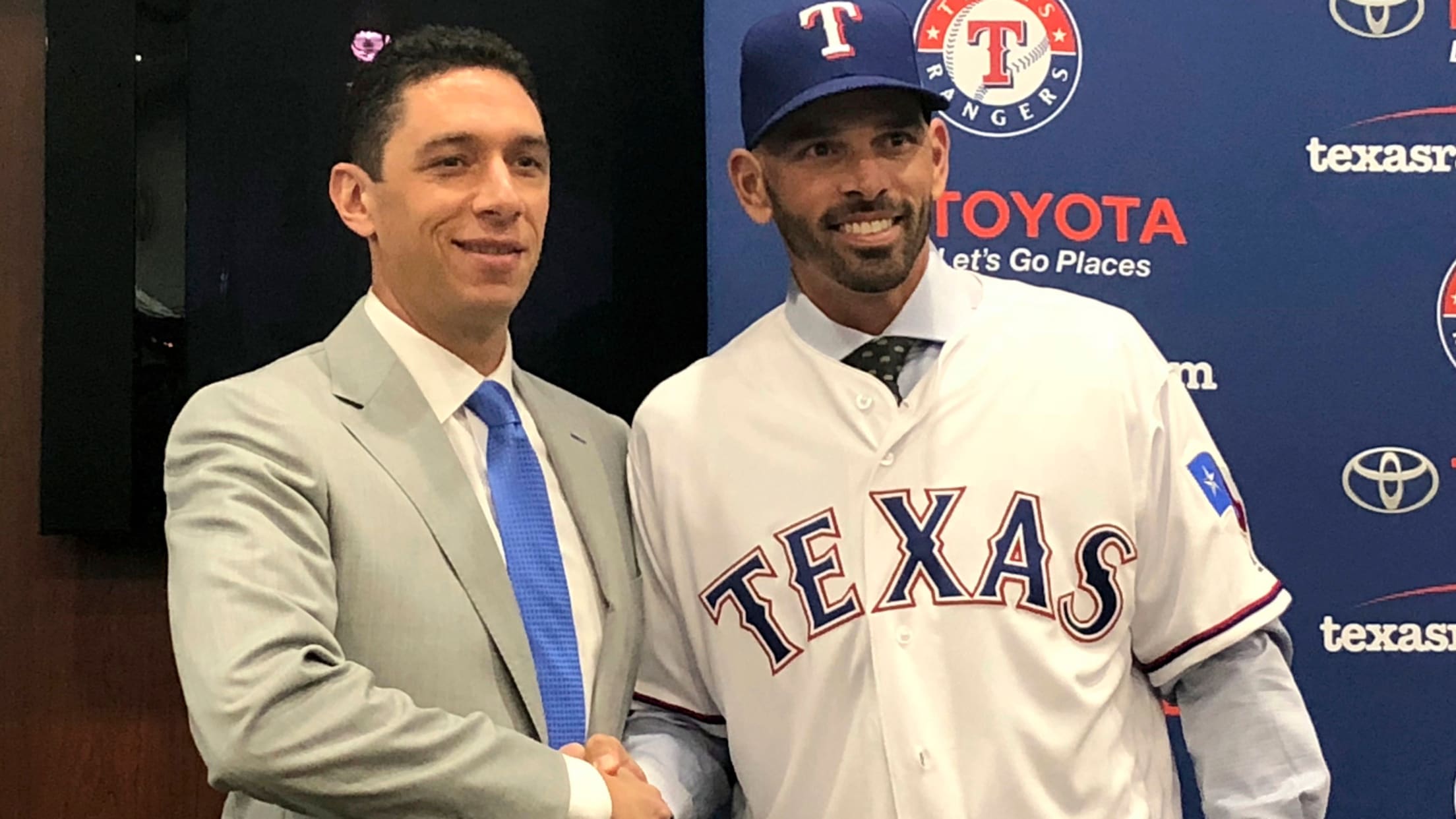 ARLINGTON -- The Rangers will begin Spring Training next week with a firm long-term rebuilding vision for their future, but they also have an unwavering determination to be as competitive as possible in 2019.Texas understands that immediate success will be difficult this year after two straight losing seasons. The Rangers'
ARLINGTON -- The Rangers will begin Spring Training next week with a firm long-term rebuilding vision for their future, but they also have an unwavering determination to be as competitive as possible in 2019.
Texas understands that immediate success will be difficult this year after two straight losing seasons. The Rangers' 67-95 record in 2018 underscored the need to take a long, hard look at where they are headed as they get ready to open Globe Life Field in 2020.
• Here's your guide to Rangers Spring Training
:: Spring Training coverage presented by Camping World ::
But Texas believes it can stay true to the core philosophy of restocking its inventory of young talent -- especially pitching -- while putting together a competitive team this season under new manager Chris Woodward.
"We are excited about what we are building," Rangers general manager Jon Daniels said. "I am not going to put any limits on this year's club by any stretch. We have also been pretty clear up front that this was not the winter where we were looking to put the finishing touches. We are not competing at the high end of the trade market or the free-agent market. We are still looking to build it.
"Can we go out and compete and surprise some folks? Given the good things we have going on, yeah, I absolutely think we can. But our focus has been, and will be, on the longer term. Everybody we hired and the transactions we have made have been done with that in mind."
Much of the Texas' chances of being successful both now and in the future are tied together to its talented young lineup. A group that includes outfielders Joey Gallo, Nomar Mazara, Delino DeShields and Willie Calhoun, and infielders Elvis Andrus, Rougned Odor and Ronald Guzmán is the Rangers' best hope for this season and beyond.
Texas' success in 2019 is tied with the club's future. What the Rangers do this season will go a long way in determining how successful their rebuilding process will be once the young pitching starts to catch up.
"Without a doubt, those guys are really important to 2019 going forward," Daniels said of his club's lineup. "They are all productive big leaguers. Everyone would agree -- them first and foremost -- there is another level they can get to. Getting them to that level is probably as important as anything else we have going on. We believe in that group as the core of this team. They are young, they are talented. They haven't reached their prime yet. Their most productive years are ahead of them."
Many of the moves made by the Rangers since last summer have been aligned with their long-term goals. That was reinforced this offseason when Texas traded infielder Jurickson Profar to the Athletics in a three-way deal with the Rays that brought back four prospects in return.
The Rangers signed free-agent infielder Asdrúbal Cabrera to a one-year deal to replace Profar at third base. Cabrera hit .262 with 23 home runs, 75 RBIs and a .774 OPS between the Mets and Phillies last season, which shows that he is more than just a fill-in for a team not interested in competing.
Texas has made a concerted effort to acquire as much young pitching as possible over the past year, but it also signed veteran right-hander Lance Lynn to a three-year contract in December. The Rangers also acquired left-hander Drew Smyly, 29, in a trade with the Cubs and signed free-agent right-hander Shelby Miller, 28, to one-year deal. Smyly and Miller are finishing off their recoveries from Tommy John surgery and are also young enough to still be impact starters moving forward if they can return to full strength.
Miller and Smyly can be free agents after this season and are here to help the Rangers win now. Cabrera, veteran catcher Jeff Mathis, pitcher Edinson Vólquez and outfielder Hunter Pence are in the same situation, while pitcher Mike Minor and outfielder Shin-Soo Choo have two years left on their contract.
It's doubtful that any of them are getting caught up too deep in the long-term vision for the franchise. But neither are the younger players who have fresh memories of an organization accustomed to competing for division titles and American League pennants. This is still an organization that won back-to-back AL West titles in 2016-17.
"The only thing I'm thinking about is trying to win the World Series," reliever José Leclerc said. "I know a lot of people don't think we can, but that's all I am thinking about."
Woodward understands his players feelings as he prepares them for Spring Training. Once the Rangers go to work in Surprise, the long-term vision gets pushed aside for the immediate task at hand. Texas doesn't believe one negates the other.
"Our expectations are to win each game," Woodward said. "I'm not putting any limitations or expectations on this team. My job is to come in here and set the tone on how we are going to compete and eventually win a championship. Whether that's this year, next year, two years from now, three years from now, I want these guys to understand our job is to win every single game we play. These players want to win. I'm not going to sit here and tell them that they can't."