Sim game to determine next step for Darvish
Right-hander was placed on the DL following his June 8 start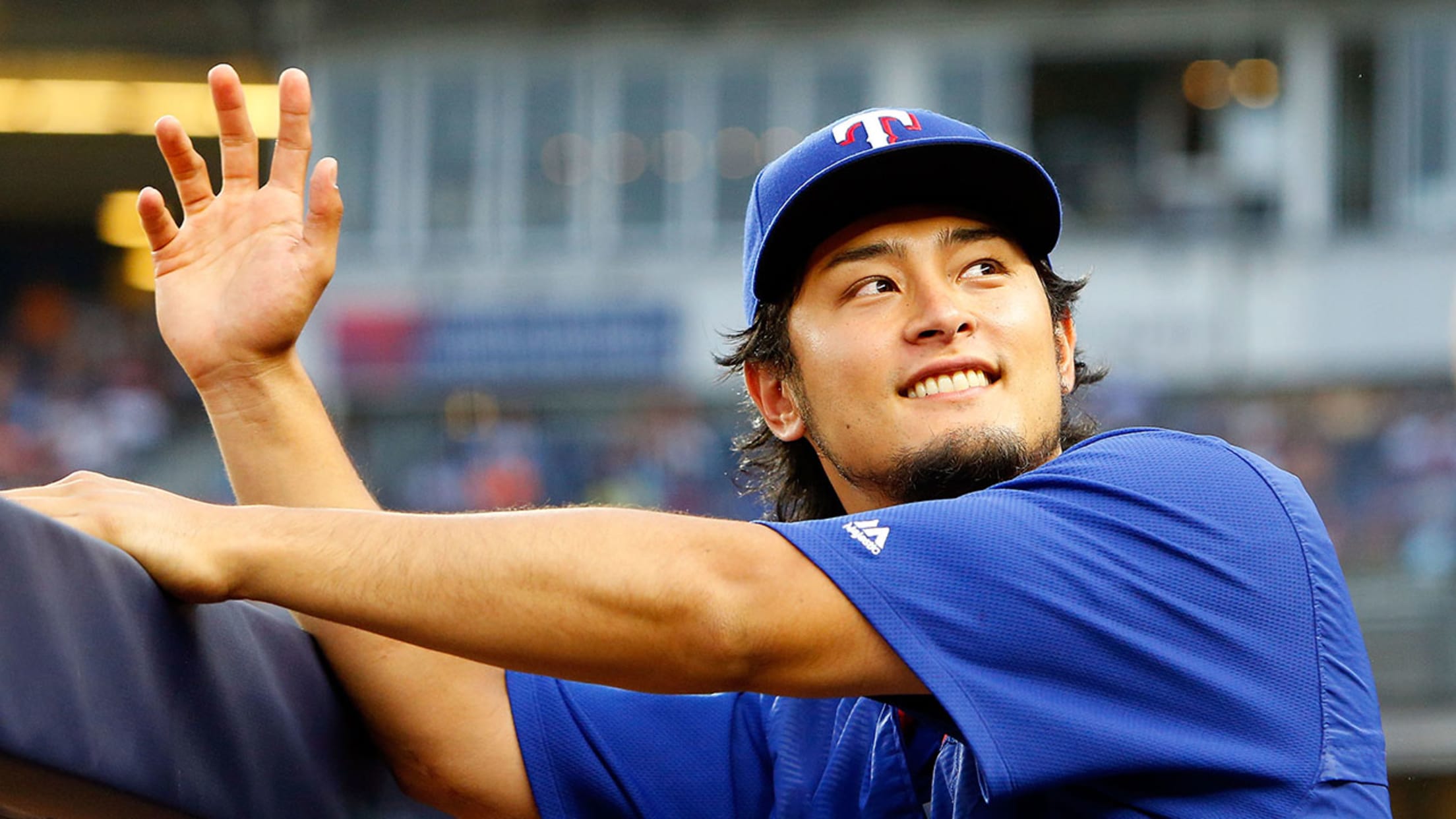 Yu Darvish has made three starts this year after returning from Tommy John surgery. (Getty)
NEW YORK -- Yu Darvish will throw a simulated game on Wednesday at Yankee Stadium and Chi Chi Gonzalez is expected to get another start on Saturday against the Twins.The latest on the Rangers' endeavors to get their pitching staff in order:• Darvish, who has been sidelined since June 8
NEW YORK -- Yu Darvish will throw a simulated game on Wednesday at Yankee Stadium and Chi Chi Gonzalez is expected to get another start on Saturday against the Twins.
The latest on the Rangers' endeavors to get their pitching staff in order:
• Darvish, who has been sidelined since June 8 with discomfort in his right shoulder, is scheduled to throw 45 pitches in a simulated game on Wednesday. It will be broken down into three segments of 15.
Pitching coach Doug Brocail said the Rangers will wait and see how Darvish does in the session before determining the next step. There is a possibility he could pitch one game in the Minors on a rehab assignment. Darvish made three starts this season in his return from Tommy John surgery before being shut down with shoulder issues.
"We can't afford any more setbacks," Brocail said.
The Rangers most likely won't get Darvish back until after the All-Star break.
• Gonzalez allowed five runs in five innings in his first start of the season on Monday against the Yankees. The Rangers have a need for a starter on Saturday, and manager Jeff Banister said it looks like they will stay with Gonzalez for now.
Gonzalez is filling in for injured starters. The goal is to convince the Rangers he can be a permanent member of the rotation.
"I want to take advantage of every opportunity," Gonzalez said. "If I do well, it gives the team a chance to win. Last night I was constantly battling. I got a couple of scoreless innings and for the amount of traffic I had [10 hits, two walks], I minimized the damage. It wasn't my best outing and it wasn't my worst."
For Gonzalez, it's all about the sinker. When he is effective with the sinking fastball down in the zone, it makes all his pitches better. The erratic command of the sinker gets Gonzalez in trouble.
"It hasn't been as consistent but there are signs that it's there," Banister said. "We liked what we saw from Chi Chi. In the middle part of the outing, some of his pitches were elevated and they were able to do something with it. But he threw some quality pitches and attacked the strike zone."
• Nick Martinez will pitch on Wednesday against the Yankees. It's his third start for the Rangers and, like Gonzalez, he is here because of injuries to other pitchers. He has been in and out of the rotation for three years and continues his quest for more permanent status.
"I know I can pitch at this level and Texas knows I can pitch at this level," Martinez said. "All I can ask for is the opportunity. There is some urgency but no pressure. I think with every starter, for the first three years you are auditioning for your team and show them you can be an established starter. Until I have three solid years, every start is an audition."
Martinez needs to show he can pitch inside, especially to right-handed hitters. He is not overpowering, but if he can work inside, it establishes all of his four-pitch mix.
• Right-handed reliever Keone Kela, on the disabled list while recovering from right elbow surgery, is scheduled to pitch a simulated game on Thursday in Round Rock, Texas. If all goes well, he could begin a rehab assignment with Triple-A Round Rock on Sunday and return to the Rangers' bullpen shortly after the All-Star break.
"We'll just take it one step at a time with him, but I have targeted him after the All-Star break," Brocail said. "Both him and Darvish."
• Derek Holland, who is on the disabled list with shoulder inflammation, is expected to start playing catch as early as Wednesday. He hasn't thrown since his last start on June 20.
Brocail said the Rangers need to get Holland healthy, but they also want to work on some mechanical adjustments while he is down.
"Obviously something is going on, putting him in a bad position," Brocail said. "When you've got a problem in your shoulder, it's usually either due to deacceleration or weariness. If you have weariness, you need time off. If it's deacceleration, it may be mechanical. We need to get this knocked out and get him back out there even better."
Holland was 3-1 with a 2.48 ERA in five starts in April, and 2-4 with a 7.01 ERA in nine starts since.