Schedule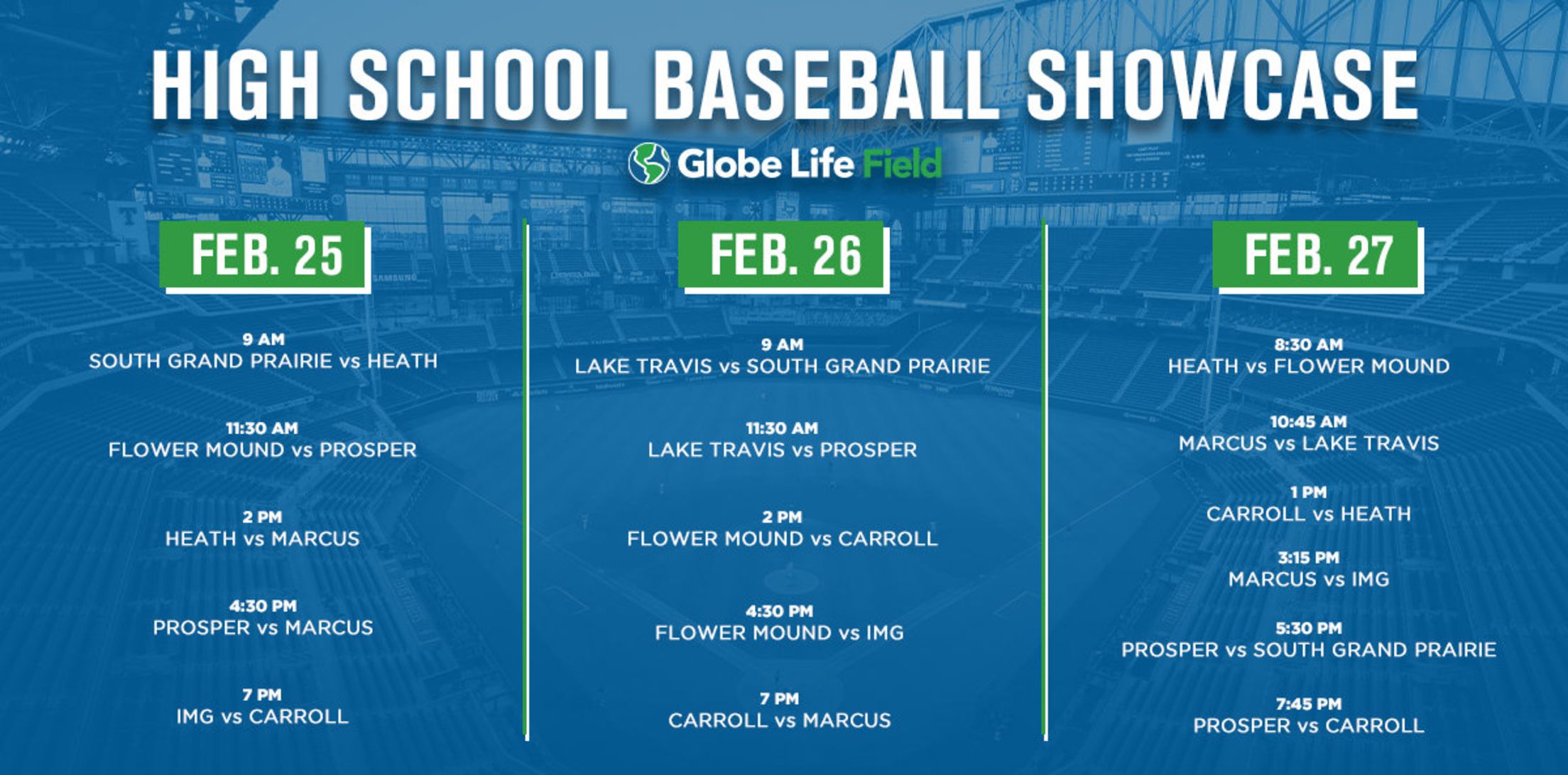 FAQs
TICKETS, SCHEDULE & PARKING
Q: IS MY TICKET ASSIGNED TO A SPECIFIC SEAT?
A: All tickets for this event are considered General Admission tickets. Upon arriving to Globe Life Field, open seats will be available on a first-come, first-serve basis. In an effort to promote social distancing, every other row and select seats will be blocked.
Q: HOW DO I PURCHASE TICKETS AND PARKING?
A: Tickets and parking will be available for purchase online at TexasRangers.com/highschoolshowcase beginning January 26, 2021.
Q: IF I AM NOT ATTENDING ALL THE GAMES, CAN I SEND MY TICKETS TO ANYONE ELSE THAT WOULD LIKE TO ATTEND INSTEAD?
A: If anyone in your group may need to enter or re-enter the event without you present, please transfer their ticket(s) prior to entering the building. Tickets cannot be transferred or resold once scanned.
Q: WHAT TIME WILL THE TICKETING OFFICE, PARKING LOTS, AND GATES OPEN?
A: Ticketing office, parking lots, and gates will open up 60 minutes before the first game.
Q: ARE SUITES RENTALS AVAILABLE?
A: Yes. For availability and additional information, please call 817-533-1832 or email [email protected]
Q: HOW DO I FIND MY MOBILE TICKET?
A: There are two ways to access your tickets and parking passes using your mobile device:
Download the MLB Ballpark app from your phone's app store. Use the same email address and password you entered when purchasing your tickets to log in and follow the prompts until you reach the home screen. Tap the wallet icon at the bottom of the screen to view your tickets and parking passes.
You can also access your tickets through your My Rangers Tickets account by visiting texasrangers.com/mytickets on your phone's browser. Tap the green "Sign in to My Rangers Tickets" button, and use the same email address and password you entered when purchasing your tickets to log in. Once you've logged in, your next event will appear below your name. Tap the blue "View All Available Inventory" button to view all available events that you've purchased. An instructional video on how to access and manage your tickets can be found here.
Q: DOES EVERYONE NEED A TICKET?
A: All adults and youth over 36" tall will need a ticket for admission. Students with a school ID and youth will receive student pricing.
Q: IS HANDICAP SEATING AVAILABLE?
A: Yes, handicap accessible seating is available for purchase at TexasRangers.com/highschoolshowcase. For questions, please call 972-RANGERS.
Q: WHAT IF I AM UNABLE TO USE MY TICKET OR PARKING PASS?
A: All sales are final and there will be no refunds.
ADDITIONAL EVENT INFORMATION
Q: IS THERE A MAP AVAILABLE TO HELP ME LOCATE MY SEAT, NEARBY CONCESSIONS, RESTROOMS OR ATM MACHINES?
A: Yes. Please refer to the Amenities Map in the MLB Ballpark app to learn more.
Q: WHAT IF I NEED ASSISTANCE DURING THE EVENT?
A: Our event staff and security personnel are here to help. If you have a question or concern, please notify the nearest staff member and we will be glad to assist you. If you experience an emergency situation during the event, please call 911 first and then notify the nearest staff member.
Q: WILL CONCESSIONS BE AVAILABLE FOR PURCHASE?
A: Yes. Concessions will be open for this event. Only two alcoholic beverages are allowed per person, per purchase. No alcoholic beverages may be brought into or taken out of Globe Life Field.
Q: CAN I BRING MY OWN FOOD AND DRINKS?
A: Outside food and drinks are not permitted.
Q: ARE WHEELCHAIRS AVAILABLE FOR GUEST USE?
A: Event staff has a limited number of wheelchairs available to assist guests in getting to their seat. If you need a wheelchair for the duration of your visit, we recommend bringing your own.
Q: CAN WE BRING A STROLLER?
A: Strollers are permitted inside Globe Life Field. However, their use may not inhibit guest movement or block any aisles. Smaller, umbrella-style strollers can be stored underneath a seat as long as it does not create an obstruction for other guests.
Q: ARE THERE ANY PROHIBITED ITEMS OR ACTIVITIES?
A: Yes, the following items and activities are prohibited during your visit:
Advertising, selling or promoting any product (including, but not limited to, food and beverage items)
Alcohol not purchased from the event or illegal drugs/substances
Animals (except service animals)
Bags, including purses, clutches and wristlets
Banners or signs that are not in good taste, obstruct another guest's view, or are not event-related
They may not contain commercial messages, logos or political endorsements and may not be hung from or affixed to ballpark structures
Signs on poles or sticks, or constructed of wood or metal material, are also not permitted
Clothing with offensive or profane language
Congregating inside and outside of Globe Life Field, or its surrounding areas (including parking lots)
Disorderly conduct
Fireworks
Food and drinks, with the exception of one sealed bottled water
Glitter, balloons or rice
Intentional or repeated failure to adhere to social distancing guidelines
Laser pointers
Littering
Noisemakers
Seat cushions
Smoking (including e-cigarettes, vapes or any other smoking device) inside the structure of Globe Life Field
Tripods, monopods and selfie-sticks
Umbrellas that are full size (compact umbrellas are permitted)
Use of drones or other unmanned and remote-controlled aircraft systems
Wagons
Weapons of any kind, even if properly permitted or registered
Please note that failure to follow these guidelines may result in ejection from the ballpark.
Q: ARE BAGS AND PURSES ALLOWED?
A: In an effort to enhance public safety, Globe Life Field will be enforcing a no bag policy. Purses, clutches and wristlets of any size will not be permitted. Exceptions will be made for medically necessary items, including manufactured diaper bags, after proper inspection.
Q: WHERE IS FIRST AID LOCATED?
A: There are two First Aid stations inside Globe Life Field, located behind Section 101 next to Guest Services and behind Sections 203 and 204. Please refer to the Amenities Map in the MLB Ballpark app for additional assistance.
Q: IS FREE WI-FI AVAILABLE?
A: Yes. To get the best connection, sign into the Wi-Fi network: GlobeLifeField-FreeWifi
Q: I FOUND AN ITEM SOMEONE LOST DURING THE EVENT. WHAT SHOULD I DO?
A: If you happen to find a lost item, please take it directly to the Guest Services office on Main Concourse across from the Northwest Pedestrian Ramp, or the Guest Services Office on the Jim Ross Law Suite Level next to the Comerica Northeast Entry. The found item(s) will be stored there for the duration of that day's event. If you lose an item at the event, please visit the Guest Services office contact Lost and Found by calling 817-533-1715 or emailing [email protected].
Q: WHAT SAFETY PRECAUTIONS ARE BEING TAKEN?
A: We are consulting the appropriate health and safety guidelines in preparing the venue for the event and are working closely with Tarrant County and the City of Arlington. We will be restricting person-to-person contact as much as possible by limiting the use of bags, creating socially distanced seating and more. Anyone exhibiting certain signs and symptoms identified by public health authorities will not be permitted to enter the facility. All Globe Life Field staff will be wearing appropriate personal protective equipment during graduations. We are encouraging that all guests practice social distancing and wear masks as well.
Public health authorities recommend self-screening before you enter public places for, and not entering public places with any of the following signs or symptoms:
Cough
Shortness of breath or difficulty breathing
Chills
Repeated shaking with chills
Muscle pain
Headache
Sore throat
Loss of taste or smell
Diarrhea
Feeling feverish or a measured temperature greater than or equal to 100.0 degrees Fahrenheit
Known close contact with a person who is lab confirmed to have COVID-19.
Anyone exhibiting symptoms of COVID-19 within 14 days leading up to the event should not attend.
Q. WHAT SAFETY PRECAUTIONS SHOULD I TAKE DURING MY VISIT?
A: Please consult current guidelines prior to arrival at the event. Please see the CDC website at https://www.cdc.gov/coronavirus/2019-ncov/index.html and the DSHS website at https://dshs.texas.gov/coronavirus/ for more information.