WHAT'S NEW IN THE SUITES?
Globe Life Field suites were designed to offer some of the closest game views in Major League Baseball.
RETRACTABLE WALLS
Flexible and modular design enables you to configure select suites and host groups of various sizes - from 30 people to as many as 420.
ENHANCED MENUS
More choices through a variety of food and beverage packages to meet your dining needs.
IMPROVED FLOW
All suites are designed to give you spaces for rich interaction and memorable shared experiences - from conversations and cuisine to cheering on the Rangers.
INCREASED FOOD & BEVERAGE CREDIT
Each suite comes with a food and beverage package or credits greater than previous years.
OTHER PERKS
Parking passes
Suite Attendant
Multiple HDTV monitors
Concierge service
Suites
Hall of Fame Suites
Hall of Fame Suites are located on the Upper Suite Level, and feature retractable walls to accommodate groups of multiple sizes. Furnished in rich textures and an elevated level of food service. Multiple rows of movie theater style seats outside each suite will keep you comfortable all game long.
30-person suites are $5,400*
Hall of Fame suites start at 30 people and can go up to 420 people
Each Hall of Fame Suites comes with a $600 food and beverage credit
Rent three or more conjoining suites and your group is eligible for food and beverage package choices
Special buyout pricing when purchasing all Hall of Fame suites for a game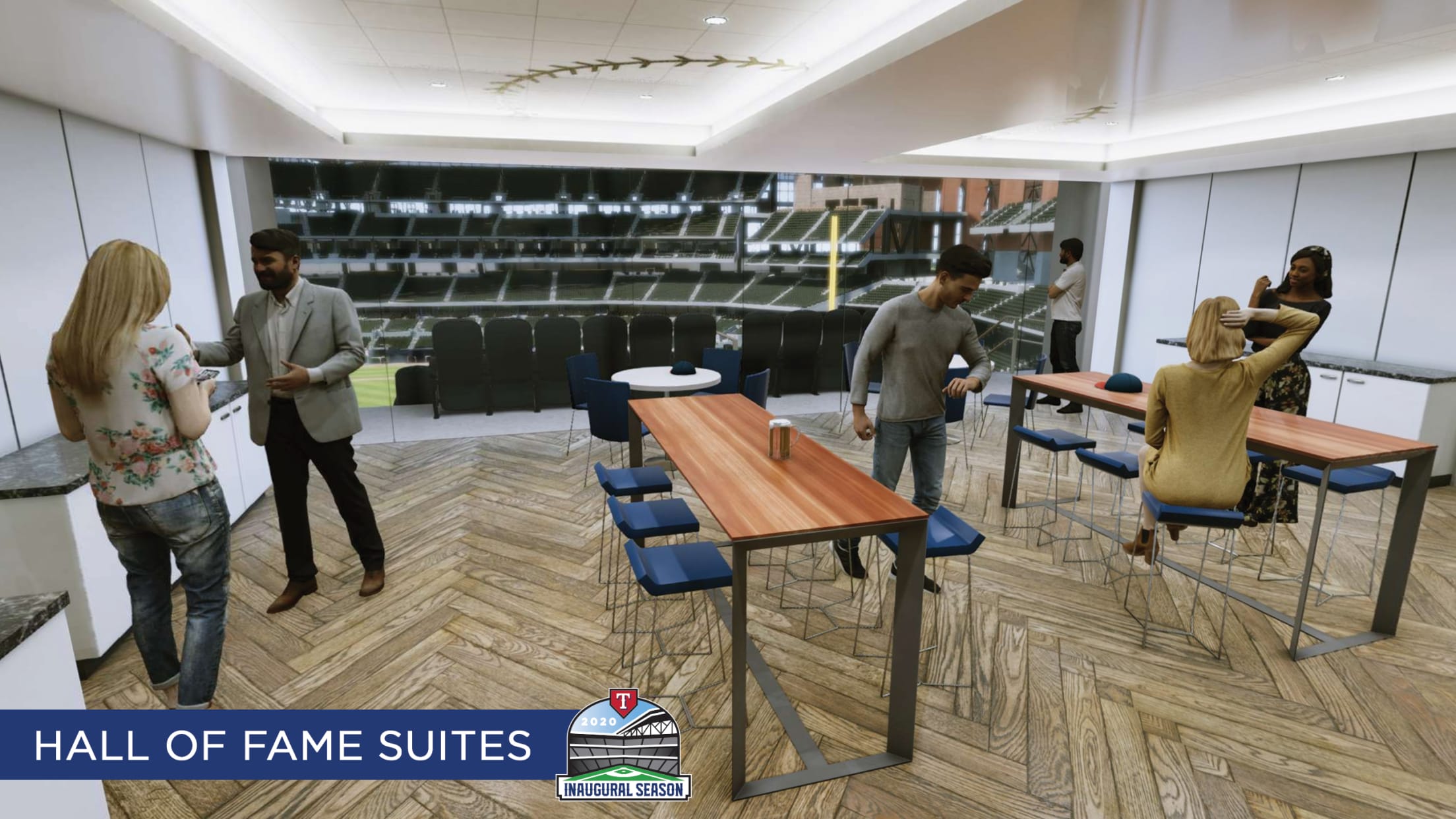 Renders show expanded room option
Classic Suites
Located on the Upper Suite Level, Classic Suites are furnished with a playful baseball theme. Each suite features a private restroom. Outside each suite, new and wider ballpark seats invite your group to watch the game. Classic Suites have the option for groups of 20 to 40 fans.
20-person suites are $4,000*
Each 20 ticket Classic Suite comes with a $600 food and beverage credit
40-person suite is $8,000*
The 40 ticket Classic Suite comes with a food and beverage package