Cash: Rays will be ready for rule changes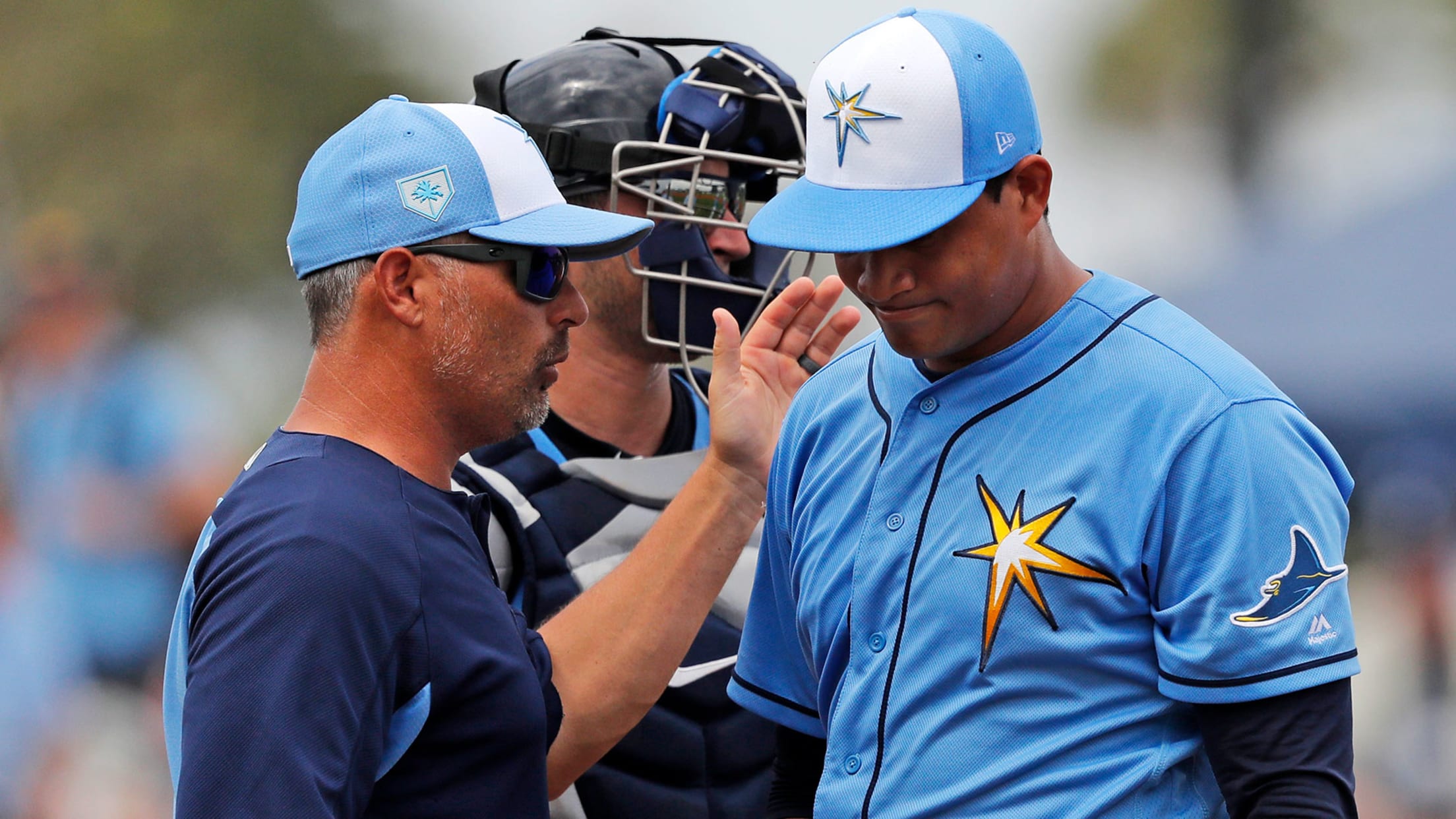 PORT CHARLOTTE, Fla. -- MLB and the MLB Players Association announced a series of rule changes Thursday morning that will be implemented over the next two seasons.
PORT CHARLOTTE, Fla. -- MLB and the MLB Players Association announced a series of rule changes Thursday morning that will be implemented over the next two seasons.
Changes for the 2019 season include mound visits being reduced from six to five, a five-second decrease between innings for local broadcasts and a strict July 31 Trade Deadline that would completely eliminate waiver trades in August.
For 2020, the active roster will go from 25 to 26 through Aug. 31. In September, teams will no longer have the ability to carry a 40-man roster as it will be capped at 28 players, reducing teams' ability to match up pitchers throughout the game.
While there will be a lot of different opinions on the changes, Rays manager Kevin Cash said that he has "no concern whatsoever" on the rules being implemented over the next couple of seasons.
"Any of the rules that we've kind of discussed or have been brought out, the new ones or the ones we're talking about for upcoming seasons," Cash said, "there's no real concern."
The Rays have become known for trying different things with their roster. Out of the changes, Cash said he welcomed the idea of having 26 players as opposed to 25.
"Every team will tell you that there are certain parts of the season, whether it's a tough series, a tough couple of games, you get handcuffed," Cash said. "You have a guy that's banged up that probably shouldn't be in the lineup, but you need him to play because you don't want to make a move, and the same thing on the pitching side. I personally welcome the extra spot."
There was plenty of discussion about the rule changes inside the Tampa Bay clubhouse on Thursday before the 4-3 loss to the Phillies. Most players wanted to get a better understanding of the changes before commenting on them, but there were some questions about the September roster size, which would decrease dramatically.
"I see both sides of the argument on how that has been played out in the past," Cash said of the 40-man rosters in September. "When you get a 40-man roster, you can match up the whole game, and I know that's not traditional baseball. That's a bigger conversation."
Rays catcher Mike Zunino, who launched a three-run home run Thursday, said that the six-mound-visit limit wasn't a factor last season, and he doesn't expect having just five to have any impact on the way the game is played. He is, however, intrigued about the removal of waiver trades in August.
"It's interesting," Zunino said. "There's usually not too many [trades] there, but there's been some big ones as of late. It'll be interesting to see how it shakes out. Two months left in the season is a long time to not have anything go on, but I guess we'll never really know until we live this thing out for a while and go from there."
Pagan impresses in Opener role
Emilio Pagán got his first taste of being an Opener on Feb. 26 against the Orioles in Sarasota, Fla. In that start, Pagan allowed two earned runs on four hits over two innings. On Thursday, Pagan got his second start of the spring and was much more efficient against the Phillies' lineup.
Pagan allowed just one hit over two scoreless innings Thursday. His lone strikeout came on a curveball, which is a pitch he has been focusing on throughout the spring.
"I'm pleased with it," Pagan said of his curveball. "I think today went really well. It felt like the ball was coming out good, and I was happy with the way it went."
Pagan, who was acquired from Oakland over the offseason, is looking to earn a spot in the bullpen and has begun to stand out over the past couple of weeks. He'll get an opportunity to open some games this season, but the Rays have been pleased with his overall work this spring.
"Another good outing," Cash said. "He's had a good spring. I think we knew what we were getting when we acquired him, but at the same time, it's kind of refreshing to kind of see that backed up."
Zunino hits leadoff
It's unusual to see a catcher hit atop a team's lineup, but that was the case Thursday as Zunino hit leadoff for the Rays. Tampa Bay has been experimenting with its leadoff spot all spring, but having Zunino atop the lineup wasn't part of that plan. The idea was to try to get him a third at-bat earlier in the game in order to replace him defensively.
It all worked out as Zunino got three at-bats, with his last one resulting in a three-run home run in the fifth inning that gave the Rays a 3-1 lead.
"Making some adjustments," Zunino said. "I've been working with [Rays hitting coach Chad Mottola] a lot. Just trying to get my body in good positions. Probably in the last week or so, I've been getting there, so I'm trying to keep it simple and trust myself and my ability."
Up next
Friday will be split-squad action for the Rays, who will host the Tigers in Port Charlotte at 1:05 p.m. ET. The other half of the team will travel to Bradenton to take on the Pirates at 6:05 p.m. ET. Ryne Stanek will start against the Tigers, while Wilmer Font will get the nod against the Pirates.
Juan Toribio covers the Rays for MLB.com. Follow him on Twitter @juanctoribio.