Venters among 13 invited to Rays' spring camp
Former Braves All-Star reliever seeks return to Majors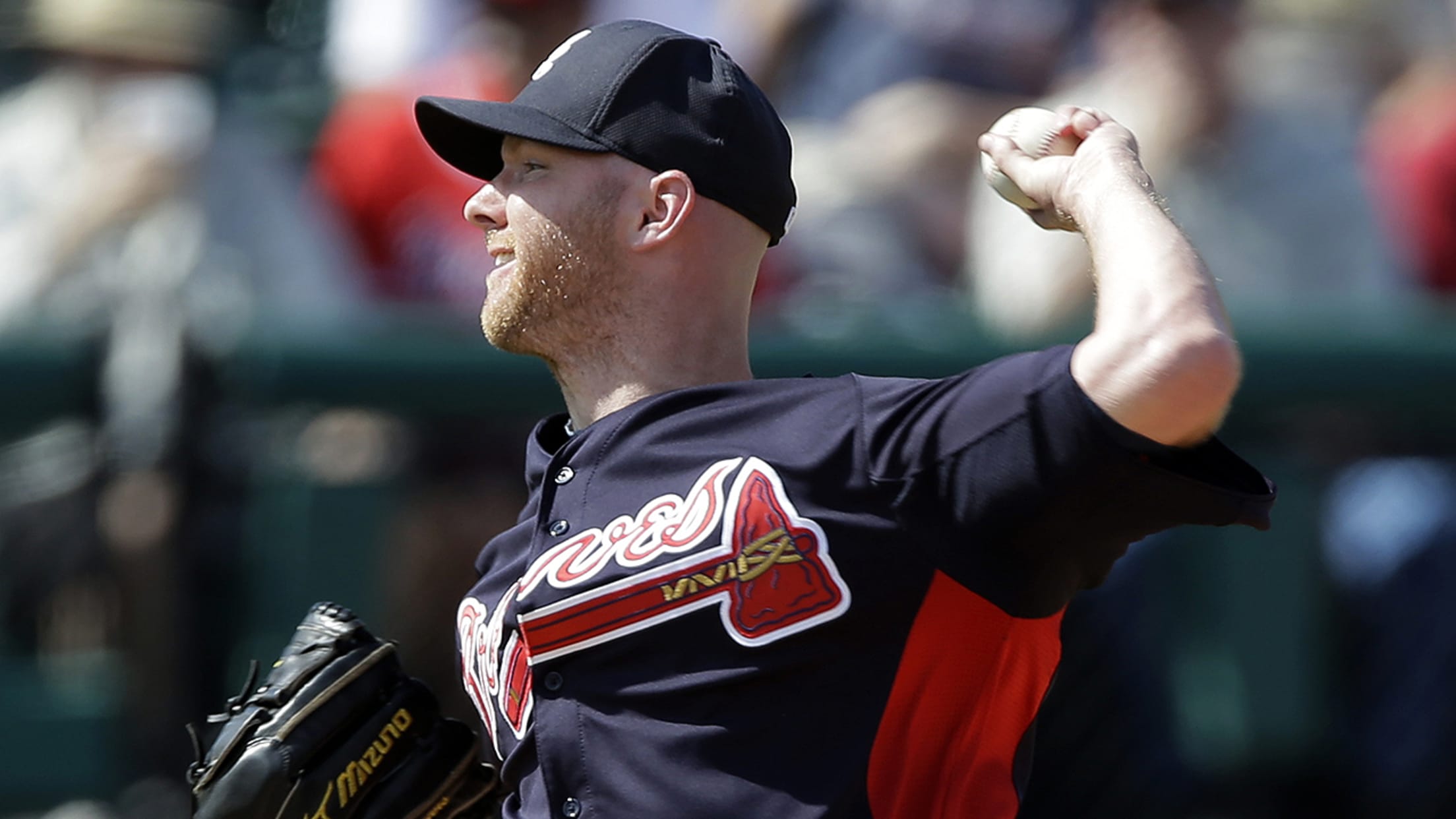 Atlanta Braves relief pitcher Jonny Venters throws during a baseball spring training exhibition game against the Detroit Tigers, Wednesday, Feb. 27, 2013, in Lakeland, Fla. (AP Photo/Charlie Neibergall) (Charlie Neibergall/AP)
ST. PETERSBURG -- Veteran left-hander Jonny Venters highlighted a group of 13 players who agreed to Minor League contracts with the Rays that includes an invitation to Major League Spring Training.Also in that group announced Thursday are right-handers Ruben Alaniz, Cody Hall and Colton Murray; left-handers Adam Kolarek and Vidal
ST. PETERSBURG -- Veteran left-hander Jonny Venters highlighted a group of 13 players who agreed to Minor League contracts with the Rays that includes an invitation to Major League Spring Training.
Also in that group announced Thursday are right-handers Ruben Alaniz, Cody Hall and Colton Murray; left-handers Adam Kolarek and Vidal Nuno; and infielder/outfielder Brandon Snyder.
In addition, the following Minor Leaguers have received invitations: outfielders Jason Coats and Johnny Field; catcher Nick Ciuffo; right-hander Ian Gibaut; first baseman/outfielder Joe McCarthy; and infielder Kean Wong.
Venters, 32, spent parts of three seasons with the Braves, going 15-10 with a 2.23 ERA and a 10.1 SO/9 IP ratio. He has not pitched in a Major League game since the 2012 National League Wild Card Game due to Tommy John surgeries in 2013 and '14.
In 2017, Venters had a 2.28 ERA in 24 games in Tampa Bay's organization, appearing with the Gulf Coast League Rays, Class A Charlotte, Double-A Montgomery and Triple-A Durham.
Given the way the Rays appear to be headed toward a revamped bullpen in 2018, a healthy Venters could fit in nicely. He made at least 65 appearances in the Majors in three straight seasons ('10-12) and was named to the NL All-Star team in '11.
Selected by Atlanta in the 30th round of the 2003 Draft, Venters originally signed with Tampa Bay as a Minor League free agent in March 2015.