Rays offer Trop as option for Blue Jays' '20 camp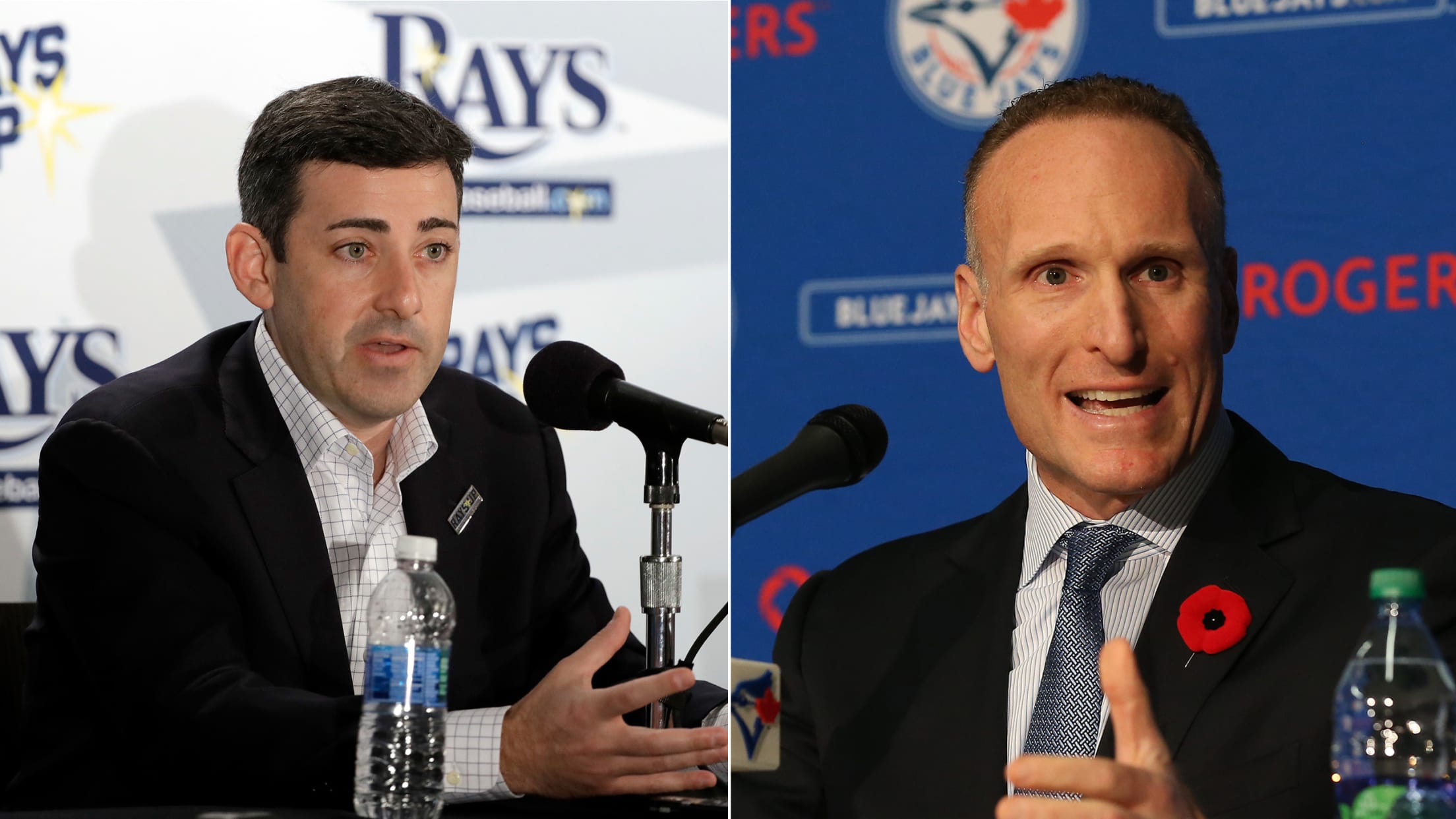 TORONTO -- The Blue Jays are focused on playing out their 2020 season at either their home park in Toronto or their spring home in Dunedin, Fla., but earlier in the process, there was an offer of help from an American League East rival. The Rays, whose home at Tropicana
TORONTO -- The Blue Jays are focused on playing out their 2020 season at either their home park in Toronto or their spring home in Dunedin, Fla., but earlier in the process, there was an offer of help from an American League East rival.
The Rays, whose home at Tropicana Field is a little more than 20 miles from the Blue Jays' spring stadium at TD Ballpark, let the Blue Jays know that they would work with them on a solution if they needed to go in that direction.
"We've made that clear to Major League Baseball and we've made that clear to the Blue Jays," Rays president Matt Silverman told MLB Network Radio on Friday. "If it's necessary, if it's needed for them, it's certainly a possibility."
Toronto's desire to play out the season north of the border now involves officials at all three levels of Canadian government, including public health experts, as they discuss the viability of bringing not just the Blue Jays, but also visiting teams, back and forth across the Canada-U.S. border in a safe manner.
The challenges in doing that are obvious with the Canada-U.S. border currently closed to all non-essential travel. The Blue Jays are now fully focused on Toronto or Dunedin, and are prepared to go forward in either location when that decision comes down. While they've now moved past the potential of any plan involving Tropicana Field, the club knows that the Rays are willing if needed.
"If Toronto needs some help, we're going to be there for them," Silverman said.
Silverman and Blue Jays president and CEO Mark Shapiro know each other very well, having spent years in the league together.
"When it came to The Trop as an option, we had to make a 'go, no-go' decision about three weeks ago because we would have had to finance and build a locker room," Shapiro said.
Even division rivals have each other's backs.@RaysBaseball | #RaysUp | @BlueJays | #BlueJays pic.twitter.com/TjCMACbwar

— MLB Network Radio on SiriusXM (@MLBNetworkRadio) June 26, 2020
With Toronto and Dunedin already on the front burner, and other options like the Blue Jays' Triple-A park in Buffalo considered along the way, Toronto simply had to decided early on where to dedicate its resources and planning.
Ballparks, like most infrastructure, are built to operate under what we consider "normal" circumstances, which typically means clubhouses and facilities for two teams. Sharing clubhouses through the careful return to play amid the coronavirus pandemic is not an option, meaning new builds would have been required.
Silverman noted that, as the league was discussing potential return-to-play strategies in past weeks, one option was a hub-style approach, where a group of teams would have played at Tropicana Field with multiple games each day. That would have required the additional infrastructure, too, so some of those mental wheels had already been turning, but it never came to fruition.
"We had already updated the lighting at TD Ballpark and had a very sophisticated and strong plan for how to use the development complex to conduct a safe training," Shapiro said. "We felt like we were still optimistic we would get approval to play games here. We couldn't simultaneously plan five different scenarios and we focused on two."
The Rays will move their camp to Tropicana Field starting on Wednesday, where they've already hosted workouts over the past two weeks with up to 16 players in attendance. The Blue Jays are expecting clarity from the Canadian government at some point this weekend.