Tuesday's top prospect performers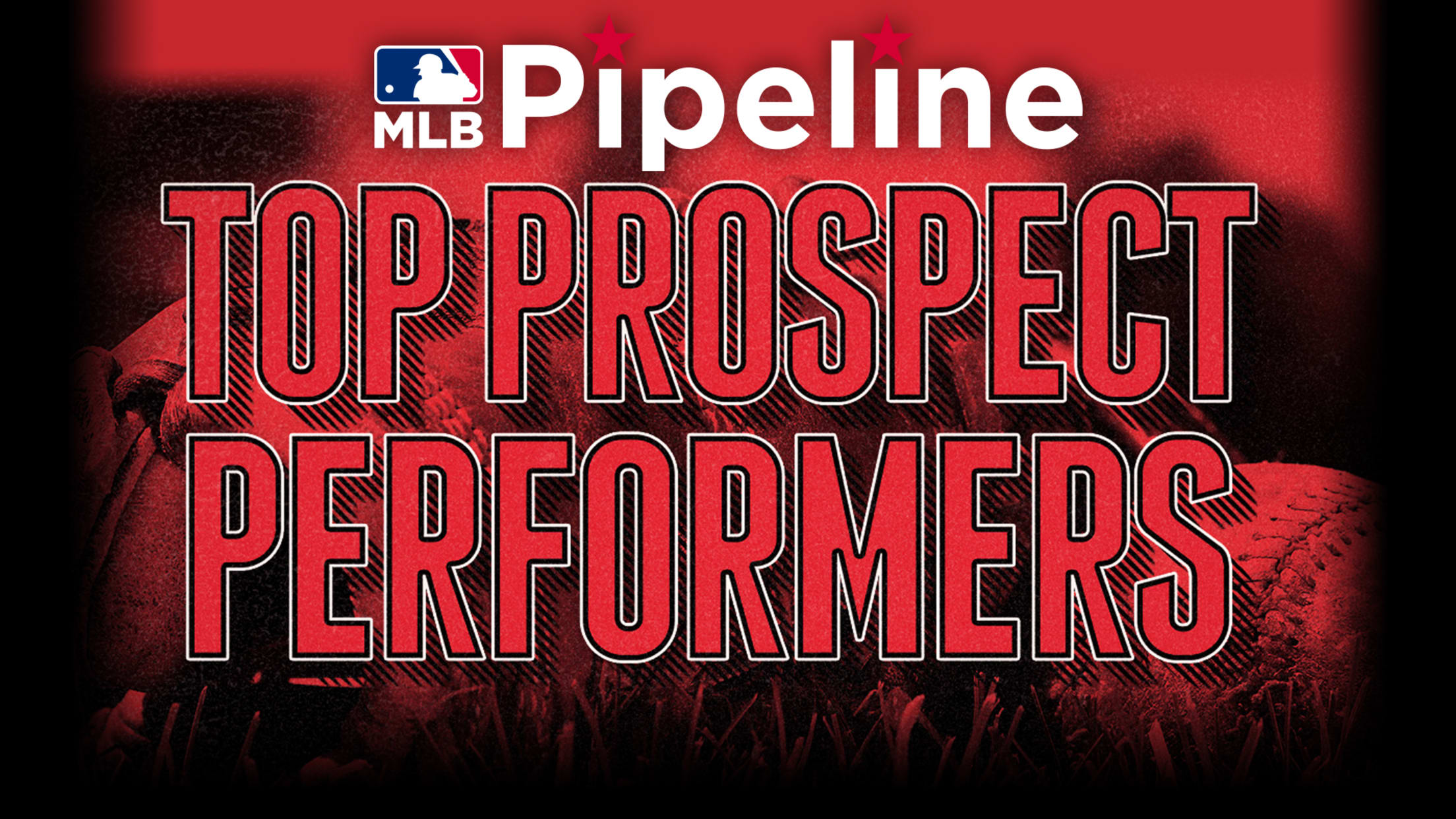 Here's a look at Tuesday's top Minor League performers from each team's Top 30 Prospects list: AMERICAN LEAGUE EAST Blue Jays: Ryan Noda, OF/1B (No. 20) -- 1-for-2, HR, 2 RBI, BB (Class A Adv Dunedin) Noda connected on his ninth homer of the year Tuesday, hitting a two-run shot
Here's a look at Tuesday's top Minor League performers from each team's Top 30 Prospects list:
AMERICAN LEAGUE EAST
Blue Jays: Ryan Noda, OF/1B (No. 20) -- 1-for-2, HR, 2 RBI, BB (Class A Adv Dunedin)
Noda connected on his ninth homer of the year Tuesday, hitting a two-run shot in the opener of Dunedin's doubleheader against Lakeland before going 0-for-2 in the nightcap. The 2017 15th-round pick from Cincinnati has hit three dingers in his past seven games -- a stretch during which he also has 13 RBIs -- as well as two in his past three contests. Though his overall power numbers have backed up a bit this season in the pitcher-friendly Florida State League, Noda, at 6-foot-3, 217 pounds, has impressive left-handed raw power that he used to club 20 homers with Class A Lansing last year in his first full-season campaign. Blue Jays prospects stats »
Orioles: Michael Baumann, RHP (No. 24) -- 9 IP, 0 H, 0 R, 2 BB, 10 K (Double-A Bowie); Adam Hall, SS/2B (No. 14) -- 2-for-4, HR (Class A Delmarva)
Baumann completed the 10th no-hitter in Baysox history, requiring just 94 pitches to face one Harrisburg batter over the minimum. He walked two batters -- both of whom drew full counts before ball four -- while striking out 10. The right-hander, a third-rounder in the 2017 Draft, has racked up 109 strikeouts to 32 walks, a sign of improvement in his command, which drew concerns early in his pro career. However, he's been effective at each stop in the Orioles' farm system. Hall hit his fourth homer of the year as he continues to improve his game at Delmarva. He's used a strong .314 batting average to fuel a solid year at the plate, and his .396 on-base percentage has allowed him to show off his plus speed with 20 stolen bases on the year. Orioles prospects stats »
#Orioles No. 24 prospect Michael Baumann had everything working tonight as he faced just 28 batters and only needed 94 pitches to complete the 10th no-hitter in @BowieBaysox history: https://t.co/Ie43LKcmtR pic.twitter.com/HEe48HDmZC

— MLB Pipeline (@MLBPipeline) July 17, 2019
Rays: Wander Franco, SS (No. 1, MLB No. 1) -- 2-for-5, 2 R, HR, SB (Class A Adv Charlotte)
Franco's solo home run in the fifth inning proved the difference in Charlotte's 2-1 win over St. Lucie, and he was the only player from either team to record multiple hits and score multiple runs in the game -- because of course he was. The 18-year-old phenom has now gone deep three times in 14 games with the Stone Crabs, for whom he's batting .365/.429/.615. Overall, Franco is slashing .326/.397/.526 in his first full season, with nine home runs, 34 extra-base hits and 18 steals in 76 games across two levels. He's also scored 58 runs and driven in 40, all while compiling more walks (38) than strikeouts (23). Rays prospects stats »
Red Sox: Triston Casas, 1B (No. 1, MLB No. 95) -- 3-for-4, HR, 3 RBI (Class A Greenville)
The Red Sox 2018 first-rounder hit an RBI single in fourth inning and then connected two-run homer in the eighth to power the Drive over Asheville, 4-1. Casas' homer was his 16th of the season and gives him a share of third place in the South Atlantic League, and he also ranks among the circuit leaders with 66 RBIs (second) and 151 total bases (third) through 82 games in his first full season. Red Sox prospects stats »
Yankees: Albert Abreu, RHP (No. 3) -- 7 IP, 8 H, 2 R, 1 BB, 7 K (Double-A Trenton)
Abreu had traffic on the basepaths all night Tuesday, as he allowed eight hits and also issued a walk, but luckily for him Altoona's offense went just 1-for-10 with runners in scoring position, which in turn allowed the 23-year-old righty to complete seven innings for the second time this season in 16 starts. Abreu has pitched well of late, with just two runs allowed over his last 13 innings, but his overall consistency still leaves much to be desired, especially with regards to his strike-throwing ability. He's posted 77 strikeouts against 47 walks in 82 1/3 Double-A innings this season, while pitching to a 3.72 ERA and 1.58 WHIP. Yankees prospects stats »
AMERICAN LEAGUE CENTRAL
Indians: Nolan Jones, 3B (No. 2, MLB No. 43) -- 2-for-4, HR, 2 RBI (Double-A Akron)
That's now back-to-back games with a home run for Jones, who belted a solo shot for Akron on Tuesday after connecting on his first Double-A homer to open the week. Promoted to Double-A on July 8, after he represented the Indians in the prestigious SiriusXM Futures Game, the 21-year-old third baseman and former second-round pick (2016) has hit safely in four of six games for Akron, including three multihit performances. Between his time in the Eastern and Carolina Leagues this season, Jones has produced a .289/.430/.448 batting line with 24 extra-base hits and 45 RBIs. Indians prospects stats »
#Indians No. 2 prospect Nolan Jones went deep for the second consecutive game, giving him nine home runs this season and two with @AkronRubberDuck.

Live stats for all the @Indians' top prospects: https://t.co/TdC4yNSlpj pic.twitter.com/KLdOmo2oE0

— MLB Pipeline (@MLBPipeline) July 17, 2019
Royals: Jackson Kowar, RHP (No. 7) -- 6 IP, 4 H, 2 R, 2 BB, 6 K (Double-A Northwest Arkansas)
Adjusting to the Double-A level hasn't been an issue for Kowar, as he posted his third quality start in five turns for the Naturals on Tuesday in a no-decision against Corpus Christi. The 2018 first-rounder (No. 33 overall pick) has pitched to 1.91 ERA with 32 strikeouts and nine walks in 28 1/3 innings since his promotion to Northwest Arkansas, and, altogether, he's logged a 3.08 ERA and 98/31 K/BB in 102 1/3 frames (18 starts) this season across two levels. The 6-foot-5 right-hander features a pair of plus pitches in his fastball and changeup -- the latter was among the best in the 2018 Draft class -- has feel for spinning a decent curveball and is consistently around the zone with all three pitches. Royals prospects stats »
Tigers: Brock Deatherage, OF (No. 20) -- 2-for-4, 2 R, 2B, HR (Class A Adv Lakeland)
Deatherage, whom the Tigers selected in the 10th round of last year's Draft out of N.C. State, is known more for his blazing speed, but the 23-year-old also has been showing some power lately, as Tuesday's home run was his second in as many games for Lakeland. He's gone deep five times on the year -- which puts him within striking distance of the career-high seven homers he hit last summer in his pro debut -- and leads the Florida State League with 34 stolen bases. Tigers prospects stats »
Twins: No Twins prospects had noteworthy performances in the Minor Leagues on Tuesday.
White Sox: Luis Robert, OF (No. 1, MLB No. 5) -- 2-for-4, 2 R, 3B, HR (Triple-A Charlotte)
Robert's red-hot start in Triple-A continued Tuesday as he racked up two more extra-base hits, including a solo homer, in Charlotte's loss against Buffalo. He's hit safely in all six games for the Knights, batting .440 (11-for-25) with six extra-base hits (three homers), nine RBIs and three steals in that span, and he also owns a 10-game hitting streak that began on July 1, when he was still with Double-A Birmingham. After slashing .269/.333/.360 with zero home runs over 50 games during an injury-plagued 2018 campaign, Robert, a tooled-up, 21-year-old outfielder, has erupted this season to hit .356/.409/.644 with 49 extra-base hits in 81 games across three levels. And with 19 home runs and 32 stolen bases, he's one deep fly away from a 20-20 season. White Sox prospects stats »
We told you he was good. Robert just hit his 19th 💣 of the year and is 2-for-3 tonight for @KnightsBaseball. The 21-year-old is hitting .458 so far (6 games) in Triple-A.

— MLB Pipeline (@MLBPipeline) July 17, 2019
AMERICAN LEAGUE WEST
A's: A.J. Puk, LHP (No. 2, MLB No. 35) -- 2 IP, 1 H, 0 R, 0 BB, 4 K (Double-A Midland)
Puk's outing was his best of the season, as he struck out four of the six batters he faced, while throwing 15 of 17 pitches for strikes in his first RockHounds start. Puk, whom the A's took with the No. 6 overall pick in the 2016 Draft, lost his entire 2018 season to Tommy John surgery and only returned to game action a little more than a month ago. He's made eight appearances (four starts) between two levels since then, striking out 21 batters in 13 1/3 innings. A's prospects stats »
Angels: Jeremiah Jackson, SS/2B (No. 7) -- 2-for-5, 2 HR, 4 RBI (Rookie Orem)
Jackson became the first Pioneer League player to reach double-digit home runs this season when he connected on a two-run shot in his first at-bat for the Owlz. The 19-year-old shortstop didn't stop there, though, as he added another two-run shot in the ninth to record his fourth two-homer game in just 28 games this season. With his league-leading 11 home runs, Jackson has already blown past the total from his pro debut, when he homered seven times in 43 games across a pair of Rookie levels after being selected by the Angels in the second round of the 2018 Draft. Angels prospects stats »
Astros: Ronnie Dawson, OF (No. 10) -- 2-for-4, HR, 2 RBI (Double-A Corpus Christi)
Dawson's two-run home run off of Jackson Kowar (Royals' No. 7) accounted for all of the Hooks' offense as they fell to Northwest Arkansas, 5-2. The second-inning shot gives him 15 home runs on the season, and with one more the 24-year-old outfielder will match his career-high total from 2018. Dawson fared well last year in his first Double-A exposure, hitting .289/.341/.518 in 29 games after a late-season promotion, but hasn't had the same success this season in his return to the Texas League, having produced a .216/.314/.426 batting line over 75 games. Astros prospects stats »
Mariners: Julio Rodriguez, OF (No. 6, MLB No. 87) -- 3-for-4, 3 R, 2 2B, HR, 3 RBI, BB (Class A West Virginia)
Rodriguez stuffed the stat sheet as he racked up three extra-base hits, three runs and three RBIs from the three-spot in the lineup to lead West Virginia past Columbia, 11-6. After reaching via a walk in his first plate appearance, Rodriguez delivered an RBI double in the second inning, hit a solo homer in the sixth and laced his second double of the game in the eighth. The 18-year-old outfielder has been anything but overmatched in full-season ball this year, as Tuesday's performance gives him a .306/.382/.490 batting line to go along with six homers and 11 doubles through 41 games. Mariners prospects stats »
Rangers: Josh Jung, 3B -- 2-for-4, 2B, IBB, SB (Class A Hickory)
The Rangers pushed Josh Jung from Rookie League up to Class A Hickory, skipping a rung in the farm system's ladder -- and Jung proved why on Tuesday. The third-base prospect, whom the Rangers selected in the first round of this year's Draft, posted multiple hits in a game for the fourth time in his pro career, which spans only five games. The Texas Tech product doubled in the third inning, singled in the eighth, then was intentionally walked in the 10th, two batters before the Crawdads walked it off in a 6-5 win. He also notched a career first when he stole second base in the eighth. Of Jung's first 12 hits as a pro, four have gone for extra bases (two doubles, a triple and a homer), and he's walked three times. Rangers prospects stats »
First 5 @MiLB games for #Rangers 1st-round #MLBDraft pick Josh Jung:
3-4, HR, 3 RBI
1-4, BB
3-5, 3B, RBI
3-4, 2B, BB, RBI
2-4, 2B, BB, SB (@HickoryCrawdads debut)

.571/.625/.905 for the @TTU_Baseball product.

2019 @MLBDraft stats: https://t.co/1ZmJuPPwQy pic.twitter.com/EKOd81sGe2

— MLB Pipeline (@MLBPipeline) July 17, 2019
NATIONAL LEAGUE EAST
Braves: Kyle Muller, LHP (No. 10) -- 5 1/3 IP, 3 H, 0 R, 5 BB, 5 K (Double-A Mississippi)
Muller has walked five or more batters five times in his 19 starts this season, but he danced around the free passes on Tuesday to throw 5 1/3 shutout innings. The big lefty lowered his ERA to 3.50 and, despite 62 walks over 100 1/3 innings, Muller has managed to limit the big blows along the way with zero home runs allowed over his last five starts. Tuesday's outing was Muller's first scoreless appearance since May 26 against Jacksonville. Braves prospects stats »
Marlins: Isan Diaz, 2B (No. 6) -- 3-for-5, 2 R, HR, 2 RBI, SB (Triple-A New Orleans)
Diaz just keeps hitting and now has 22 home runs after launching his second in his last three games. Diaz now owns a .980 OPS with New Orleans, and with an average of .306 and on-base percentage of .398, he's checking off all the boxes at the plate. Diaz has already passed his previous career high of 20 home runs, set in 2016, as his raw power continues to translate into games more consistently. Tuesday was Diaz's third consecutive game with three hits, a stretch that's seen him go 9-for-14 (.643) with six RBIs. Marlins prospects stats »
Mets: Shervyen Newton, SS (No. 5) -- 2-for-3, HR, 3 RBI (Class A Columbia)
Newton hit just .184 with a .537 OPS through the end of June, but something has finally clicked for the Mets' No. 5 prospect. The 20-year-old shortstop has recorded multiple hits in eight of his last 10 games, and went deep on Tuesday for his sixth home run of the season, a career high. With an impressive physical frame at 6-foot-4, 180 pounds, Newton is starting to flash his potential in his first year of full-season ball. He got the start at third base for the 13th time on Tuesday, but has spent the majority of his season at second base (41 starts) with 10 starts at shortstop. Mets prospects stats »
#Mets No. 5 prospect Shervyen Newton launched his fifth homer of the season tonight and has eight multi-hit games in his last 10.

Live stats for all the #Mets' top prospects: https://t.co/3g82qKET0F pic.twitter.com/vswoHQPM35

— MLB Pipeline (@MLBPipeline) July 17, 2019
Phillies: Enyel De Los Santos, RHP (No. 6) -- 6 IP, 3 H, 2 R, 2 BB, 6 K (Triple-A Lehigh Valley)
De Los Santos has been ferried a bit between the IronPigs and the Phillies this season, but that hasn't sidetracked his strong work at Triple-A. The right-hander threw a season-high 96 pitches to help notch a 4-2 win over Gwinnett. The 23-year-old Dominican native bounced back from a 10-hit, nine-run outing last week to allow just three hits, including a two-run homer in his final inning. Though the Phillies have largely used De Los Santos as a reliever, he's been a starter the entire season for Lehigh Valley, with whom he's posted a 3.95 ERA. Phillies prospects stats »
Nationals: No Nationals prospects had noteworthy performances in the Minor Leagues on Tuesday.
NATIONAL LEAGUE CENTRAL
Brewers: Trey Supak, RHP (No. 11) -- 7 IP, 1 H, 0 R, 1 BB, 9 K (Double-A )
Supak came within one out of completing a no-hitter for a second time this season, as he fired 6 2/3 hitless frames before allowing a two-out single in the opener of Biloxi's doubleheader against Chattanooga. He set a season high with nine strikeouts en route to his first career complete game and shutout and also helped his own cause by collecting a pair of hits. The 23-year-old right-hander nearly threw a no-hitter back on May 30, when he allowed a two-out single in the ninth against Tennessee, and he's now recorded four starts this season in which he's allowed just one hit. He's arguably been the top pitcher in the Southern League this season, leading the circuit in wins (10), innings (117) and WHIP (0.85) while posting the second-best ERA (2.15). Brewers prospects stats »
#Brewers No. 11 prospect Trey Supak is dealing for @BiloxiShuckers:

5 IP
0 H 👀
0 R
1 BB
8 K

Live stats for all the @Brewers' top prospects: https://t.co/I2GPBPfPre pic.twitter.com/qXYI395HDx

— MLB Pipeline (@MLBPipeline) July 16, 2019
Cubs: Nico Hoerner, SS (No. 1, MLB No. 52) -- 2-for-5, R, 2B (Double-A Tennessee)
The Cubs showed a lot of hope in Hoerner by pushing him all the way to Double-A to begin his first full pro season, and the move hasn't proved too much to handle for the club's top prospect. After dazzling scouts in the Arizona Fall League last year, he's posted a strong .290/.354/.458 line so far in an injury-shortened season. The 22-year-old, a Stanford University product, has seen his production drop a bit since his two-month stay on the injured list, but he's only failed to record a hit in two of his 12 games with the Smokies this month. The 2018 first-rounder's double on Tuesday was his 10th of the season and his 15th extra-base hit. Cubs prospects stats »
Cardinals: Nolan Gorman, 3B (No. 1, MLB No. 30) -- 3-for-5, 2 R, 2 2B, 3 RBI (Class A Adv Palm Beach)
Gorman initially struggled following his promotion to the Florida State League, hitting just .179 over his first eight games. Since then, however, the 19-year-old masher owns a .310 average with seven extra-base hits over his past 14 contests, which includes an active six-game hitting streak during which he's batting .440 (11-for-25) with two homers and 12 RBIs. Overall, Gorman, who clubbed 17 homers and reached full-season Class A last summer after the Cardinals took him with the No. 19 overall pick, has produced a .248/.335/.453 line with 13 homers across 89 games in his first full season. Cardinals prospects stats »
Nolan Gorman stayed hot tonight with three hits, including two doubles. The #STLCards top prospect now has seven hits over his last three games.

Live stats for all the @Cardinals' top prospects: https://t.co/Hnrj0K3fxl pic.twitter.com/BoxQxfqfRR

— MLB Pipeline (@MLBPipeline) July 17, 2019
Pirates: Will Craig, 1B (No. 12) -- 2-for-3, HR, 2 RBI (Triple-A Indianapolis)
The Pirates' 2019 Futures Game selection broke out of a 2-for-22 skid with back-to-back multhit games. The Wake Forest product launched his 18th homer of 2019 in the second inning of Tuesday's game against Syracuse. The 24-year-old has raised his slugging percentage to a career-high .463 mark, helped by 15 doubles to go along with his homer total, which falls two shy of his career high set last year with Altoona. Pirates prospects stats »
Reds: No Reds prospects had noteworthy performances in the Minor Leagues on Tuesday.
NATIONAL LEAGUE WEST
D-backs: No D-backs prospects had noteworthy performances in the Minor Leagues on Tuesday.
Dodgers: Gavin Lux, SS/2B (No. 2, MLB No. 31) -- 4-for-5, HR, 2 RBI; Will Smith, C (No. 4, MLB No. 100) -- 2-for-5, 2 HR, 7 RBI (Triple-A Oklahoma City)
Two of the Dodgers' top prospects turned in huge games as Oklahoma City routed Iowa, 13-4. Smith did all his damage early and drove in a career-high seven runs over the first three innings. The 24-year-old hit a two-run homer in the first, followed that up with a grand slam in the second and then drew a bases-loaded walk in the third. The two-homer game was Smith's third of the year and brought his home run total to 18, not including the three he hit in the Majors. Lux has been red-hot at the plate and continued that trend with another multihit performance. The 21-year-old is in the middle of a 14-game hitting streak, has homered in three straight games and is hitting .500 through 13 games at the Triple-A level. Dodgers prospects stats »
Make that 18 @MiLB homers for Smith, who hit a grand slam in his next at-bat and now has three multi-homer games this season. The six RBIs (so far) for Smith are also a career high.

— MLB Pipeline (@MLBPipeline) July 17, 2019
Giants: Franklin Labour, OF (No. 22) -- 1-for-2, HR, RBI (Class A Short Season Salem-Keizer)
Labour's first stop above Rookie ball has been a great success. The Northwest League's leader in home runs padded that lead with his 13th blast of the season in the first inning for Salem-Kaizer. A July 2 signing in 2015, Labour has put up an astounding .709 slugging percentage in 30 Class A Short Season games. The Dominican Republic native's previous season high in homers came in 2017, when he hit five in 55 games in the Dominican Summer League. As he continues to build on his 6-foot-1 frame, his power tool may jump to the plus side. Giants prospects stats »
Padres: Hudson Potts, 3B (No. 9) -- 2-for-3, 2B, HR, 3 RBI (Double-A Amarillo)
Make it back-to-back multihit games for Potts, as well as consecutive games with a homer. The Texas native slugged his 10th blast of the year in the second inning of Amarillo's 10-4 victory and doubled the next inning. The 2016 first-rounder spent the entire month of June away from Amarillo, with much of the time spent on the injured list with an undisclosed injury. The 20-year-old struggled prior to that at Double-A this season, slashing .209/.286/.347, but he's returned to put up an .849 OPS in 14 games this month. Padres prospects stats »
Rockies: Sam Hilliard, OF (No. 9) -- 2-for-4, 2B, RBI (Triple-A Albuquerque)
Hilliard continued his strong season at the plate with two hits, including an RBI double as Albuquerque extended its lead in the eighth. The 25-year-old slugger gets plenty of attention for his 26 home runs, but his 21 doubles also put him just two shy of his career high (23) set in 2016 and 2017. With a healthy stretch run, Hilliard should push past the 30-homer plateau and has an opportunity to reach 100 RBIs for the first time in his career. Rockies prospects stats »