Young arms could crack Rays' bullpen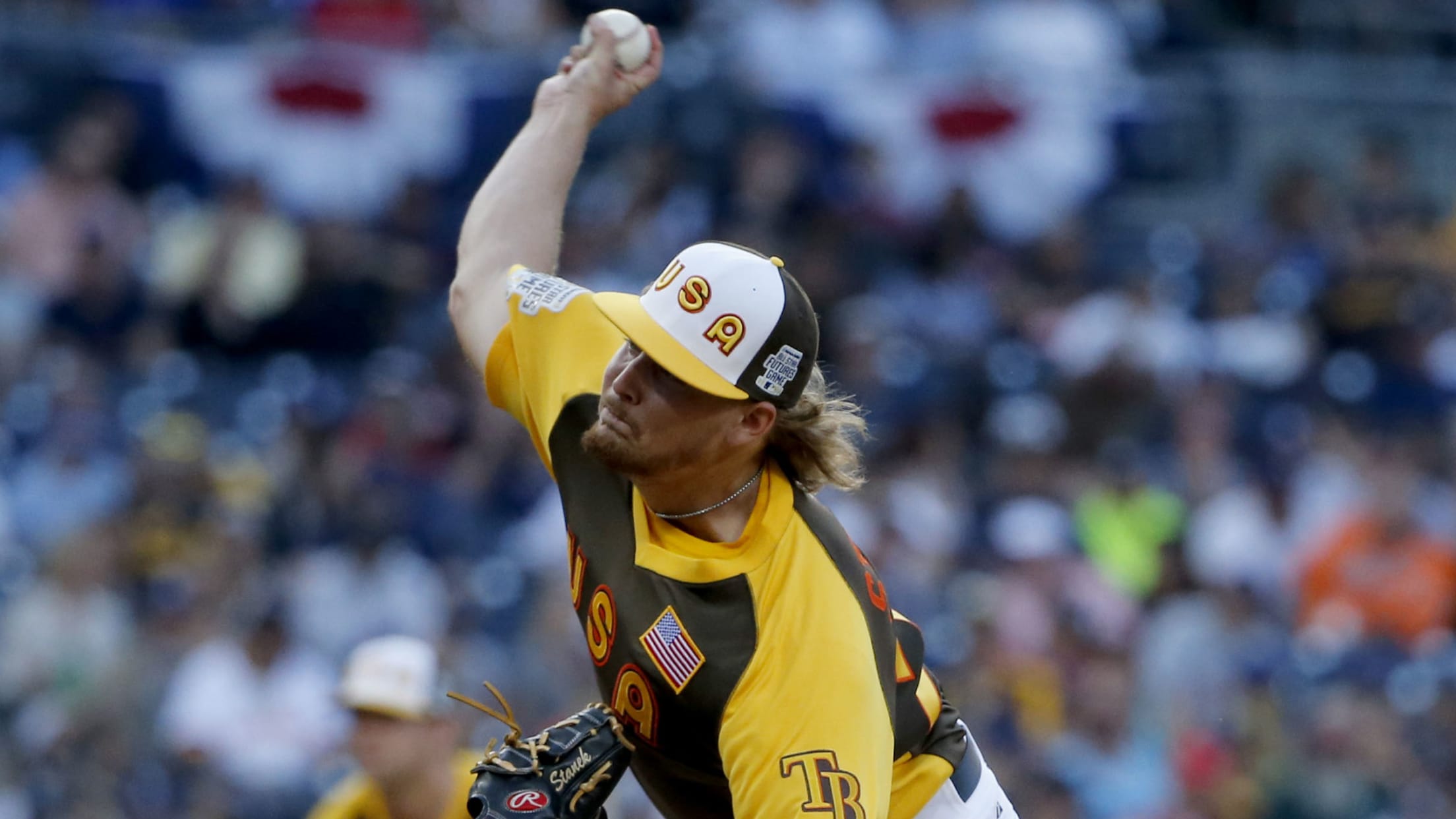 U.S. Team pitcher Ryne Stanek throws against the World Team during the Futures Game last July. Stanek could crack the Rays' bullpen in 2017. (AP) (Lenny Ignelzi/AP)
ST. PETERSBURG -- Piecing together a bullpen is one of the Rays' top offseason priorities. Among their options are three internal candidates who might find their way into the mix.The first is right-hander Ryne Stanek, who stands 6-foot-4, weighs 180 pounds and throws 100 mph.Stanek began the 2016 season in
ST. PETERSBURG -- Piecing together a bullpen is one of the Rays' top offseason priorities. Among their options are three internal candidates who might find their way into the mix.
The first is right-hander Ryne Stanek, who stands 6-foot-4, weighs 180 pounds and throws 100 mph.
Stanek began the 2016 season in Double-A Montgomery's rotation. The Rays decided to shift him to the bullpen in early June, and he took off in the new role. He's the Rays' No. 12 prospect, according to MLBPipeline.com.
As a reliever, Stanek's fastball can reach triple digits. His slider gives him a second above-average offering, and he also can mix in an average curveball as well as a changeup. In short, he's got closer-like talent.
"Really happy about Ryne Stanek," said Rays manager Kevin Cash. "He made some big jumps. Moved him from a starter to the bullpen. He excelled. He got all the way to Triple-A. There was consideration for him to come up [in September]. It didn't work out that way.
"But to come into Spring Training knowing that we've got a guy, a power arm, I think we're looking to add some power arms into our bullpen."
Jaime Schultz is another option, though he might not be as viable an option as Stanek since the Rays might want him to continue in his pursuit to be a starter.
Schultz, No. 11 on the Rays' top prospect list, has shown a combination of intriguing stuff and subpar command since joining the Rays as a 14th-round Draft pick in 2013. That was especially true in 2015, when the right-hander led the Southern League in strikeouts (168) and walks (90) while making 27 starts for Double-A Montgomery.
The right-hander has power stuff that misses bats consistently, and he finished second in the Minors in 2015 with 11.2 strikeouts per nine innings. The right-hander will reach 98-99 mph with his fastball but usually sits in the mid 90s with considerable arm-side run, maintaining his velocity deep into starts. He pairs his fastball with a power breaking ball that piles up strikeouts with its depth and bite, and he also shows a potentially average changeup.
However, Schultz's strike-throwing issues remain a problem. He did cut down on walks in 2016 at Triple-A Durham. The Rays continue to develop Schultz as a starter, but his 5-foot-10, 200-pound frame and control problems have some believing he's destined for the bullpen, where he could see an uptick in velocity and serve as an effective short reliever.
"I think you could look at him that way [reliever]," Cash said. "I don't think we're ready to commit one way or the other on him in Spring Training. I don't think that would be fair to him. It would basically be come into Spring Training, let's build you up. Let's compete and see where the cards fall from there."
Finally, there's Rule 5 acquisition, right-hander Kevin Gadea, whom the Rays selected from the Mariners organization on the final day of the Winter Meetings.
The Nicaraguan native stands 6-foot-5, 188 pounds and was 4-1 with a 2.36 ERA in 15 Minor League appearances last season, eight of which were starts. In 68 2/3 innings, he struck out 95 while walking just 14. According to Peter Bendix, Rays director of baseball development, Gadea will have a shot at becoming a member of the Rays' bullpen this season.
Gadea must remain on the Rays' 25-man roster for the entire season. If he doesn't, he must be offered back to the Mariners for $50,000 once he clears waivers.
"We saw him well throughout the season," Bendix said. "He missed a lot of bats. We think that he has a chance to help us in the bullpen. We'll take him to Spring Training and see what we have.
"He's a young guy and has a lot of long-term potential there. ... He's mostly a fastball-changeup guy. He's got a good fastball. And we think the changeup has a chance to be a really good pitch."
A lot will go into the decision regarding the members of the 2017 bullpen, but Cash has expressed a desire to have some pitchers who can get it to the plate in a hurry.
"There's no doubt when you ask hitters, there's something to be said for a guy that's warming up and bringing the 96, 97, 98 mph," Cash said. "With power, you want the guy to be able to command the ball. If you're throwing 98 and you don't know where it's going, that will real soon get exposed. But that velocity opens your margin for error, and helps you have some success, especially in those leveraged situations."