Playoff 'pen innovations pique Price's interest
Skipper: Using best relievers for longer stretches would require tweaks over 162-game season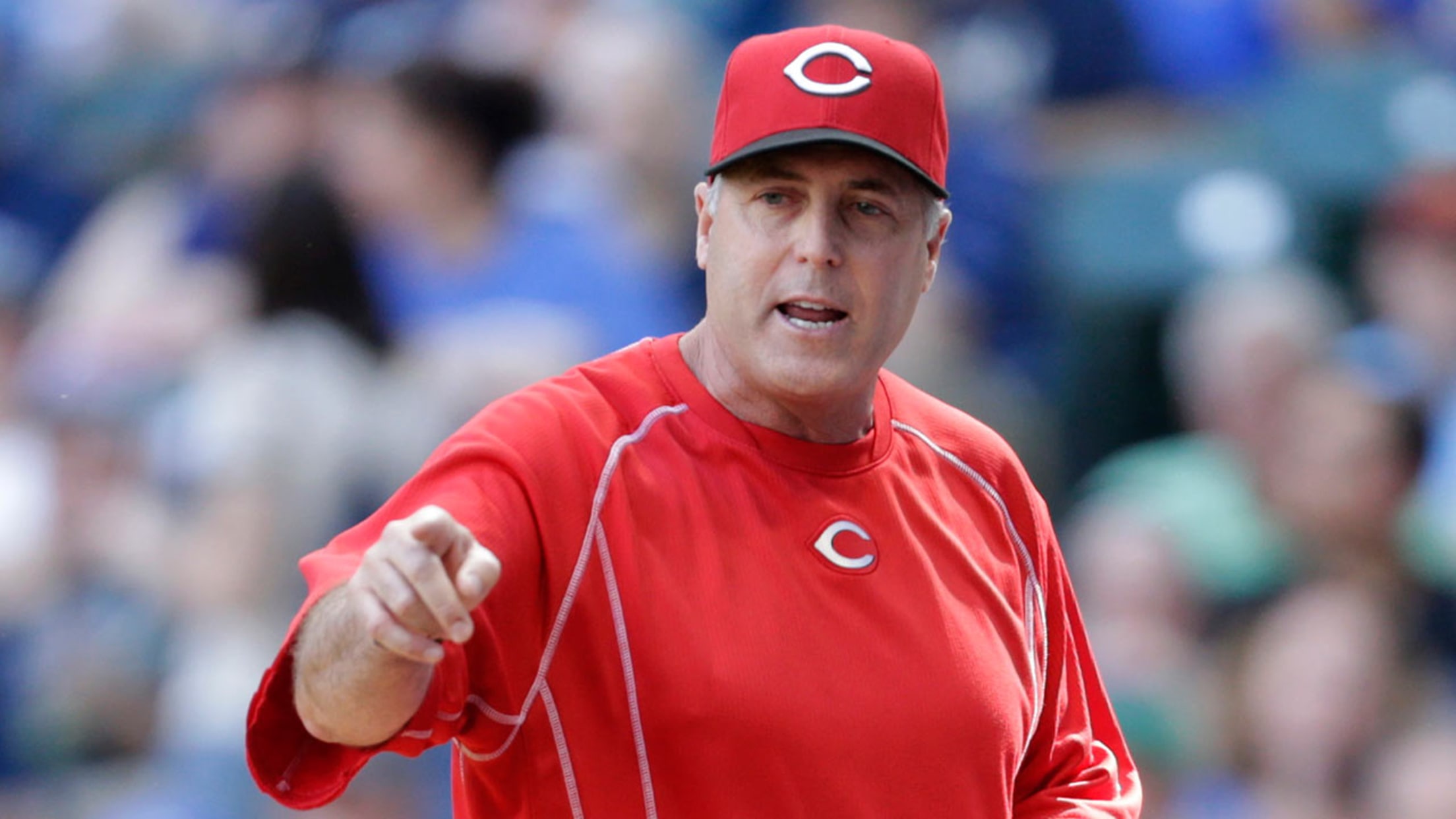 Reds manager Bryan Price discussed the game-wide move toward using top relievers earlier in games. (Getty)
CINCINNATI -- Like many baseball fans, Reds manager Bryan Price watched the postseason and saw how his peers were innovative in using their late-inning relievers. Often the best reliever was used to get the toughest outs in the highest leverage situations, regardless of the inning, with closers sometimes pitching two
CINCINNATI -- Like many baseball fans, Reds manager Bryan Price watched the postseason and saw how his peers were innovative in using their late-inning relievers. Often the best reliever was used to get the toughest outs in the highest leverage situations, regardless of the inning, with closers sometimes pitching two and even three innings.
The Dodgers, Cubs and Indians employed the strategy to rave reviews. Cleveland used setup man Andrew Miller in the fifth inning. Former Reds closer Aroldis Chapman was summoned by the Cubs in the seventh inning during the World Series. Price is in favor of doing something similar with his relievers in 2017, but he noted it's not as simple to do over a 162-game season as during a five- or seven-game playoff series.
"That works when you know every third day you're going to have an off-day," Price said of using late-inning relievers earlier in games. "You saw how much responsibility in the postseason that managers put on their closers and their primary setup guys. There were guys [other relievers] who were growing cobwebs.
"It's less likely to be able to happen with any frequency when you're on a schedule where you get three days off a month. However, I do think the game is looking at finding more than one person who is comfortable throwing in the ninth inning, more than one person who is capable of throwing multiple innings in a setup role."
Later in the 2016 season, Price was already moving in that direction with his bullpen strategy. Former starter Raisel Iglesias threw at least two innings in 17 of his 32 relief appearances and twice threw three innings. He was also 6-for-8 in save chances. Another converted starter, Michael Lorenzen, appeared in relief in 35 games and pitched least two innings 12 times.
Tony Cingrani led the bullpen with 17 saves, but he wasn't the dedicated closer and sometimes entered before the ninth inning, depending on the matchups.
All three pitchers could be used in the late innings -- to close or set up. The Reds are also searching the free-agent market for affordable veterans capable of working multiple innings. Right-hander Blake Wood will be back, and Price noted that many of the young arms that don't earn the fifth starter's job -- perhaps Cody Reed, Robert Stephenson, Sal Romano or Amir Garrett -- could get bullpen roles.
"The only way that works is if you have multiple people who can do it," Price said. "Every time you fire an Andrew Miller or a Raisel Iglesias for 2 2/3 innings, they're not going to come back and do the same thing the next day, not in a 162-game season."
Although Iglesias and Lorenzen provided some stability, the Reds' bullpen was the team's Achilles' heel in 2016. It led the Majors with 103 home runs allowed (including 26 to the first-batter faced), and also in runs allowed (356), walks allowed (297) and batters hit by pitches (34).
"For our guys, if we think we have a bunch of guys who wouldn't be happy if they weren't closing, it'd be insane," Price said. "Nobody has really accomplished nearly as much in our bullpen to have warranted an expectation of a role.
"If we're going to be good as a pitching staff, and we're going to go this road of trying to get more out of our bullpen guys, our late-inning guys, meaning maybe fewer appearances but more innings, everyone in that bullpen has to be on board. … If we can stay selfless that way, this will work."