RCF, local partners team up, get creative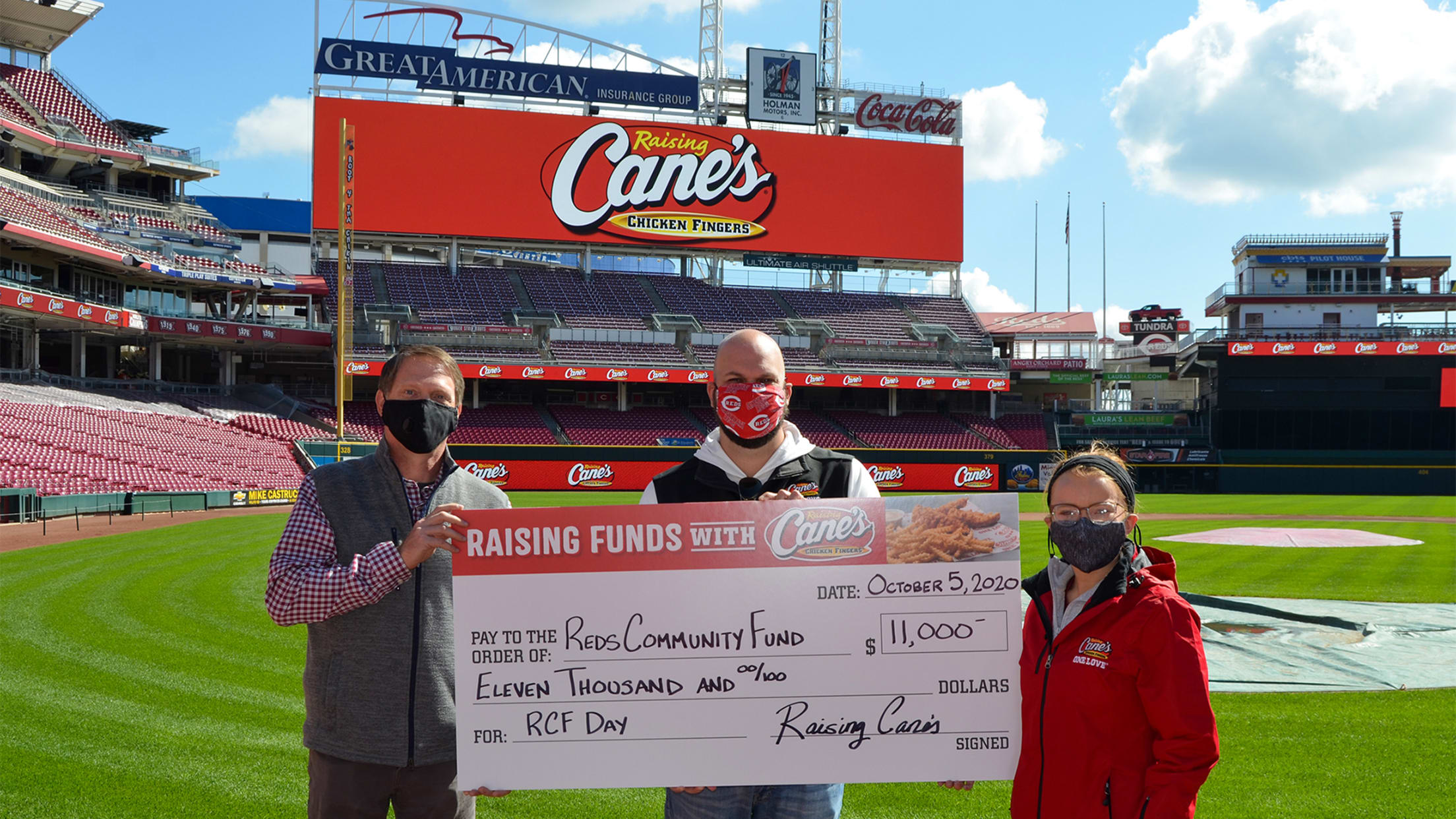 As all businesses have been forced to do in 2020, the Cincinnati Reds have had to adapt. Each aspect of the team's operations, both on and off the field, faced unique challenges during the pandemic. One of the many uplifting stories that resulted from the shortened season was the remarkable
As all businesses have been forced to do in 2020, the Cincinnati Reds have had to adapt. Each aspect of the team's operations, both on and off the field, faced unique challenges during the pandemic. One of the many uplifting stories that resulted from the shortened season was the remarkable support of the Reds Community Fund.
Since its inception in 2001, the RCF has expanded its reach year after year and continues to improve the lives of youth through its baseball, softball and education-based curriculum. Much of this programming was disrupted this year, as were the fundraising efforts that make the initiatives possible. With members of the Greater Cincinnati community in need of help now more than ever, the RCF had to find ways to continue raising money with many of their traditional fundraisers unable to operate as usual. With some internal creativity and generosity from local partners, the RCF pulled off another successful year.
"During the spring and early summer, it was hard to fathom how we were going to stay afloat," said Reds Community Fund executive director Charley Frank. "Fortunately, the 60-game season provided a number of silver linings, including some extraordinary gestures by a handful of our key partners, including PNC Bank, Mike's Carwash, LaRosa's and Raising Cane's. Each stepped up in different ways to help us bridge our operating deficit."
Each year since 2012, the Reds and LaRosa's have teamed up for "Strikeouts for Slices." With this program, all fans in attendance at a Reds home game could redeem their ticket for one free small pizza if Reds pitchers struck out 11 or more batters during that game. With no fans in attendance in 2020, this promotion wasn't going to work. But LaRosa's was determined to do something. The local pizza chain opted to donate $1,000 to the RCF whenever Reds pitchers struck out at least 11 batters during any game. By the time the Reds' 60 regular season and two postseason games were completed, LaRosa's had donated $29,000.
"Baseball is such a big part of Cincinnati and we wanted to continue our tradition of giving -- so instead of free pizza, we are focusing on making kids happy in local baseball and softball," said Mike LaRosa, CEO of LaRosa's, Inc., at the start of the season.
As Frank said, other local businesses that stepped up in a big way included Mike's Carwash, which raised $66,274 for the RCF through the Bowtie Tuesday and Kids Win Wednesday promotions throughout the season. Fifteen area Raising Cane's locations dedicated 15% of their sales on Sept. 10 which equated to $11,000.
Another annual event is the Reds Community Fund Telethon, during which FOX Sports Ohio dedicates a game broadcast to highlighting the RCF's efforts and encourages donations through the sale of special gift packages. Thanks to PNC, it was a record-setting telecast on Aug. 12. Before the game, PNC regional president Kay Geiger announced the bank would match the first $50,000 in viewer donations and MVP Package sales. During the game, the $50,000 threshold was met and PNC increased its pledge to $75,000, money that was earmarked for the P&G MLB Cincinnati Reds Youth Academy to support fall and winter programming. When it was all said and done, telethon proceeds exceeded $211,000.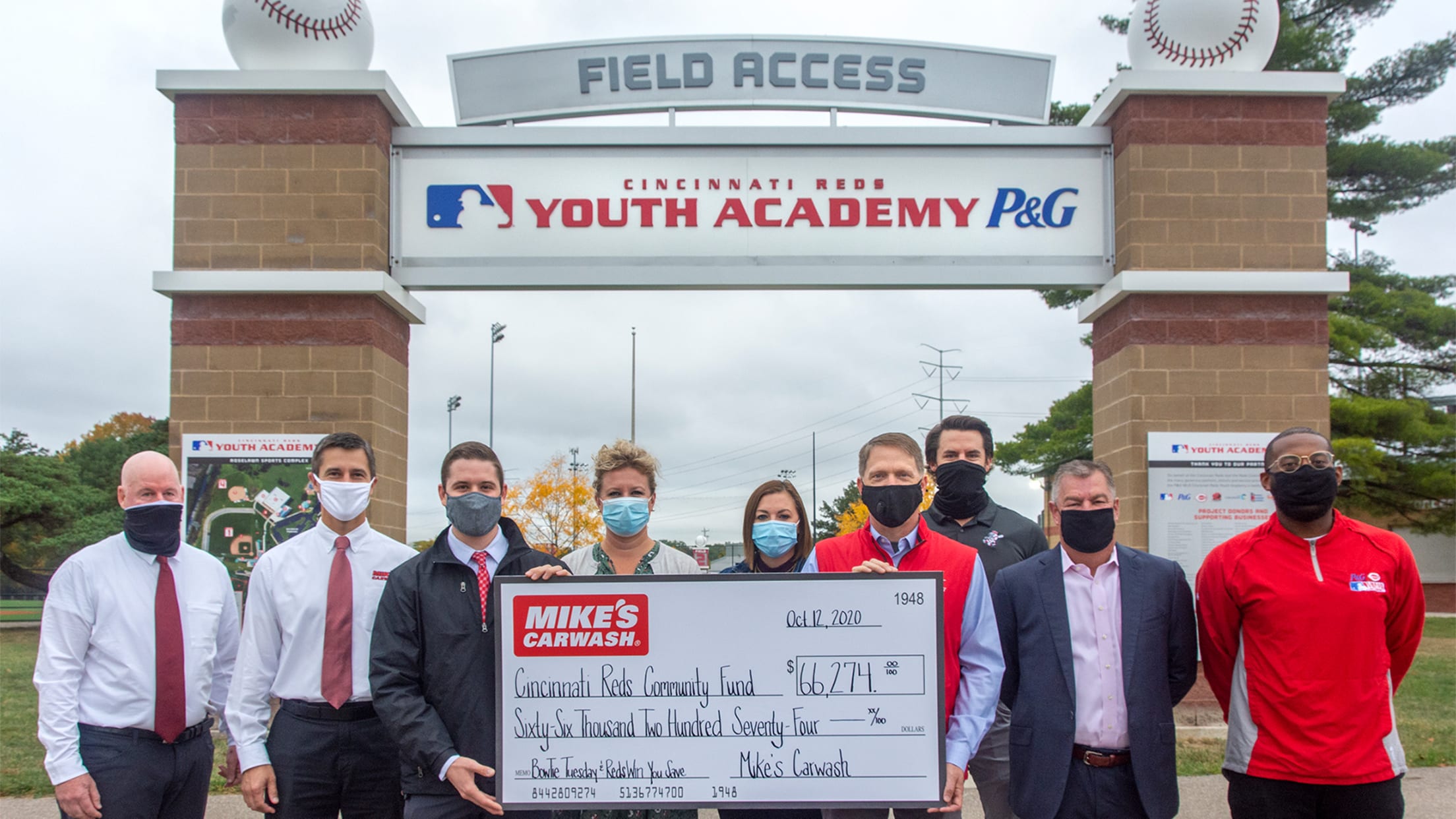 One of the biggest events the Community Fund puts on each year is the Marty Brennaman Golf Classic. Typically, this is a multi-day event and has been held at Belterra Casino Resort for the past 13 years. It was clear long before September that the event would not happen as usual. But thanks to presenting sponsor Thomas More University, the RCF was able to host the 16th annual Marty Golf Brennaman Classic with an evening at Topgolf West Chester. More than 200 guests and celebrities attended the fundraiser that brought in over $100,000.
With the RCF able to keep its fundraising efforts alive, work has resumed in Avondale, recipient of the 2020 "Community Makeover" sponsored by the Reds, P&G, Cincinnati Children's Hospital and the Cincinnati Zoo. Before COVID-19, the multi-site, million-dollar project was expected to culminate in August. The date has been pushed back to 2021, but the wheels are back in motion.
Nevertheless, the project partners raised an additional $180,000 in 2020 to provide front-line COVID relief in Avondale. These dollars supported organizations such as Freestore Foodbank and their "Healthy Harvest Mobile Market" initiative, the Urban League of Greater Southwestern Ohio, the Boys and Girls Clubs of Greater Cincinnati and Cincinnati Public Schools. The Reds Community Fund also worked alongside staff and volunteers from Cincinnati Children's Hospital for an Aug. 6 service day, providing support to both Rockdale Academy and South Avondale Elementary, where a mural project wrapped up last week.
In addition to these initiatives that were supported by so many great partners, the RCF worked on their own to find additional creative ways to raise money and engage fans throughout the season. The Community Fund sold close to 4,600 individual images through the Reds Fan Cutouts fundraiser and generated more than $325,000. The September Split the Pot jackpot soared over $186,000 including a jump of more than $100,000 during the final weekend of the regular season.
"All of these elements combined to keep our staff intact, our programs on track and our spirits high," Frank said. "The corporate investment also put us in a position where we could safely reopen our indoor Academy programs in early October. It truly did take a village this year and I couldn't be more grateful to our partners and staff."