Setback forces Reds' Herrera out of Classic
Shoulder inflammation will keep second baseman from representing Colombia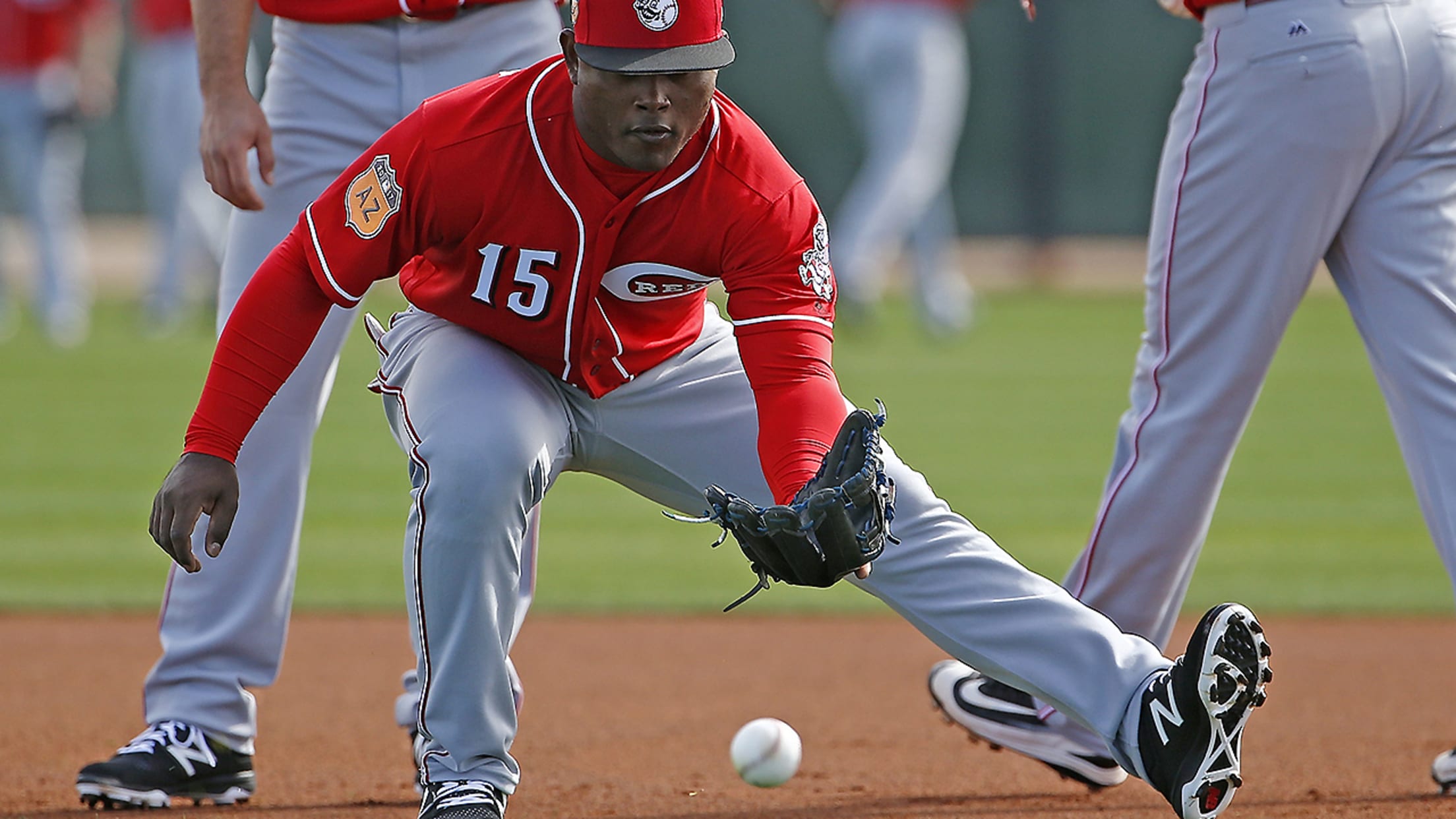 Dilson Herrera has been shut down from throwing and will not compete in the World Baseball Classic. (AP) (Ross D. Franklin/AP)
GOODYEAR, Ariz. -- Right shoulder inflammation has slowed Reds second-base prospect Dilson Herrera and will prevent him from representing Colombia in the upcoming World Baseball Classic.Herrera, who was acquired from the Mets in the Aug. 1 trade for Jay Bruce, has been shut down from throwing. But he can still
GOODYEAR, Ariz. -- Right shoulder inflammation has slowed Reds second-base prospect Dilson Herrera and will prevent him from representing Colombia in the upcoming World Baseball Classic.
Herrera, who was acquired from the Mets in the Aug. 1 trade for Jay Bruce, has been shut down from throwing. But he can still hit, and manager Bryan Price said he would start Herrera as the designated hitter on Saturday vs. the Indians. The game, which starts at 3:05 p.m. ET, will be shown live on MLB.TV.
"It was a little bit tight. I've been working hard on my shoulder, so I think I will be all right really soon," Herrera said.
The issue, Herrera noted, started happening a week ago.
Herrera, who will turn 23 on March 3, dealt with soreness in the same shoulder last year. It bothered him at the start of the 2016 season, but after recovering fully, he missed several Triple-A games near the end of the season after he slept awkwardly on the team bus during a road trip.
Although it appears that Jose Peraza has the inside track to be the regular second baseman after Brandon Phillips' Feb. 12 trade to the Braves, Herrera is still vying to make the club. He could fill a utility role similar to what Peraza did last season if he can show more versatility. The club has had Herrera work some at third base during camp.
Herrera was disappointed but understood that he should skip the World Baseball Classic under the circumstances.
"It's very important to work on my shoulder and be ready," Herrera said. "We've got to do it right. It's right to get ready for the season and stay healthy."
Near the start of Spring Training, Price had revealed a personal preference that players competing for roster spots not leave camp to play in the World Baseball Classic. But that was not part of the decision-making process for Herrera in this case.
"I would not bring someone in here and convince them not to represent their country," Price said. "He'll DH tomorrow, he's fine to hit. He's not OK to defend and throw. Until we have that -- his shoulder feeling good coming off the end of last year, and he had the soreness -- it doesn't make any sense to be playing defense in the WBC or for us."