Inbox: How will Reds look in a short '20 season?
Beat reporter Mark Sheldon answers questions from fans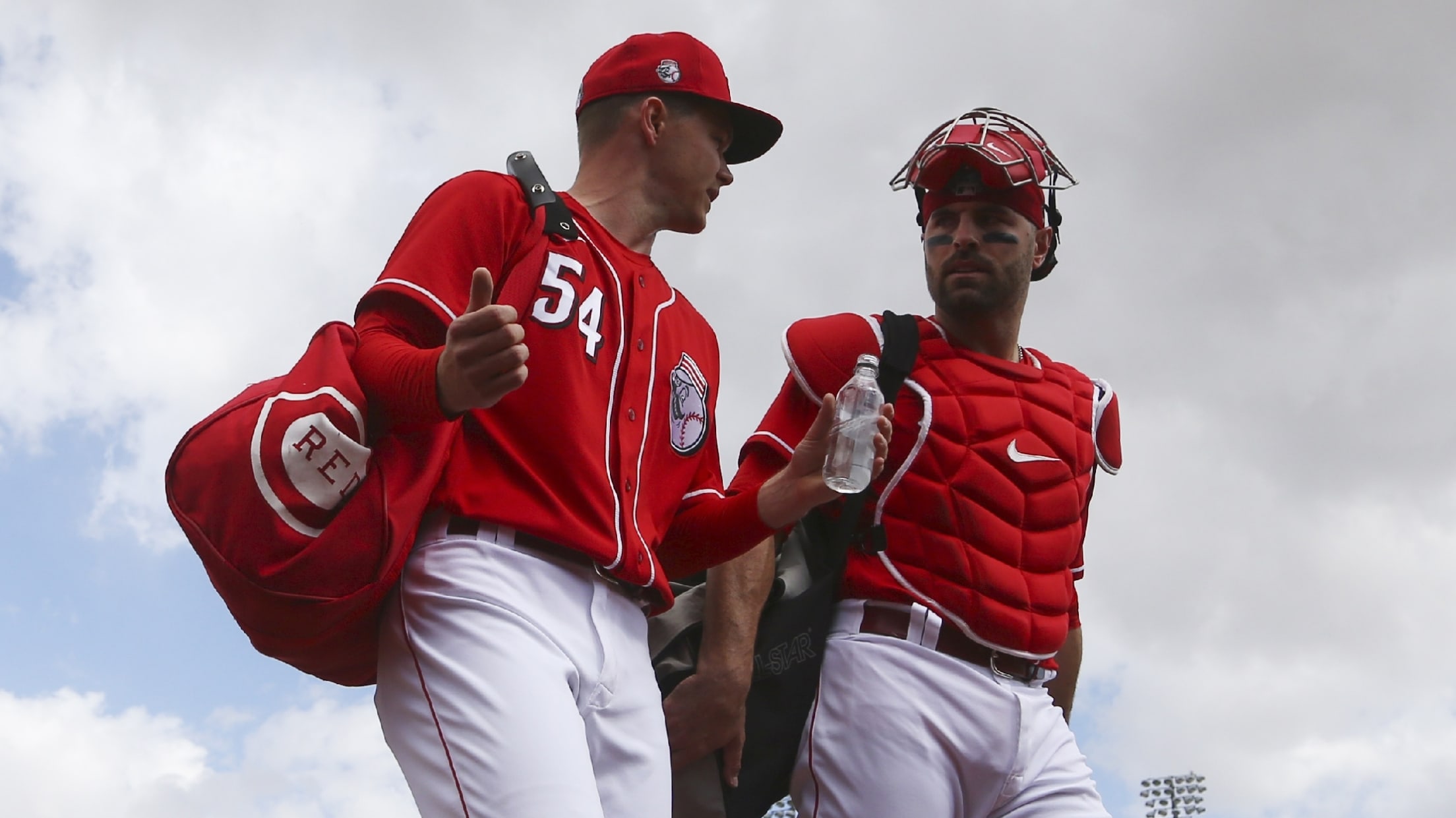 We've waited a long time for this, haven't we? Reds baseball will be ramping back up this week after a more than three-month layoff because of the pandemic. Although writing nostalgia stories about classic games, seasons and Top 5 lists was fun, I'm glad we can look ahead again and
We've waited a long time for this, haven't we?
Reds baseball will be ramping back up this week after a more than three-month layoff because of the pandemic. Although writing nostalgia stories about classic games, seasons and Top 5 lists was fun, I'm glad we can look ahead again and focus on the coming season.
• FAQ for the Reds' 2020 season
The Reds Inbox is back, and I will try to answer questions about some of the topics you're thinking about. Please understand that there are some questions I simply don't know the answer to just yet. Much won't be known until the players and the coaching staff are together again and everybody's fitness is evaluated.
With that aside, let's light this candle and get into your questions.
With a packed schedule and so few off days, any chance of a 6 man rotation?

— Terry Hall (@terrylanehall) June 28, 2020
Manager David Bell and pitching coach Derek Johnson have yet to speak on this, but I'm predicting that they won't. In the early going, especially, I would expect shorter starts and pitch counts. That's what will make middle relief and the starter depth critical. Beyond the five-man rotation, the club also has Tyler Mahle, Lucas Sims, Sal Romano and others. I doubt it would be a tandem rotation, specifically. But if those can stretch out to three to four innings also, they can bridge the middle of games before the late-inning guys take over.
Who plays DH regularly for Reds in 2020?

— Anthony D. Tomlinson (@antbanks_design) June 28, 2020
As president of baseball operations Dick Williams noted last week, "advantage Reds" in this department since Bell will have numerous candidates. Nick Castellanos and Jesse Winker seem to be the best bets, but there are a few ways this can go.
Which pitcher and which position player can not afford to get off to a slow start in order for the Reds to make the post-season?

— Jason Huebner (@hueby46) June 28, 2020
Not to be flip, but all of them or at least the starting nine. With a 60-game schedule, there isn't going to be room for slumps, repeated rough outings or long losing streaks. Games will probably be managed a little tighter. Cincinnati can ill-afford the 1-8 start it had in 2019, but that's even more the case in '20.
With the shortened season, how will contracts work out? Curious mostly about Castellanos. He had the [early opt-outs] and I wonder who's favor this all falls in?
-- Shelton S., on Facebook
Castellanos' four-year, $64 million contract that he signed in January with Cincinnati included a pair of opt-out clauses after the 2020 and '21 seasons. Before the pandemic, I thought he was a good candidate to opt out if he had a great season. Now? I'd be shocked. The financial losses to teams from this shutdown are profound. Barring a reversal of that, this winter won't likely be flush with the mega contracts we've seen in past offseasons.
Will we see 1 of Stephenson,India or Lodolo this season?

— Brad (@Bigbird1182) June 28, 2020
I think Nick Lodolo could be a bullpen option at some point, but Tyler Stephenson had a good chance of debuting this season before the stoppage. If something happens to either Tucker Barnhart or Curt Casali behind the plate, Stephenson could step in as a catcher.
How strong are the Reds chances in the NL central?

— Caleb Collins (@_collins22) June 28, 2020
I think they are still a contender for the postseason for the same reasons as they were in mid-March. The other National League Central contenders made few key moves while the Reds were super aggressive. The Cardinals are still probably the team to beat, and don't discount the Cubs. Cincinnati should be in the thick of the race, however, and we'll have to see after that.
What is the rule for the 10th-inning runner at second base? What rule determines who that runner is? If it is manager's choice, I'd want Billy Hamilton back just for that situation.
-- Fred H., on Facebook
According to the rule changes listed by Thomas Harrigan of MLB.com last week, the runner on second base rule is as follows:
"During the regular season, every half-inning after the ninth will begin with a runner on second base. The designated runner would be the player who made the final out the last time his team was at bat (or a pinch-runner). If that runner scores, the pitcher won't be charged with an earned run. This rule will not be in place for the postseason.
"Over the past five years, 8.26 percent of all regular-season games have gone to extra innings. There were 208 extra-innings games in the 2019 regular season, counting for 8.56 percent of all games."
Hamilton is with the Giants currently, and I'm sure they are thinking the same thing.
What's going on with the Minor Leagues? With the short time to re-prepare, if injuries occur -- and they will -- where will the reserves be when they need to be called up?
-- Bill W., on Facebook
At this time, there have been no plans announced regarding a Minor League season. A mixture of extra players and prospects will be available as part of the 60-man player pool, and they will be stationed in Mason, Ohio, for workouts. The team reached a deal with Prasco Laboratories to have players train on the corporate campus that has two state-of-the-art ballfields. Just looking at the Prasco Park website, the place looks impressive.
Dick Williams already said the DH won't be just one guy, but who do you think will be in that role most often? Also, how will this schedule change what the Reds do with Michael Lorenzen?

— Andy Johnson (@johnsona_13) June 28, 2020
This is included for the second question, since I've already answered the first. I don't see Lorenzen getting a lot of use as a DH. I think he could still pinch-hit or fill in as an outfielder. Where he carries big value is as a pinch-runner in extra innings. Although not as fast as Hamilton, Lorenzen is one of the fastest players on the Reds, and that speed could help win them a few games.
Mark Sheldon has covered the Reds for MLB.com since 2006, and previously covered the Twins from 2001-05. Follow him on Twitter @m_sheldon and Facebook.