Newly acquired Bonilla will get chance to start
26-year-old one of two pitchers Reds recently claimed off waiver wire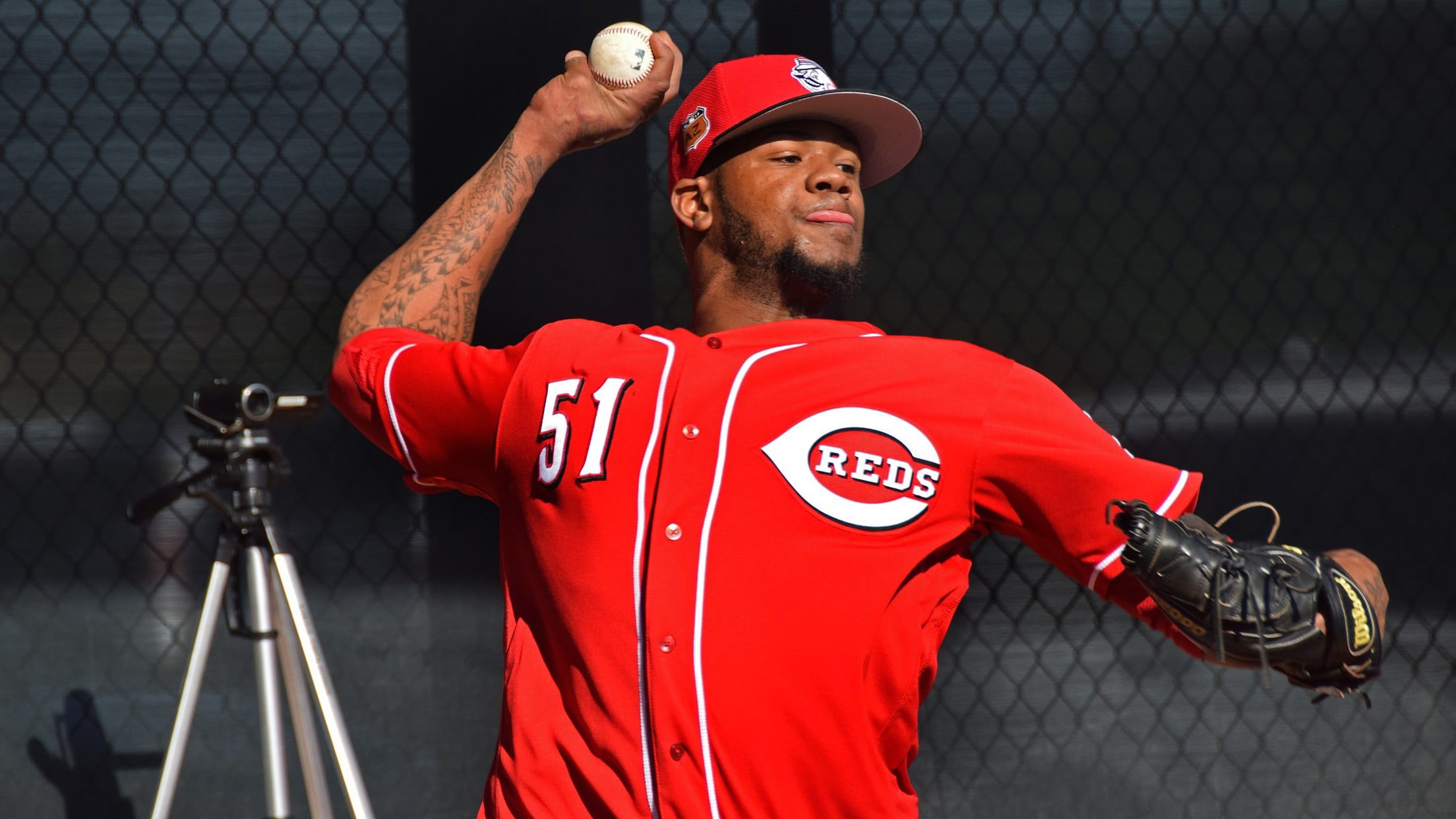 Lisalverto Bonilla, claimed on waivers by the Reds this week, last pitched in the Majors with the Rangers in 2014. (Reds) (Reds)
GOODYEAR, Ariz. -- In the past two days, the Reds have claimed two former Pirates right-handed pitchers, Lisalverto Bonilla and Nefi Ogando, off the waiver wire. Both were immediately added to the mix Wednesday to compete for spots.Bonilla will be stretched out this spring as a starter."We're undefined in the
GOODYEAR, Ariz. -- In the past two days, the Reds have claimed two former Pirates right-handed pitchers, Lisalverto Bonilla and Nefi Ogando, off the waiver wire. Both were immediately added to the mix Wednesday to compete for spots.
Bonilla will be stretched out this spring as a starter.
"We're undefined in the four and five spots in the rotation," Reds manager Bryan Price said. "We're undefined in at least two bullpen spots, in my opinion. We see him competing for both, a middle relief and potentially a starting spot."
Bonilla last pitched in the big leagues with the Rangers in 2014. Last season in the Dodgers' organization, he had a 3.97 ERA in 31 games, including seven Double-A starts and six Triple-A starts.
"It will be good to get our eyes on him and form our own opinions," Price said. "His big league experience is certainly a benefit. He pitched for Texas. It's not an easy place to pitch, similar to Cincinnati.
"I look forward to seeing him. He's in the mix. [Amir] Garrett, [Tim] Adleman, [Robert] Stephenson, [Cody] Reed. I think Bonilla joins that mix. We want to form an opinion on him."
Ogando, 27, had a 2.30 ERA in 14 appearances with the Marlins last season but eight walks and 10 hits over 15 2/3 innings.

"We really like his arm," Price said. "We're stockpiling good, quality arms. He's got a little bit of big league time and that certainly benefits him. We want to see him improve his command. We've seen him on video. It's impressive on video, but we want to see it with our own eyes. He's another guy who has big league experience and he'll compete for a job in the bullpen."
More camp notes from Wednesday
• With so many starters in camp competing for the last two rotation spots, Price and his coaches are still trying to define how the innings are dispersed in camp.
"Who starts the game at this point in time doesn't necessarily mean that they are in the mix and who comes in second is no longer in the mix," Price said. "The relevance isn't really there a great deal after [Scott] Feldman, [Brandon] Finnegan and [Anthony] DeSclafani. The relevance of who starts those games, don't read anything into it. Someone has to start it, but someone else in the starting competition will quite often pitch that same game."
• During his bullpen session, reliever Drew Storen and catcher Rob Brantly got their signals crossed. Brantly called for a pitch out to a left-handed batter and Storen inadvertently fired a pitch to the lefty batter box.
"You just drilled him," Brantly said, drawing laughs.