Gennett: 'I want nothing more than to be playing'
Injured second baseman rehabbing, back with Reds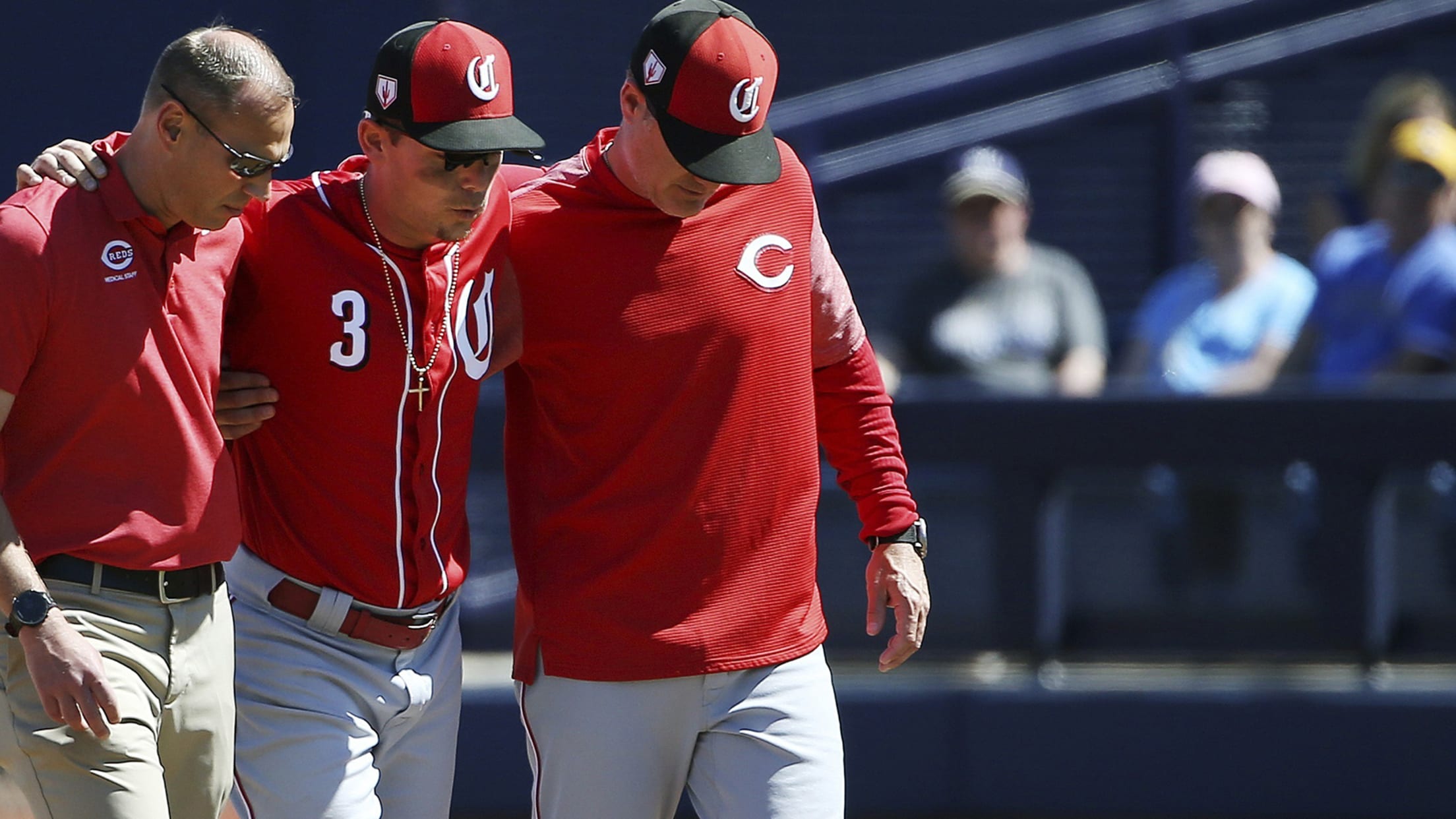 CINCINNATI -- Scooter Gennett is trying hard to make the best of it, but it's not that easy. All you need to see are the crutches under the Reds' second baseman's arms. Out with a severely strained right groin that will keep him on the injured list for 2-3 months,
CINCINNATI -- Scooter Gennett is trying hard to make the best of it, but it's not that easy. All you need to see are the crutches under the Reds' second baseman's arms.
Out with a severely strained right groin that will keep him on the injured list for 2-3 months, Gennett is dealing with the disappointment that came from the injury he suffered on March 22 against the Brewers.
"I want nothing more than to be out playing, contributing," Gennett said on Monday while speaking for the first time since he went down. "Where my mind is at right now, I can contribute in other ways. I don't know -- make people laugh, get something for somebody, doing whatever I can.
"All I can do right now is hobble around and do stuff in the training room."
Gennett was hurt while fielding a ground ball from Yasmani Grandal and throwing to first base from the outfield grass.
"I knew right away it wasn't good," Gennett said. "That type of feeling isn't normal. As soon as I fielded the ball -- I've done that a million times when I put my knee down, especially with a runner on base to keep him from advancing -- but my knee struck in the ground, everything else was still going to the left. I felt a few weird things going on."
An All-Star in 2018 and huge part of Cincinnati's lineup, Gennett batted .310/.357/.490 with 23 home runs and 92 RBIs last season while being valued at 4.2 wins WAR. Two seasons ago, after being a waiver claim from the Brewers, he set career highs with 27 home runs and 97 RBIs.
In response to Gennett's injury, the Reds decided to move shortstop Jose Peraza to second base and have defensive specialist Jose Iglesias man shortstop.
Gennett is limited in what he can do during rehab with the medical staff, and isn't cleared yet to do any leg work. He plans on being at Great American Ball Park for games.
"Yeah, but while I'm on the crutches, they don't want me in the dugout just for safety purposes," Gennett said.
Gennett is just glad he can be part of the group, even while injured.
"This is my second family," he said. "It's nice when you can celebrate or be a part of something exciting with your family. It's really no different. I just can't play in any of the family reunion games right now. I'm just happy to still be able to be here and not be in Arizona by myself. It's definitely better to be with my friends."
Johnson an extra asset vs. old club?
As his new team opened a three-game series against the Brewers on Monday, Reds pitching coach Derek Johnson was working against his old club for the first time in regular season games. During pre-series meetings, there is always scouting information strategy shared with the players. But could Johnson provide added insider information – especially the pitchers?
"Yeah, but I think the other side of that too though is you spend so much time working on other teams," Johnson said. "You do pick up tendencies of your own team, but I spent a lot of time just trying to figure out the Pirates or the Cubs or the Cardinals or the Reds or whoever. Hopefully, I can help. I don't know if I can or not."
Since leaving the Brewers for the Reds in what was considered a surprise back in late October, Johnson is pleased with how things have been thus far in Cincinnati.
"We have some good, young arms, some good guys in our clubhouse," Johnson said. "We have some good guys in our coaching staff that are working together to try to figure out how we can make this thing move in the right direction. It's been really fun so far. It's been a lot of work, which we all knew that it would be. So far, it's been a lot of fun."
Johnson also harbored no hard feelings against Milwaukee.
"This was a business decision in some ways. It was a situation that could help my family," Johnson said. "It would be just like any other player or a player doing it. I love the Brewers. I had a great experience there. I love Craig Counsell. I love [bench coach Pat Murphy]. I love all the guys on the team, and the management treated me very fairly. But this was an opportunity for me to better myself and my situation for my family and I've got to take that."
Rotation tweaked
Reds manager David Bell and Johnson decided to flip pitchers to have Luis Castillo start Wednesday's game against the Brewers and move Tyler Mahle back an extra day to start Thursday's series opener at Pittsburgh. Castillo already faced the Pirates on Opening Day, with one earned run and two hits allowed over 5 2/3 innings during a 5-3 victory. This way they don't get to see the right-hander again so soon.
"That was a factor," Bell said. "It was important enough to us to make that adjustment."
Worth noting
The Reds traded right-handed reliever Matt Wisler to the Padres on Monday night for Minor League right-handed pitcher Diomar Lopez. Wisler was the final cut from the Spring Training roster, but was designated for assignment on Thursday because he was out of options. Lopez is scheduled to report to Goodyear, Ariz., for extended Spring Training. In 31 games with three Class A level clubs last season, Lopez was 2-2 with a 5.31 ERA.
When a player's contract is designated for assignment -- often abbreviated "DFA" -- that player is immediately removed from his club's 40-man roster, and 25-man roster if he was on that as well. Within seven days of the transaction (it was previously 10 days), the player must either be traded, released or placed on irrevocable outright waivers.
Mark Sheldon has covered the Reds for MLB.com since 2006, and previously covered the Twins from 2001-05. Follow him on Twitter @m_sheldon and Facebook.