Fenway to host Harvard, Yale for 'The Game'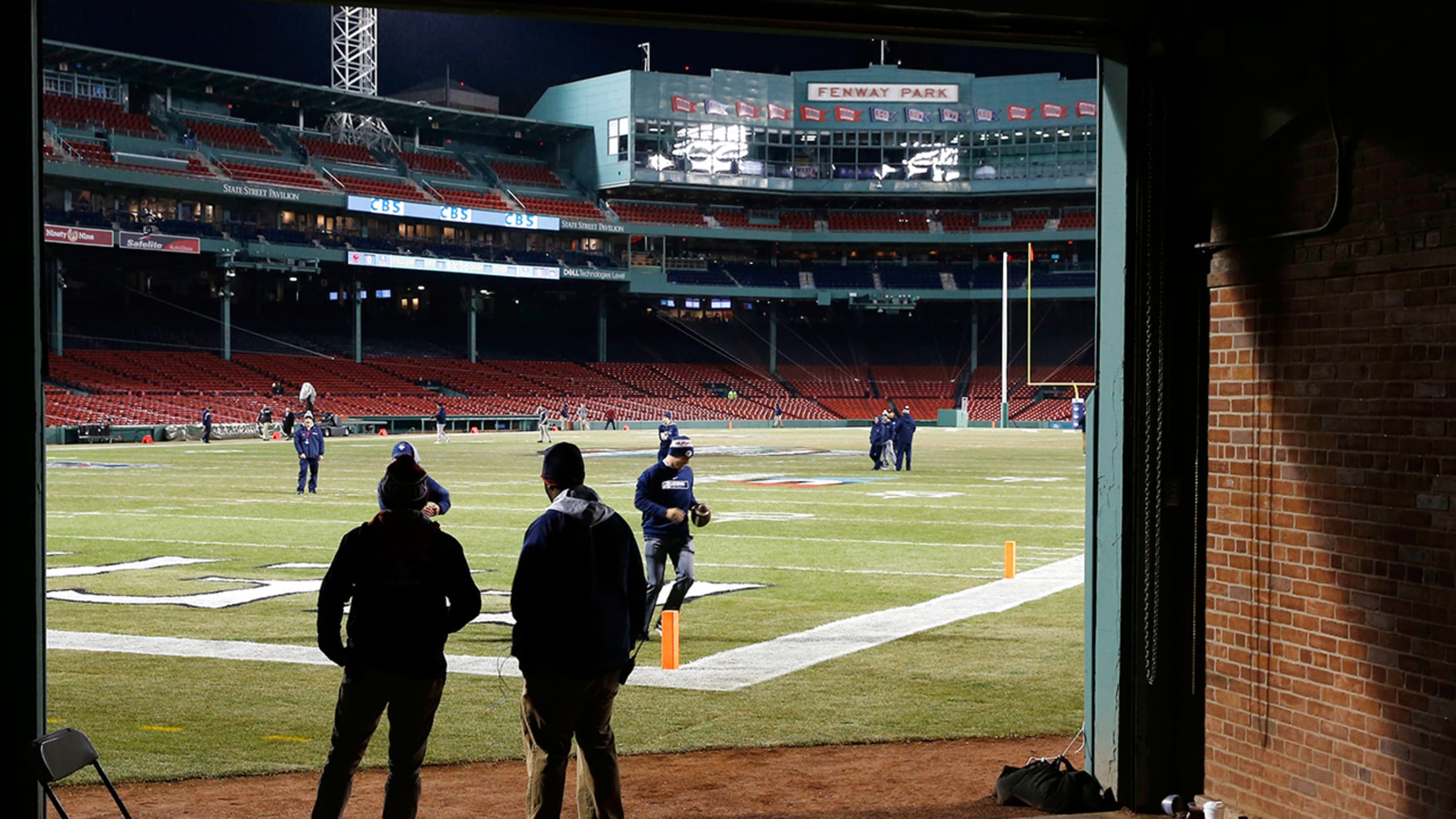 Fenway Park has been the site of football games in the past. (AP)
BOSTON -- A college football rivalry so historic that the annual matchup is simply referred to as "The Game" is coming to Fenway Park.It was announced on Wednesday that Harvard and Yale will play their 135th game against each other at one of the most historic sporting venues in the
BOSTON -- A college football rivalry so historic that the annual matchup is simply referred to as "The Game" is coming to Fenway Park.
It was announced on Wednesday that Harvard and Yale will play their 135th game against each other at one of the most historic sporting venues in the world on Nov. 17, 2018.
"It's an honor to host one of the most prestigious rivalries in American collegiate athletics," said Red Sox president/CEO Sam Kennedy. "This is one of the most anticipated sporting events in the Northeast, and I know everyone at Fenway Park and Fenway Sports Management will work tirelessly to make the 135th edition of 'The Game' a memorable experience for the players, the coaches and the alumni. I can think of no place more fitting to host this historic game."
ANNOUNCEMENT: Fenway Park will host the 135th edition of 'The Game,' with Harvard & Yale's storied football rivalry: https://t.co/kOzGMfUiMR pic.twitter.com/wPuuWqEZse

— Boston Red Sox (@RedSox) November 29, 2017
With the Green Monster serving as a backdrop, the Ivy League schools will be celebrating the 50-year anniversary of their most famous tilt -- a 29-29 tie in 1968.
The rivalry between the two Ivy League schools reached new heights after that game, in which Harvard trailed, 29-13, with a minute left before scoring on an 86-yard touchdown drive, recovering the on-side kick, scoring another TD and converting the game-tying two-point conversion as time expired.
"The Harvard-Yale football game is a classic matchup, and Fenway Park is a beloved Boston landmark and classic in its own right," said Boston mayor Martin J. Walsh. "Boston looks forward to hosting Harvard and all visitors in 2018 for this iconic game."
Perhaps Cubs president of baseball operations Theo Epstein will come home to witness his alma mater, Yale, playing in his former baseball home. Epstein, who grew up a couple of miles from Fenway Park, was the general manager of the Red Sox from 2003-11, and in 2004 he led the team to its first World Series championship since 1918 before winning a second title in '07.
Former Red Sox reliever Craig Breslow, who pitched for the Twins and Indians last season, graduated from Yale with a degree in molecular biophysics. Red Sox director of player development Ben Crockett graduated from Harvard, where he played baseball. Former Dodgers general manager Paul DePodesta, who is now the chief strategy officer for the Cleveland Browns, played baseball and football at Harvard. Former MLB pitcher Ron Darling went to Yale. A's general manager David Forst, Marlins president of baseball operations Mike Hill, Rockies GM Jeff Bridich, Brewers GM David Stearns, Rays president of baseball operations Matt Silverman and MLB senior vice president of baseball operations Peter Woodfork all attended Harvard.
Without question, "The Game" will bring a buzz to Fenway next November.
"We are very excited to face our historic rival at Fenway Park, a landmark of New England sports," said Bob Scalise, Harvard's John D. Nichols '53 family director of athletics. "This will be a special experience for our student-athletes, student body, alumni and fans, and we are proud to partner with Fenway Sports Management for 'The Game' next year."
The first Harvard-Yale matchup was played on Nov. 13, 1875, 37 years before Fenway Park opened.
Football was a fixture at Fenway in the 1960s, when the New England Patriots played their home games there. But there was no football at Fenway from 1969 until 2015, when Boston College and Notre Dame matched up.