Postseason could be just the start for Eovaldi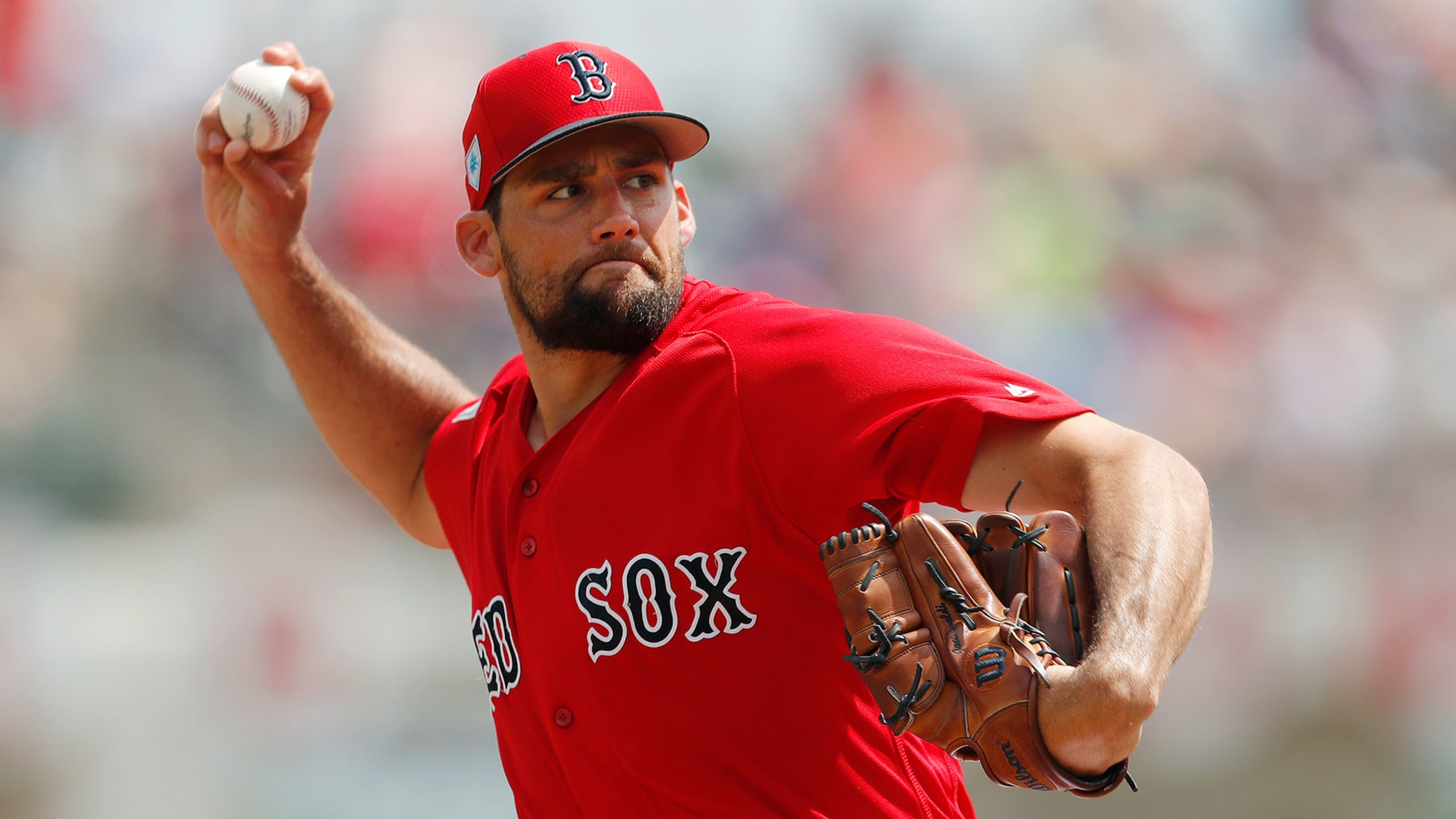 FORT MYERS, Fla. -- For all the talk about what Nathan Eovaldi was last October -- and that was pretty special -- perhaps not enough is being made of what he can become.
FORT MYERS, Fla. -- For all the talk about what Nathan Eovaldi was last October -- and that was pretty special -- perhaps not enough is being made of what he can become.
As the flame-throwing righty made his Grapefruit League debut on Wednesday against the Twins, there was a chance he was partaking in the unofficial takeoff of what will wind up as his finest season to date.
"Looking forward to it," Red Sox manager Alex Cora said. "We've been talking about pitch mix and usage and all that. As soon as he got here, he's learned a lot in such a short period of time, and we get to see him every five days and see what can happen.
"Stuff-wise, in October I do feel he was the best out of all the teams in the playoffs. ... And then he pitched. So it'll be good to put him around all these guys for every five days and see where he goes."
Eovaldi's idea of easing into his first start of Spring Training was to throw the first pitch of the game to Marwin Gonzalez at 94 mph. The second pitch was 99. So was the third. He struck out Gonzalez on a 91-mph cutter.
You get the idea. Eovaldi possesses a lightning bolt of an arm. In three innings of Boston's 9-5 loss to the Twins, he gave up one hit -- a solo homer to Byron Buxton in the third. It was a smooth first step.
Nathan Eovaldi was sharp in his Spring Training debut for the @RedSox
Line: (41 pitches) 3 IP, 1 H, 1 ER, 1 BB, 1 Khttps://t.co/CRukEiNRjn pic.twitter.com/sMllmjT093

— NESN (@NESN) March 13, 2019
At 29 years old and the healthiest he has been in a long time to start a season, Eovaldi has the arsenal and the makeup of a pitcher who should take a sizable step forward in a rotation that includes established winners Chris Sale, David Price and Rick Porcello.
For all of Eovaldi's dominance in that 2018 postseason, capped by the selfless act of six innings in relief in Game 3 of the World Series when he was scheduled to start the next day, he has never pitched like that over a full Major League season.
His best season so far record-wise was in 2015, when he went 14-3 with a 4.20 ERA for the Yankees. The only time he approached 200 innings was when he logged 199 2/3 for the Marlins in '14, and went 6-14 with a 4.37 ERA.
But he is better than he was then.
"Yeah, just being able to throw different pitches, not having to rely on just your fastball and your slider," Eovaldi said. "I can rely on other pitches, and I feel like I've grown as a pitcher since then, and just working with our catchers and pitching coaches to be able to do that."
Eovaldi understands pitching better than ever before. He has meshed perfectly with Red Sox pitching coach Dana LeVangie and assistant pitching coach and analytics guru Brian Bannister.
Also, pitching alongside those three studs plus the emerging Eduardo Rodriguez should lead to nothing but good things.
"Yeah, I feel like we can be great," Eovaldi said. "Being with the guys again and being able to go out there and compete with everybody, I feel like it's just getting ready for the start of the season."
Then again, Eovaldi isn't the only one who will benefit from his placement in what could be the best rotation in the American League.
"He's a great guy, great guy in the clubhouse," Cora said. "He clicked right away. He helps all the guys. Rick has been in the league for a lot of years, and now they're workout partners and he's pushing Rick to be better, which is great. That's the way it should be. All those guys challenging each other the right way. He's a great guy."
Last year at this time, Eovaldi was in the latter stages of recovering from his second Tommy John surgery. He didn't appear in his first game of the regular season until May 30, when all he did to announce his comeback was throw six no-hit innings at Oakland for the Rays.
This time, Eovaldi will be there from the start.
"He's right where we want him to be," Cora said.