Inbox: Are the Red Sox trying to keep Eovaldi?
Beat reporter Ian Browne answers questions from fans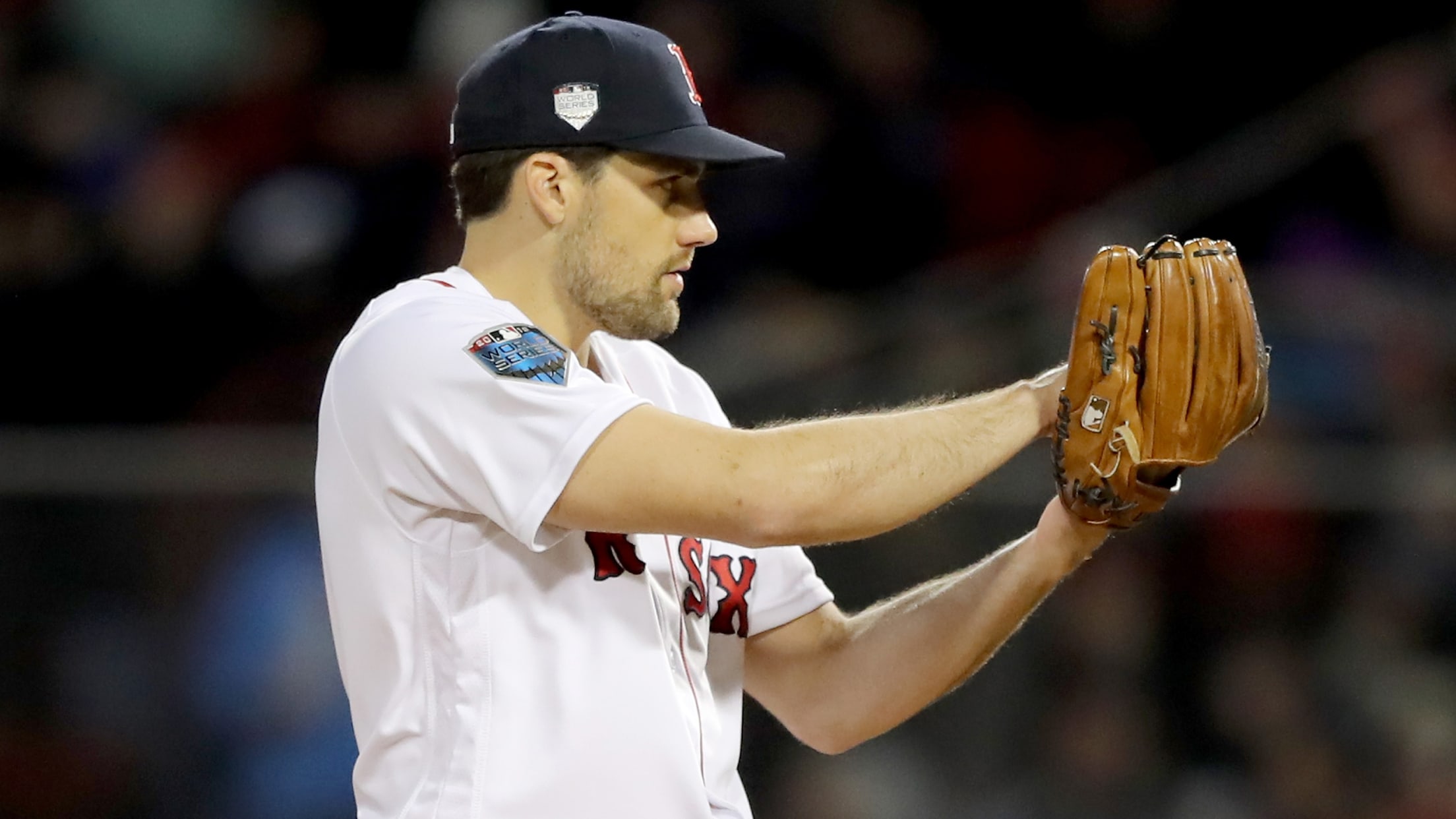 BOSTON, MA - OCTOBER 24: Nathan Eovaldi #17 of the Boston Red Sox delivers the pitch during the eighth inning against the Los Angeles Dodgers in Game Two of the 2018 World Series at Fenway Park on October 24, 2018 in Boston, Massachusetts. (Photo by Elsa/Getty Images) (Elsa/Getty Images)
I saw Eovoldi is being considered as a closer by teams. Are the Sox interested in this possibility? Also, with Player Page for David Robertson wanting to pitch closer to his offseason home in Rhode Island, does that mean the Sox will be a player for him? -- @JKo119 Yes,
I saw Eovoldi is being considered as a closer by teams. Are the Sox interested in this possibility? Also, with Player Page for David Robertson wanting to pitch closer to his offseason home in Rhode Island, does that mean the Sox will be a player for him?
-- @JKo119
Yes, that's interesting that teams are looking at Nathan Eovaldi to close. Personally, I think that's a waste of his skill set. I think we just saw that Eovaldi's biggest value is that he has the ability to dominate as a starter and in a relief role. Why limit his innings by making him a closer? That's just my opinion. I'd be surprised if the Red Sox are looking at him as a closer. I do think Robertson is a target for the Red Sox and geography helps their cause. But there are several other spots -- Yankees, Mets, Orioles, Phillies and Nationals- - that are plenty close enough to Rhode Island.
• Submit a question to the Inbox
What are the Red Sox doing to keep Eovaldi?
-- @EmptySeatsNovel
Like many other teams, the Red Sox are keeping in contact with Eovaldi's representation to get a gauge on what it's going to take to sign him. The one advantage the Red Sox have is that Eovaldi gained familiarity in Boston and had the most gratifying success you can have there. But this is likely to be the one chance in Eovaldi's career that he has a chance for a big payday, so I'm sure he will look for as much long-term security as he can get.
Will the Red Sox be able to extend Mookie Betts after they see what Manny Machado and Bryce Harper sign for?
-- @samvanrest
This is why the Red Sox tried to extend Betts to a longer-term contract in previous years. With Machado and Harper on the verge of getting big contracts, you can understand why Mookie's representation decided to wait. I know the Red Sox would like to keep Betts in their uniform for a long time and are prepared to pay him a lot of money. But Betts has to decide if he wants to stick with what he already knows or explore other alternatives, as he certainly has earned the right to do. The good news is that Betts has two more years in Boston no matter what.
How much money do the Red Sox have to spend this offseason, and when will they be free of the salaries of Rusney Castillo, Pablo Sandoval and Allen Craig?
-- @Sonrics6
With the amount of talent the Red Sox have on the current roster, expect ownership to give president of baseball operations Dave Dombrowski the green light to do whatever he can -- within reason -- to bolster the chances of a repeat. The one thing the Red Sox haven't done during this golden era of four World Series titles in 15 years is go back to back.
As for the seemingly-endless Castillo contract, there is at last some light at the end of the tunnel. Castillo is owed $11 million in 2019 and $13.5 million in '20. He also can opt out after the '19 season, but he would be leaving a lot of money on the table by doing that. The 2019 season is the last in which the Red Sox will be paying Sandoval. Craig's contract already expired, but the Red Sox did have to pay $1 million to buy out his option for 2018.
There's no way they can keep three catchers, is there? Which one goes?
-- @icegod35301
I agree that it's a tough way to sustain the roster for another season. If one of the catchers gets moved, I think it will be Blake Swihart, because he still has the potential to bring in the best return in a trade.
Any chance Michael Chavis or Bobby Dalbec are in the lineup in 2019?
-- @BrantleyMichael
If that happens, it would mean there was an injury or underperformance at first base, third base or designated hitter. I think it's more likely both players will be September call-ups.
With Steve Pearce and Mitch Moreland's contracts expiring in '19, do you see the Sox in play for Paul Goldschmidt?
-- @Madbeers51
I think the preference for the Red Sox would be to spend big dollars to keep some of their own players. Chris Sale and Xander Bogaerts are on track to be free agents after '19. J.D. Martinez has an opt-out. And as discussed above, keeping Betts long-term remains a priority. If all goes well, Chavis or Dalbec could be in the mix at first base by '20.
Will Dustin Pedroia finally be named captain of the Red Sox and wear the "C" on his jersey? Way overdue.
-- @joetompatrick
Pedroia's lone priority at this point is getting healthy and being able to play next season. He has no problem being a leader without the "C."
How will the late-June London trip impact team performance? Positive, negative or neutral?
-- @tomquintal
This is nothing like going to Japan. The travel isn't nearly as taxing. A Boston to London non-stop flight is six-and-a-half-hours. It really isn't much different than flying to Seattle. Obviously, the time change will be an adjustment. But the team has two days off prior to that first day in London, and another day off before getting to Toronto after those two games. I don't think it will be a big deal.