Red Sox must iron out bullpen, backstop roles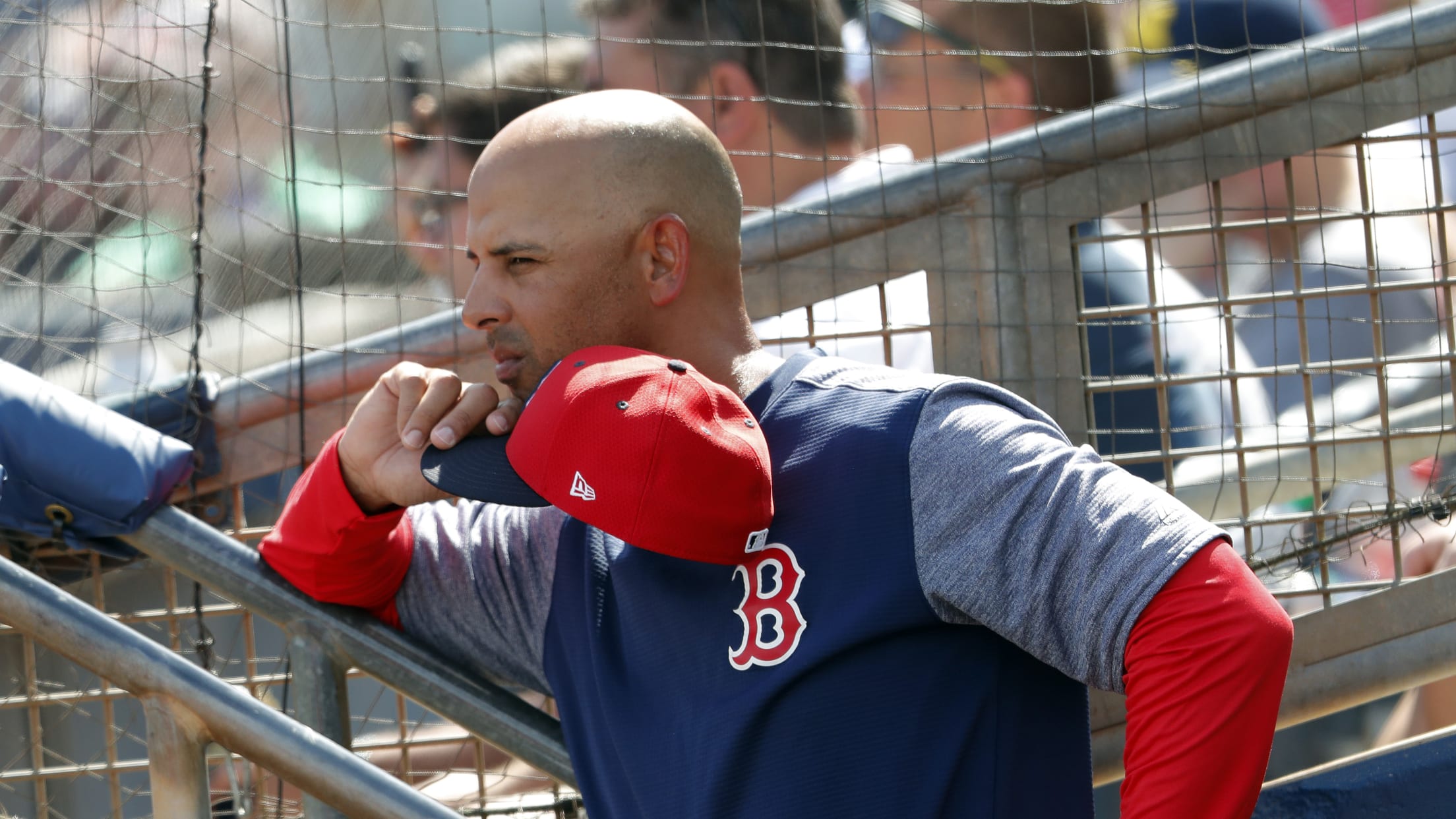 FORT MYERS, Fla. -- With three days left in Florida, the Red Sox have two issues to address. The first is to determine who will win the remaining spots in the bullpen. Manager Alex Cora said there are as many as three relief spots still up for grabs. And the
FORT MYERS, Fla. -- With three days left in Florida, the Red Sox have two issues to address.
The first is to determine who will win the remaining spots in the bullpen. Manager Alex Cora said there are as many as three relief spots still up for grabs.
And the latter issue is to trim the roster to two catchers rather than stick with last year's three-headed arrangement that included Christian Vazquez, Sandy Leon and Blake Swihart.
Considering Vazquez's contract status (signed through 2021) and Swihart's offensive upside, Leon seems the most likely to go.
ESPN's Buster Olney and Marley Rivera reported on Thursday that the Red Sox are actively discussing trade possibilities regarding Leon, who is a strong defender but coming off a tough season (.511 OPS) offensively.
If the Red Sox can't work out a trade for Leon, they could designate him for assignment. If there are no takers, they could see if he would accept an assignment in the Minor Leagues, which would keep him in the organization as depth if Vazquez or Swihart suffers an injury.
Cora was asked if he had an idea who his two catchers will be.
"In my mind, yeah, but I've got a lot of things on my mind," he said.
Many of them involve the bullpen, which is full of intrigue. Cora still hasn't revealed if the club will deploy a set closer or go with matchups.
Before getting to roles, Cora and the Red Sox need to know exactly who is on the roster. Cora was asked if anyone who isn't in big league camp is in the running for one of the bullpen spots.
"I think [Jenrry] Mejia is in the hunt. Jenrry is in it," Cora said. "He's throwing the ball well. He's a guy, we like the way he's been throwing the ball. The stuff has been getting better, crisper and velocity is getting up there."
Mejia was the closer for the Mets in 2014, and saved 28 games. The righty was suspended from baseball in February 2016 after his third positive test for a banned performance-enhancing drug. He was given a conditional reinstatement in July and is hoping to pitch in the Majors for the first time since '15.
Boston's bullpen has been a work in progress this spring.
With second baseman Dustin Pedroia opening the season on the injured list, the Red Sox have decided to go with a 13-man pitching staff for the season-opening, 11-game road trip to the West Coast.
That leaves eight bullpen spots, although one of those relievers will slot in as a sixth starter at some point the trip.
The relievers certain to make the team are Matt Barnes, Ryan Brasier, Heath Hembree and Brian Johnson. Tyler Thornburg is probably set as well.
The derby for the final three spots includes Brandon Workman, Hector Velazquez, Colten Brewer, Darwinzon Hernandez, Marcus Walden and Bobby Poyner. Hernandez is Boston's top pitching prospect (and No. 4 overall) according to MLB Pipeline.
Boston will play exhibition games on Monday and Tuesday in Arizona against the Cubs and will open its season in Seattle on March 28.
"We'll keep talking about it," Cora said. "We might have our team before Sunday. We might have our team in Arizona. We've been talking about it the last few days. When we have to make decisions, we'll make them."
As Cora puts it, the initial roster decisions for the bullpen have more to do with the opening road trip than the 162-game marathon.
"They're all capable. Everyone that's in the hunt is capable," Cora said. "It's just a matter of what we're going to do. What we want. And that's only 11 games. It's not 162. That's the beauty of this.
"I think obviously Opening Day is huge for everybody. It's huge for you guys. It's kind of like July 31 is huge for everybody. There's a few days throughout the season that things get magnified an this is one of those. When you start playing, it's over and then you make transactions during the season, and you adjust the roster to what you need."