Sox can't get bats going, before or after Snell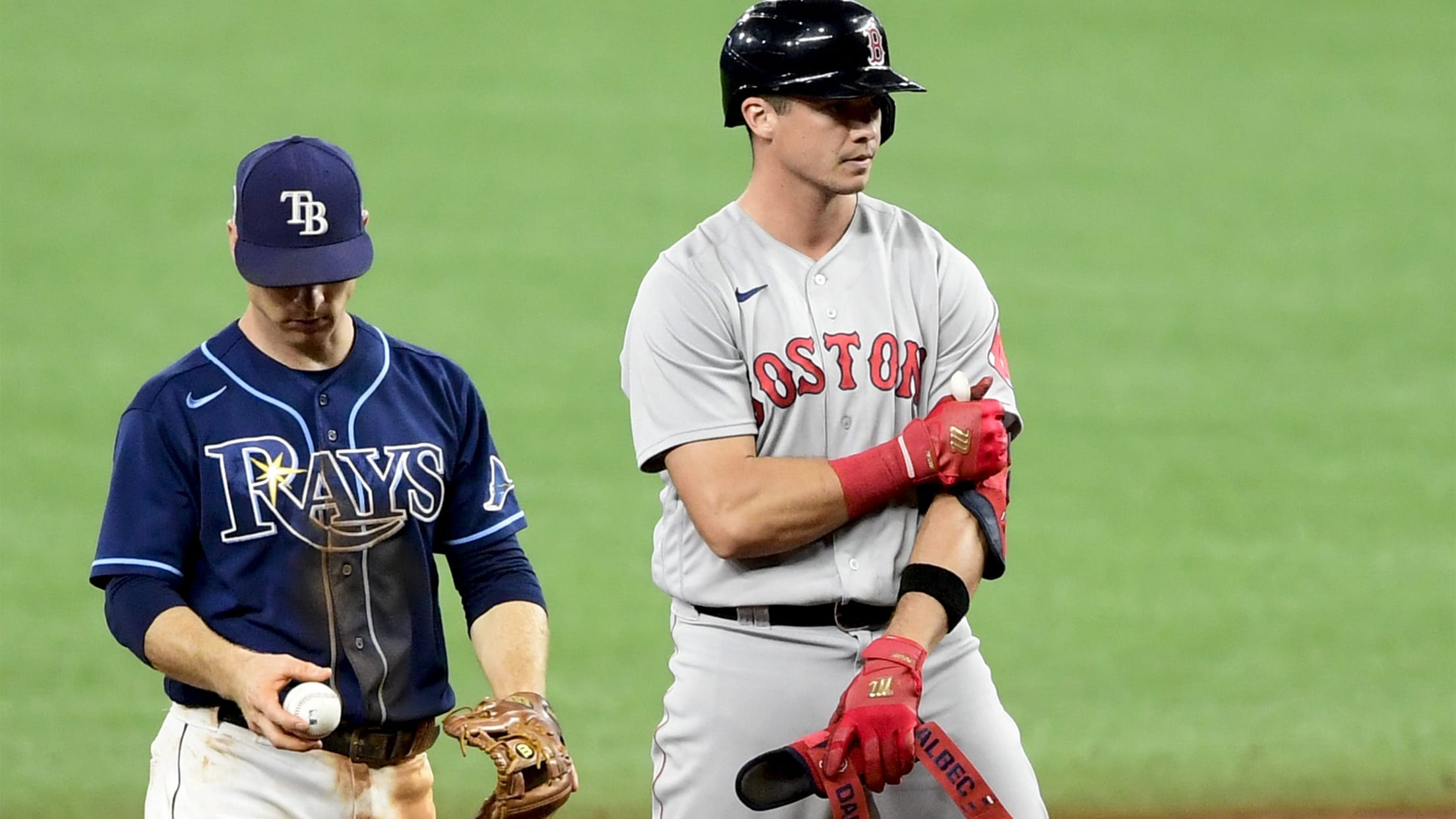 For all the talk about the history-making Rays starting lineup, which included nine left-handed hitters, it was a lefty pitcher who quickly snuffed out the Red Sox in their 11-1 loss on Friday night at Tropicana Field. Tampa Bay ace Blake Snell has labored at times this season while coming
For all the talk about the history-making Rays starting lineup, which included nine left-handed hitters, it was a lefty pitcher who quickly snuffed out the Red Sox in their 11-1 loss on Friday night at Tropicana Field.
Tampa Bay ace Blake Snell has labored at times this season while coming back from an injury, but he's been magnificent in his two starts against Boston.
Against Snell on Friday, the Red Sox mustered five hits over 5 1/3 innings, but no runs. Snell walked two and struck out five.
It was reminiscent of Snell's Aug. 12 start at Fenway Park when he threw five shutout innings while walking none and striking out six.
"He's got nasty stuff," said Red Sox manager Ron Roenicke. "You saw us chasing up out of the zone. You saw us chasing down with the breaking ball. I mean, it's nasty. That's why this guy is so good. So, we had some good at-bats against him, but this is an elite pitcher, and it shows. We've been swinging the bat really well, and then you come against this guy, and things are different. It's just very difficult to put together a lot of hits to try to score runs against him."
As for Boston's pitching alignment on Friday against all those lefties, righty Andrew Triggs opened the game with one scoreless inning. The plan was for him to give Roenicke another inning or two, but that changed when Triggs had to exit due to a pinched nerve in his neck.
Given Tampa Bay's lineup, Roenicke understandably went to a lefty for bulk innings in Matt Hall, but it didn't go well at all. Hall (18.69 ERA in four appearances) allowed four runs on six hits and two walks in 2 1/3 innings.
"We thought [it] was a really good spot with their lineup, with all the left-handers that they had in there, and that's why we brought him into that part of the game because if you wait, then they have the opportunity, if the game is close, to go to their right-handers," said Roenicke. "So, the spot was good, and that's why he was in there and hopefully giving us some length."
When the Red Sox went back to right-handers, that didn't work either. The Rays continued to tee off on Boston's underwhelming bullpen.
Once the game got out of reach, the only question for the Sox was if Bobby Dalbec could become the first rookie in MLB history to homer in six straight games.
But it was not to be. Dalbec, who went 2-for-3 on the night, belted an RBI double in his final at-bat.
In the meantime, Roenicke had to manage his way through yet another difficult game in which he was trying to navigate his pitching staff through a blowout. This was the ninth time the 16-30 Red Sox have allowed 10 runs or more in a game.
"We want to give guys opportunities, we want to still try to compete the best we can, and then sometimes it gets to a point where we're just putting guys with length to try to get through games," Roenicke said.