Red Sox want to change Yawkey Way name
Owner Henry uncomfortable with history regarding race relations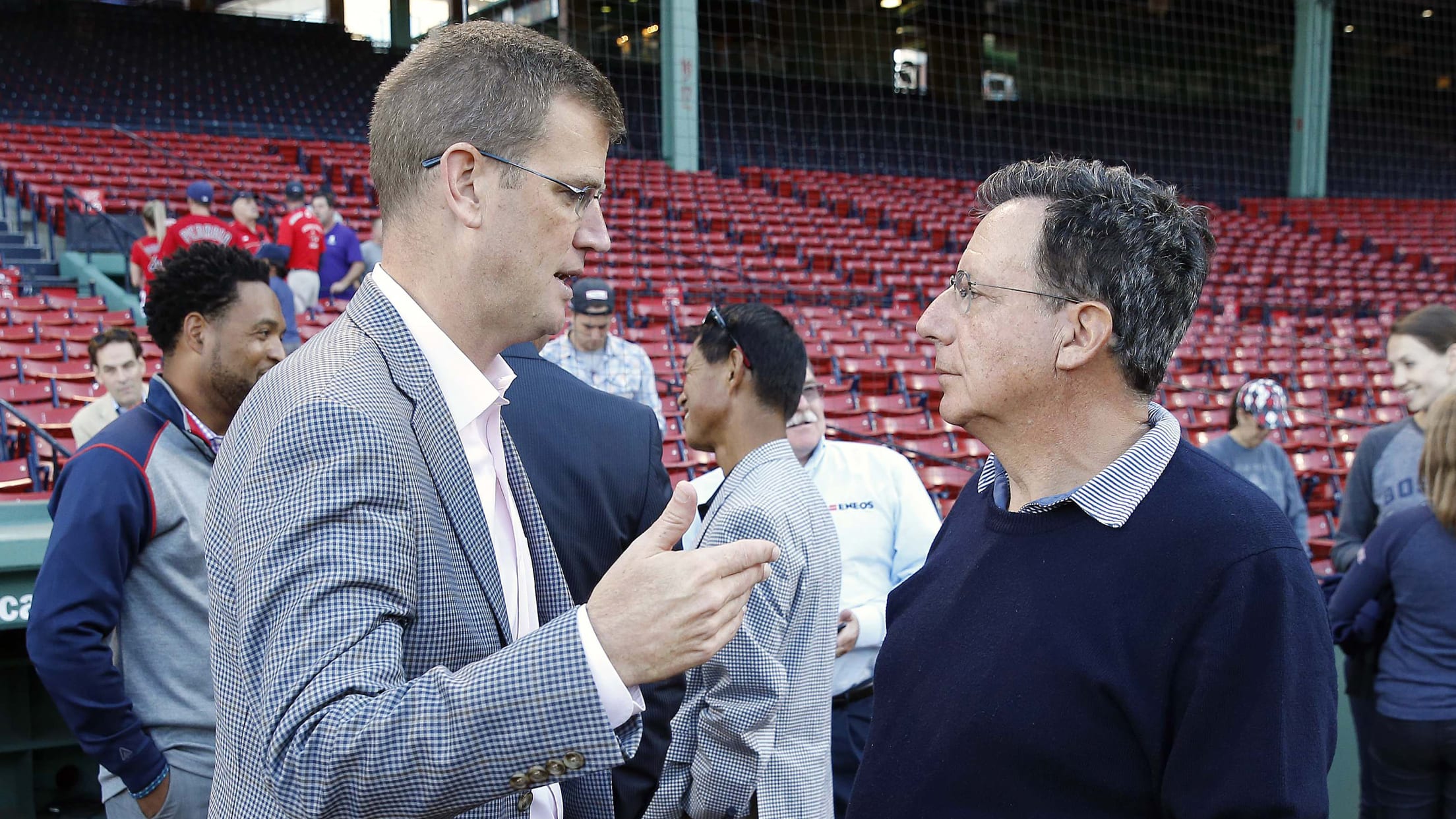 "We're confident that we'll be able to do it," said chairman Tom Werner (right), with president/CEO Sam Kennedy. (AP) (Michael Dwyer/AP)
CAMBRIDGE, Mass. -- Red Sox president/CEO Sam Kennedy and chairman Tom Werner expressed confidence on Thursday night that the club will soon be successful in changing the name of Yawkey Way -- the street that serves as the main entrance to Fenway Park.The two executives spoke shortly after Red Sox
CAMBRIDGE, Mass. -- Red Sox president/CEO Sam Kennedy and chairman Tom Werner expressed confidence on Thursday night that the club will soon be successful in changing the name of Yawkey Way -- the street that serves as the main entrance to Fenway Park.
The two executives spoke shortly after Red Sox owner John Henry told the Boston Herald that he would like to have the street renamed because he is haunted by the club's checkered history with race relations.
The Red Sox became the last MLB team to integrate in 1959 under the administration of late owner Tom Yawkey.
"John speaks for the club," said Werner from a charity event where Hall of Famer Pedro Martinez was pitching. "When we came in, we were aware of the history of the Red Sox and there [were] things about the past that haunted us. This is this just something that we've been talking about for a while.
"We know that there are a number of our fans who have felt uncomfortable coming to Fenway Park, especially people of color, and we've always felt we want to be inclusive, no matter what someone's color of their skin is, and this is just a way we thought of doing it for a long time."
Henry told the Herald that the Red Sox tried to rename Yawkey Way many years ago, but the administration of former Mayor Thomas M. Menino, who died in 2014, felt it would open "a can of worms."
The Red Sox will first bring the name-change issue to the other owners of properties on Yawkey Way, and if that is successful, they will bring their case to Mayor Marty Walsh.
"We need to talk to the other land owners and then go make a petition in front of the city," said Kennedy. "I'm not sure how long it will take. It's certainly not a today, tomorrow issue, but probably a near-term thing."
"We're confident that we'll be able to do it," said Werner. "We haven't figured out what the name of the street might be called, but this is the beginning of the process."
Henry suggested to the Herald that he'd like the street to be renamed after recently retired Red Sox slugger David Ortiz.
"It's a strong and powerful message from John and really consistent with what he's been saying since 2002, when we arrived, about a shameful past in respect to being the last team to integrate," said Kennedy. "But I also want to be clear: It's obvious that the Yawkey Foundation has done amazing work and have done incredible things for many, many people. This is really more a message that if certain people don't feel welcome, certain communities don't feel welcome at Fenway, we have an obligation to explore changing that perception and that feeling."