Red Sox sign top Draft pick Cannon, seven more
Updates on Brasier, Pedroia, Wright from Cora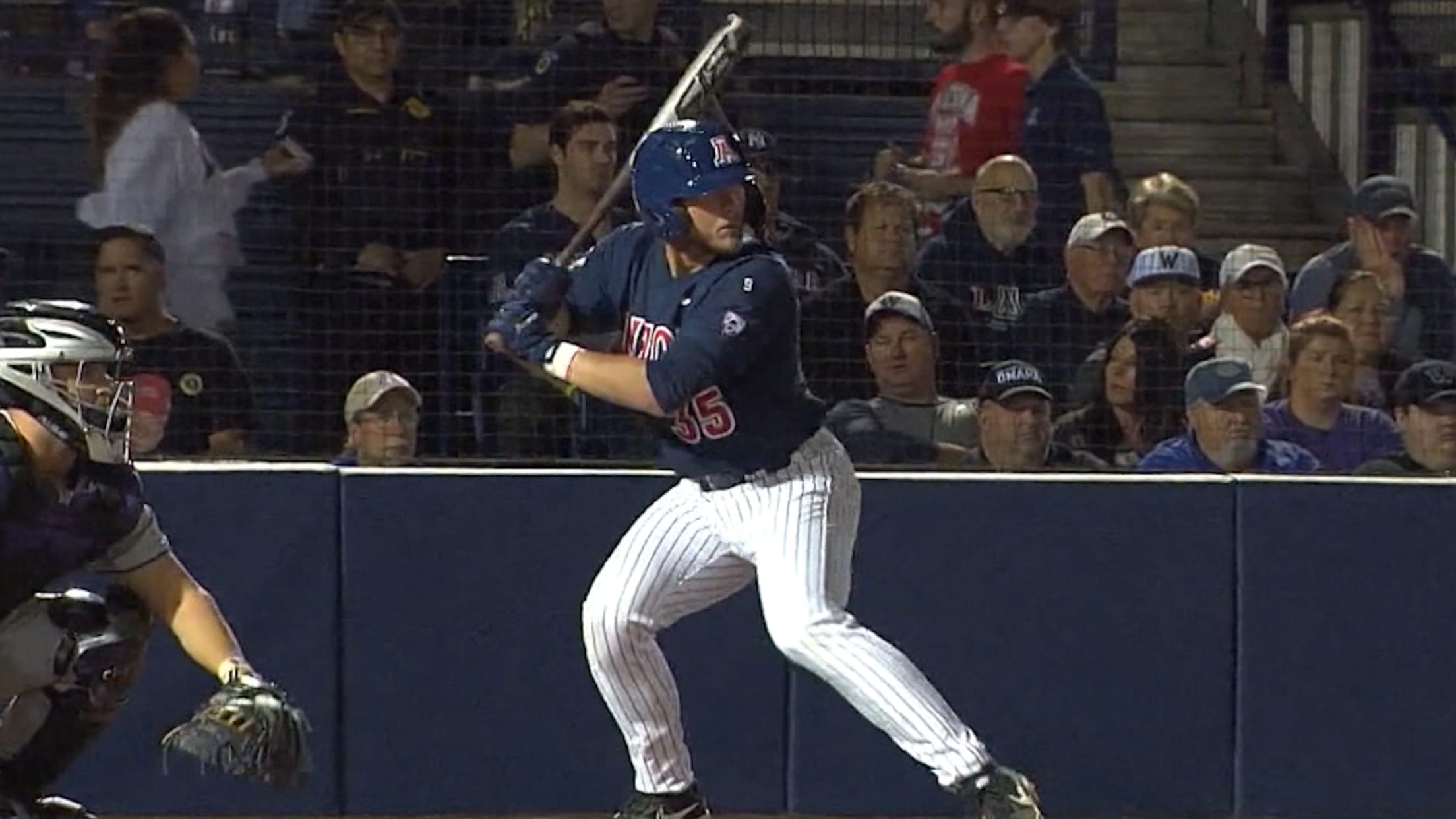 BALTIMORE -- The Red Sox announced Saturday that they have agreed to terms with Cameron Cannon, a second rounder who was their top pick in the 2019 Draft, as well as seven additional Draft picks. Cannon's deal is worth $1.3 million, according to MLB Pipeline's Jim Callis. The signing of
Sox select hometown RHP on Day 3 of Draft
Boston nabs intriguing infielders on Day 1, plenty of college talent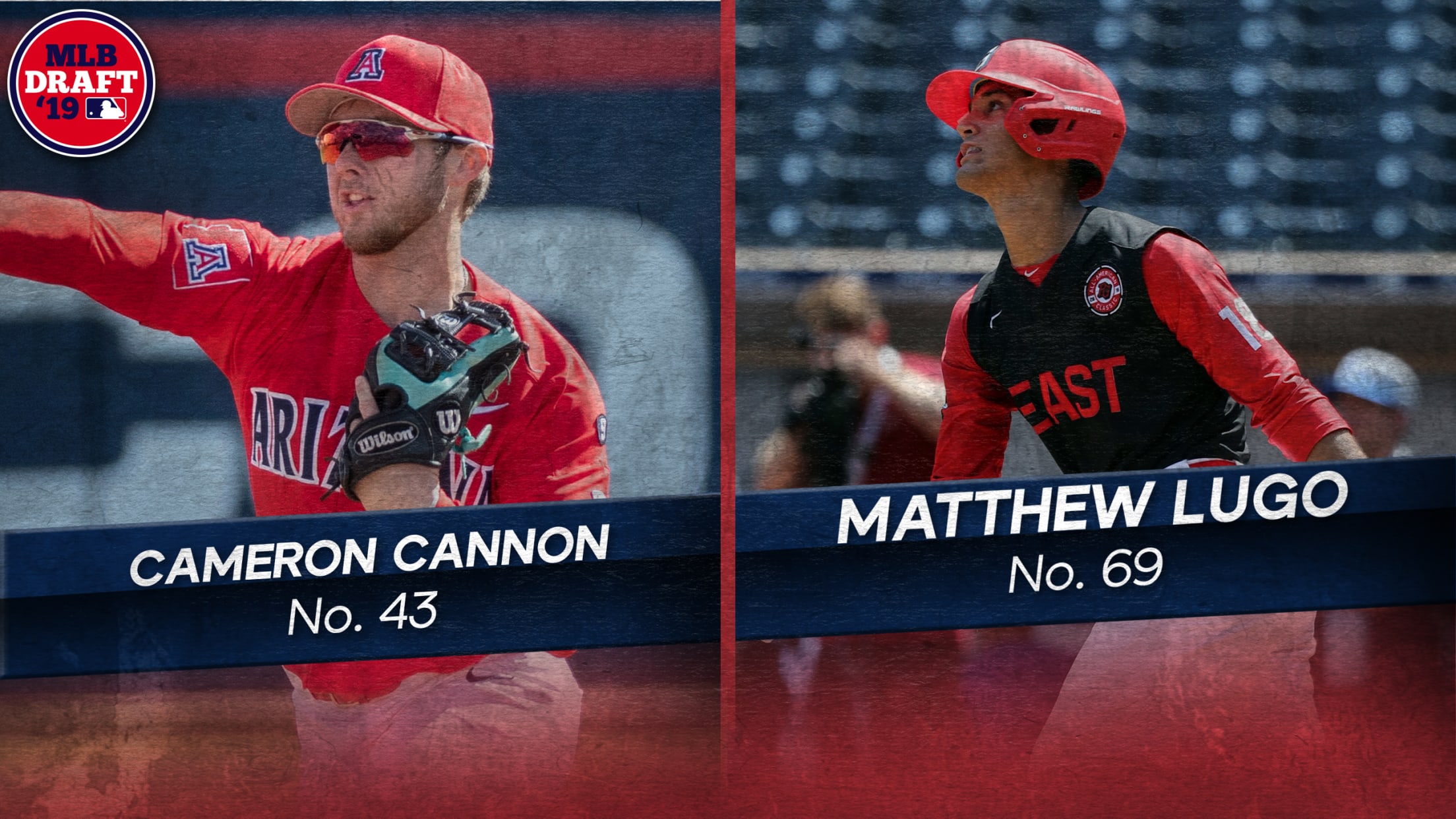 BOSTON -- The Red Sox hope the 2019 MLB Draft will be remembered as one in which they set up their next wave of success with two dynamic infield prospects (Cameron Cannon and Matthew Lugo), an intriguing Kansas Jayhawks battery (Ryan Zeferjahn and Jaxx Groshans) and a high upside righty
Collegiate talent is the focus for Sox on Day 2
Right-handers Zeferjahn, Song are among club's top selections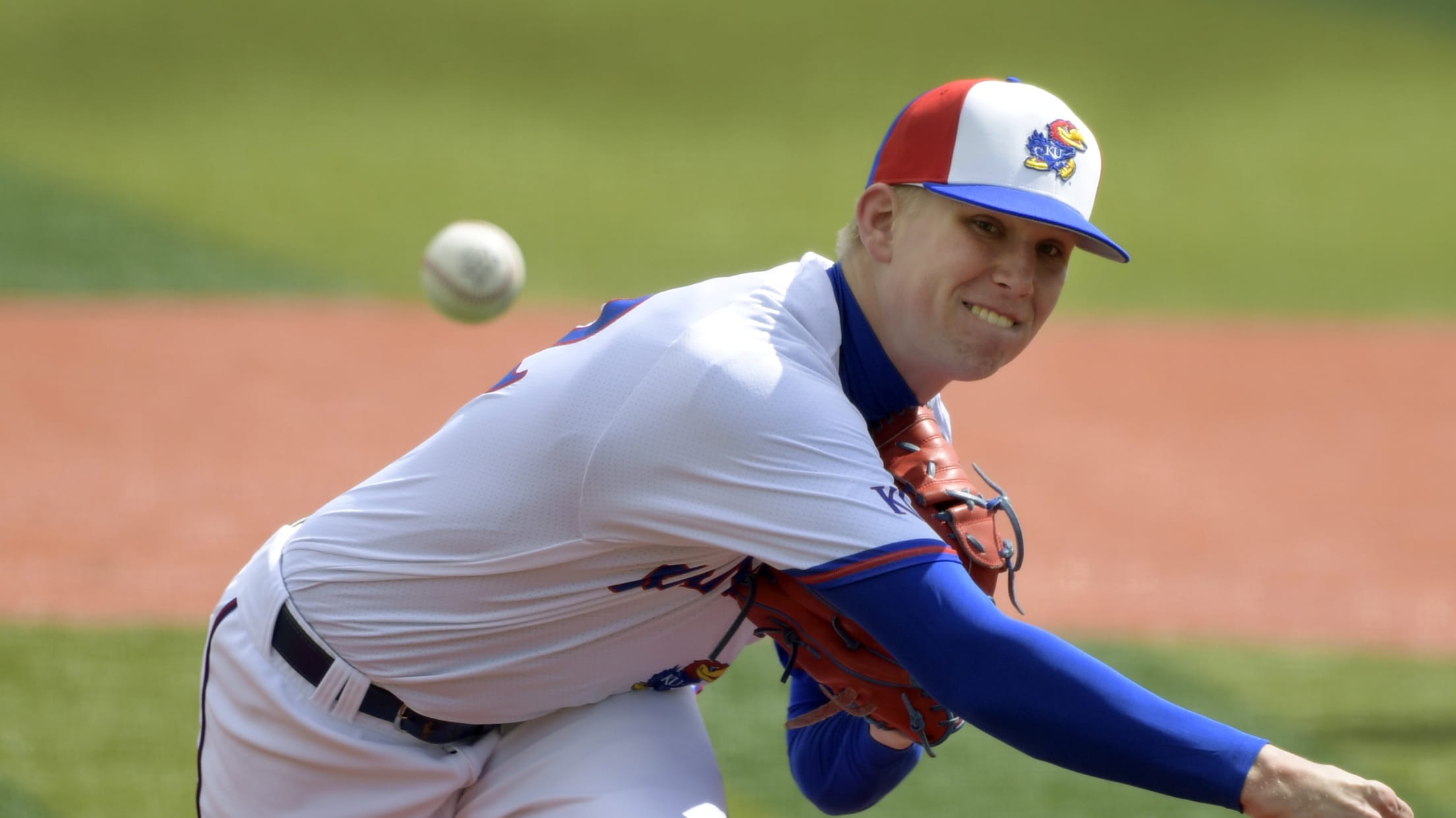 BOSTON -- On Day 2 of the 2019 MLB Draft, a clear trend emerged for the Red Sox as they took eight college players with their eight picks on Tuesday. Given that the farm system is currently strongest at the lower levels, it isn't surprising that Boston is targeting players
Red Sox nab pair of intriguing infielders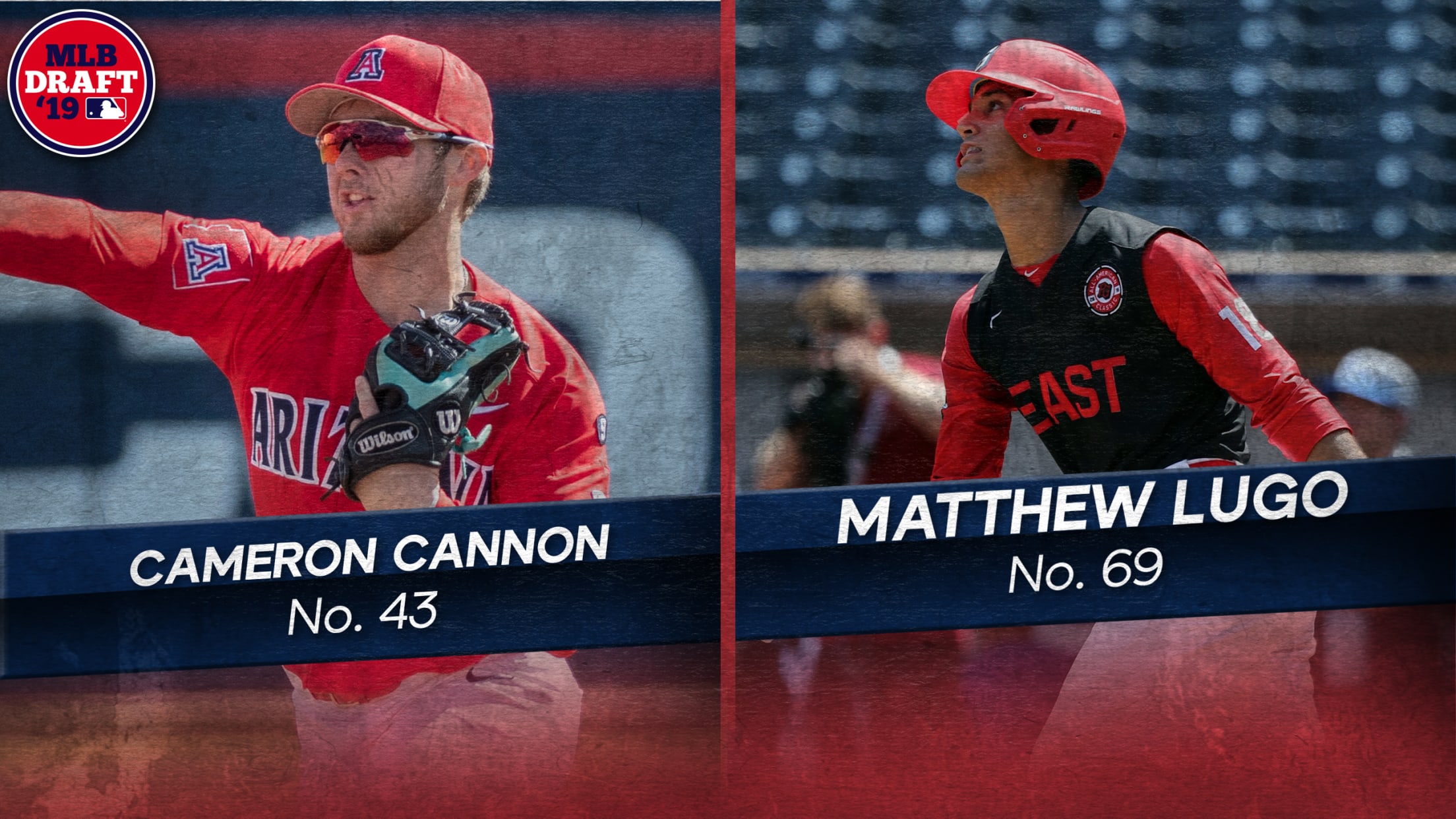 BOSTON -- When Cameron Cannon took his first swings at Fenway Park last summer during a workout with the Cape Cod League, he felt a rush of adrenaline with Fenway's inviting Green Monster and gaps so perfectly-tailored to his doubles-happy stroke. The shortstop from Arizona can now have realistic thoughts
Red Sox select Song from Naval Academy
Pitching prospect the highest-drafted Navy graduate ever
BOSTON -- Sometimes, a top prospect is worth waiting for. The Red Sox took that approach Tuesday in the 2019 MLB Draft, when they snagged Naval Academy righty Noah Song with the final pick of the fourth round. If it was clearly a matter of talent, the 22-year-old Song might
Chavis, Riley earn May Rookie of Month honors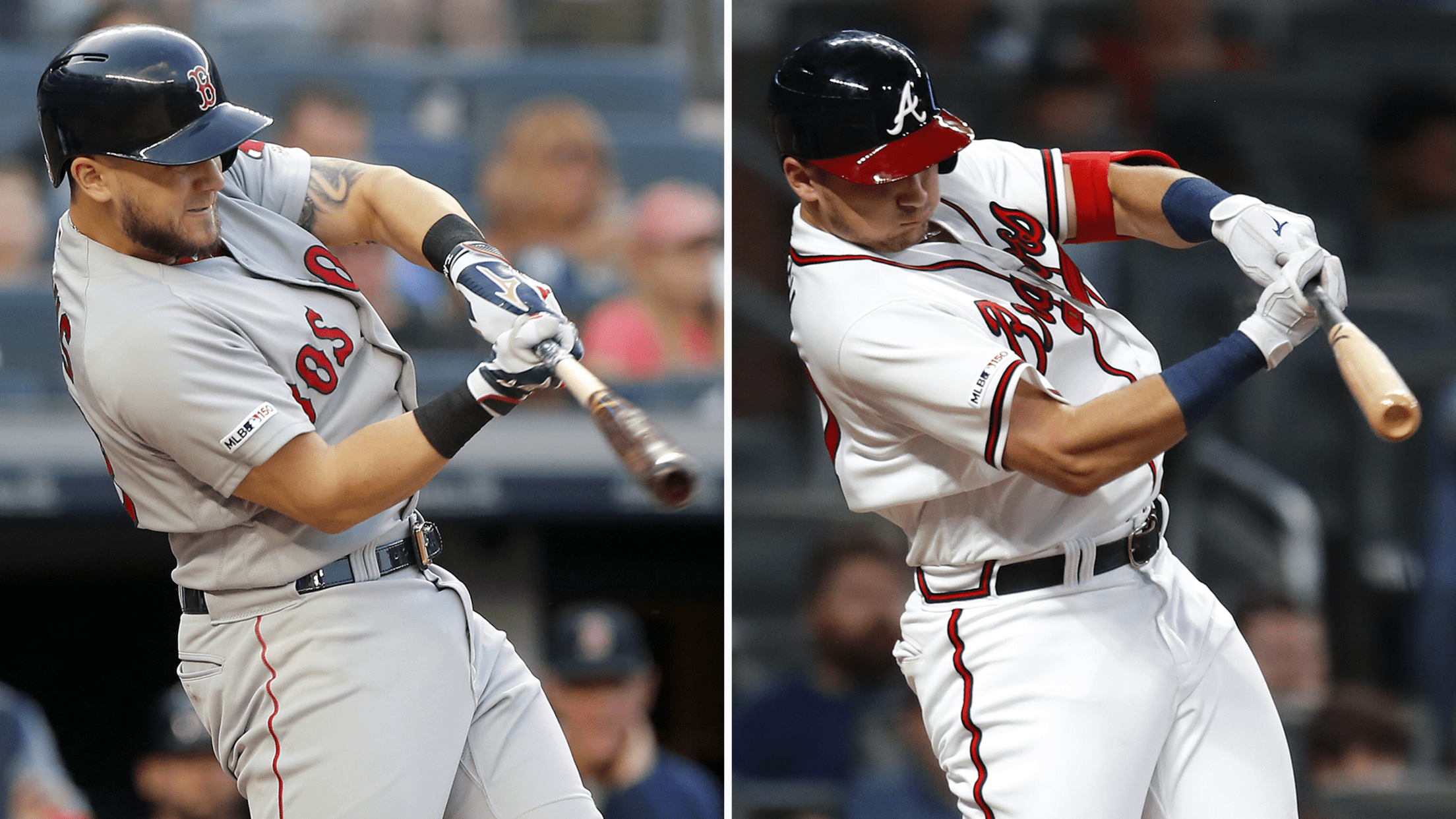 Major League Baseball selected Red Sox second baseman Michael Chavis and Braves left fielder Austin Riley as the American and National League Rookies of the Month for May. Chavis, 23, emerged as another potent slugger for Boston after making his Major League debut on April 20. The Georgia native knocked
With young core, Sox to rebuild depth via Draft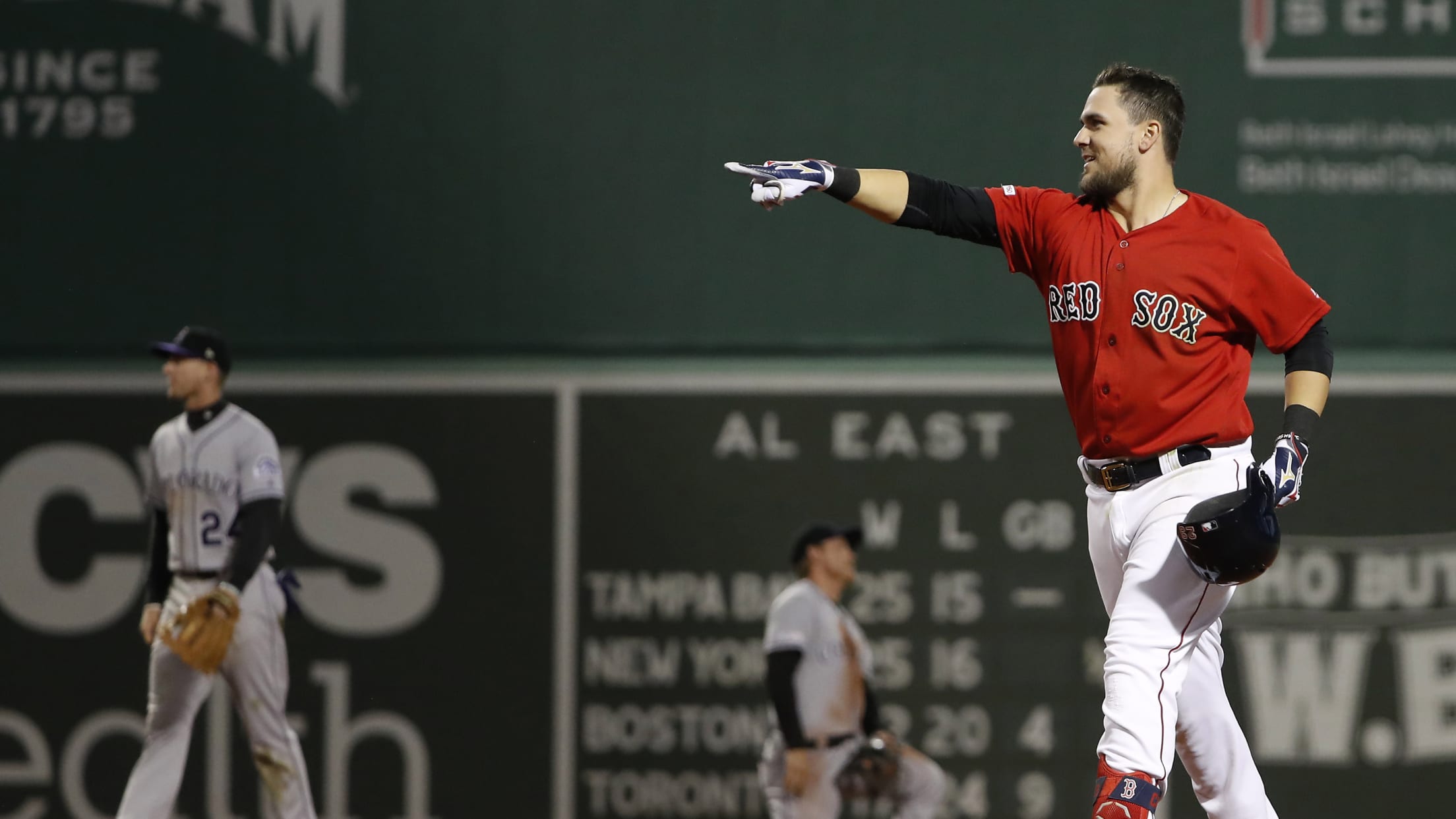 NEW YORK -- It isn't hard to spot how successful the Draft has been for the Red Sox in recent years. In the middle of the batting order is American League Rookie of the Year Award candidate Michael Chavis, who has provided a needed energy and production boost for the
Shawaryn aims to make impact on rivalry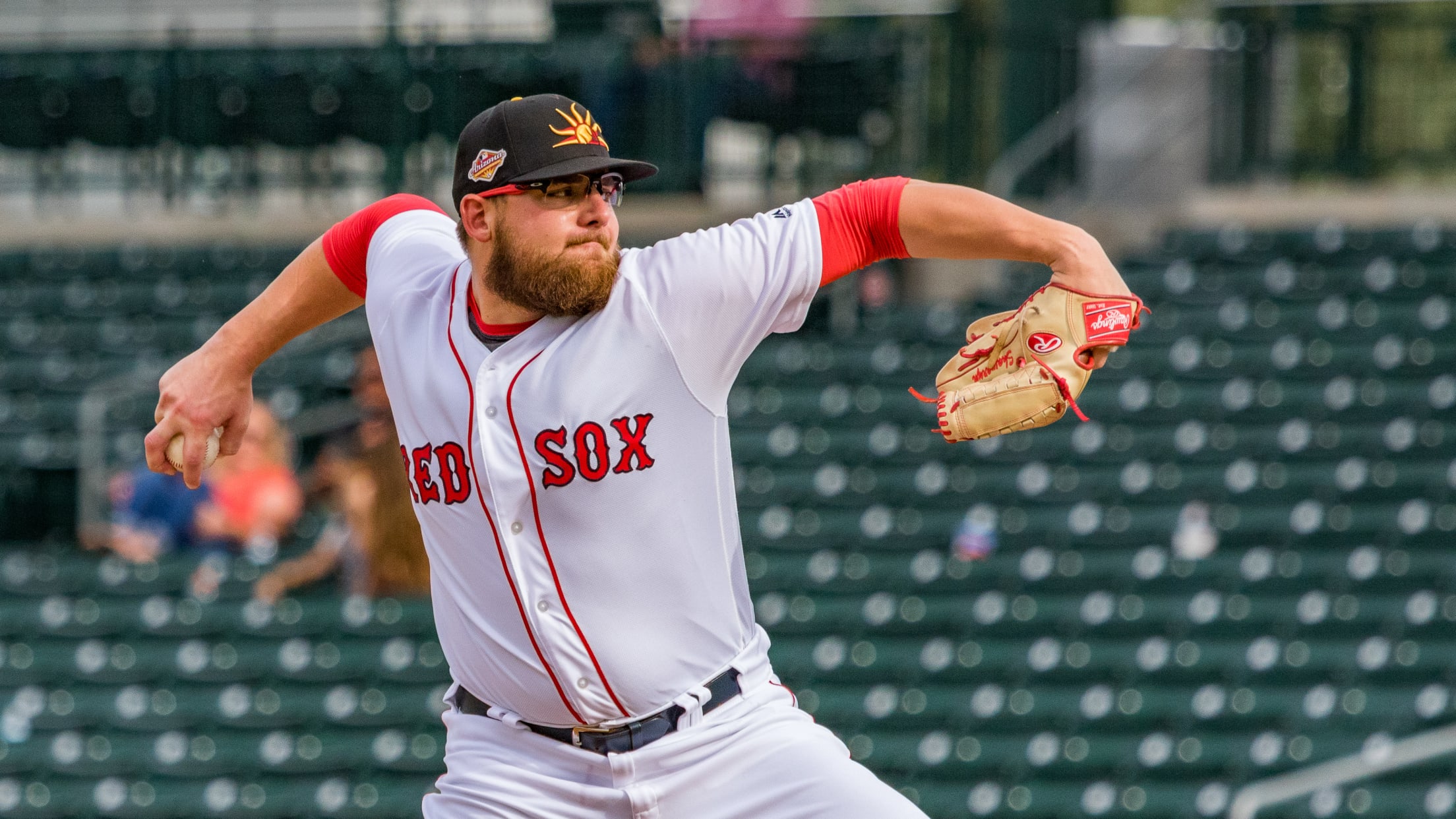 NEW YORK -- Thursday's rainout at Yankee Stadium gave Red Sox prospect Mike Shawaryn a little more time to reflect on the culmination of a dream come true -- being called up to the Major Leagues for the first time. Shawaryn, Boston's No. 12 prospect according to MLB Pipeline, was
Red Sox recall Hernandez to help taxed 'pen
Brewer optioned to Triple-A as corresponding move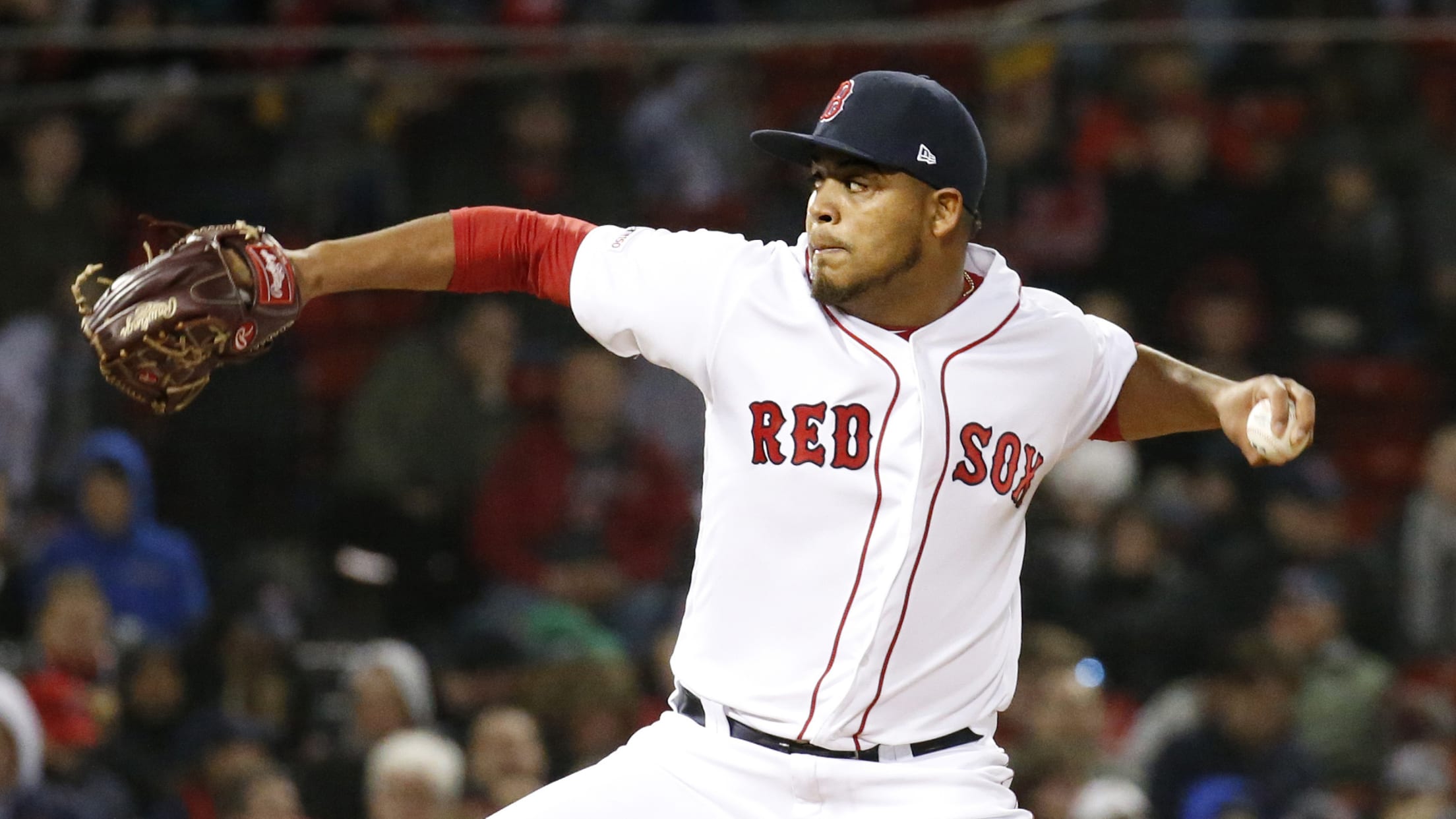 HOUSTON -- A day after David Price exited his start in the first inning due to flu-like symptoms, the Red Sox summoned the electric left arm of Darwinzon Hernandez from Double-A Portland. Hernandez, ranked No. 4 among Red Sox prospects by MLB Pipeline, would have started on Sunday for Portland.
Chavis, JD lead charge as Sox sweep Mariners
Sox prospect's 5 RBIs, slugger's 2 HRs lift Velazquez to first win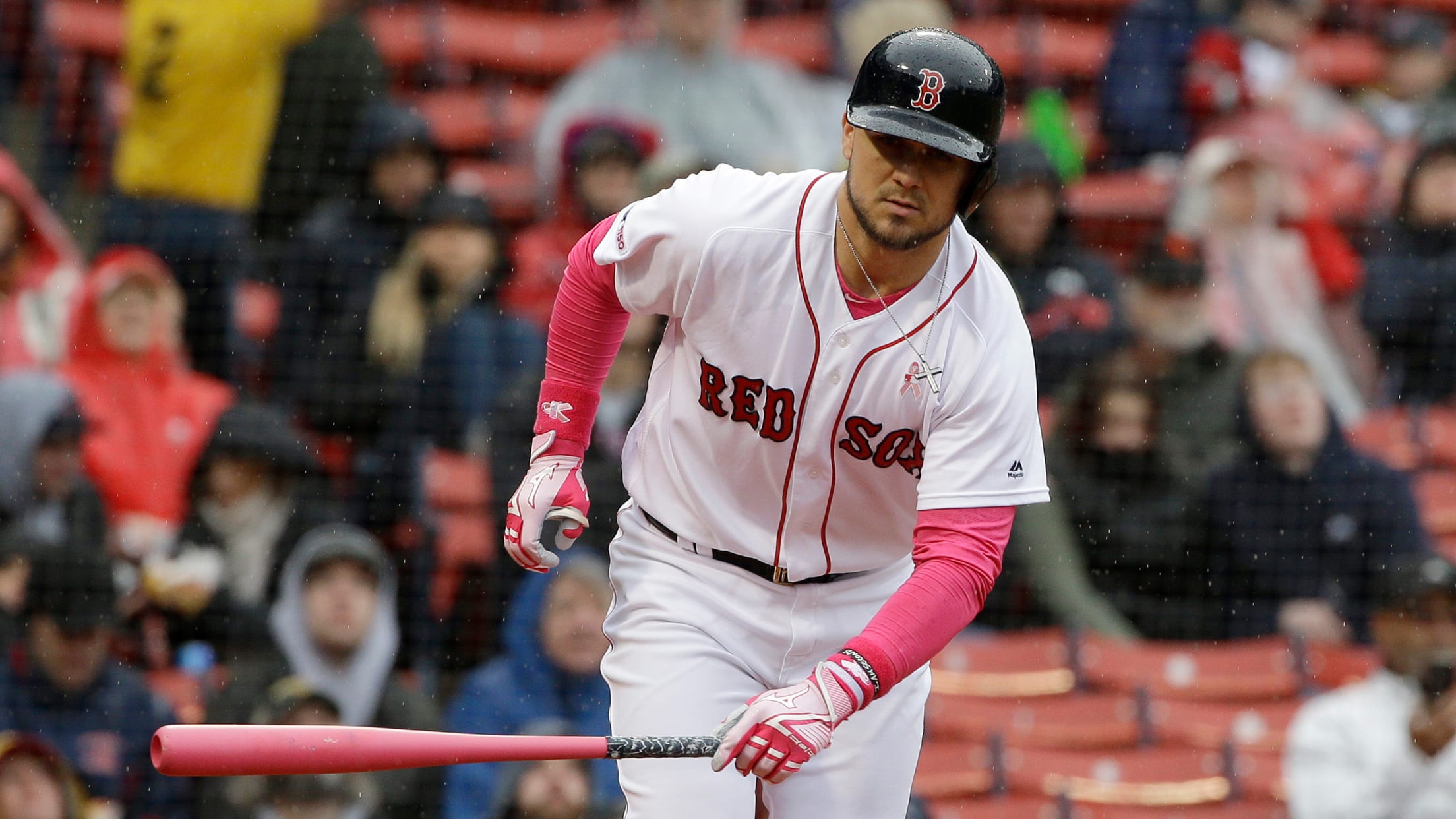 BOSTON -- For Michael Chavis, the bloop and the bleeder that helped lead to his slump-busting day felt as sweet as laser beams off or over the Green Monster. Boston's top prospect was in an 0-for-19 slump as he stepped to the plate for his first at-bat on Sunday. •
Dalbec homers three times for Portland
Red Sox No. 3 prospect Bobby Dalbec showed off his big power on Saturday, crushing three home runs in Double-A Portland's 12-inning, 8-7 loss to Trenton, the Yankees' Double-A affiliate. The three homers were a career high for the 23-year-old third baseman. • Box score Dalbec went deep in the
Could Chavis play outfield? 'You never know'
Holt: 'I'm feeling good,' injury updates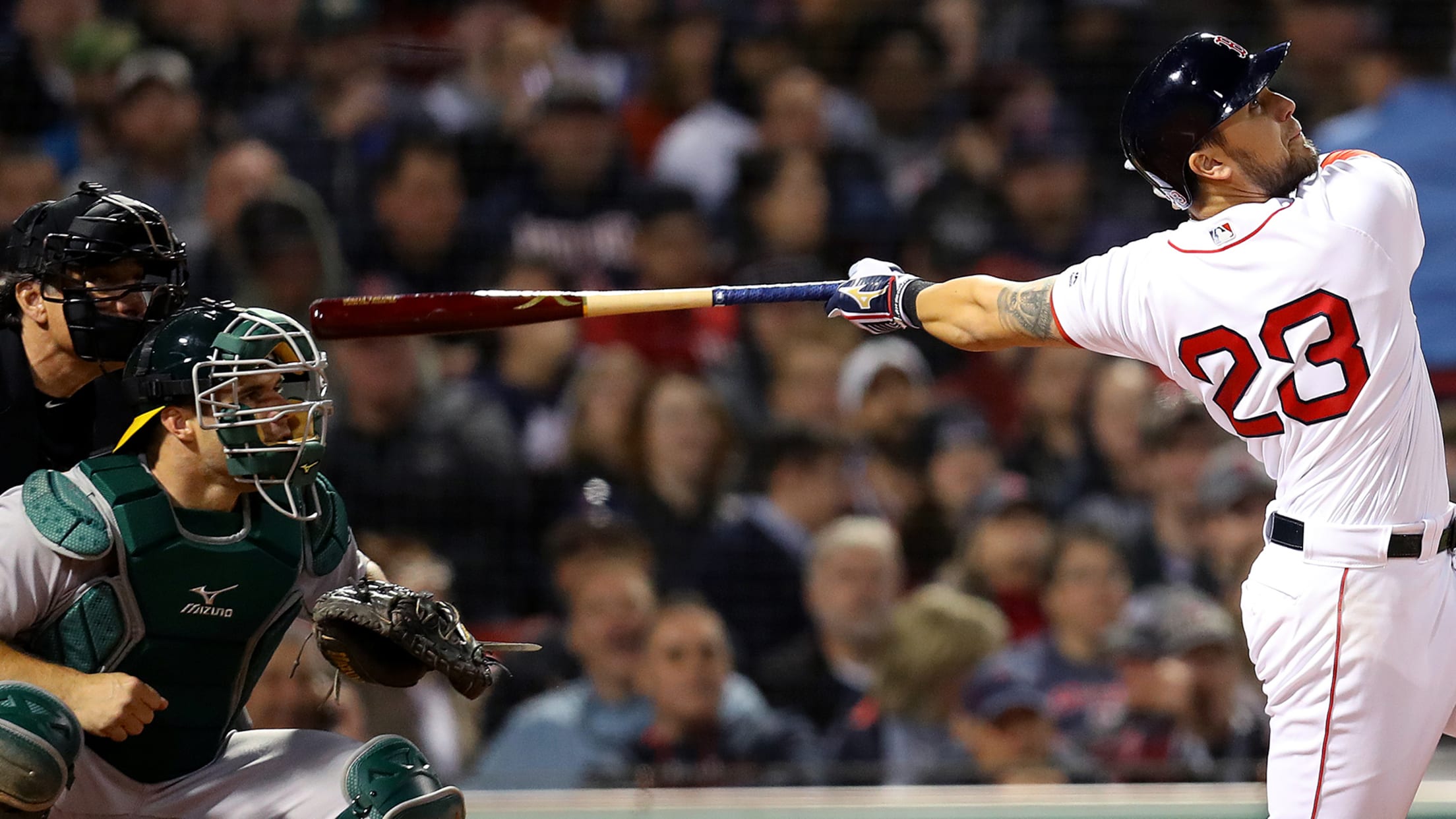 BALTIMORE – Given his hot start at the plate, it doesn't appear that top Red Sox prospect Michael Chavis will go back to the Minor Leagues, even when Brock Holt and Dustin Pedroia return from the injured list. To keep Chavis around in order to keep utilizing his big bat,
Hernandez notches 4 K's in big league debut
Lakins also makes first appearance in The Show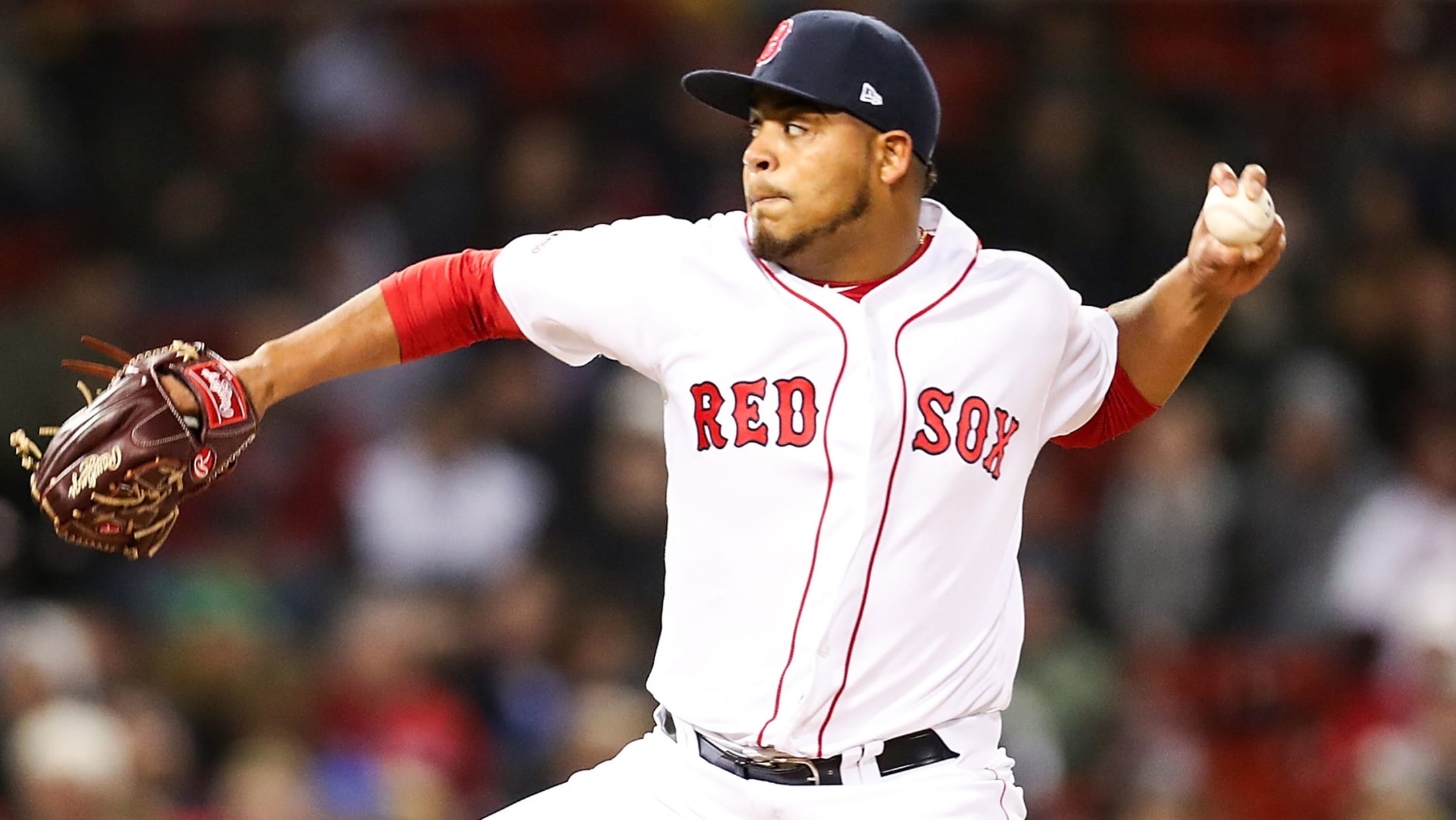 BOSTON -- Top Red Sox pitching prospect Darwinzon Hernandez thought he was holding his emotions in check rather well in his Major League debut on Tuesday night. But then came the moment he had to face Miguel Cabrera. Just like the future Hall of Famer who has spent most of
Chavis' arrival delayed in air, and on ground
Top prospect after adventure: 'I don't even know what day it is'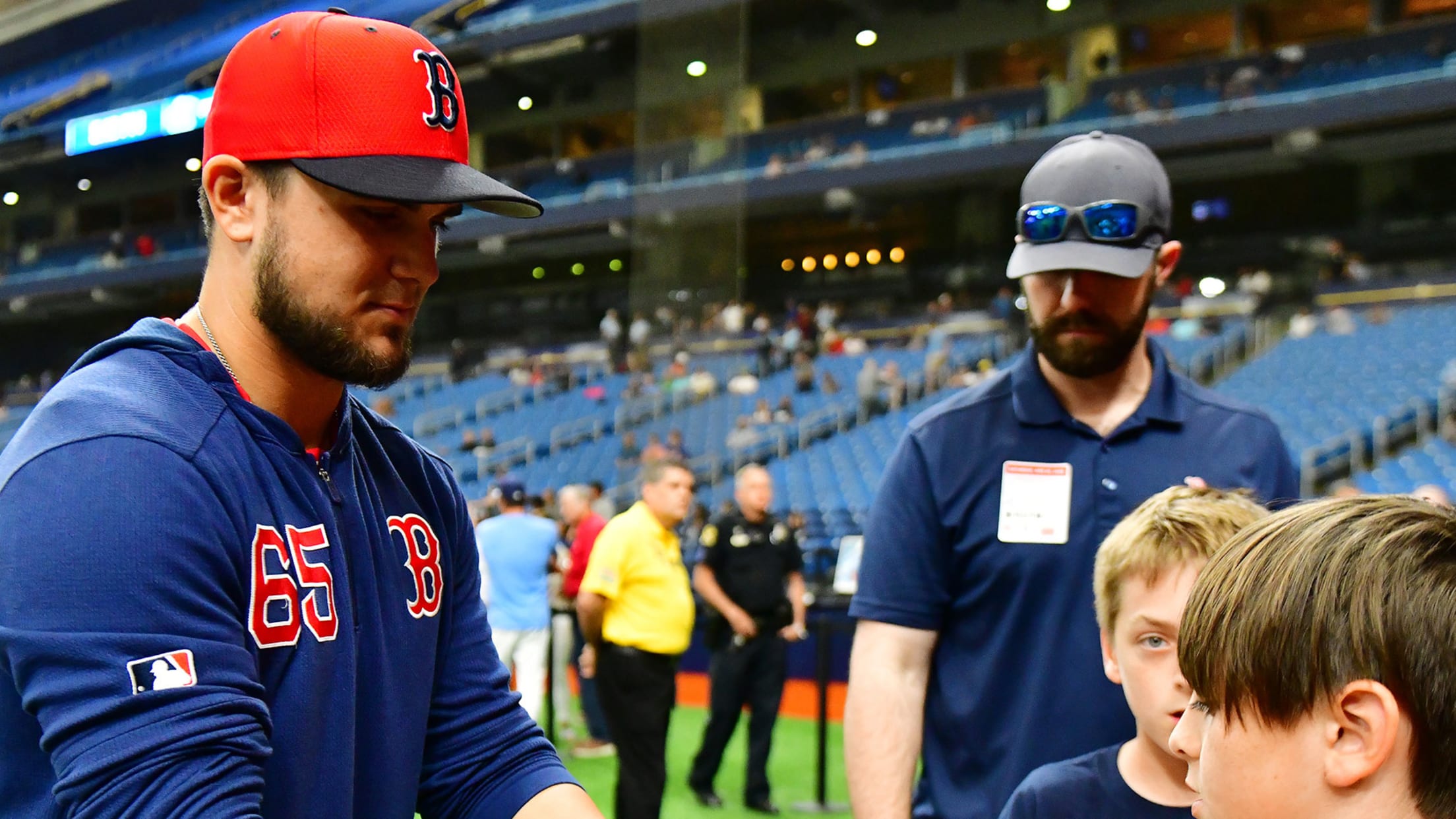 ST. PETERSBURG -- Michael Chavis' excitement was palpable as he entertained the media throng gathered around his locker on Saturday afternoon, animatedly describing his path to the big leagues. Only this story wasn't so much about Chavis' journey through the Minors en route to his first Major League callup as
Top prospect Chavis called up by Red Sox
Nunez heads to 10-day IL; Lin recalled from Triple-A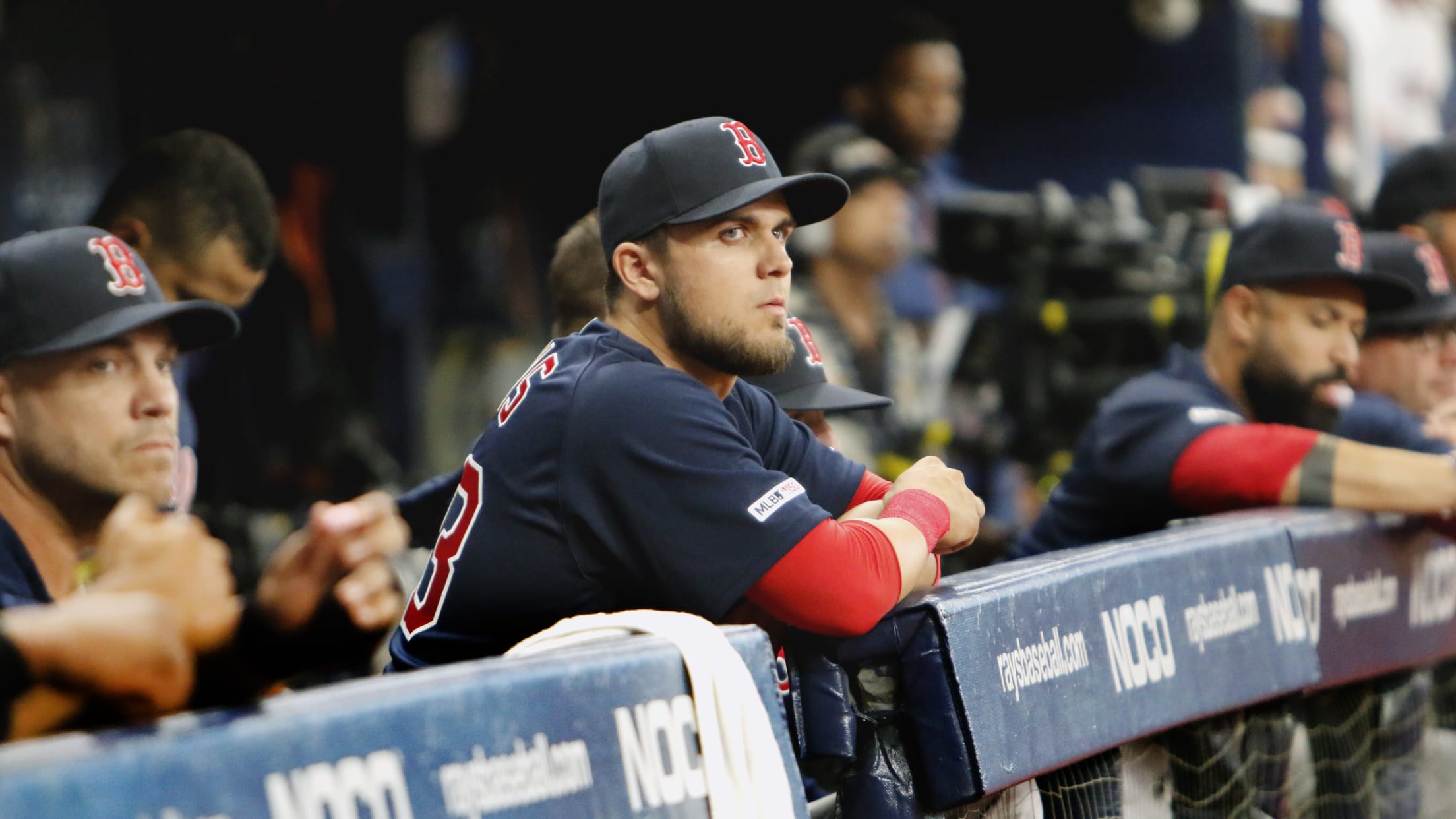 ST. PETERSBURG -- With a collection of injuries in the infield, the Red Sox have created some excitement for this weekend's three-game series against the Rays by promoting Michael Chavis, their No. 1-ranked prospect, from Triple-A Pawtucket. Friday marked the first callup to the Major Leagues for Chavis, who is
What to expect from Red Sox's Chavis in bigs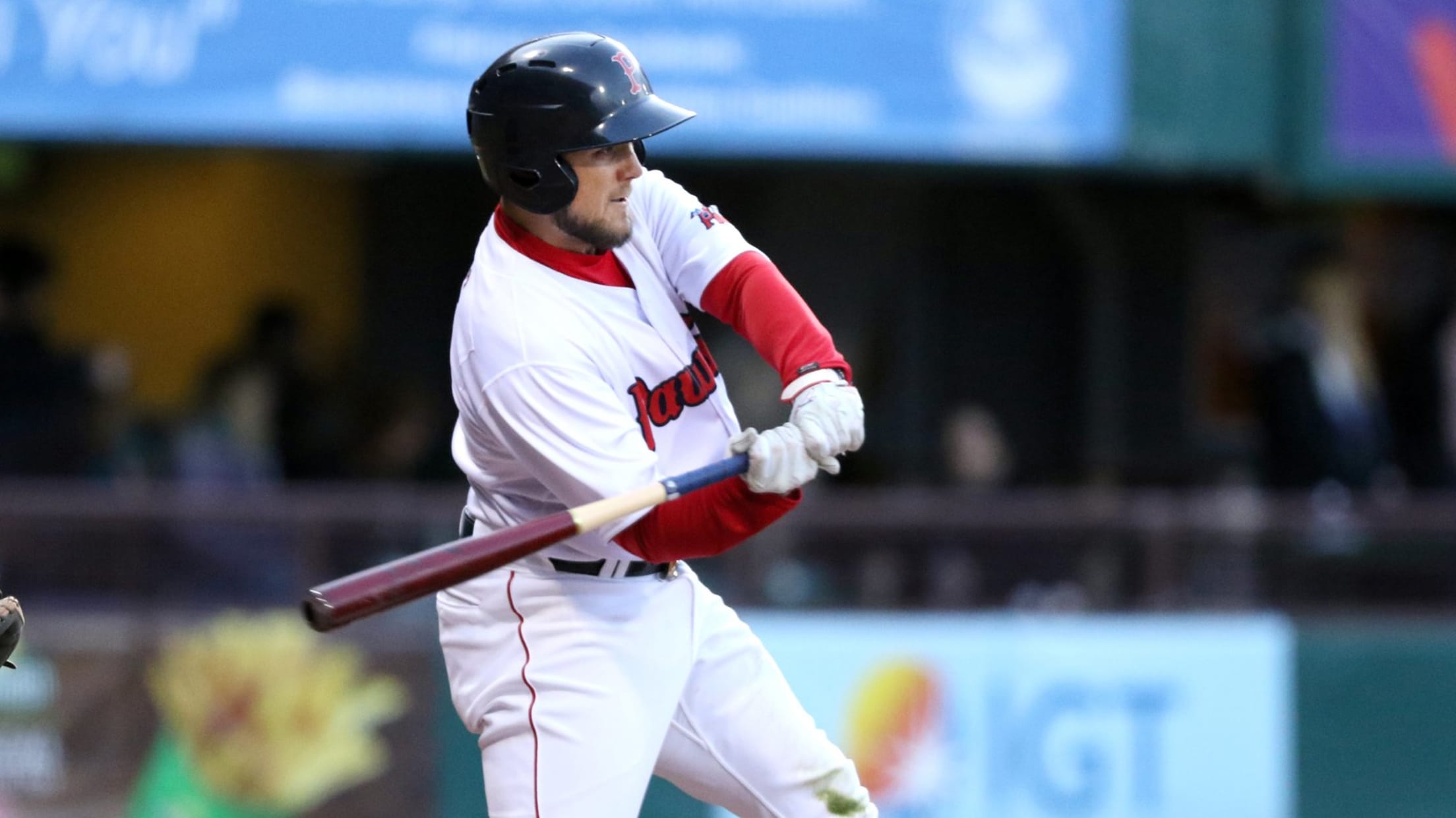 The defending World Series championship Red Sox are in dire need of victories and infielders, and they're hoping that the lone MLB Pipeline Top 100 Prospect (No. 75) in their organization can help in both areas. They summoned Michael Chavis from Triple-A Pawtucket on Friday. Boston's biggest hole is at
5 prospects who could shake up the AL East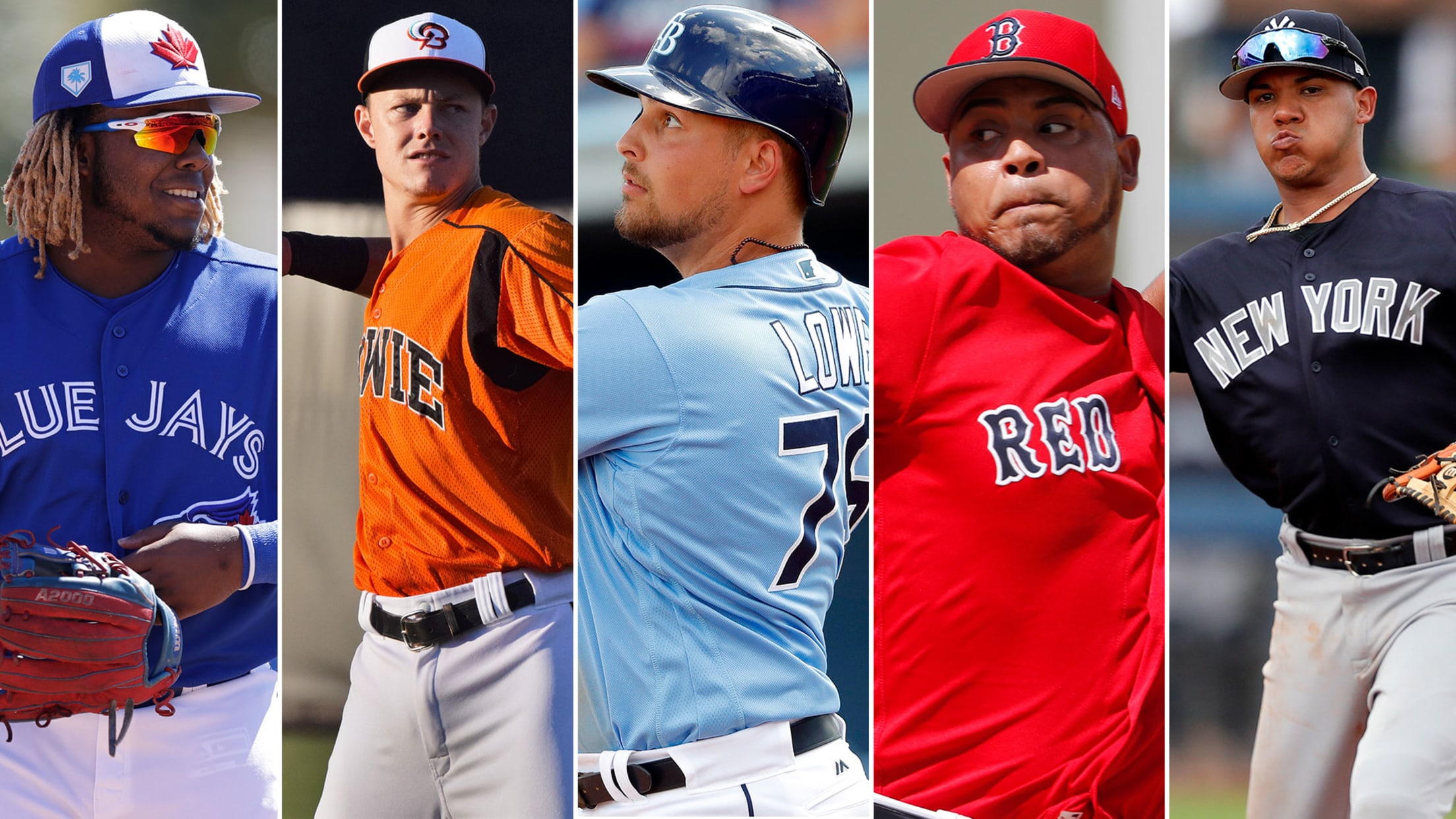 Last season was a banner year for prospects in the American League East. Could 2019 prove even better? Highly-regarded blue-chippers emerged across the board to make an impact in 2018, from Gleyber Torres and Miguel Andujar making runs at the AL Rookie of the Year Award in New York, Lourdes
Red Sox have bright future at the corners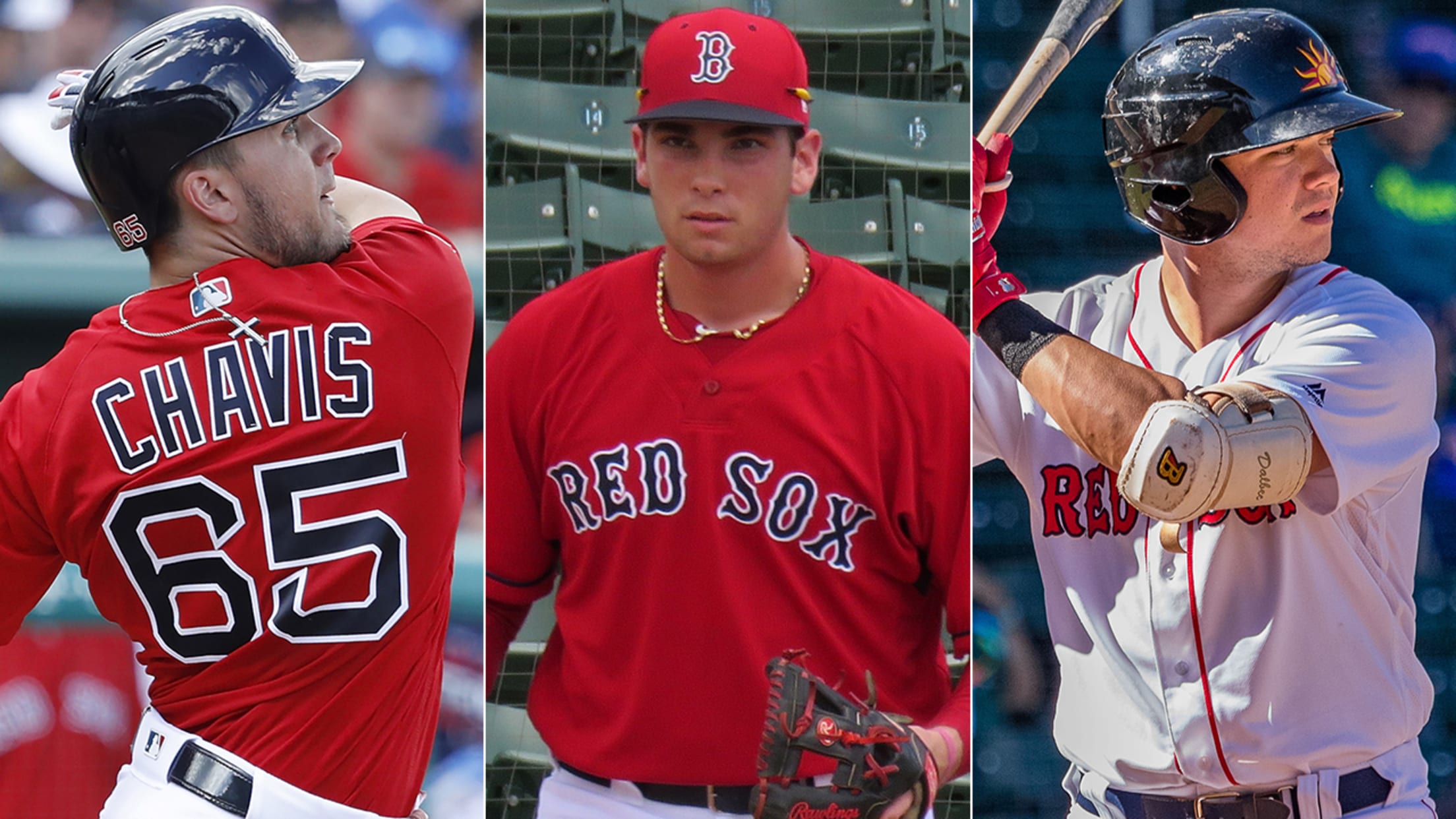 FORT MYERS, Fla. -- No one would question that the Red Sox farm system is not as strong as it was a few years back. There's been attrition via graduation (Andrew Benitendi, Jackie Bradley Jr., Mookie Betts, Rafael Devers, to name a handful) and via trade, especially since Dave Dombrowski
D. Hernandez still in mix for Sox bullpen
Pearce exits for precautionary reasons; Price scratched with illness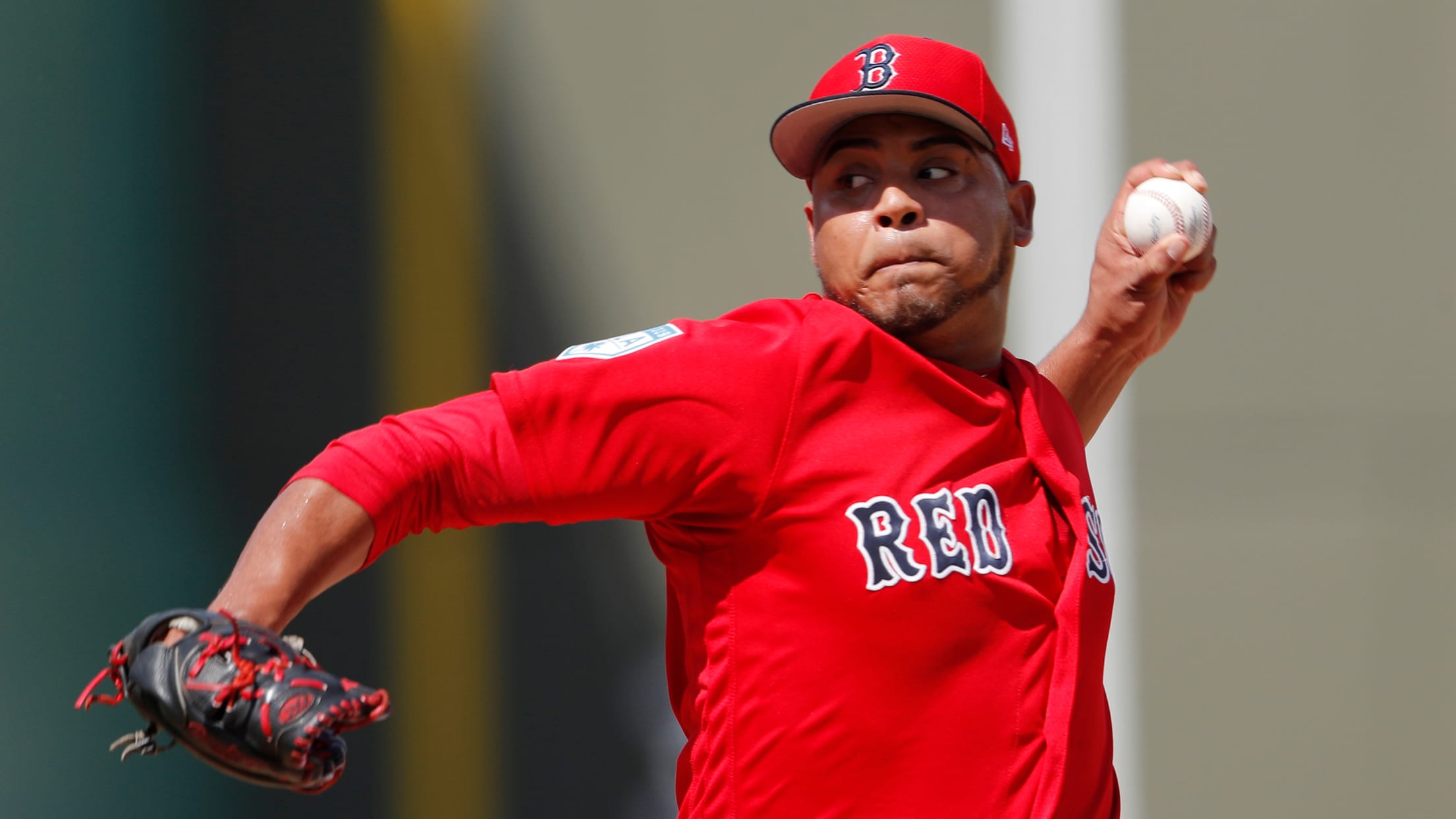 FORT MYERS, Fla. -- Red Sox top lefty prospect Darwinzon Hernandez has pitched just six innings at Double-A in his career, which would seem to make it a long shot that he could break camp with the team. But this isn't a conventional spring for the Red Sox when it
Feltman impresses with 2 K's in spring debut
Red Sox No. 12 prospect holds Tigers in first Major League outing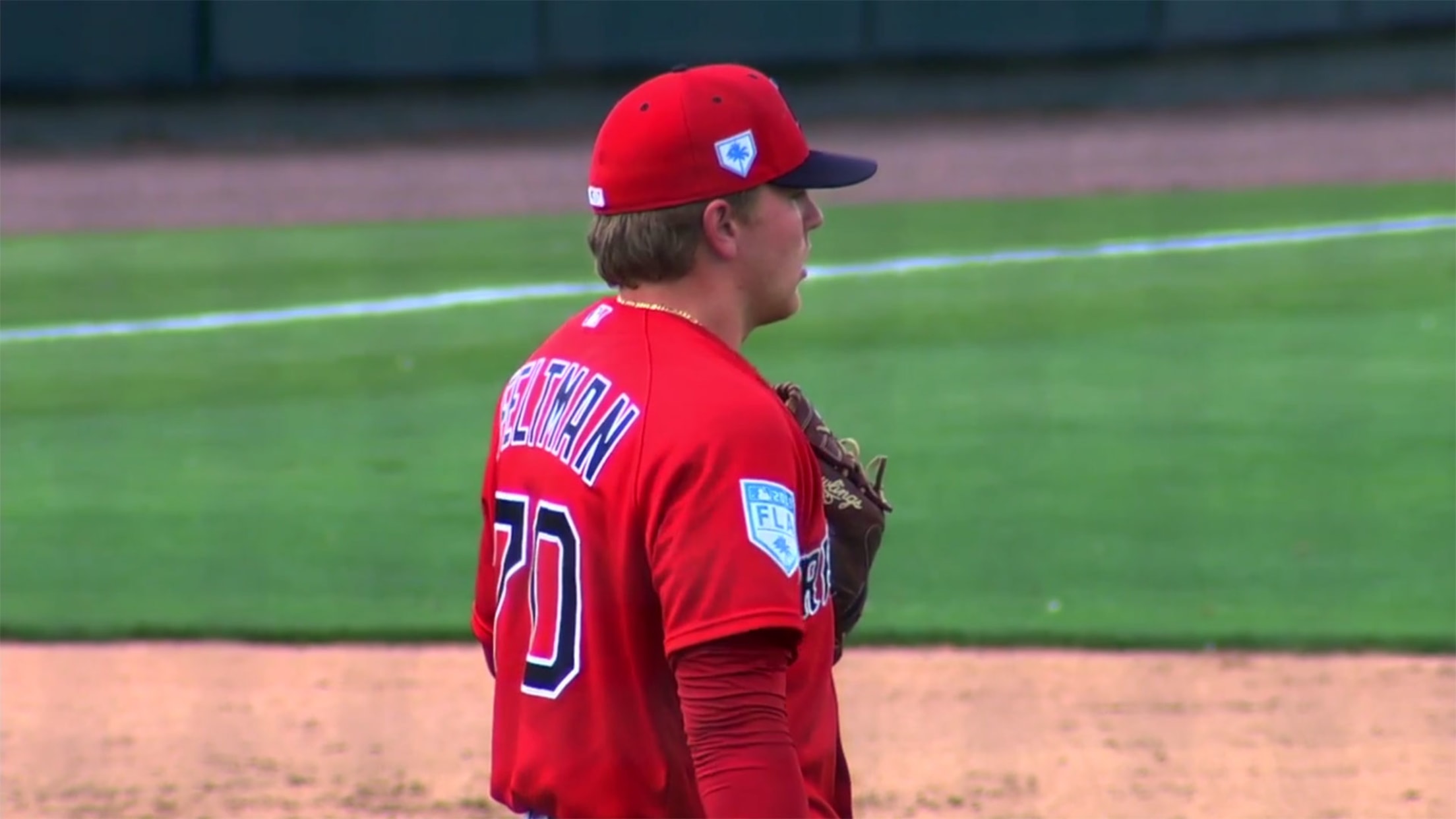 LAKELAND, Fla. -- You wonder sometimes if Durbin Feltman's rise through the Red Sox's farm system will rival the speed of his fastball. The highly touted righty reliever from TCU experienced his first day of Major League life on Thursday, when the Red Sox had him join the traveling squad
Top prospect Chavis sent to Pawtucket
Despite 4 HRs and 10 RBIs, corner infielder will start season in Triple-A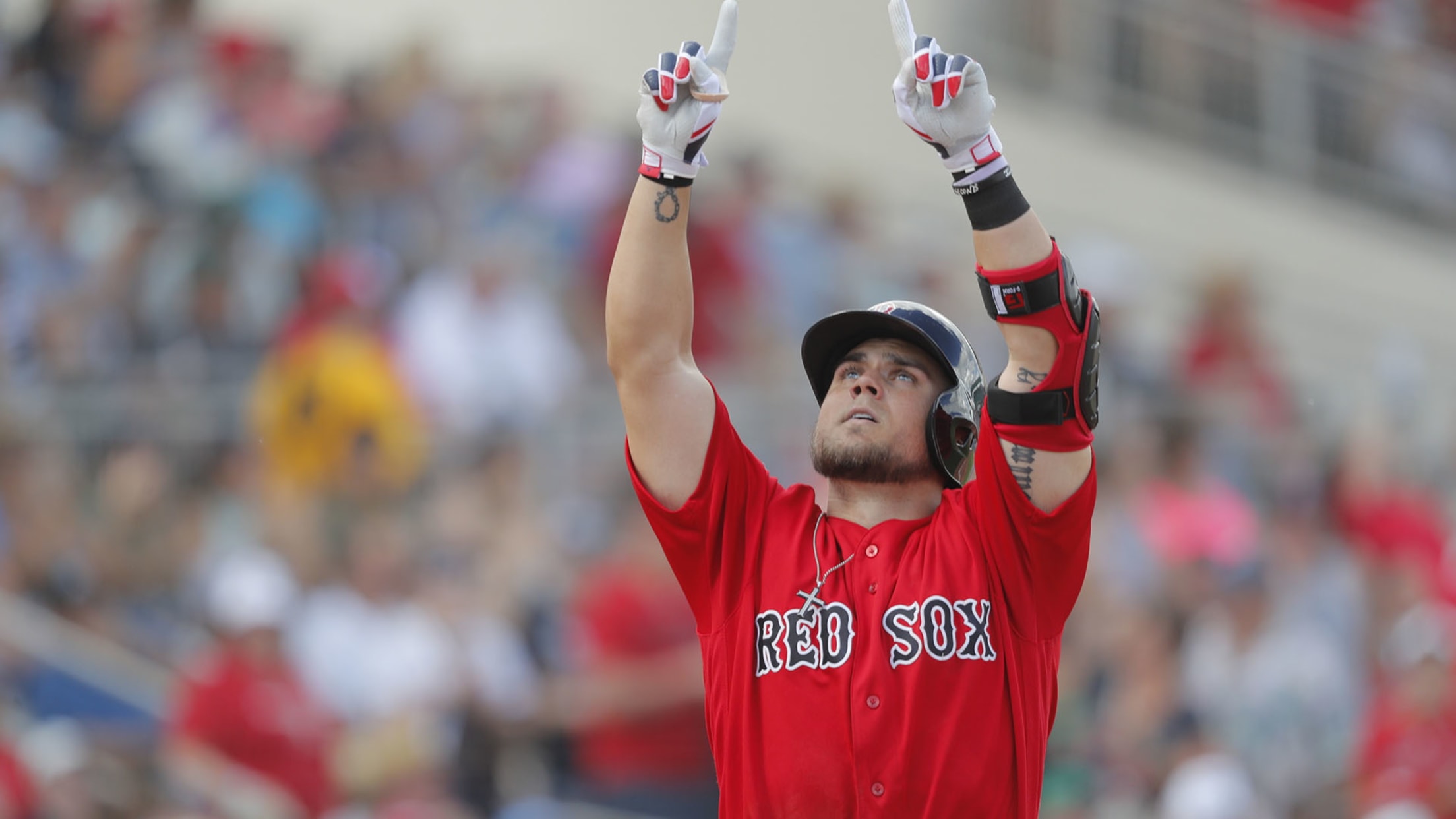 FORT MYERS, Fla. -- The fact that the Red Sox included top prospect Michael Chavis in their first round of cuts on Tuesday was in no way indicative of the type of camp the right-handed hitter is having. In fact, Chavis was optioned to Triple-A Pawtucket while leading the Red
Chavis' three-run home run extra sweet
Red Sox's top prospect showing his versatility in camp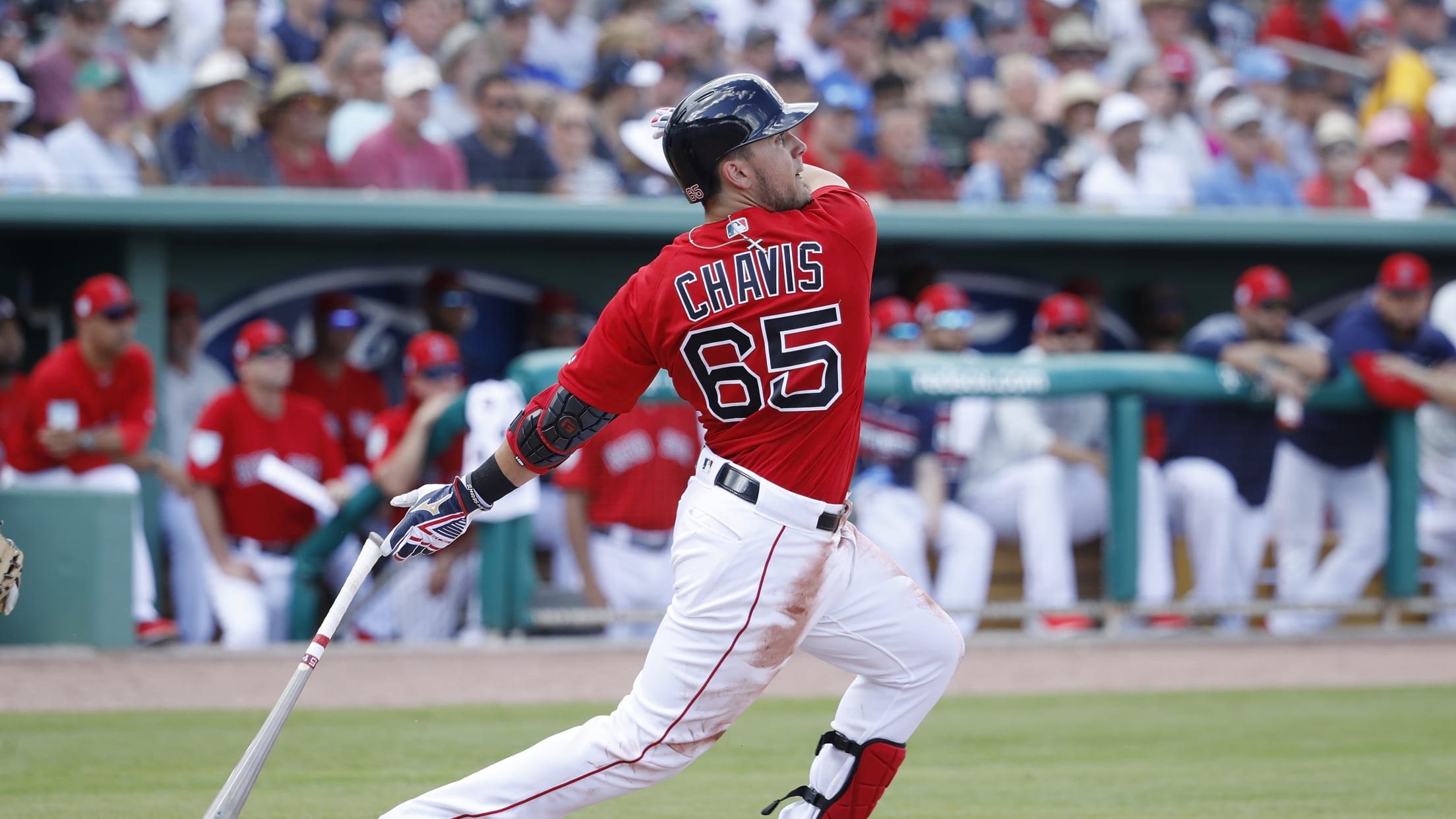 FORT MYERS, Fla. -- Michael Chavis displayed why he is the Red Sox's No. 1 prospect by MLB Pipeline when he launched a three-run, opposite-field homer into the bullpen in right-center at JetBlue Park in Saturday's 8-5 victory over the Yankees. The right-handed-hitting masher ripped one high and deep a
Sox No. 3 prospect Dalbec homers in 1st AB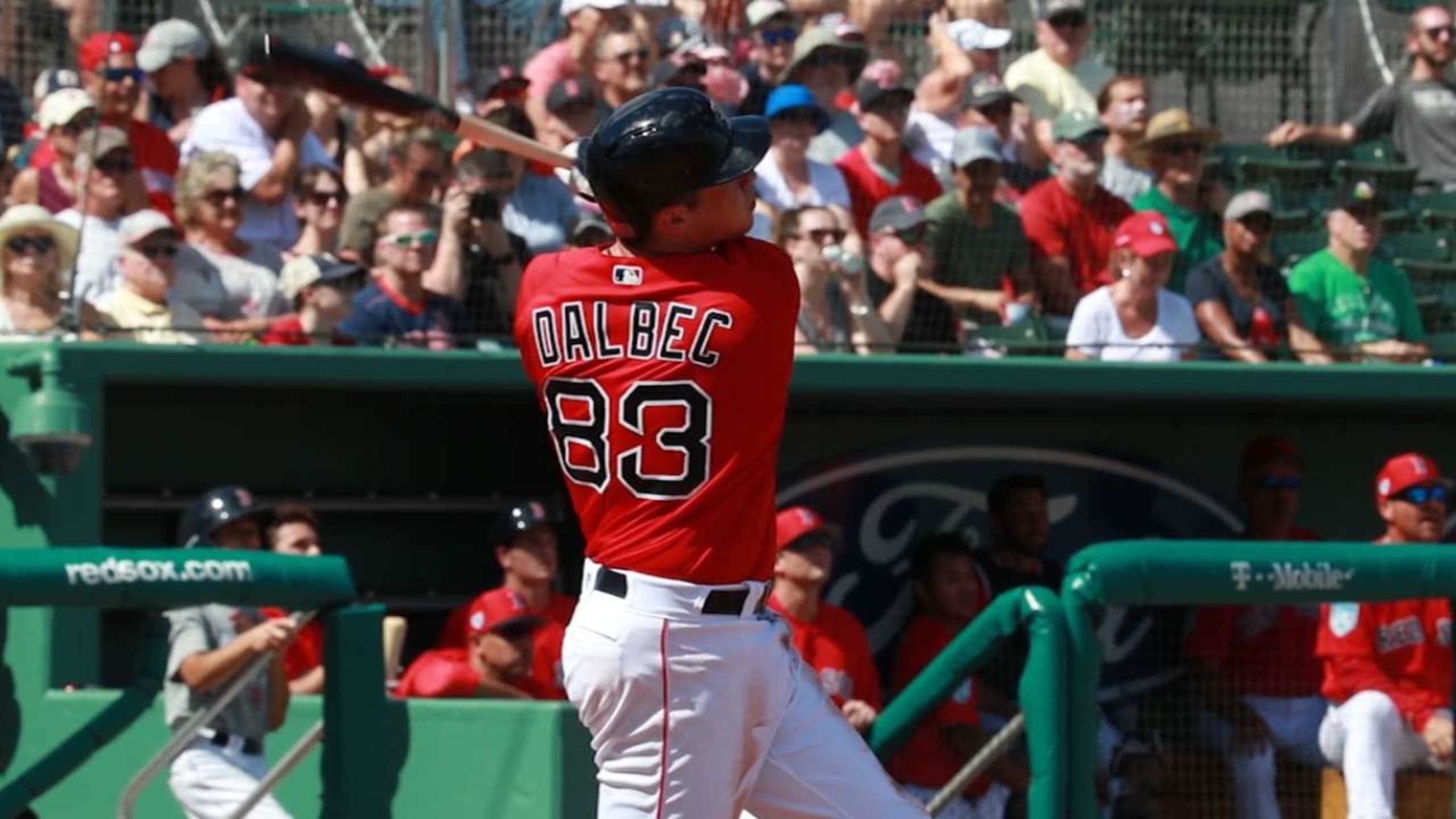 FORT MYERS, Fla. -- The Red Sox were supposed to have a soft launch to their game schedule on Friday afternoon when they played Northeastern University. But there is nothing soft about the launch when prospect Bobby Dalbec gets a hold of a pitch he likes.
Top prospect Chavis eager to return to Sox camp
Power-hitting infielder served 80-game suspension last season, posted .919 OPS in Minors after return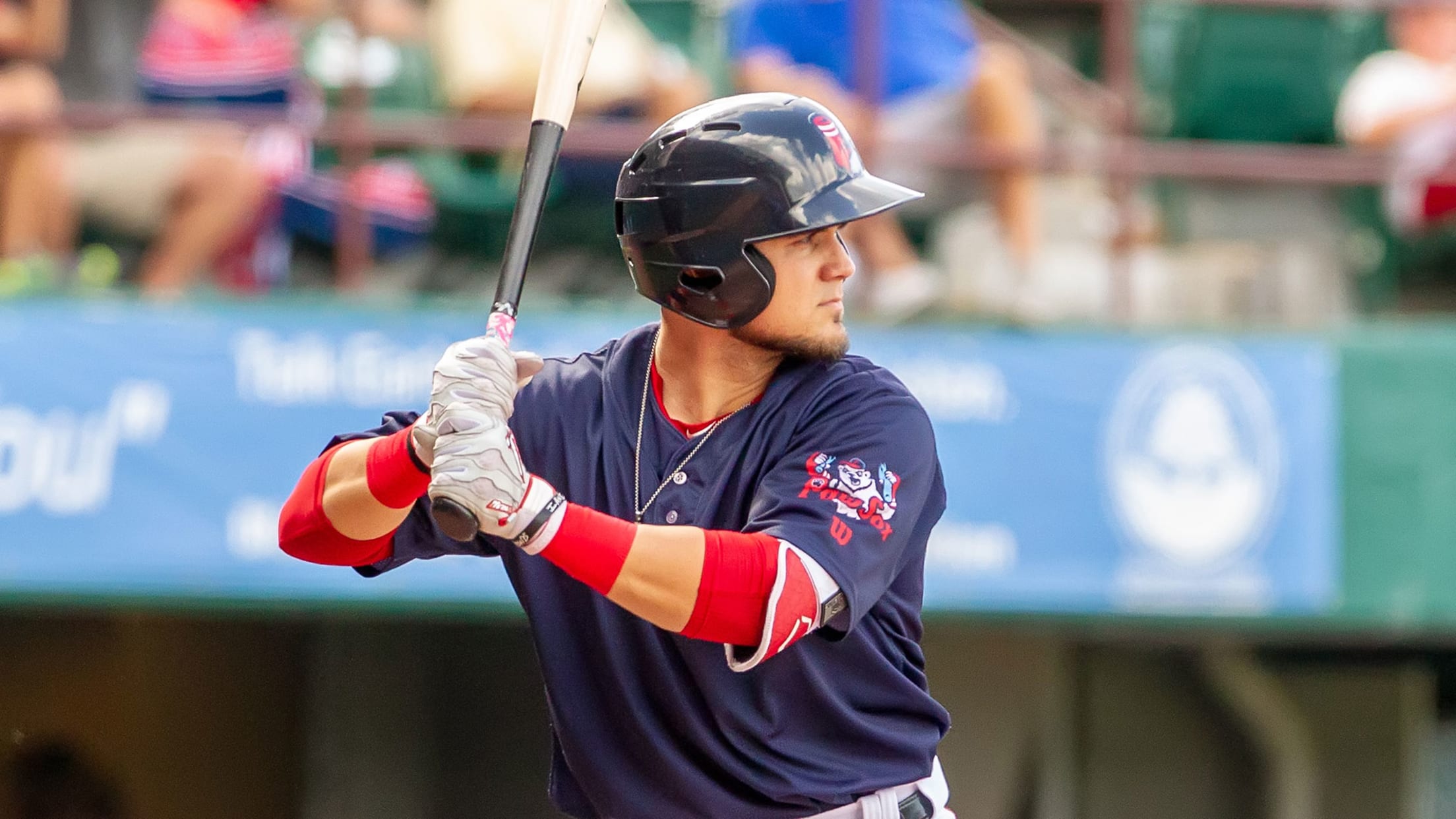 BOSTON -- The loss of what he loves to do the most lingered with Red Sox prospect Michael Chavis for all three months of his 80-game suspension to start last season. That's why nobody is more excited to get to Spring Training than the power-hitting infielder.Chavis' suspension was for violating
Red Sox acquire RHP Brewer, put 5 on 40-man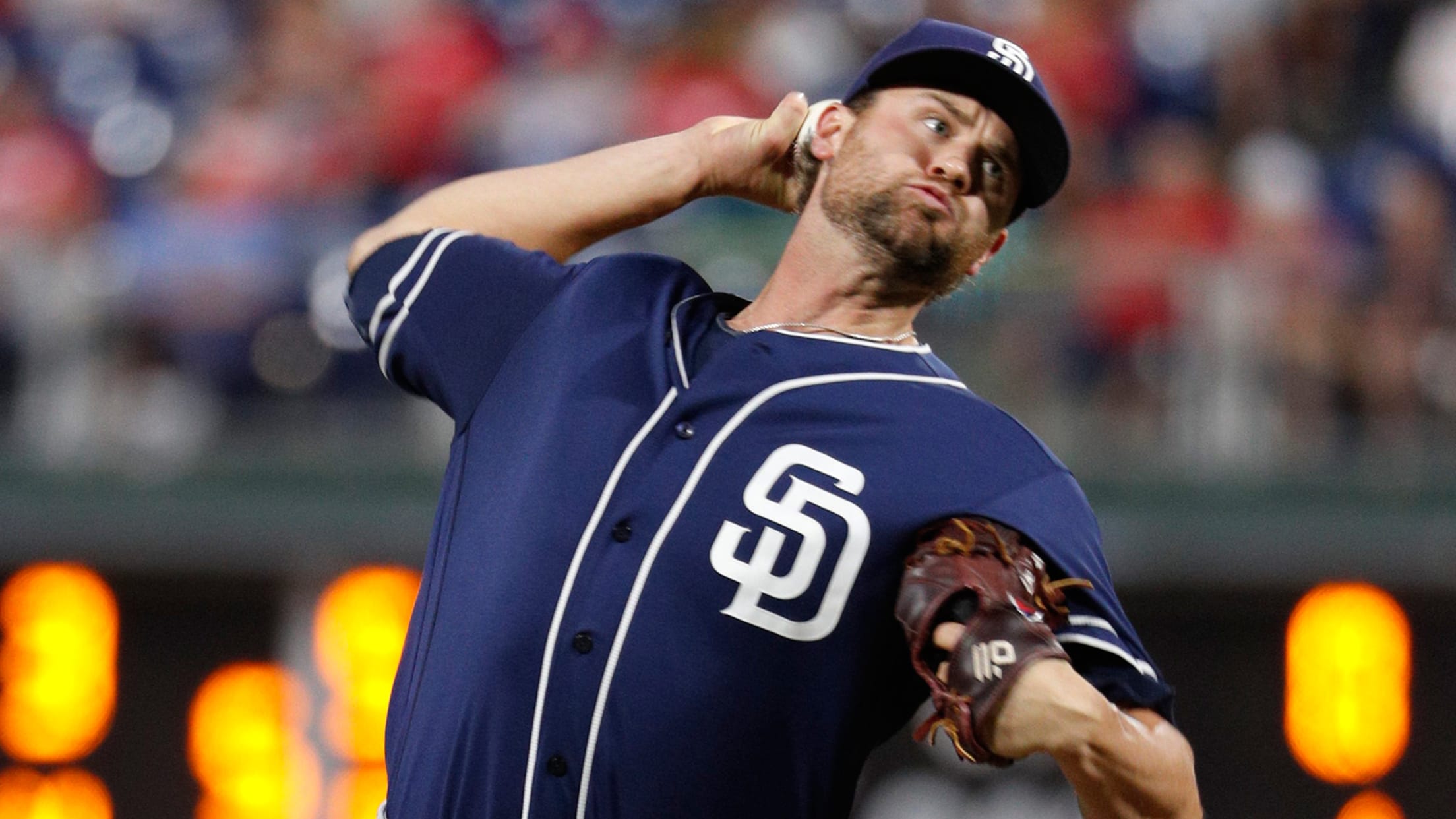 BOSTON -- The Boston Red Sox today made the following roster moves:• The club acquired right-handed pitcher Colten Brewer from the San Diego Padres in exchange for minor league infielder Esteban Quiroz.• The club has also requested unconditional release waivers on right-handed pitcher William Cuevas, who is expected to sign