Players and Personalities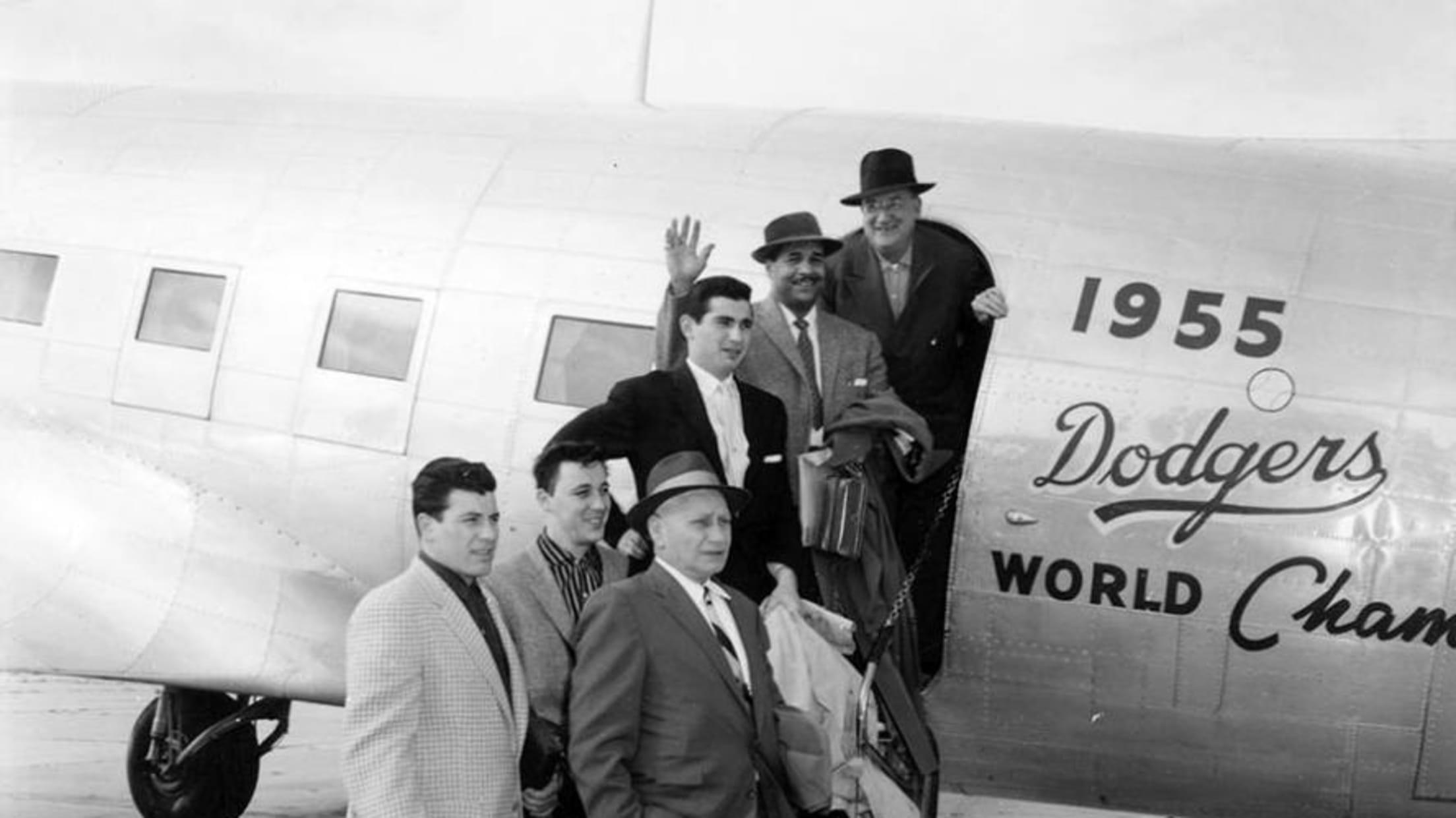 (Top to bottom: Walter O'Malley; Roy Campanella; Sandy Koufax; Billy Loes; Coach Jake Pitler; Unidentified. Walter O'Malley leads members aboard the Dodger DC-3 plane for their departure to Dodgertown in Vero Beach, Florida for the 1956 Spring Training season. Campanella, Koufax, and Loes were all part of the 1955 World Championship team as it is displayed on the team plane.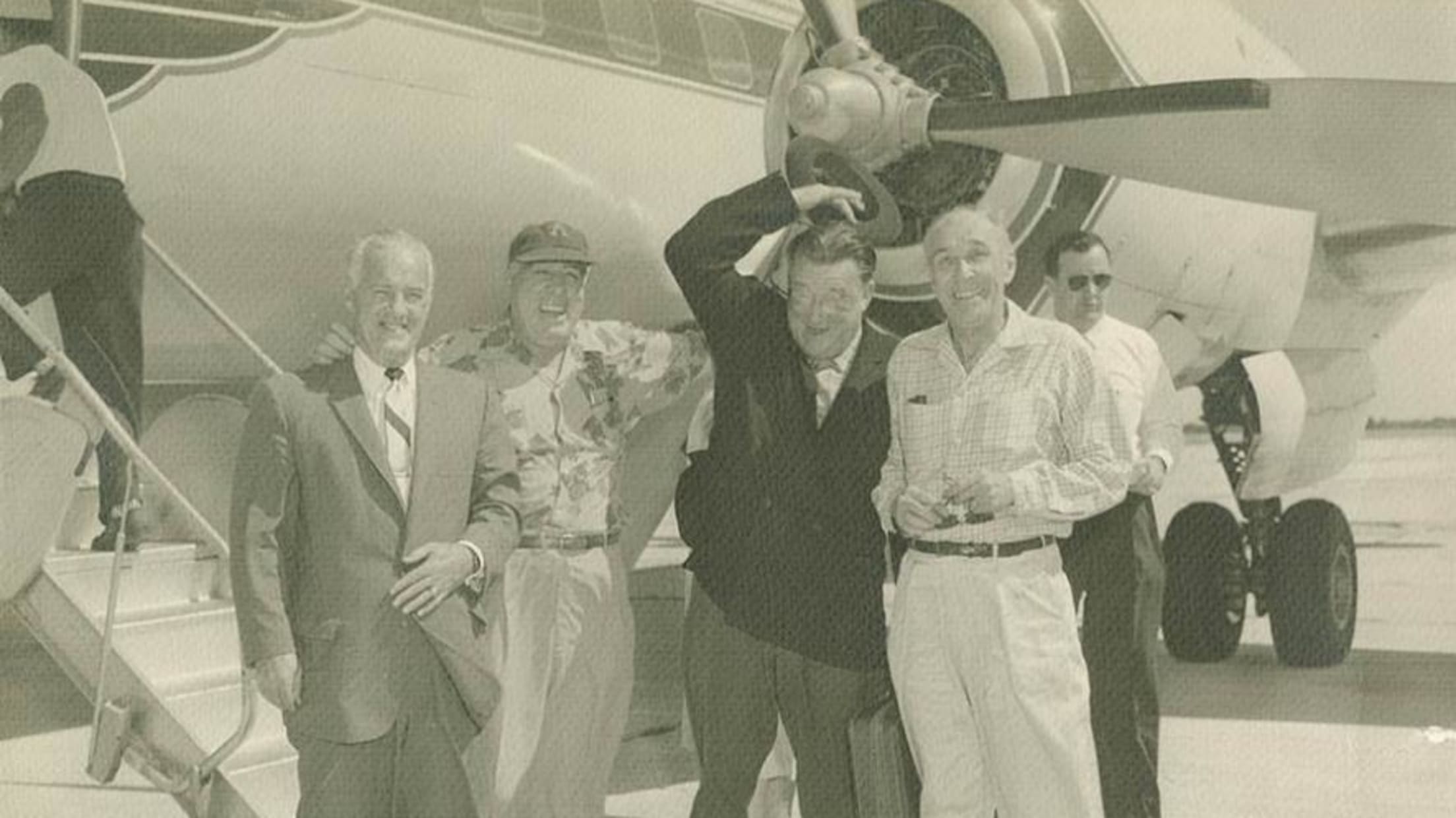 (L-R) Fresco Thompson; Bud Holman; Walter O'Malley; Camp Director Spencer Harris; Bump Holman. Dodger Vice President Fresco Thompson, Bud Holman, and Walter O'Malley have arrived in Vero Beach on the Dodger Convair plane and are greeted by Vero Beach business leader Bud Holman. On the far right is the pilot of the plane, Bump Holman, the son of Bud.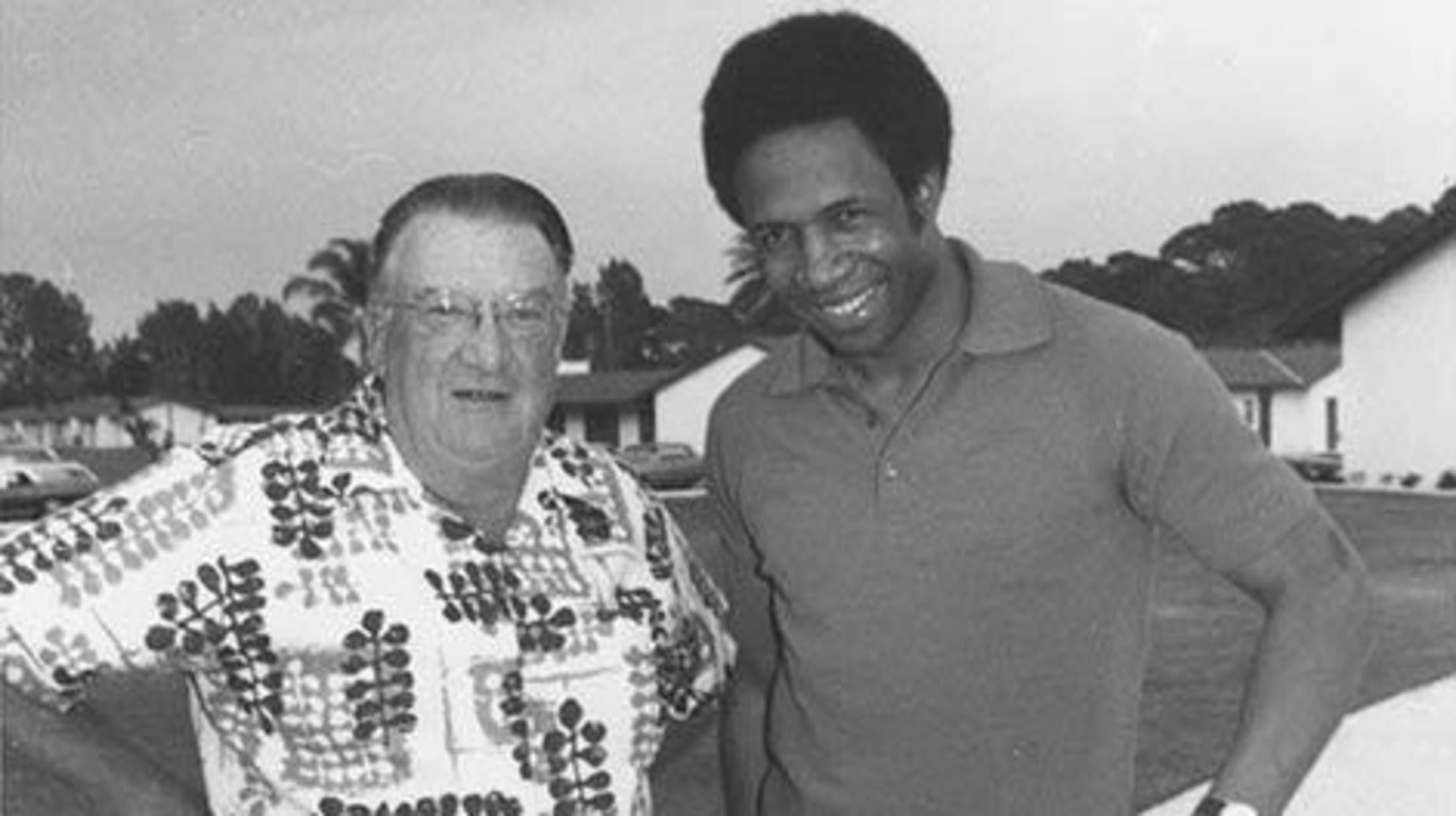 (L-R) Walter O'Malley; Frank Robinson. Frank Robinson played the 1972 season with the Los Angeles Dodgers and is shown here at Dodgertown. Robinson won two Most Valuable Player Awards, is elected to the National Baseball Hall of Fame and became the first African American manager in baseball history when he piloted the Cleveland Indians in 1975.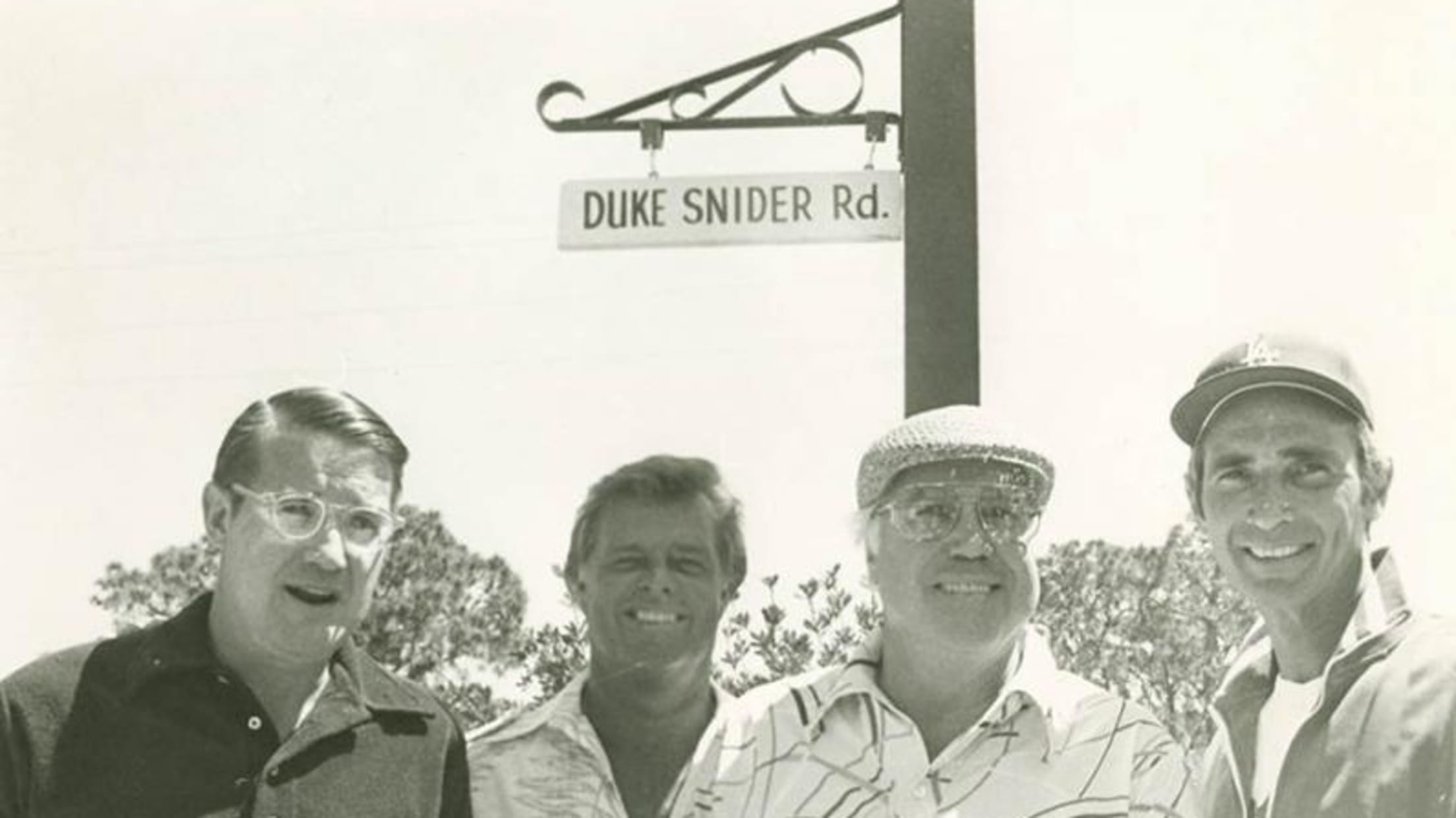 (L-R) Peter O'Malley, Don Drysdale; Duke Snider; Sandy Koufax. Upon the election of Duke Snider to the National Baseball Hall of Fame, Duke Snider Road is established in Dodgertown. Joining Snider for the 1980 event are Dodger President Peter O'Malley and two former teammates, Don Drysdale, named to the Hall of Fame in 1984 and Sandy Koufax elected in 1972.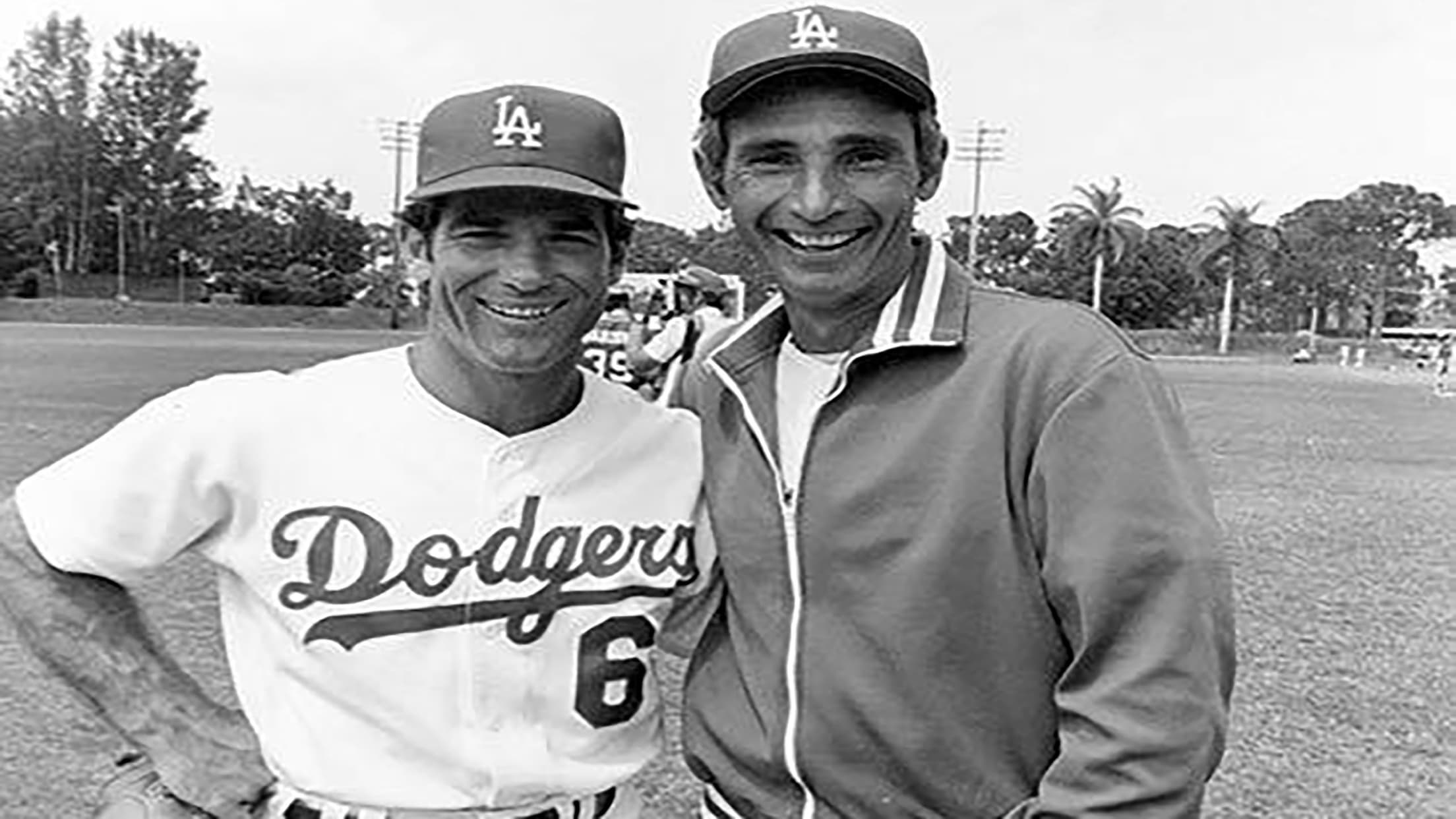 (L-R) Steve Garvey; Sandy Koufax. Two all-time Dodger great players, Steve Garvey and Sandy Koufax, meet at Dodgertown. Garvey is a current player in this photo in the early 1980's and Koufax is a Dodger instructor.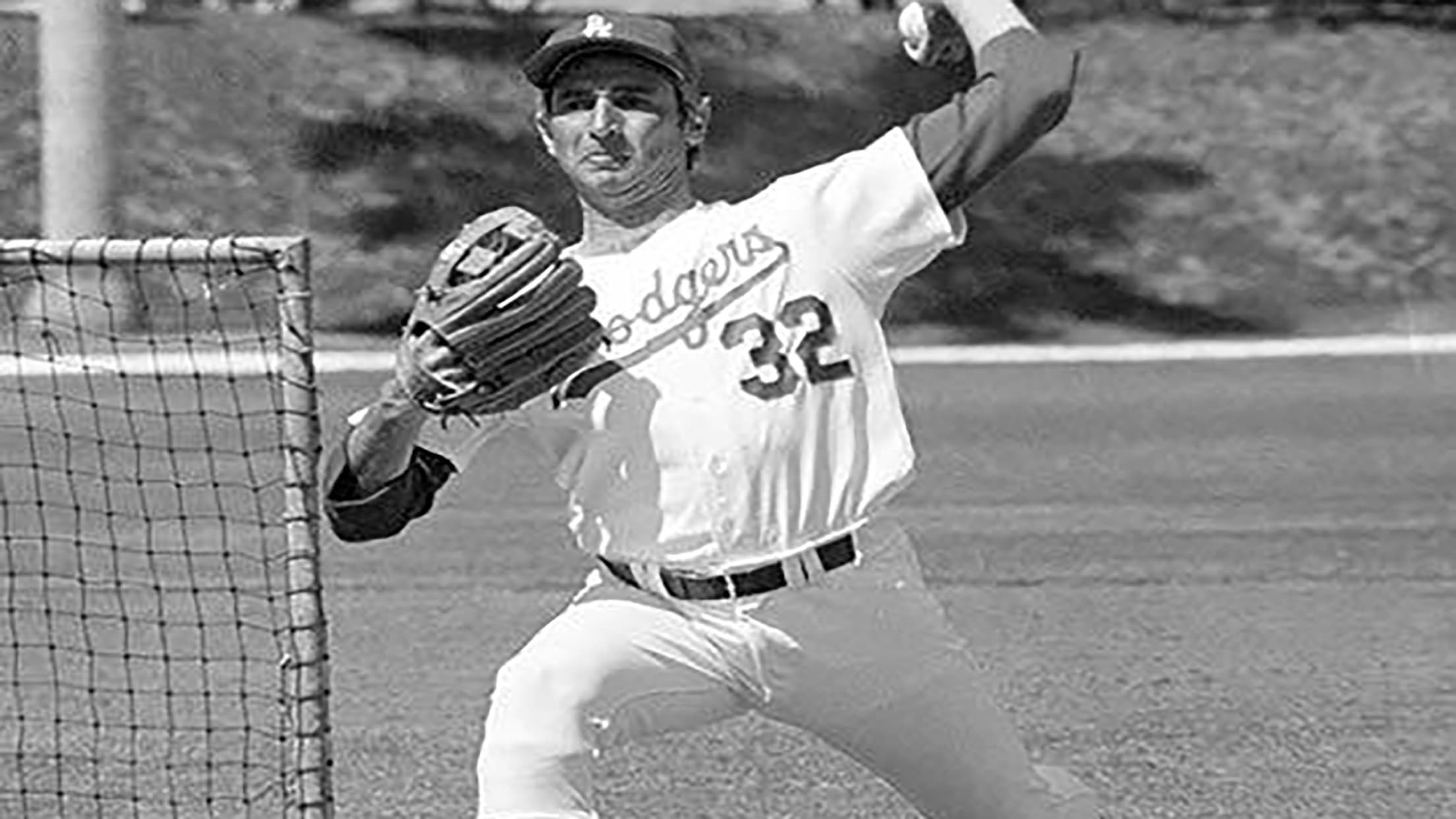 The elegant pitching form that can only belong to Sandy Koufax as he throws batting practice at Holman Stadium.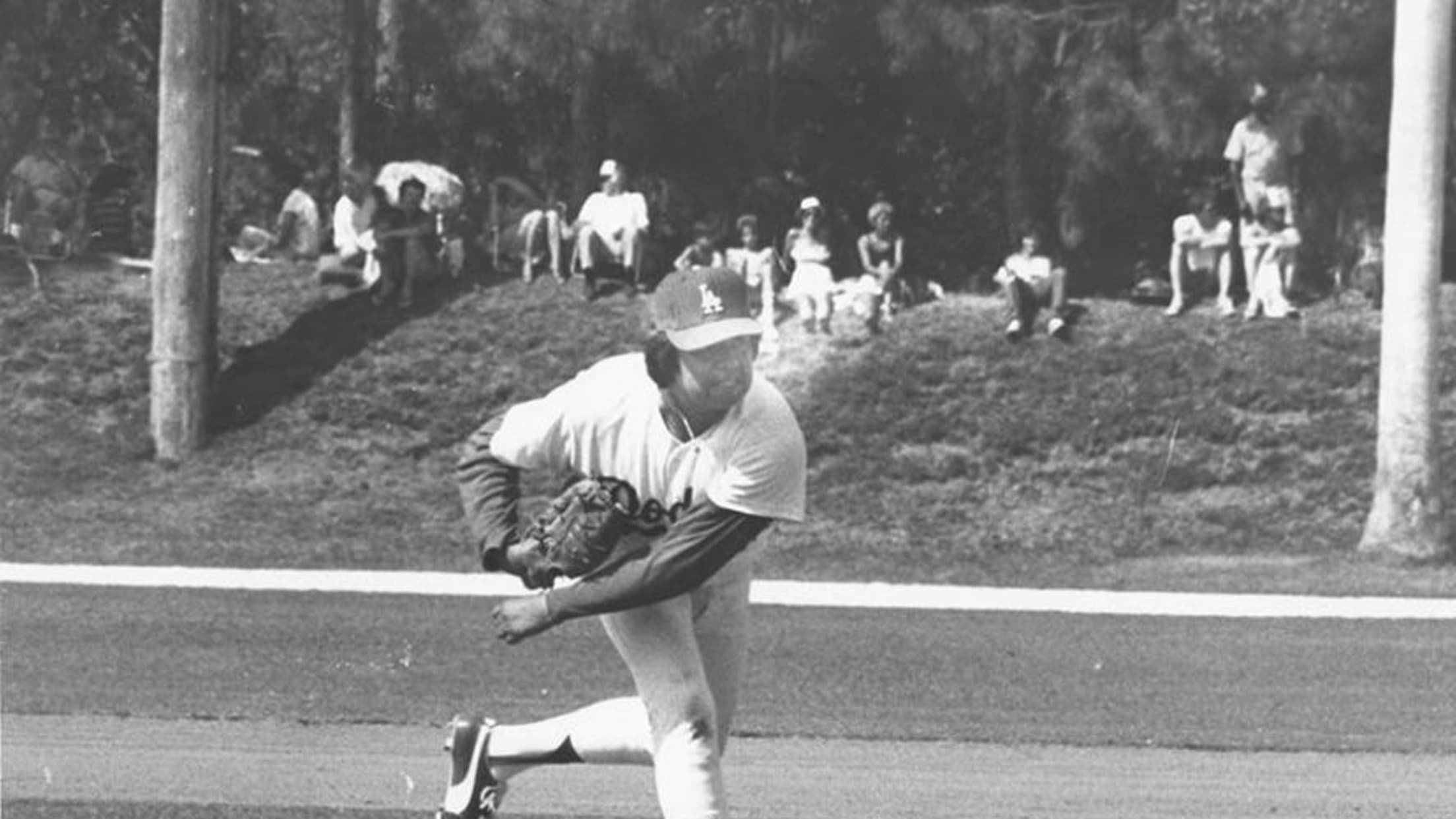 Fernando Valenzuela, the 1981 National League Rookie of the Year and the 1981 Cy Young Award winner, throws from the mound at Holman Stadium. The seats were filled to see Valenzuela pitch and fans paid to sit on the outfield embankment at Holman Stadium.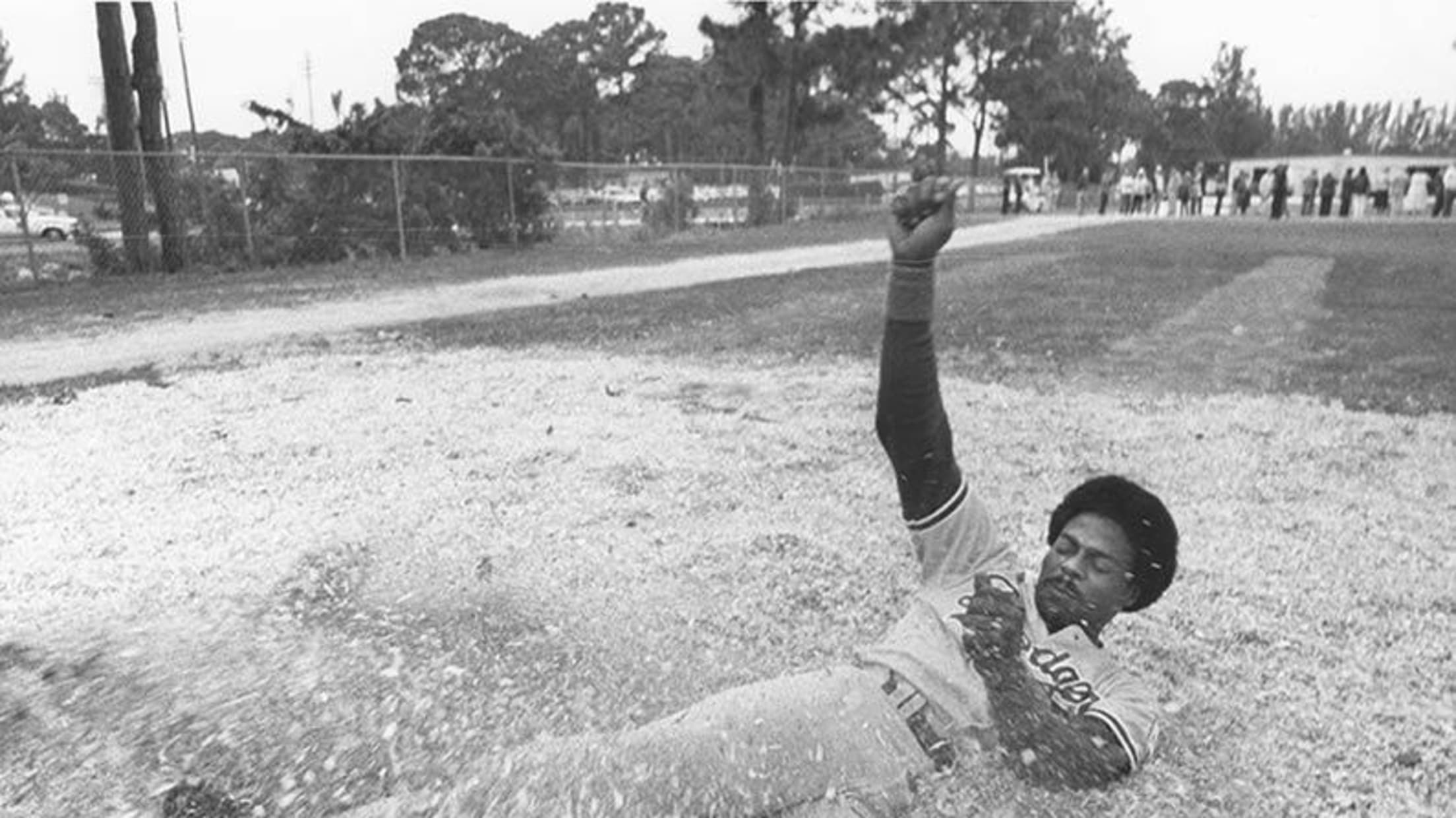 The sawdust goes flying as Pedro Guerrero works on his technique in the sliding pits at Dodgertown. The sawdust made for a softer landing area for the players practicing their sliding.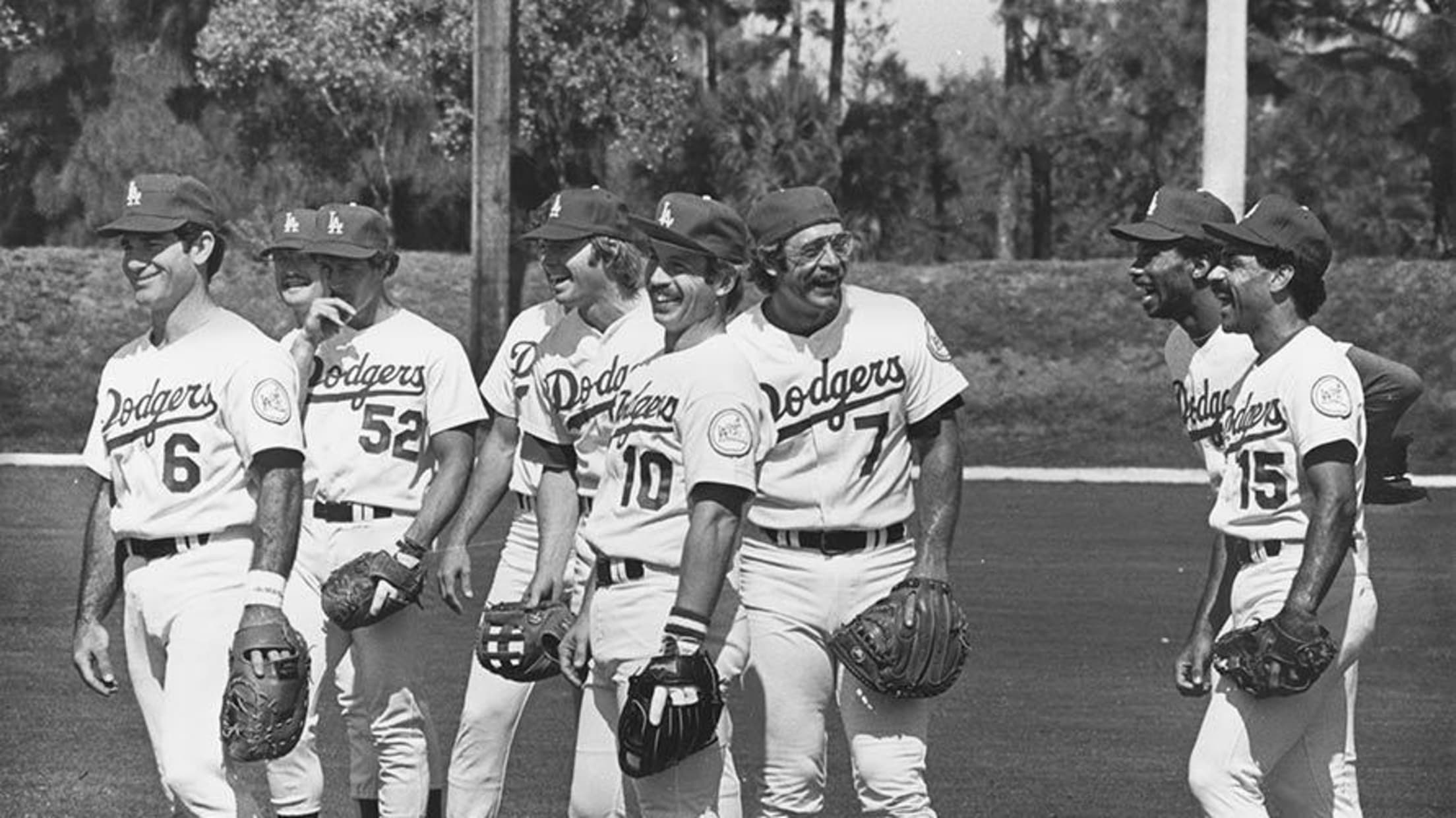 (L-R) Front Row: Steve Garvey; Steve Sax, number 52; Ron Cey; Steve Yeager; Derrel Thomas; Davey Lopes. Dodger players get a laugh during drills at Holman Stadium at Dodgertown in 1981.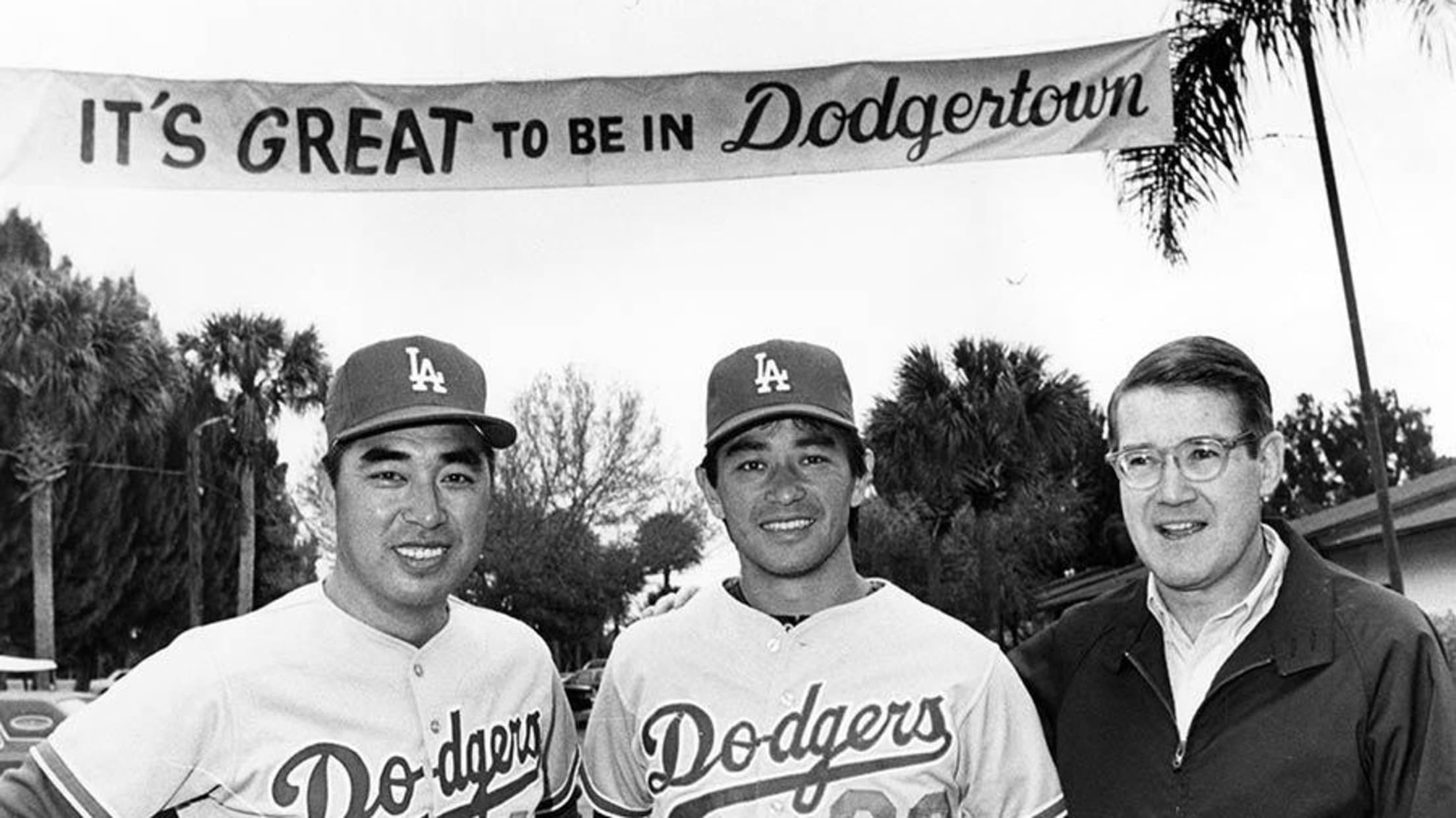 (L-R) Shitoshi Sekimoto; Shoji Sadaoka; Peter O'Malley. Peter O'Malley invited two baseball coaches from Japan to Dodgertown and they are here to observe Spring Training in 1991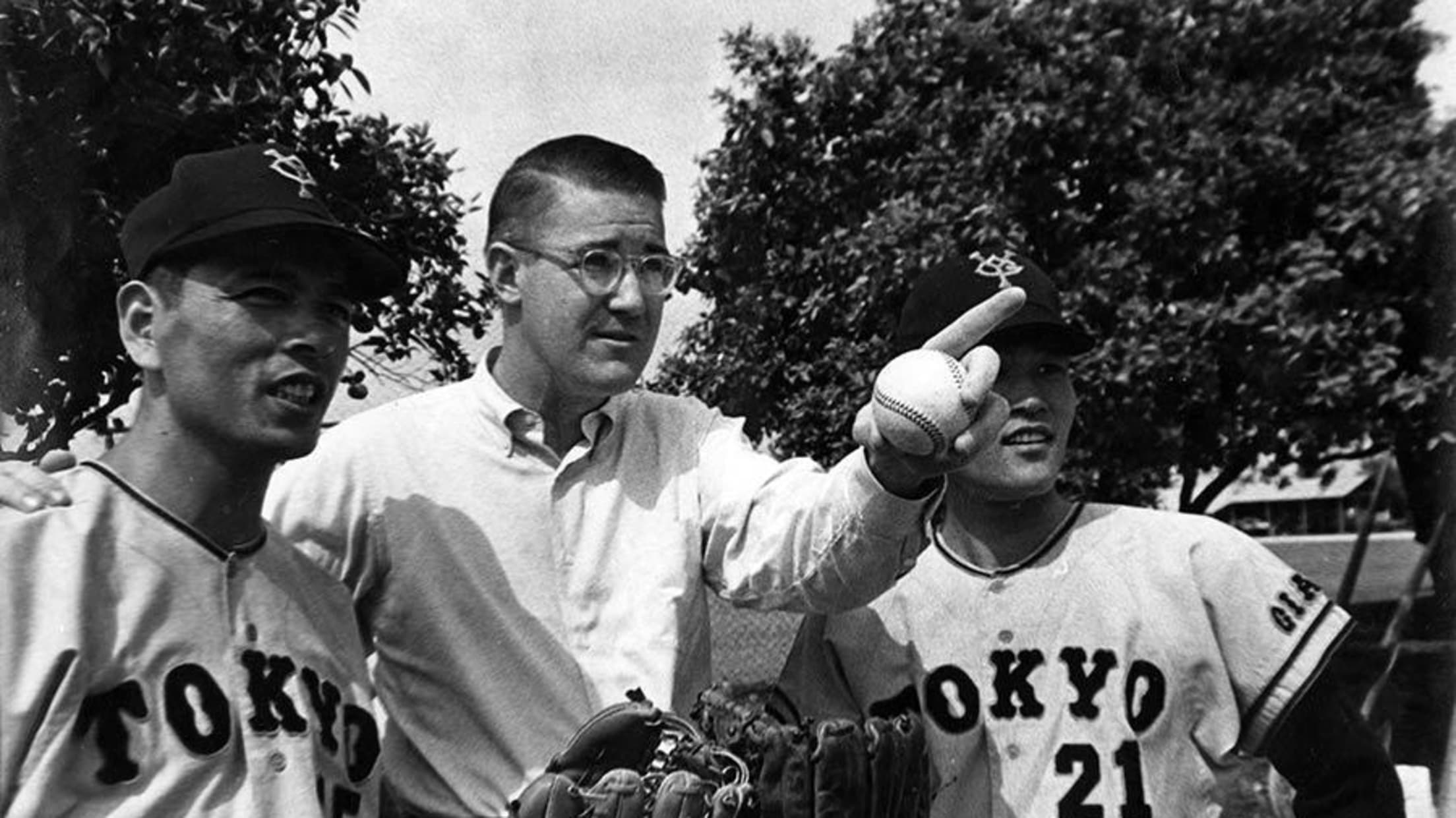 (L-R) Infielder Fumio Kitsugi; Peter O'Malley; Tokyo Giants pitcher Yoshiaki Itoh. The Tokyo Giants accepted an invitation from the Dodgers to hold Spring Training at Dodgertown in 1961 and Peter O'Malley served as team host. He is here with two players on the Giants' team.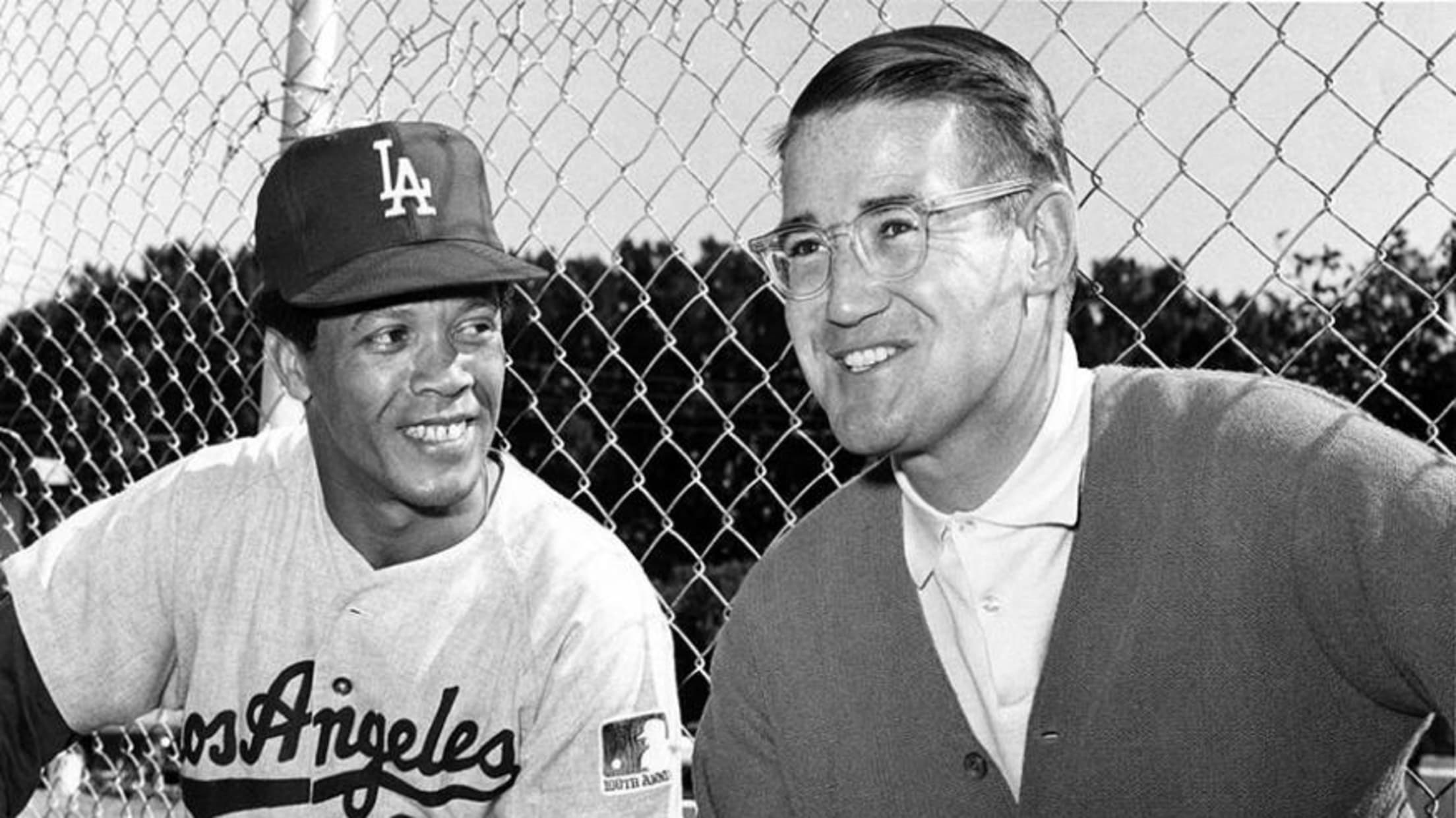 (L-R) Maury Wills; Peter O'Malley. Maury Wills returns to Dodgertown for the first time in four seasons in this 1970 photo with Peter O'Malley. Wills played for the Dodgers from 1959-66 and then was re-acquired by the Dodgers in mid-season of 1969. O'Malley had been named President of the Los Angeles Dodgers on March 17, 1970.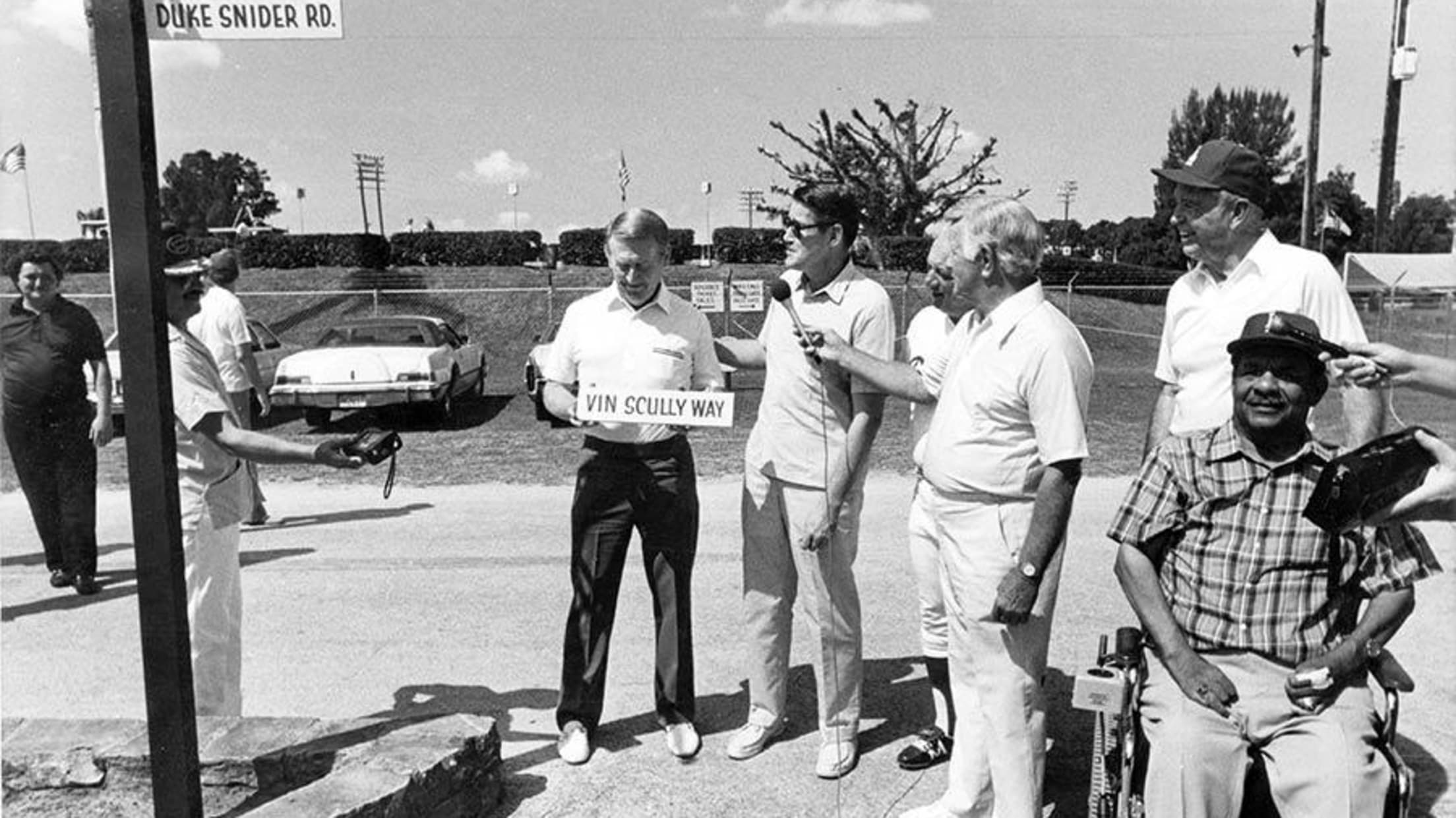 (L-R) Vin Scully; Peter O'Malley; Tom Lasorda; Jerry Doggett; Walter Alston; Roy Campanella. Past and present Dodgers are here to honor the naming of Vin Scully Way at Dodgertown to honor sports' greatest broadcaster, Vin Scully, with his election to the 1982 Ford Frick Award at the Baseball Hall of Fame. Vin Scully Way begins from the Dodger administration building, winds past Field No. 2 and leads to Holman Stadium.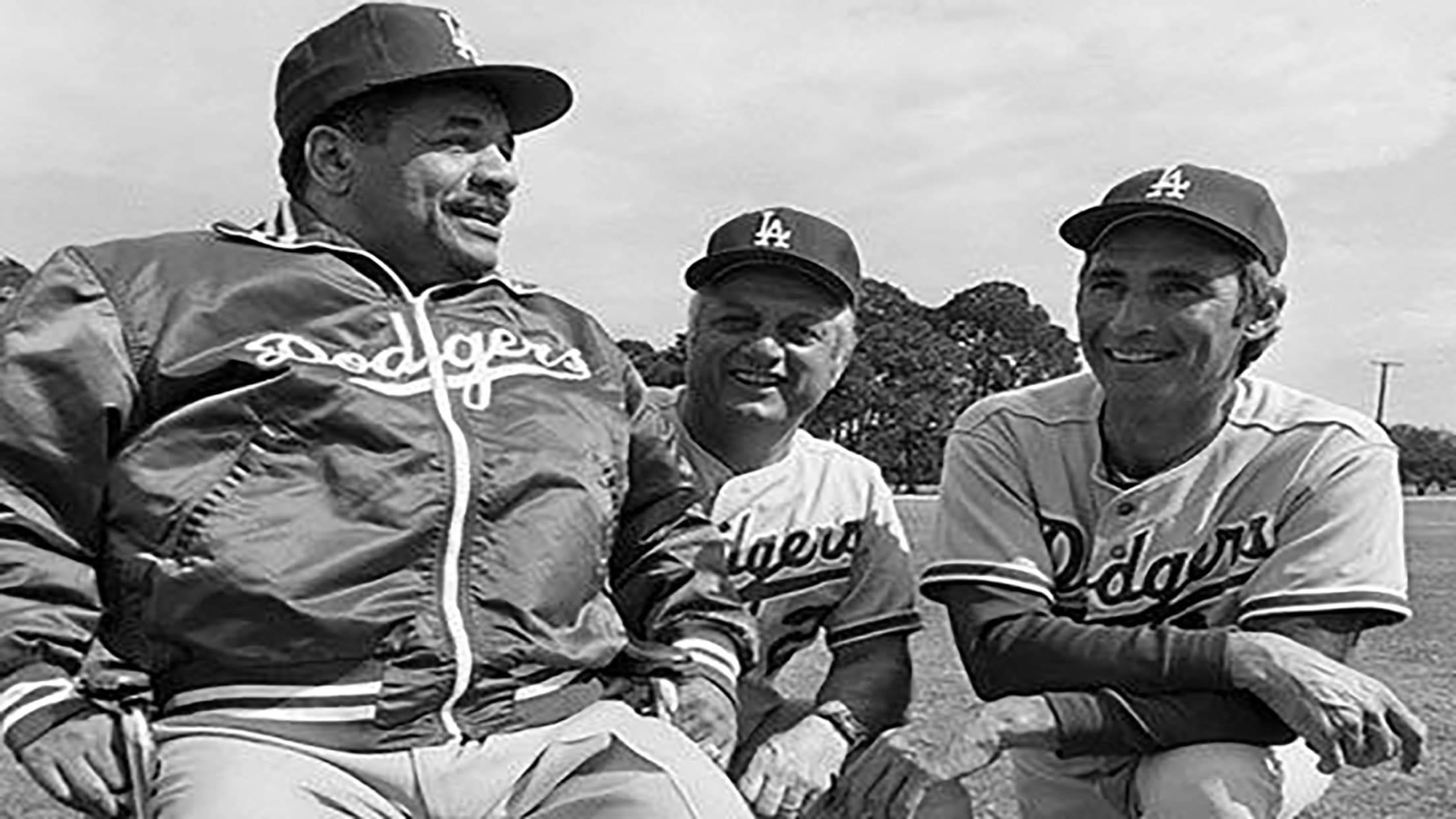 (L-R) Roy Campanella; Tom Lasorda; Sandy Koufax. Roy Campanella spends time with two former pitchers who learned under him and had Hall of Fame careers: Tom Lasorda who won two World Championships as Dodger Manager and Sandy Koufax who would win three Cy Young Awards and a Most Valuable Player Award.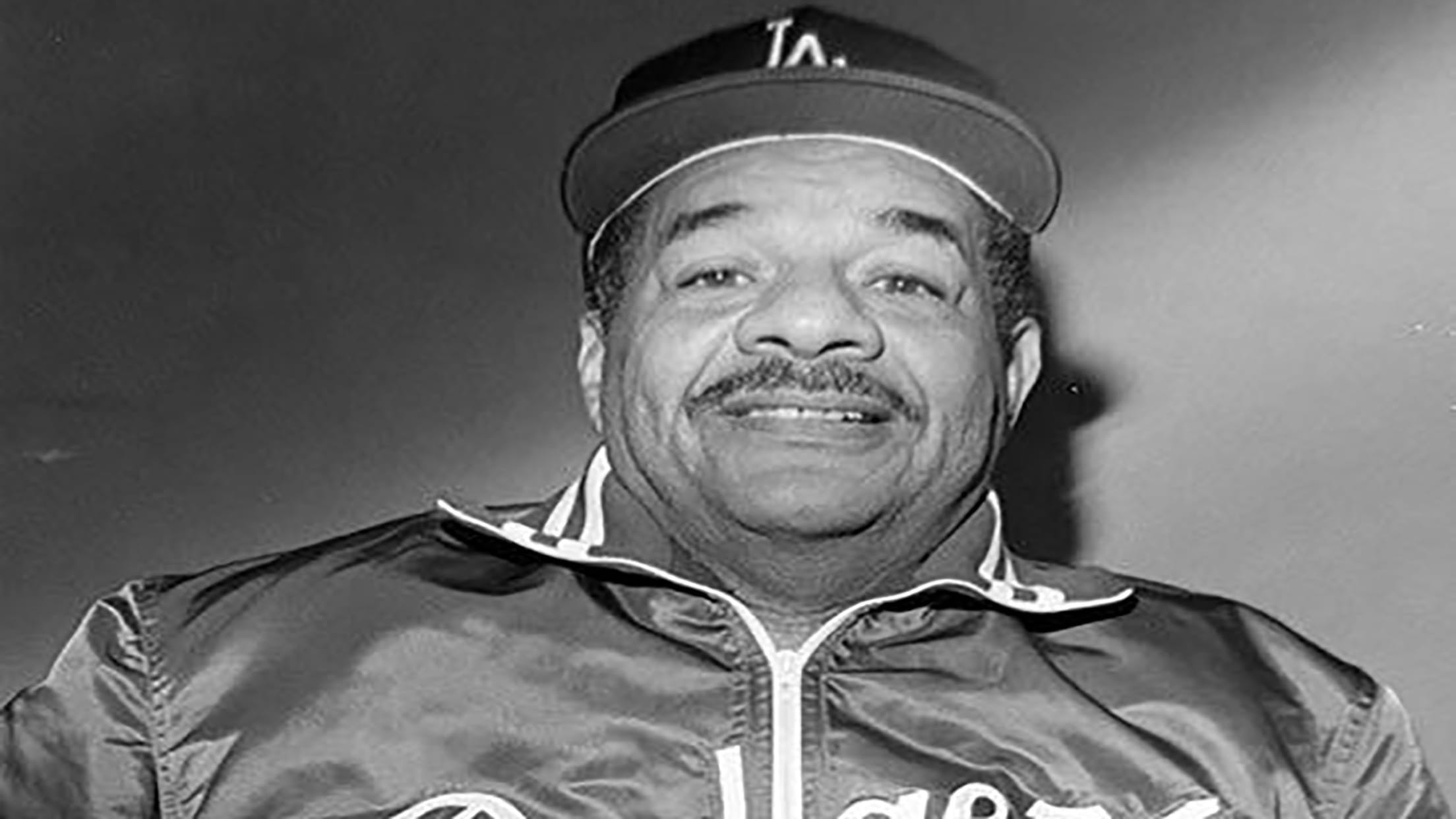 Roy Campanella won three National League Most Valuable Player Awards in 1951, 1953 and 1955 for the Brooklyn Dodgers. After the accident that ended his career, Campanella became a catching instructor and mentor to Dodger catchers that included John Roseboro, Steve Yeager, Mike Scioscia and Mike Piazza.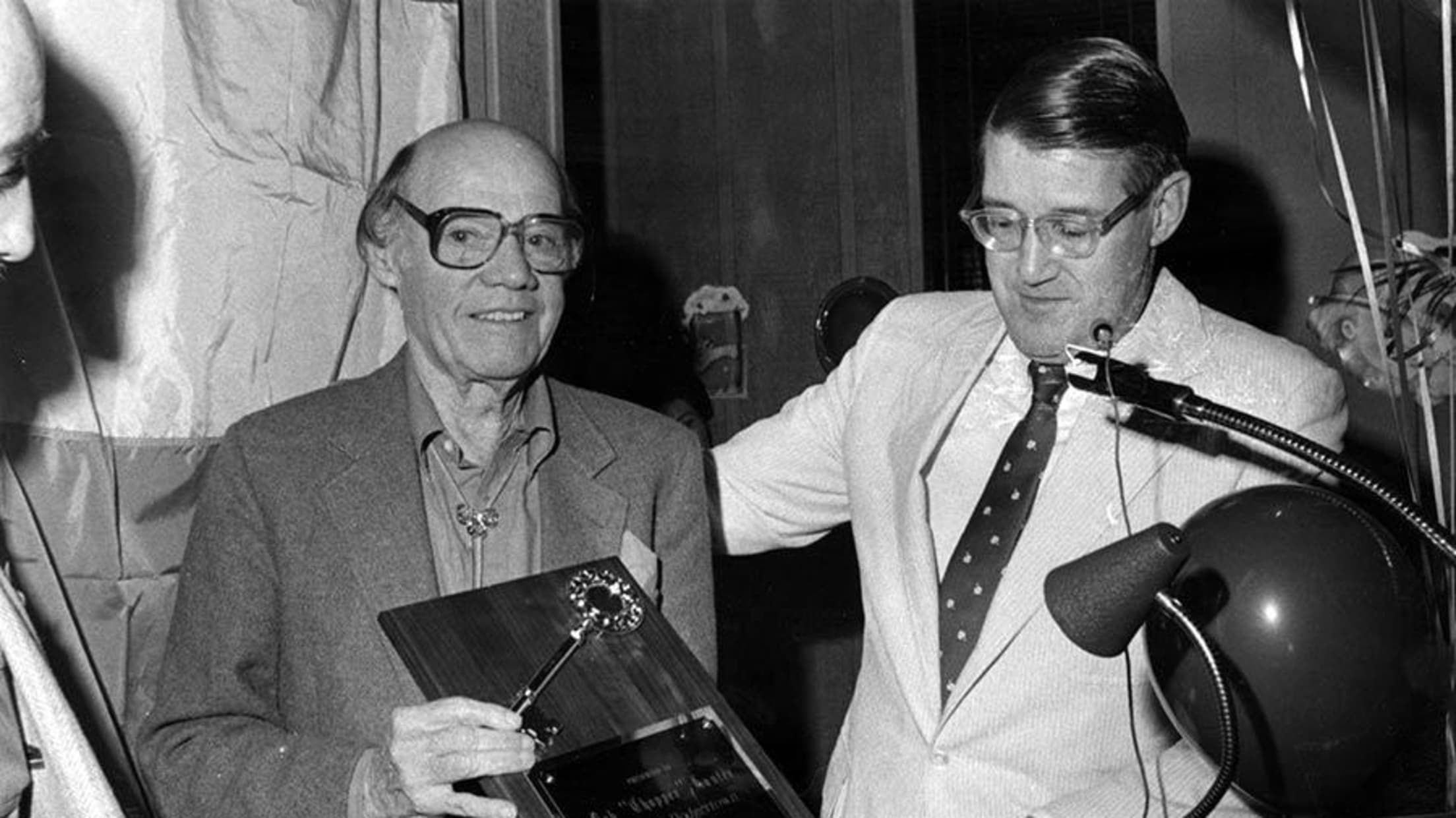 (L-R) Bob Hunter; Peter O'Malley. Bob Hunter, winner of the J.G. Taylor Spink Award, receives the "Key To Dodgertown" from Dodger President Peter O'Malley at the St. Patrick's Day party at Dodgertown. Hunter was a Los Angeles baseball writer who had been coming to Dodgertown since 1958, the first season the Dodgers located to Los Angeles.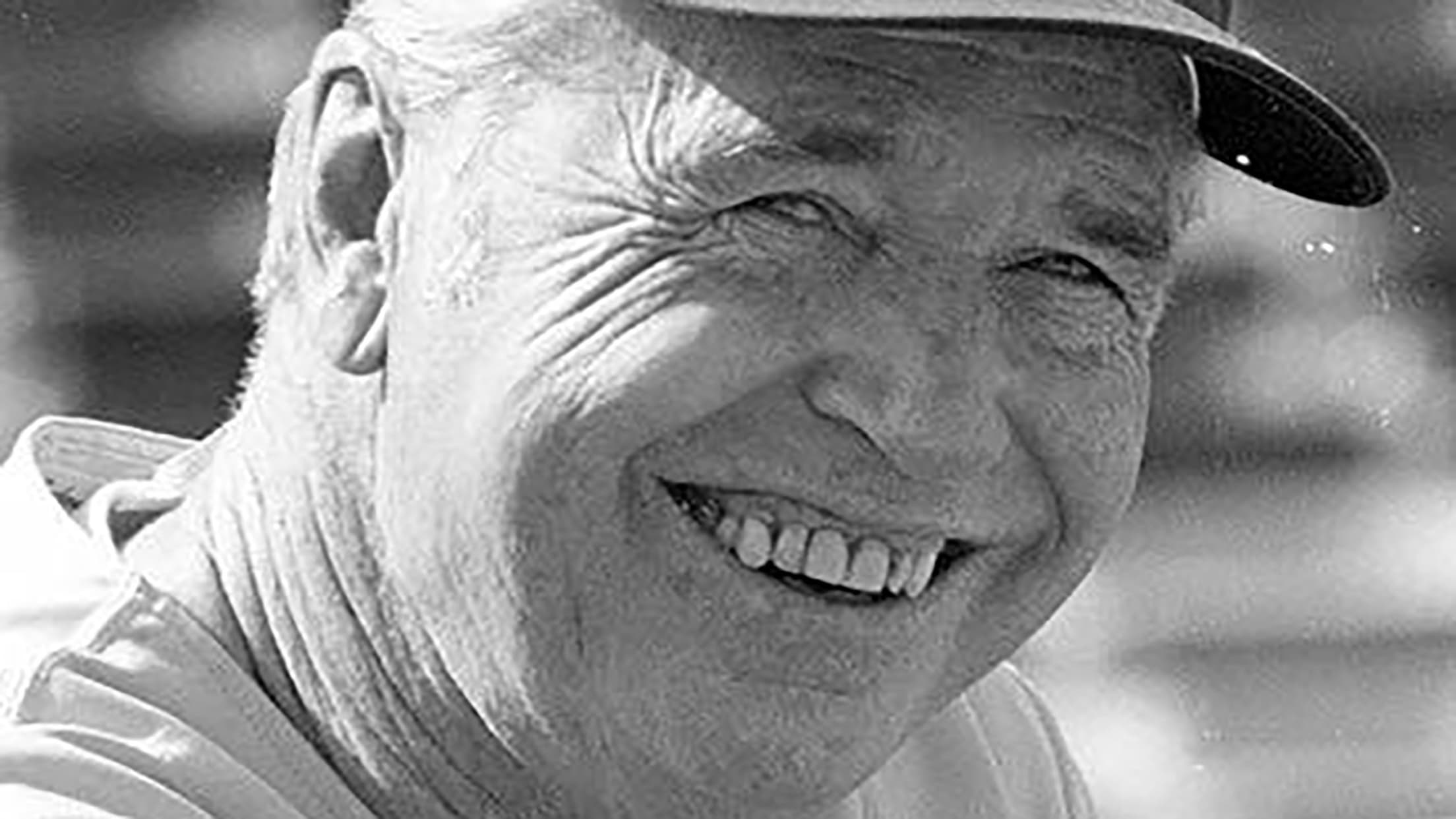 Walter Alston was the Brooklyn and Los Angeles Dodger Manager for 23 seasons and credited with 2,040 regular season wins and 23 post-season wins. His Dodger teams won four World Championships in 1955, 1959, 1963 and 1965. He was elected to the Baseball Hall of Fame in 1983 and did all this with 23 consecutive one-year contracts.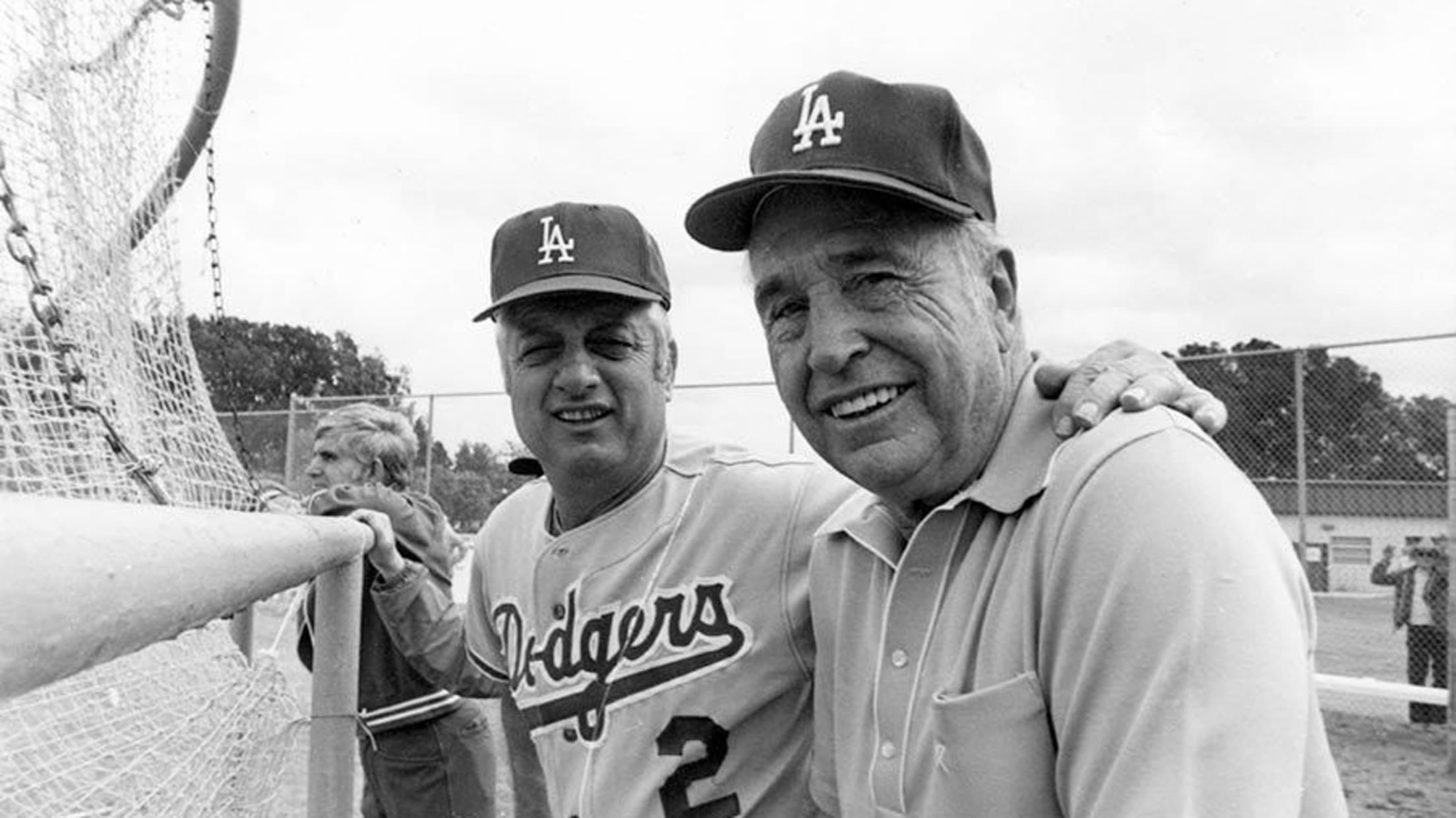 (L-R) Tom Lasorda; Walter Alston. Background, Trainer Bill Buhler. The current Dodger Manager, Tom Lasorda with his former Dodger Manager Walter Alston as they view batting practice on Field No. 2 at Dodgertown.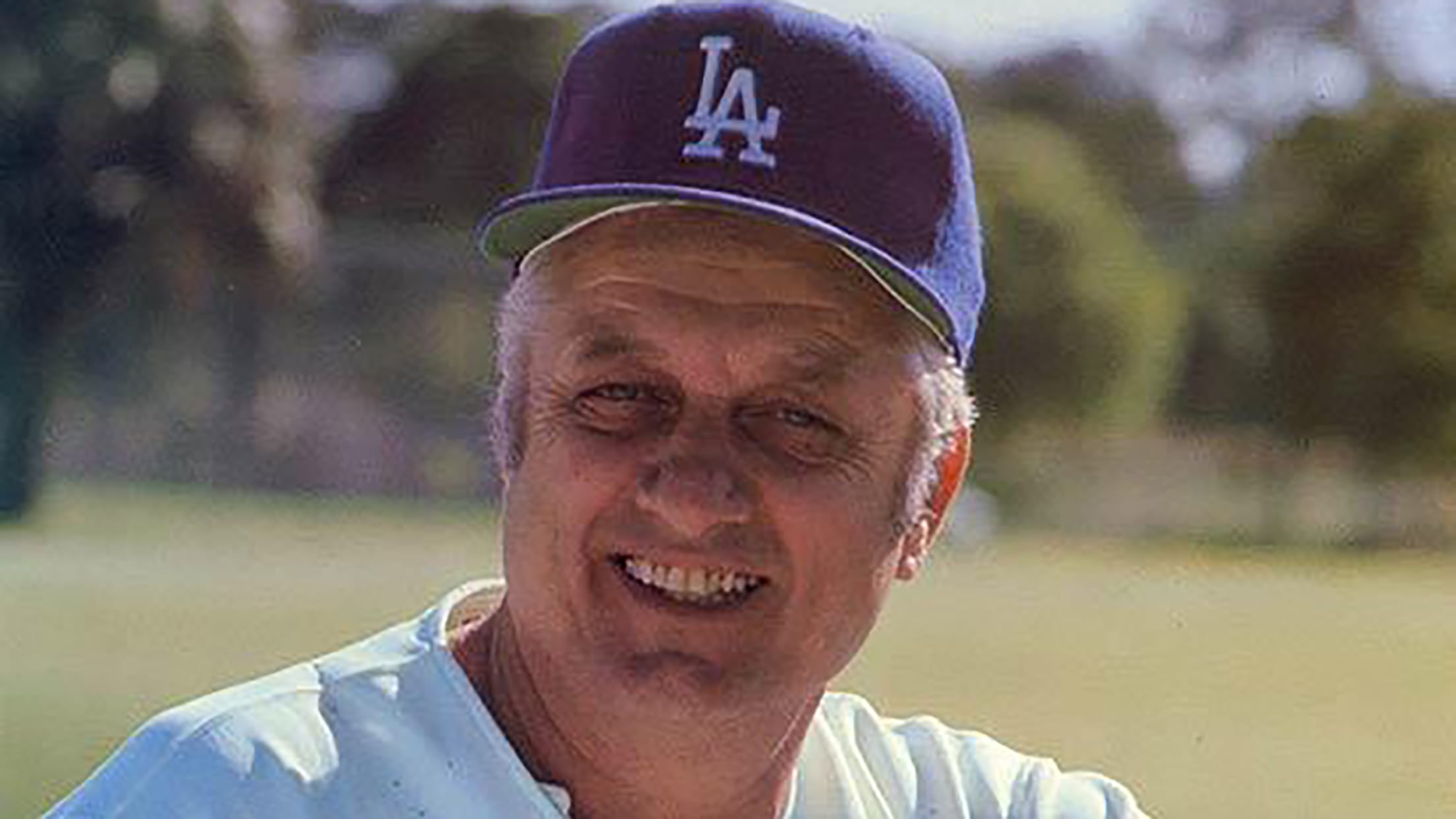 Dodger Manager Tom Lasorda first came to Dodgertown in 1950 as a minor league player. 27 seasons later, he begins his first season in 1977 as the Manager of the Los Angeles Dodgers.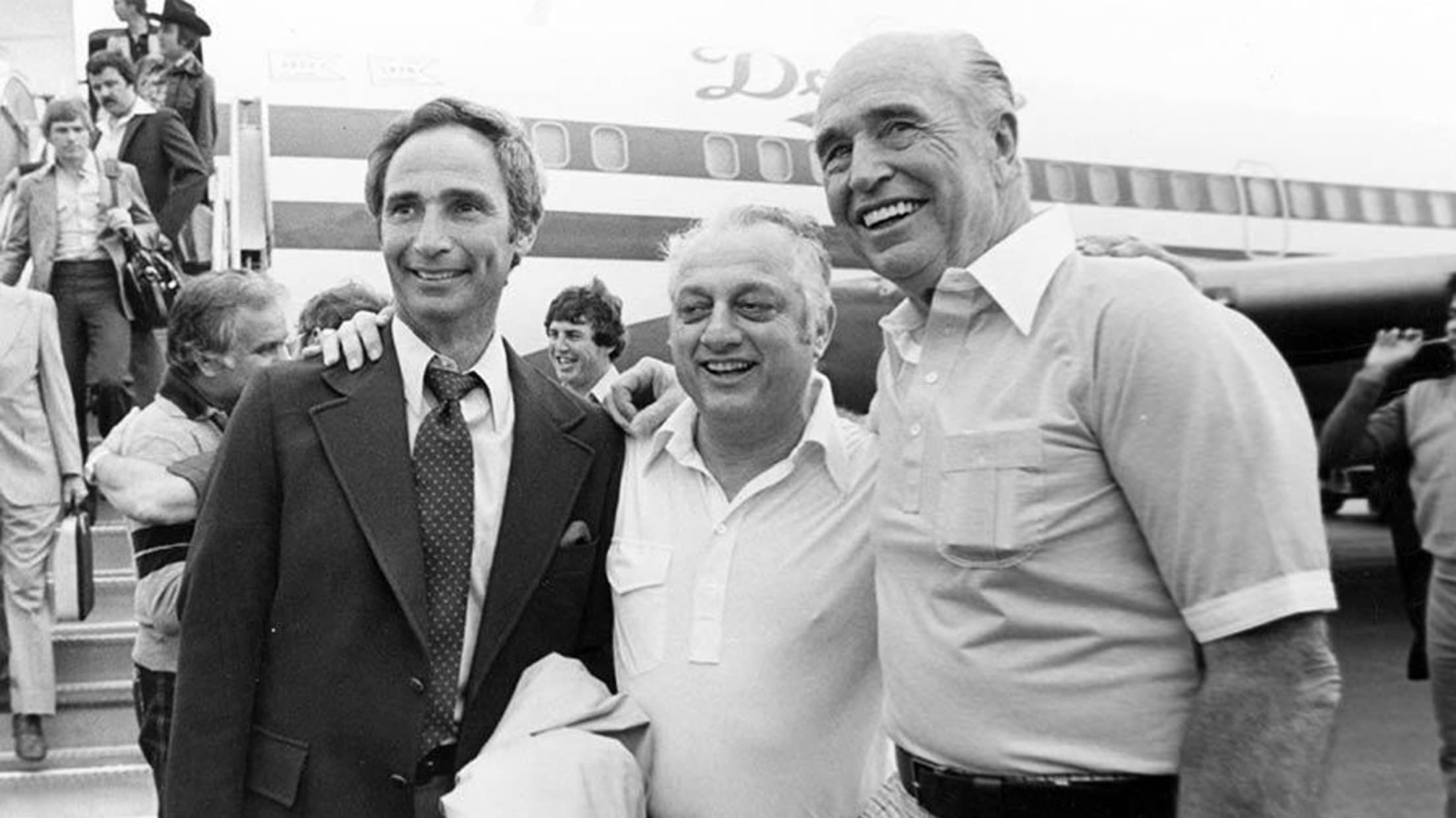 (L-R) Sandy Koufax; Tom Lasorda; Walter Alston. Sandy Koufax is welcomed upon his arrival to Dodgertown in 1980 by a former teammate and current Dodger Manager Tom Lasorda and his former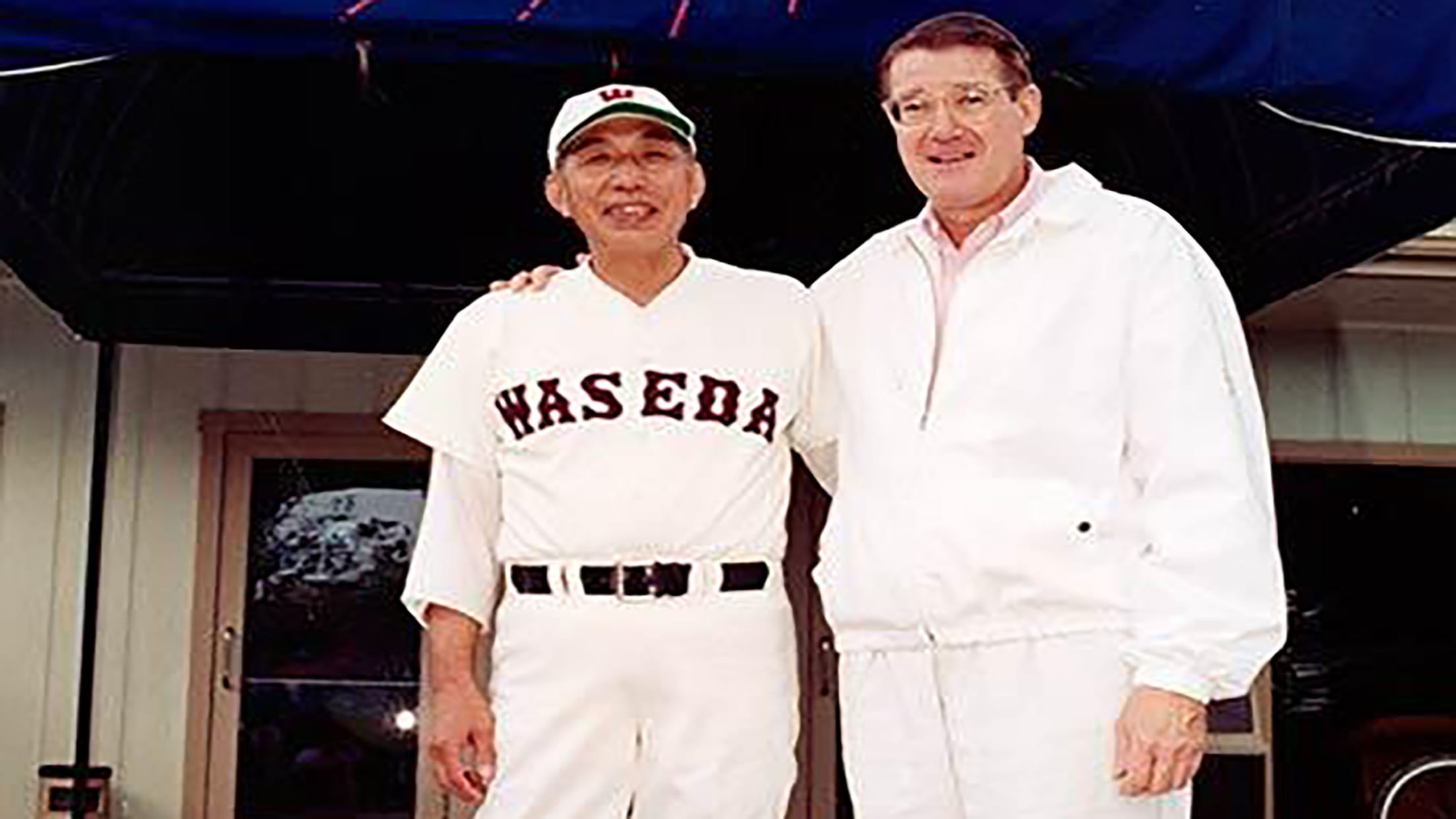 (L-R) Renzo Ishii; Peter O'Malley. Longtime Waseda University baseball coach Renzo Ishii is with Dodger President Peter O'Malley at the front of the administration building at Dodgertown. The Waseda University team is the first college team to have Spring Training with the Dodgers when they visited in 1994.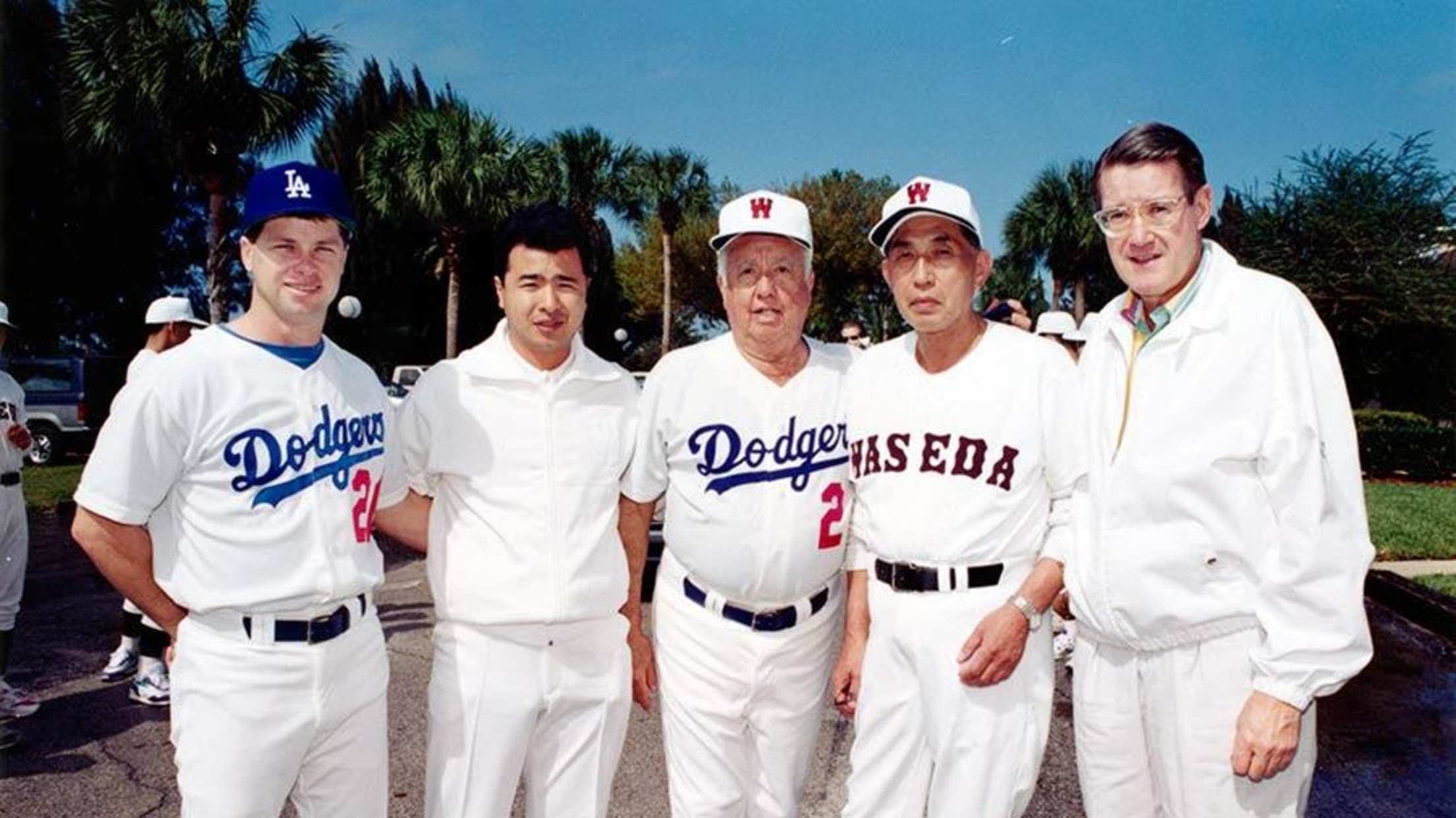 (L-R) Joe Vavra; Junpei Tomonaga; Rod Dedeaux; Renzo Ishii; Peter O'Malley. Dodger instructor Joe Vavra, assigned as special instructor to the Waseda University baseball team is with College Baseball Hall of Fame Coach Rod Dedeaux, former Waseda University baseball coach Renzo Ishii and Peter O'Malley at Dodgertown in 1994. Vavra and Dedeaux served as the instructors specially assigned to the Waseda team.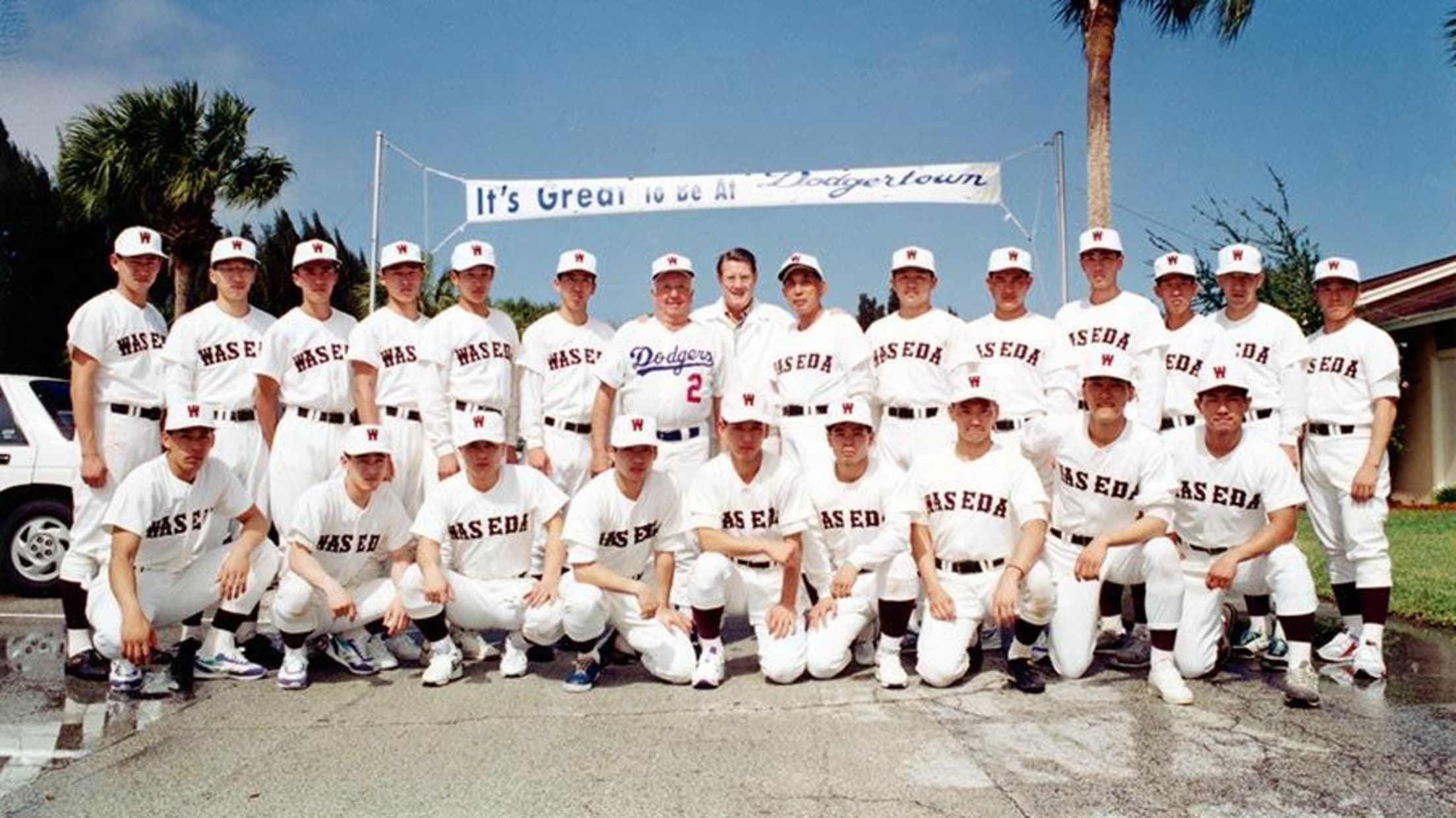 (Center) Rod Dedeaux (wearing number 2) and Peter O'Malley. Former USC baseball coach Rod Dedeaux and Dodger President Peter O'Malley welcome the Waseda (Japan) University baseball team on their 1994 visit to Dodgertown. This is the first time a college team had ever trained with the Dodgers in Spring Training in Dodgertown. Waseda University is the alma mater of Japan Baseball Hall of Fame member Ike Ikuhara, the former Assistant to President Peter O'Malley.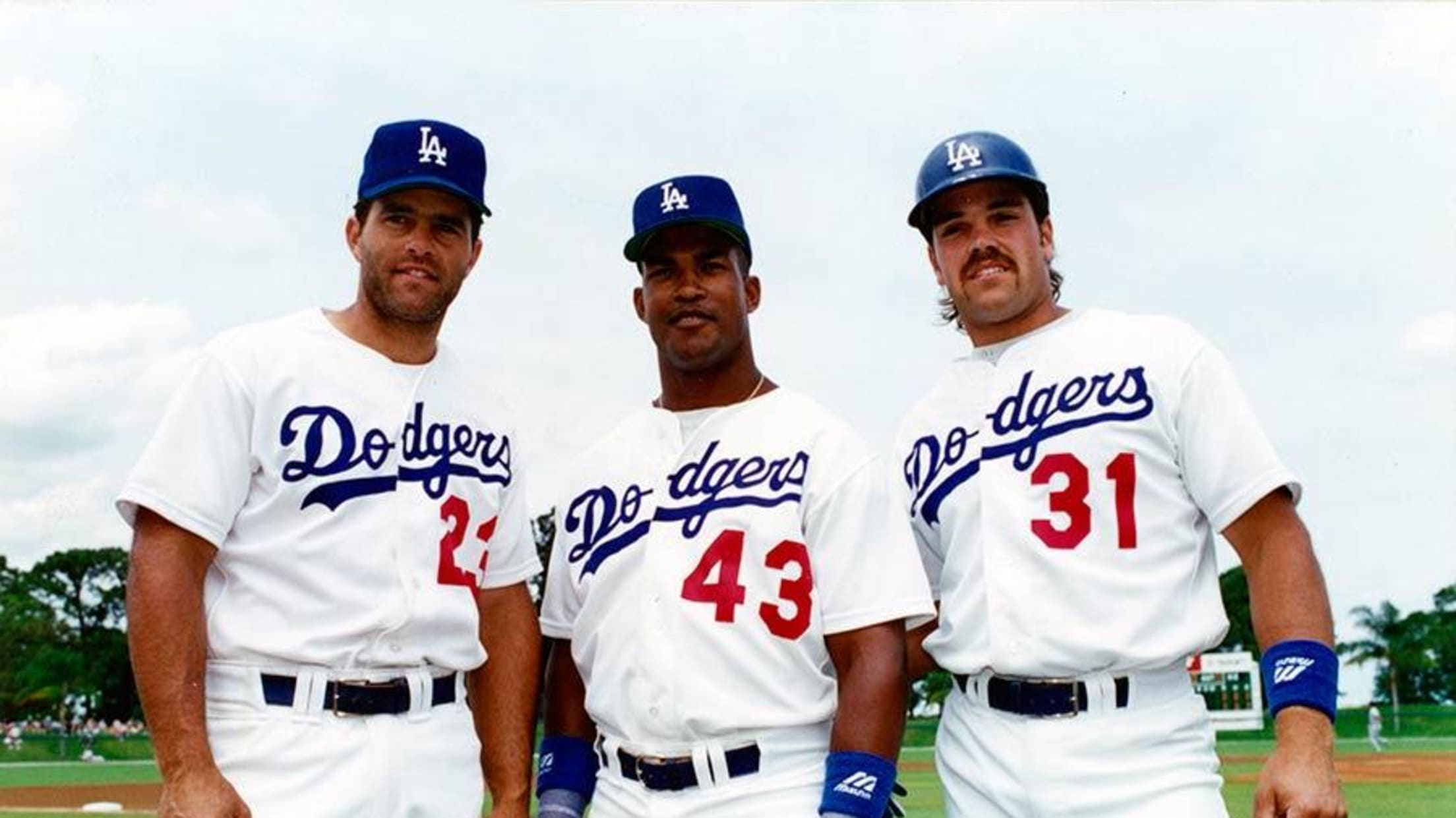 (L-R) Eric Karros, Raul Mondesi; Mike Piazza. Three consecutive Rookies of the Year gather for a photo at Dodgertown. Karros was the first of the group to win the Award in 1992. Mondesi was the 1994 Rookie of the Year winner, and Piazza is a 1993 honoree.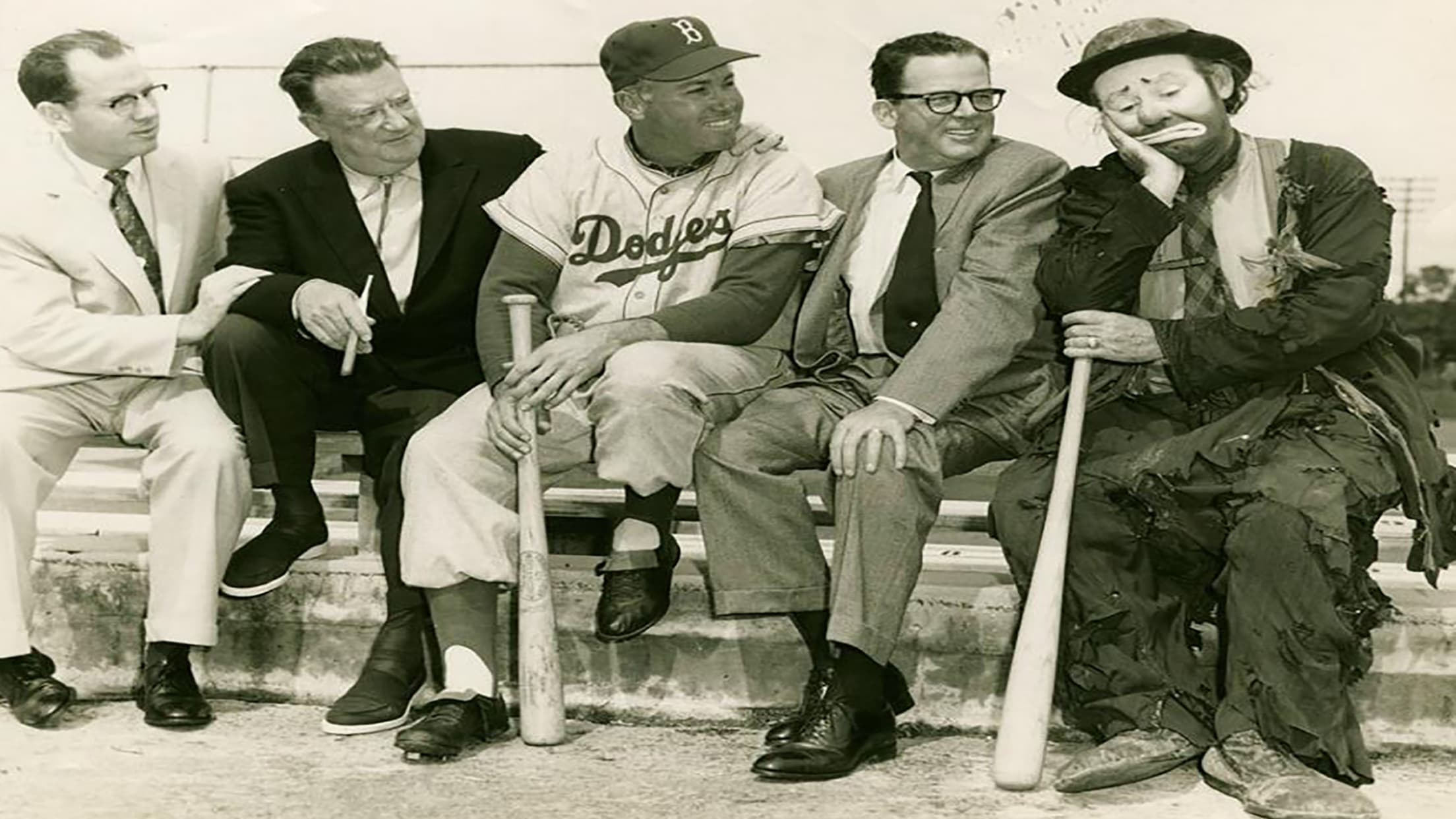 (L-R) Los Angeles County Supervisor Ken Hahn; Walter O'Malley; Dodger outfielder Duke Snider; Los Angeles Mayor Norris Poulson; Clown Emmett Kelly. All eyes are on "Weary Willie", the clown made famous by Emmett Kelly at Dodgertown in March, 1957. Kelly was in Dodgertown to prepare for the 1957 season when he would entertain at Ebbets Field during Dodger games. County Supervisor Hahn and Mayor Poulson are in Vero Beach to discuss the benefits by the City of Los Angeles of re-location of the Dodger franchise, a decision that would not be made until the 1957 season ended.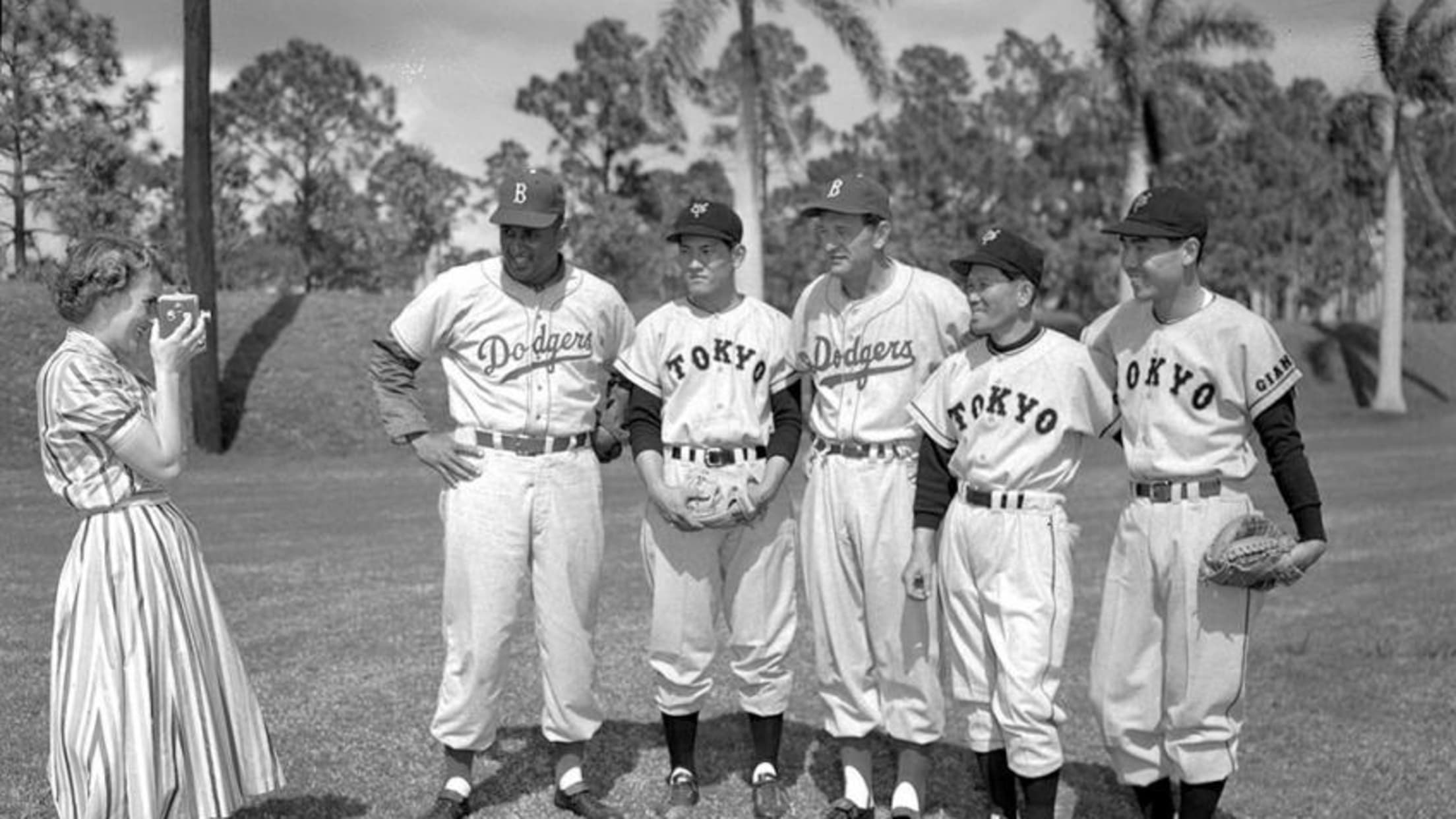 From L-R are Terry O'Malley (with camera) Don Newcombe; Yomiuri Giant pitcher Sho Horiuchi; Dodger Pitching Coach Joe Becker; Yomiuri Giant Manager Shigeru Mizuhara; Yomiuri Giant catcher Shigeru Fujio. At Dodgertown in Vero Beach, Florida during Spring Training, 1957.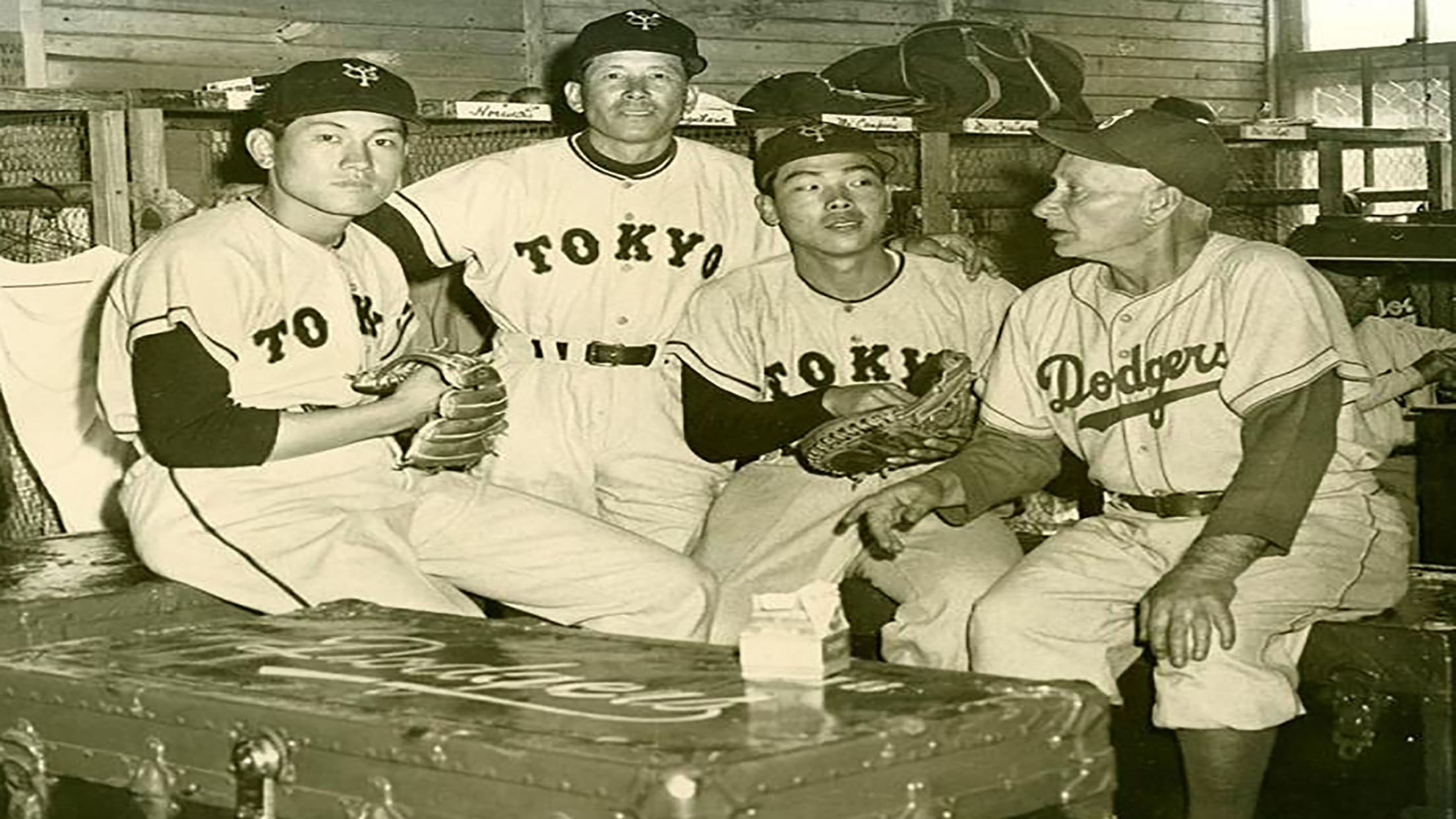 (L-R) Yomiuri Giant pitcher Sho Horiuchi; Yomiuri Manager Shigeru Mizuhara; Yomiuri catcher Shigeru Fujio; Brooklyn Dodger third base coach Jake Pitler. Dodger President Walter O'Malley invited the manager of the Yomiuri Giants and two players, Horiuchi and Fujio, to participate in Spring Training in Dodgertown in March, 1957. The Yomiuri Manager and the two players dressed in the Dodgers' clubhouse, worked out, and played in games at Holman Stadium.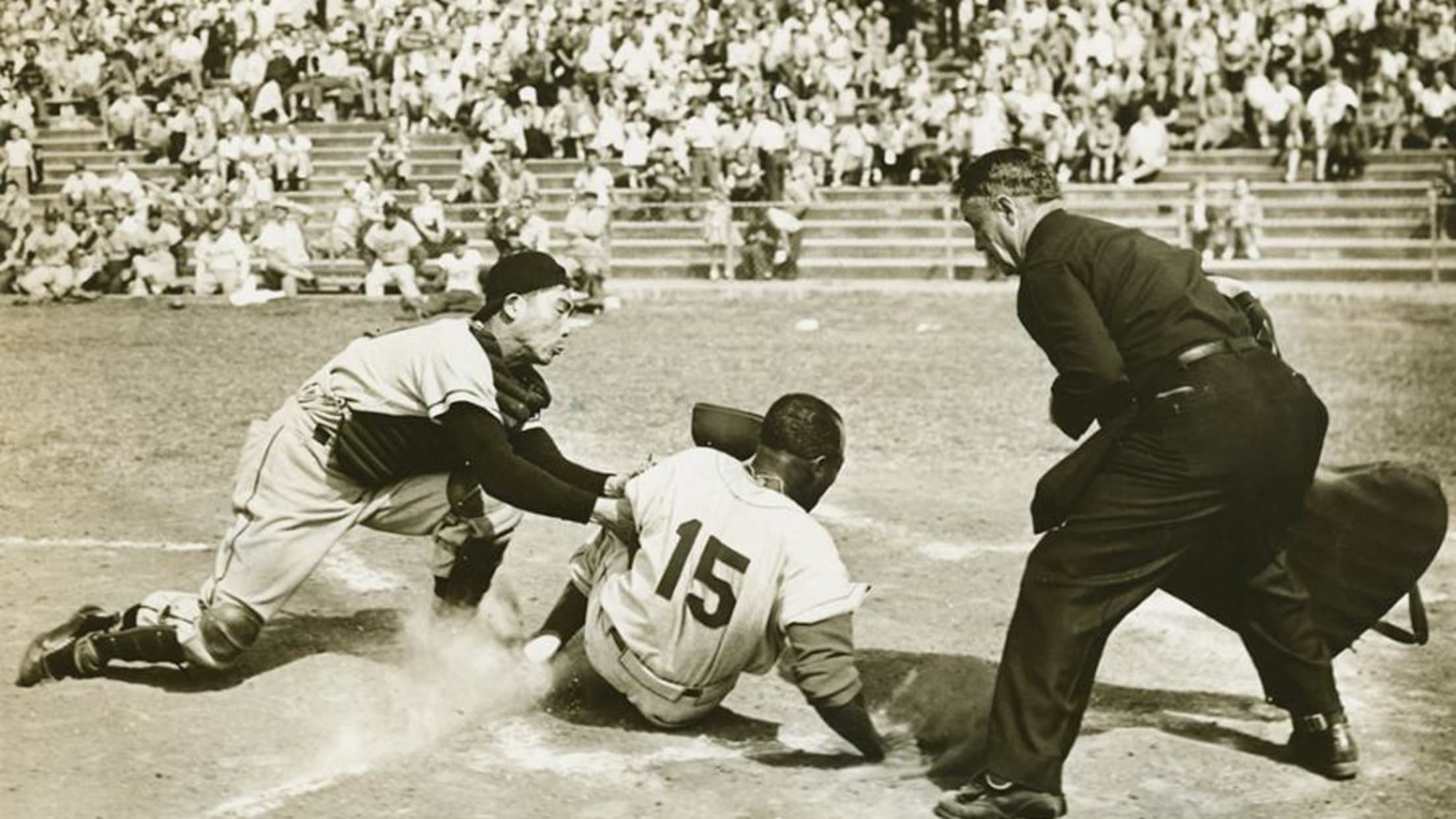 Yomiuri Giants catcher Shigeru Fujio puts a tag on Dodger outfielder Sandy Amoros in a play at home plate at Holman Stadium in Dodgertown in March, 1957. Fujio was invited to Spring Training in Dodgertown by Walter O'Malley along with Giant Manager Shigeru Mizuhara and Giant pitcher Sho Horiuchi to learn from Dodger instruction. The Giants had played the Dodgers in games involving the Dodgers' Friendship Series tour in 1956.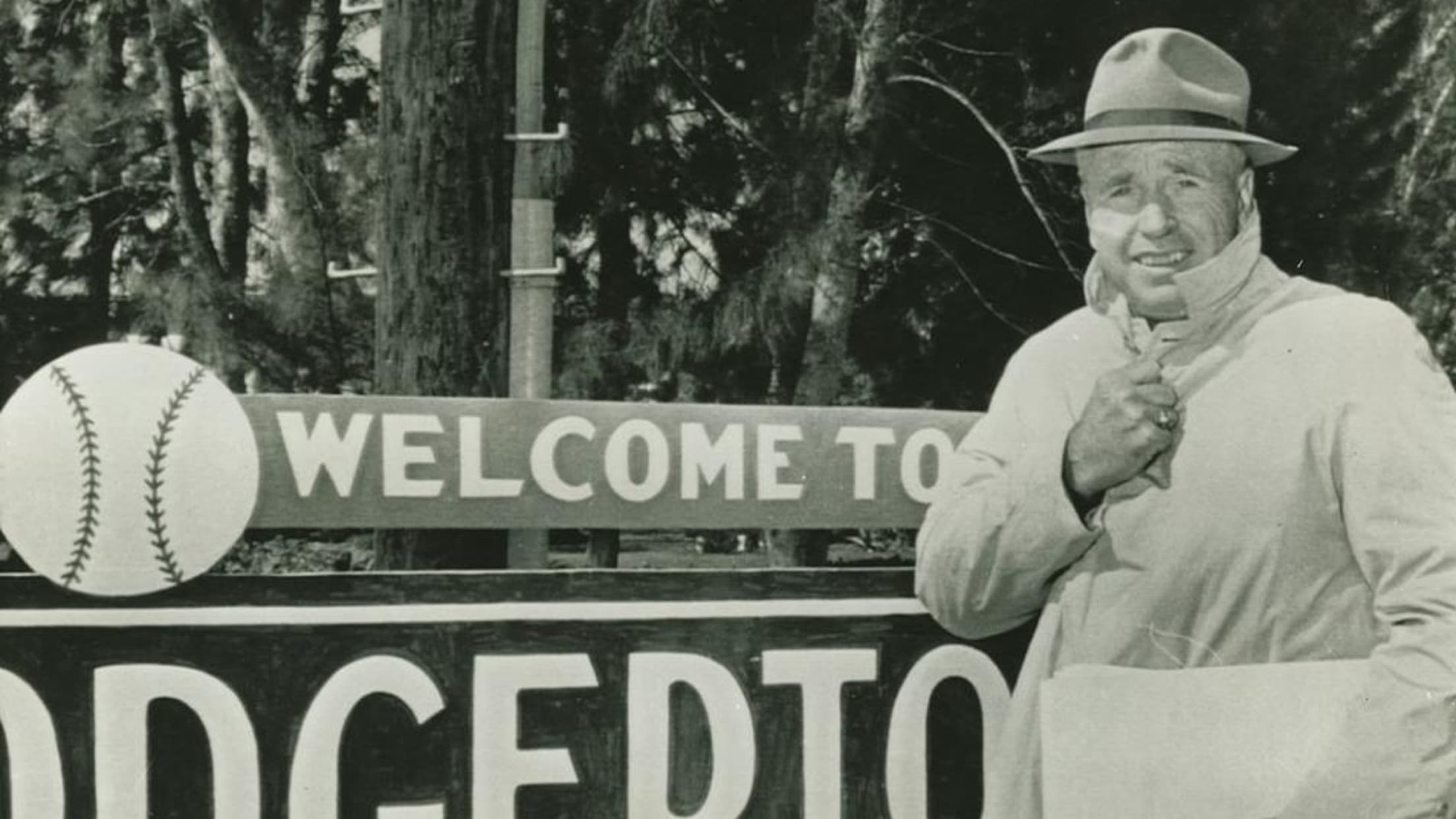 In 1962, Dodger Manager Walter Alston thought he left winter behind in his hometown of Darrtown, Ohio. He has to put on a hat and a winter coat to ward off the unexpected chilly weather on his arrival at Dodgertown in Vero Beach, Florida.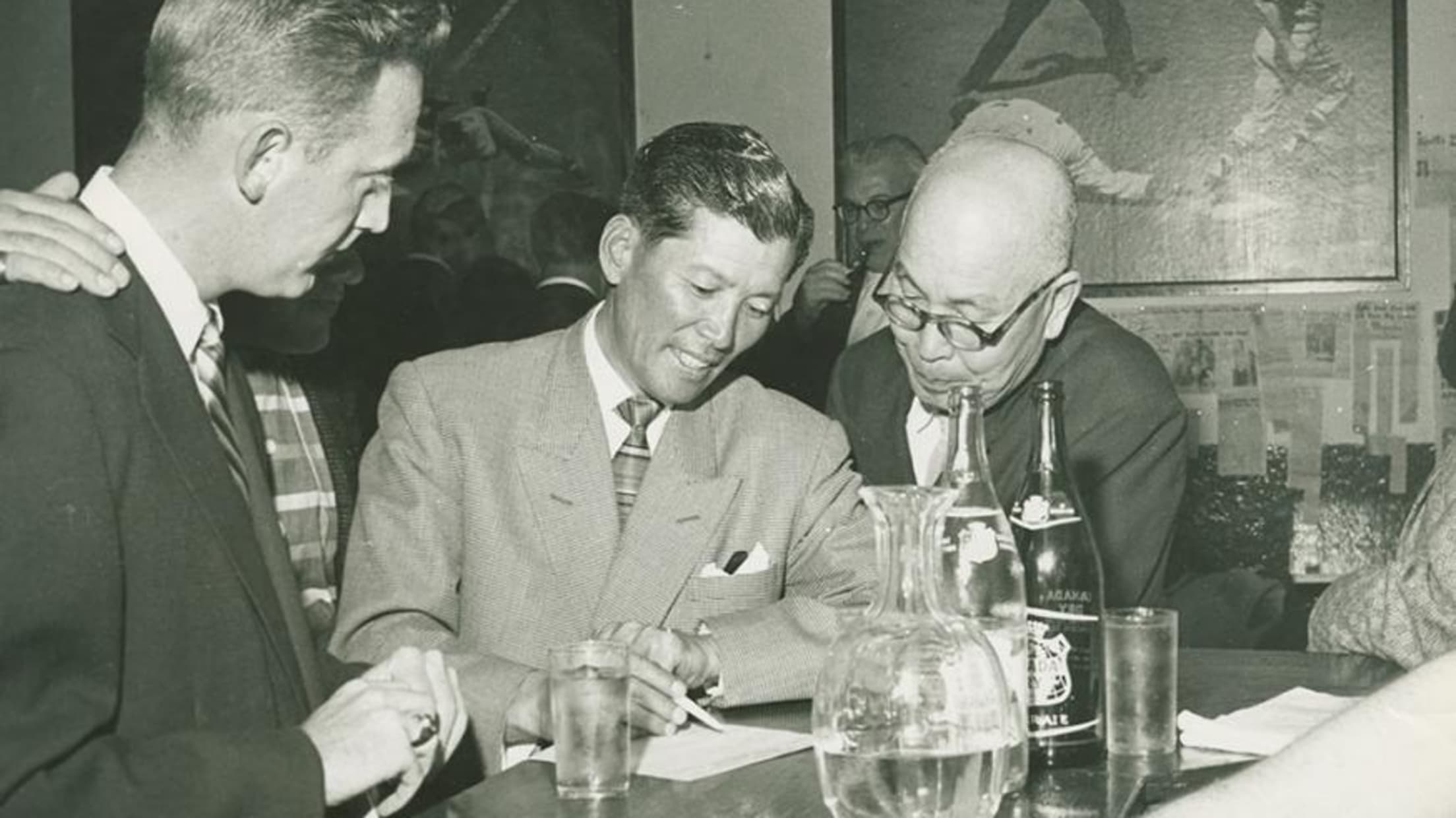 (L-R) Dodger broadcaster Vin Scully; Yomiuri Giant Manager Shigeru Mizuhara, and sportswriter Sotaro Suzuki compare notes in the press lounge at Dodgertown in Spring Training in March, 1957. Mizuhara accepted the invitation along with two Giant players and Suzuki to participate in the Dodgers' 1957 Spring Training.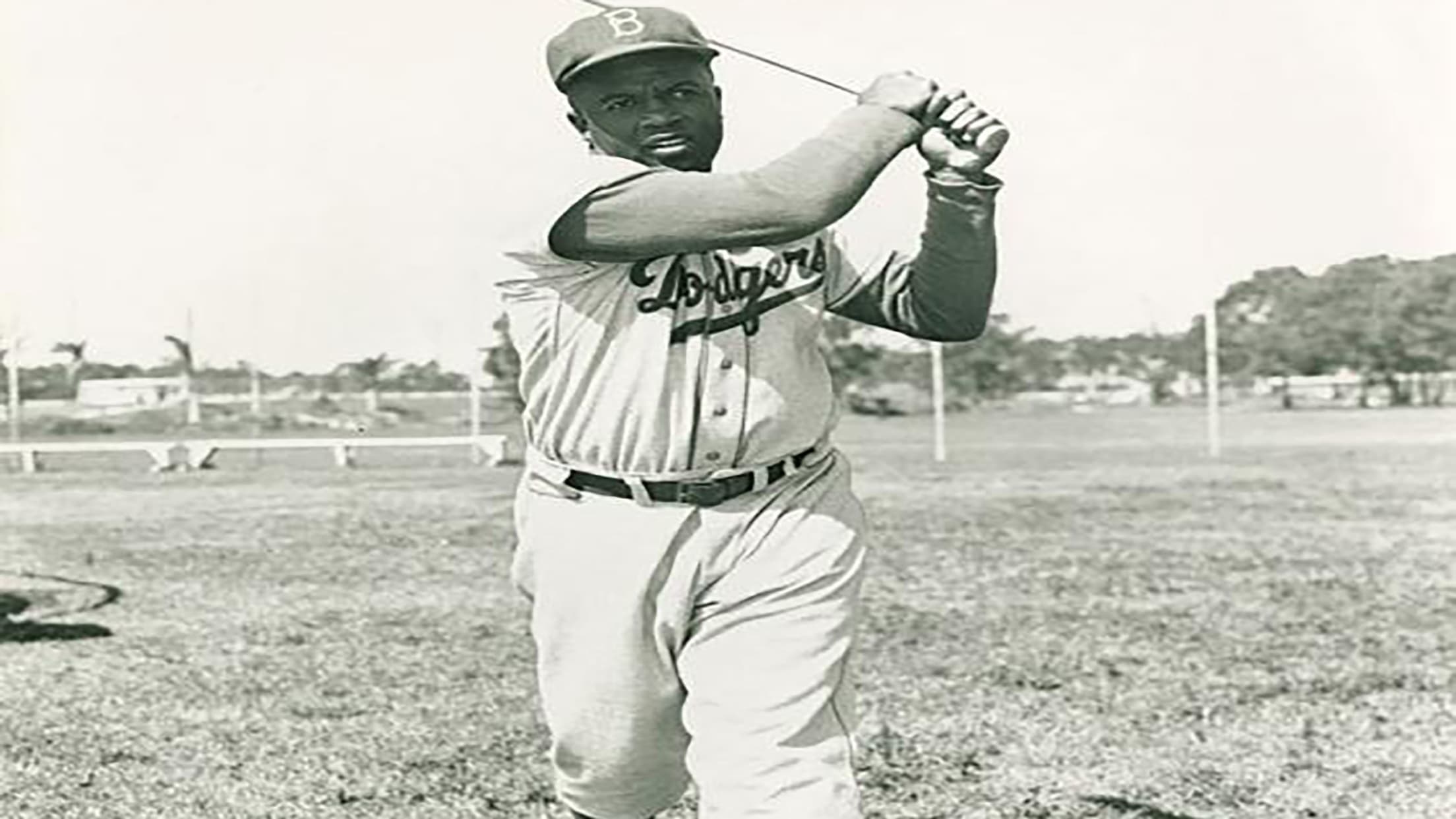 Jackie Robinson swings a bat to loosen up for batting practice at Dodgertown in Vero Beach, Florida.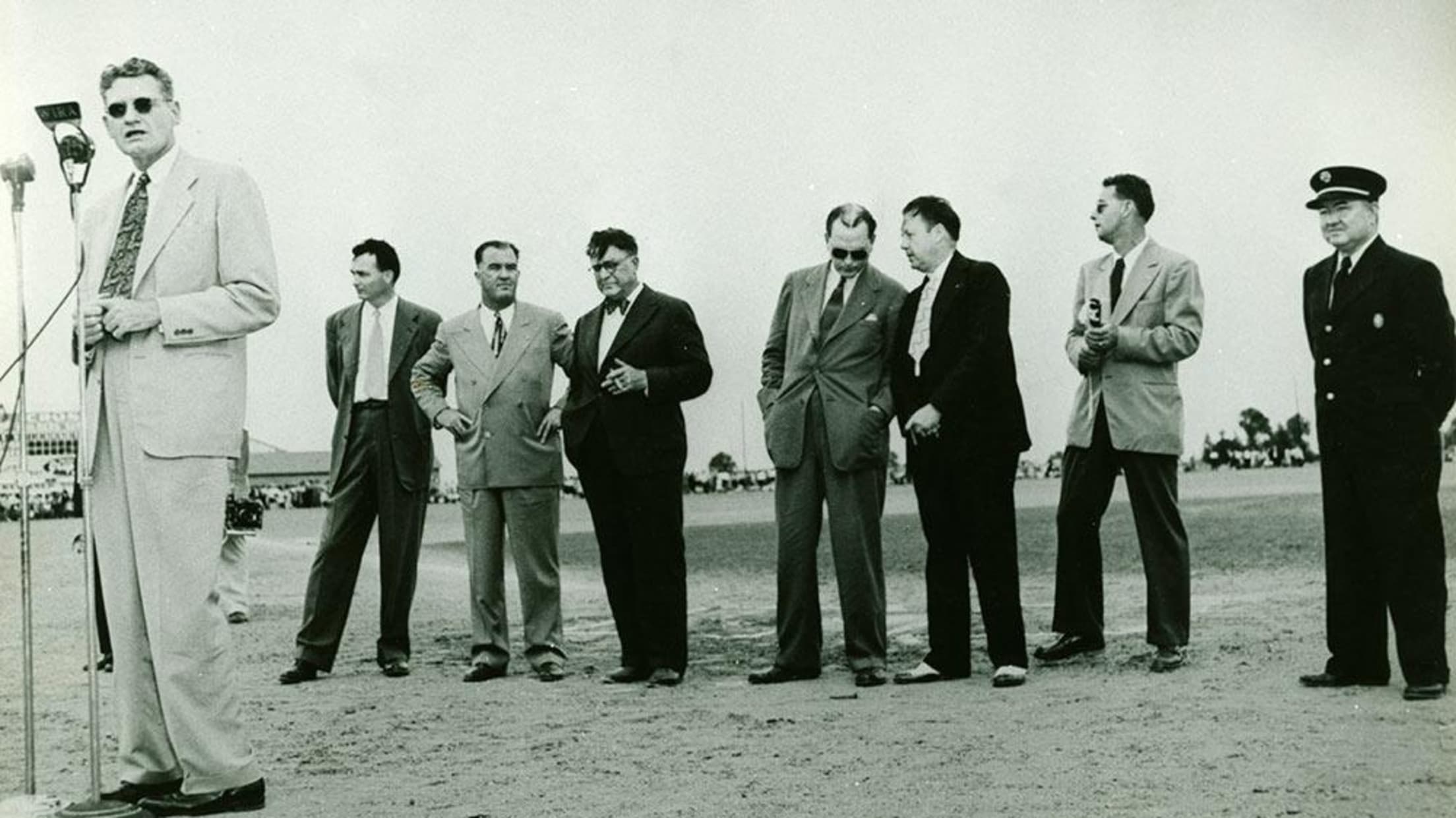 Florida Governor Millard Caldwell speaks to fans before throwing the first ball in a game played at Dodgertown near the Vero Beach airport. The March 31, 1948 date is the first game played by the Brooklyn Dodgers' major league team on land as part of the Dodgertown lease with the City of Vero Beach. (L-R) Gov. Millard Caldwell; Vero Beach attorney Sherman N. Smith; Commissioner of Baseball A.B. "Happy" Chandler; Dodger President Branch Rickey; Vero Beach Mayor Merrill Barber; Charles Mitchell.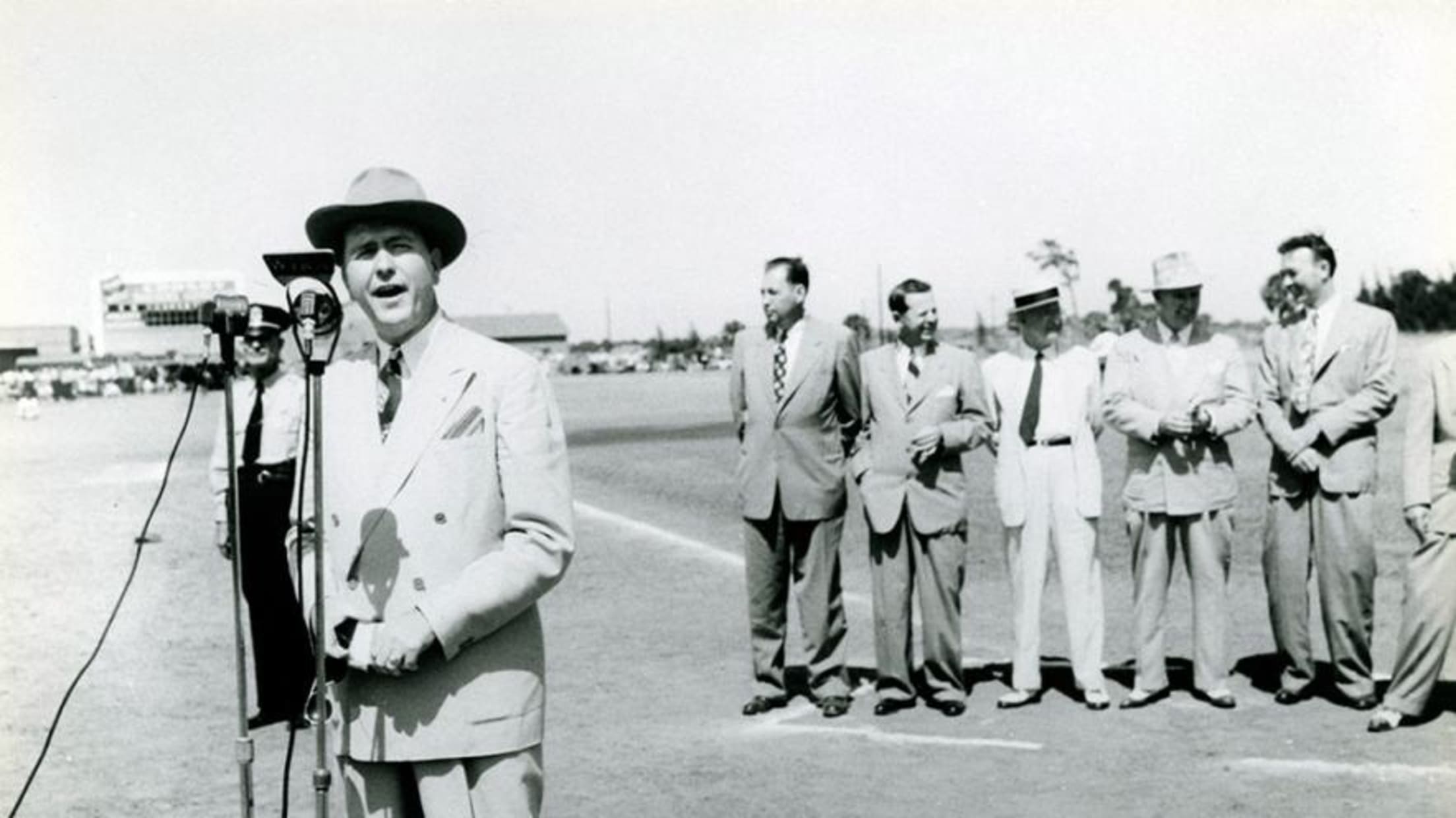 Vero Beach Mayor Merrill Barber speaks to fans before a Brooklyn Dodgers-Philadelphia Athletics game in March, 1949. The game was the first time two major league clubs had played a game on Dodgertown land leased from the City of Vero Beach. Behind Barber in line at home plate are various state officials.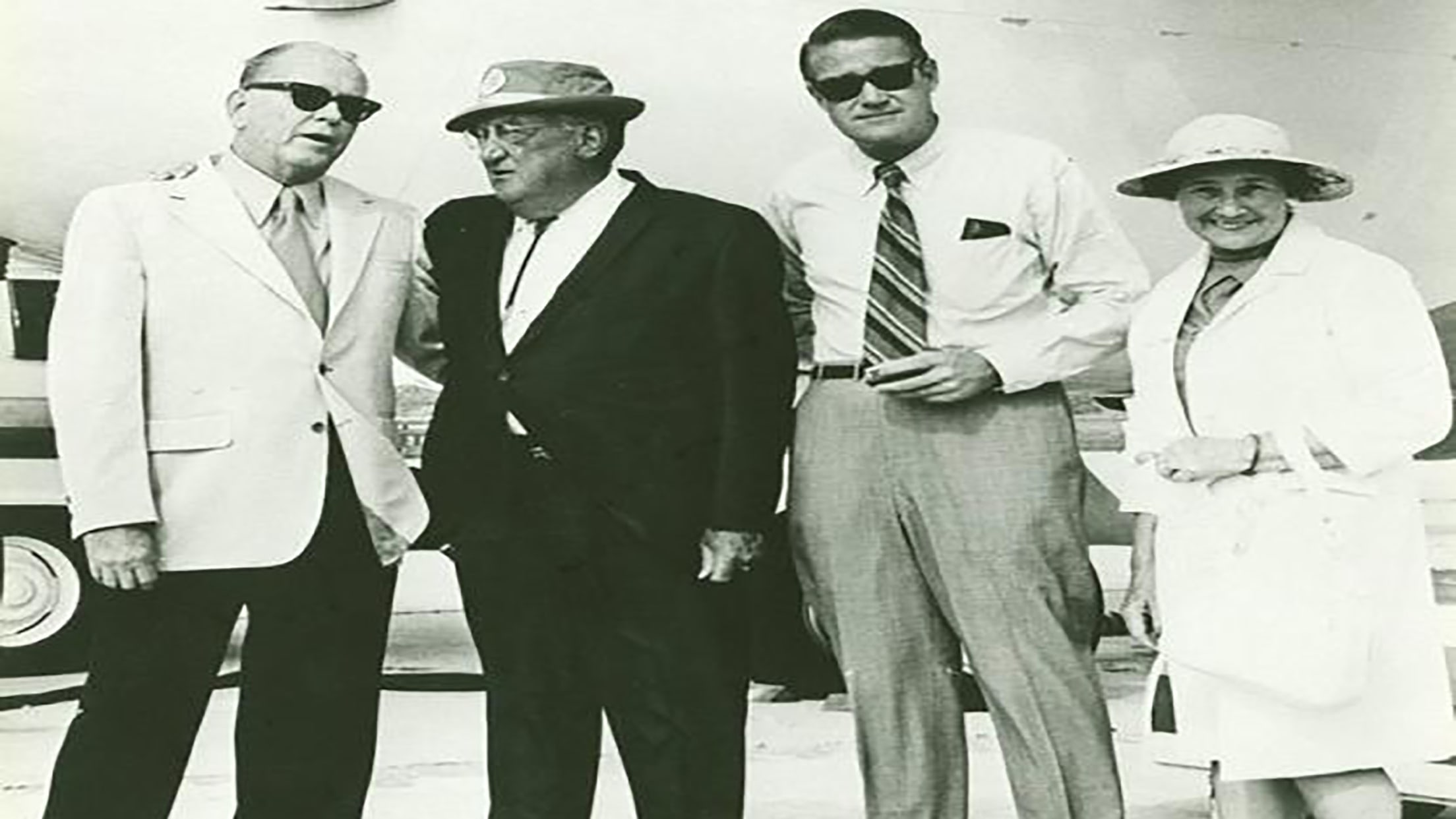 (L-R) Merrill Barber, former Mayor of Vero Beach and former Florida State Senator; Walter O'Malley; Peter O'Malley; Kay O'Malley. The group is in front of the Dodgers' new 720-B fan jet at the Vero Beach airport on March 31, 1971.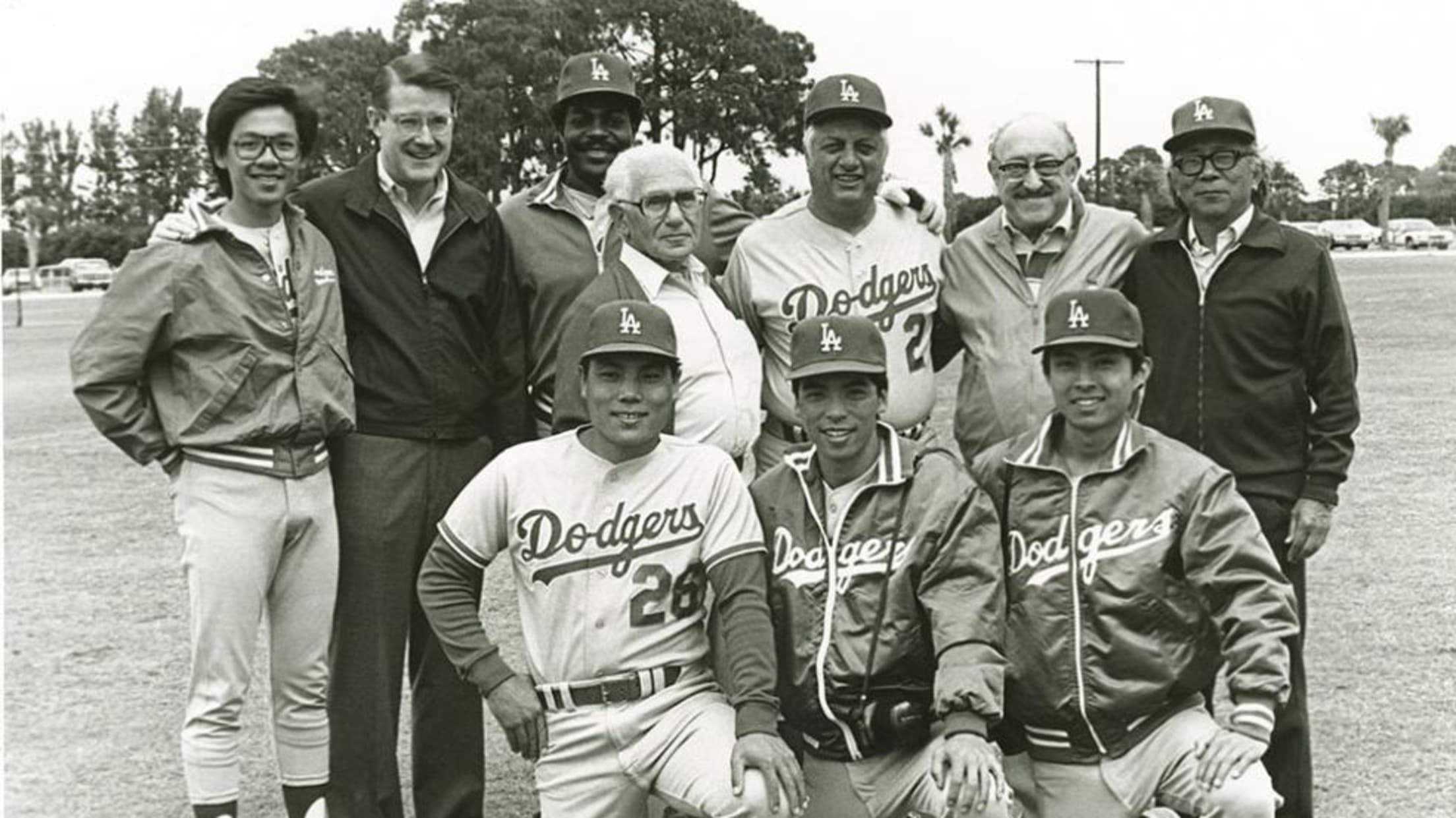 (L-R) 1st row-Song Ping Shan; Tu Ming-Hui; She Wei-ji; 2nd row-Ben Hwang, Dodger employee; Peter O'Malley; Pedro Guerrero; David Salzberg; Tom Lasorda; Dr. Leonard Milton; Liang You-De. Baseball personnel from the People's Republic of China are observing 1986 Spring Training in Dodgertown at the invitation of Dodger President Peter O'Malley. Joining them in the photo is Dodger Manager Tom Lasorda and outfielder Pedro Guerrero. Dodger employee Ben Hwang spoke fluent Mandarin and served as the interpreter for the group from China.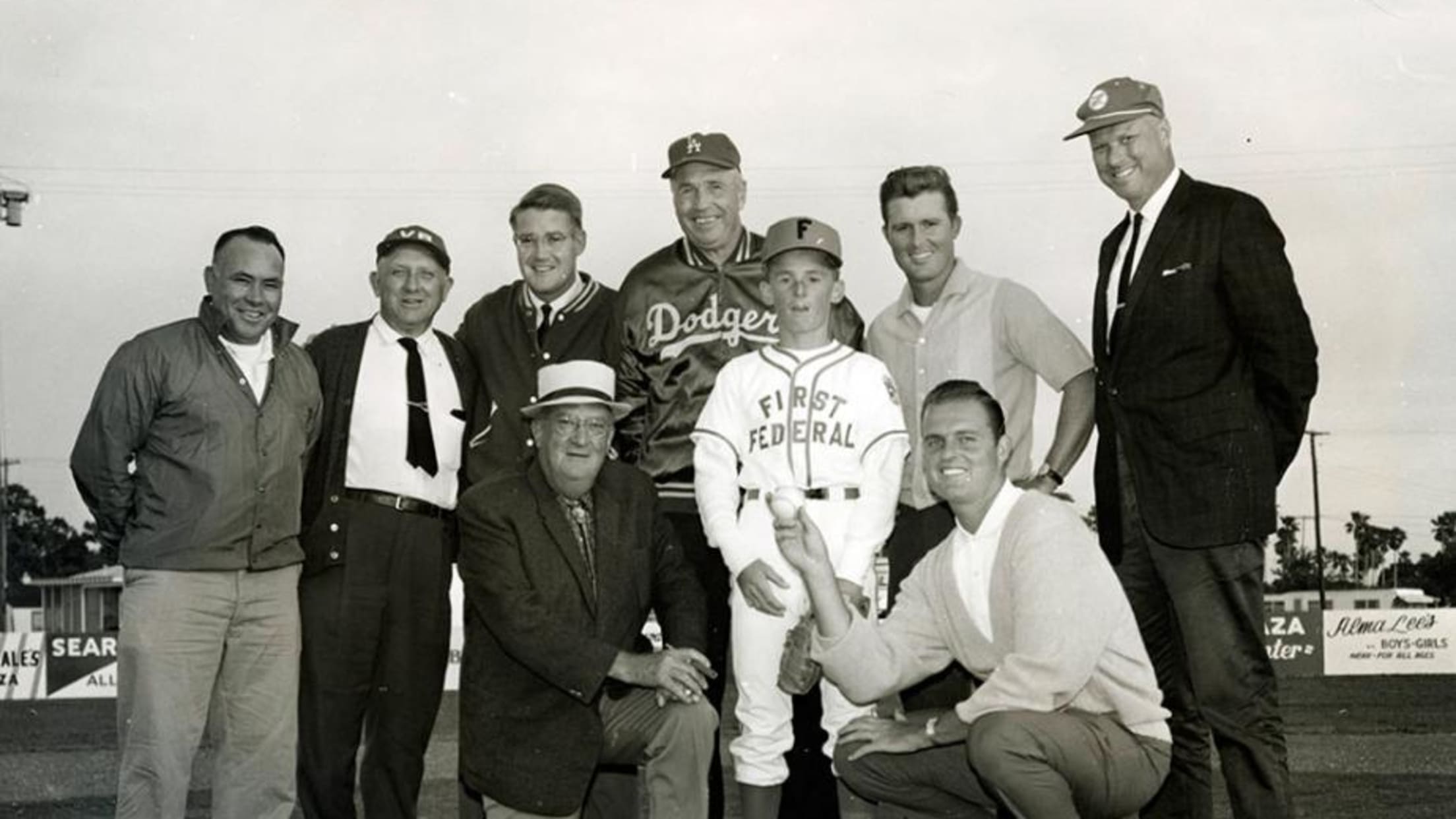 Dodger players and team executives gather for a photo in support of Little League in Vero Beach. (Kneeling-Front Row) Walter O'Malley; Don Drysdale. (Standing L-R) Walter Monnin, Vero Beach Little League; John Studer, Vero Beach Little League; Peter O'Malley; Walter Alston; Little Leaguer Mike Lyda; Ron Fairly; Vero Beach Mayor Jack Sturgis. The photograph was taken in March, 1964.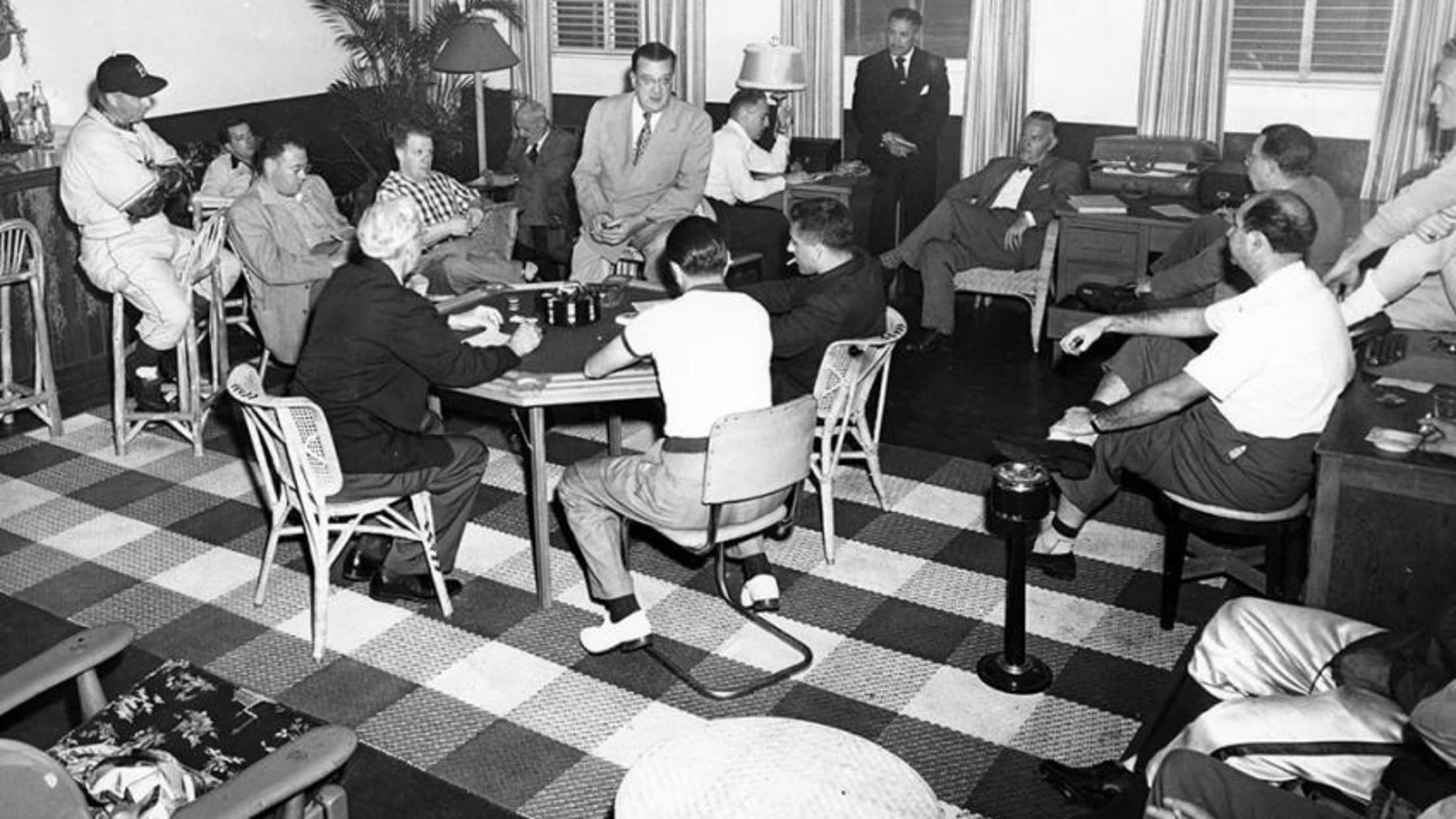 Dodger President Walter O'Malley speaks to the sportswriters covering the Brooklyn Dodgers in the press lounge at Dodgertown as Dodger team officials watch. Dodger Manager Charlie Dressen is in uniform at the far left. Sitting on the far right is team broadcaster Vin Scully.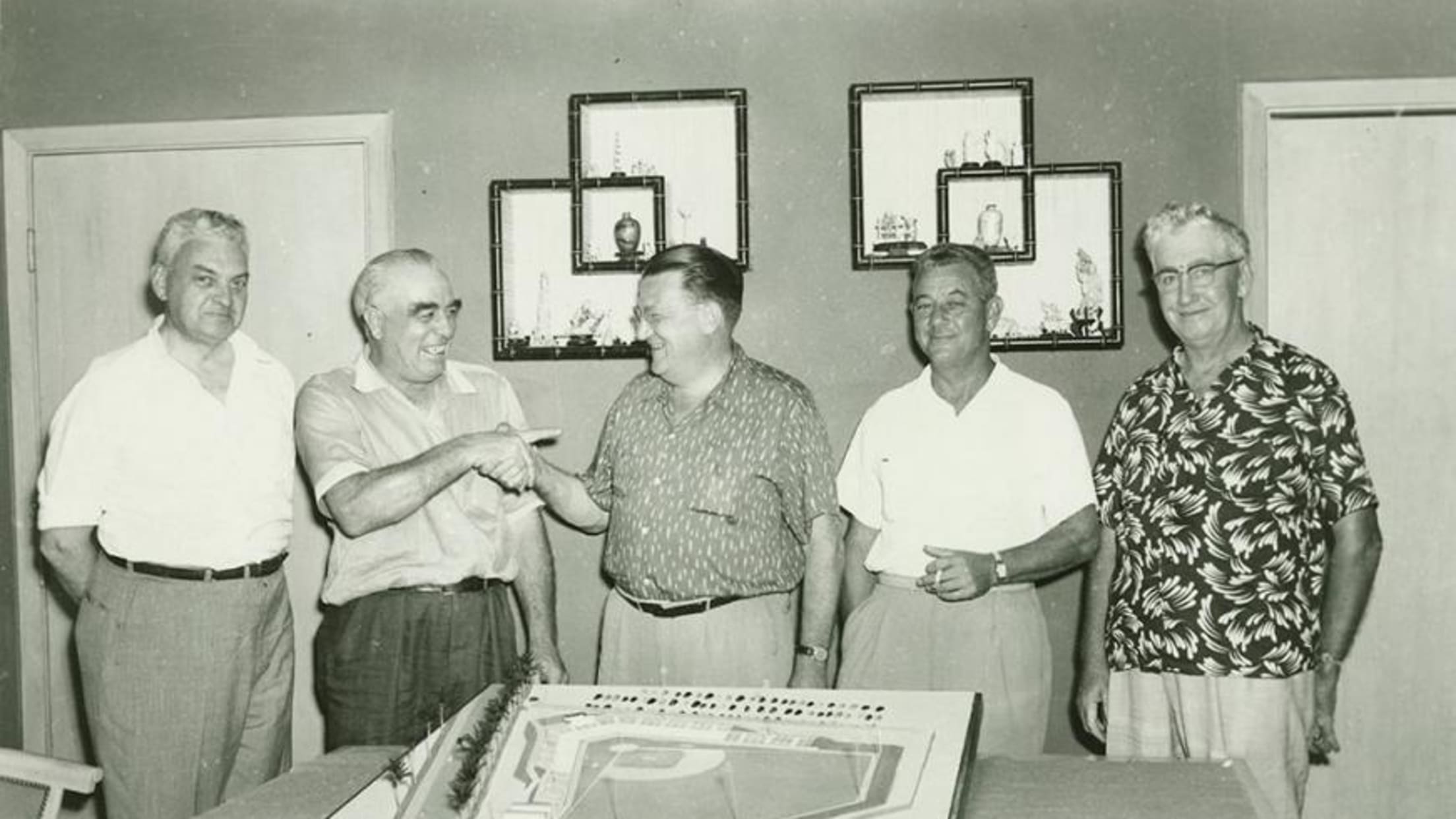 (L-R) Architect Emil Praeger; Bud Holman; Walter O'Malley; Unidentified; Unidentified. As Holman Stadium architect Emil Praeger watches, a happy Bud Holman and Walter O'Malley shake hands on the design of a model of the baseball stadium built at Dodgertown. The stadium would be dedicated as "Holman Stadium" to honor the efforts Bud Holman to bring the Dodgers to Vero Beach.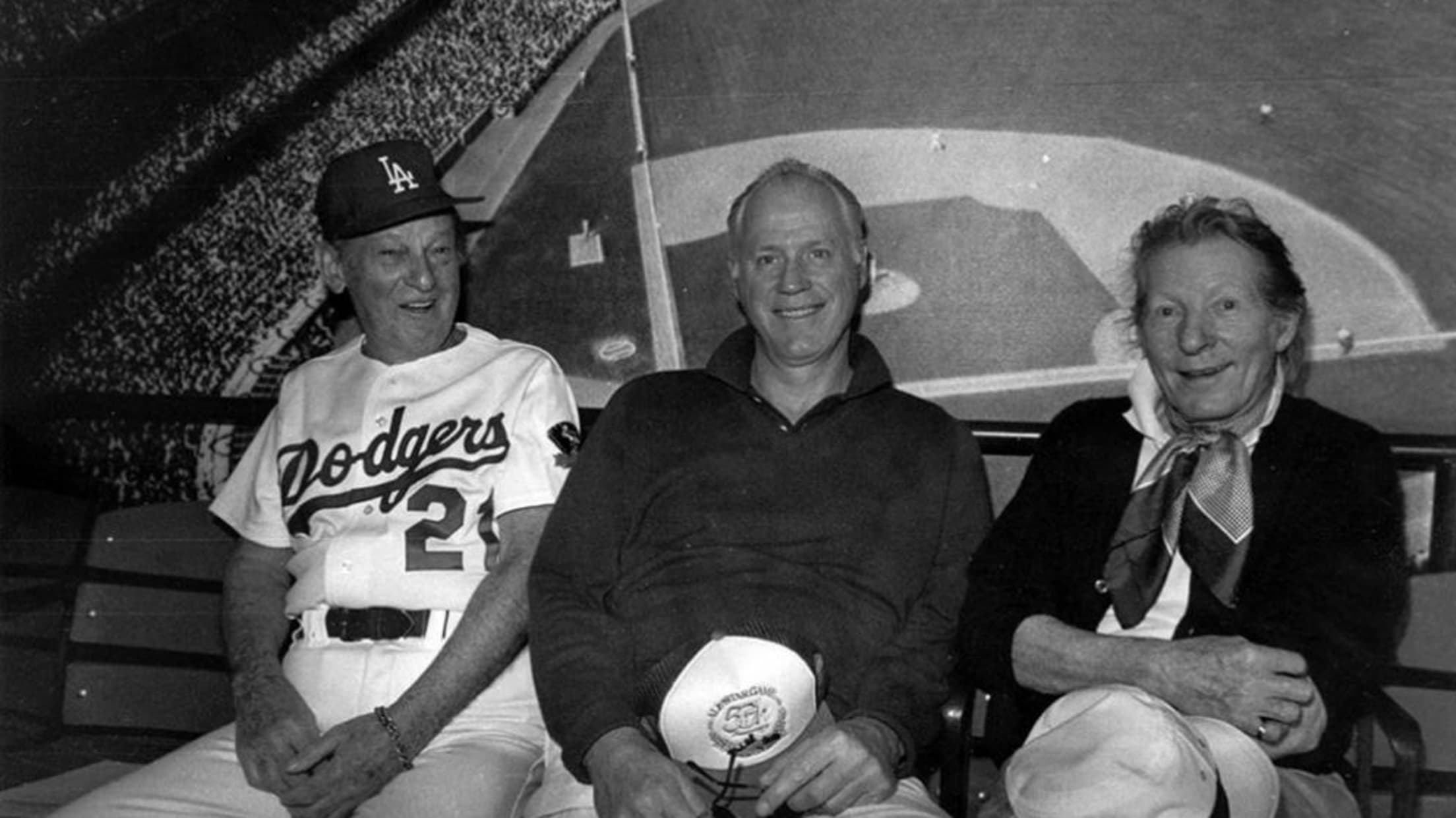 (L-R) Peter Kriendler, owner of the restaurant "21" in Manhattan; Commissioner of Baseball Bowie Kuhn, and entertainer Danny Kaye, sit for a photograph in the Dodgertown administration building near the dining room.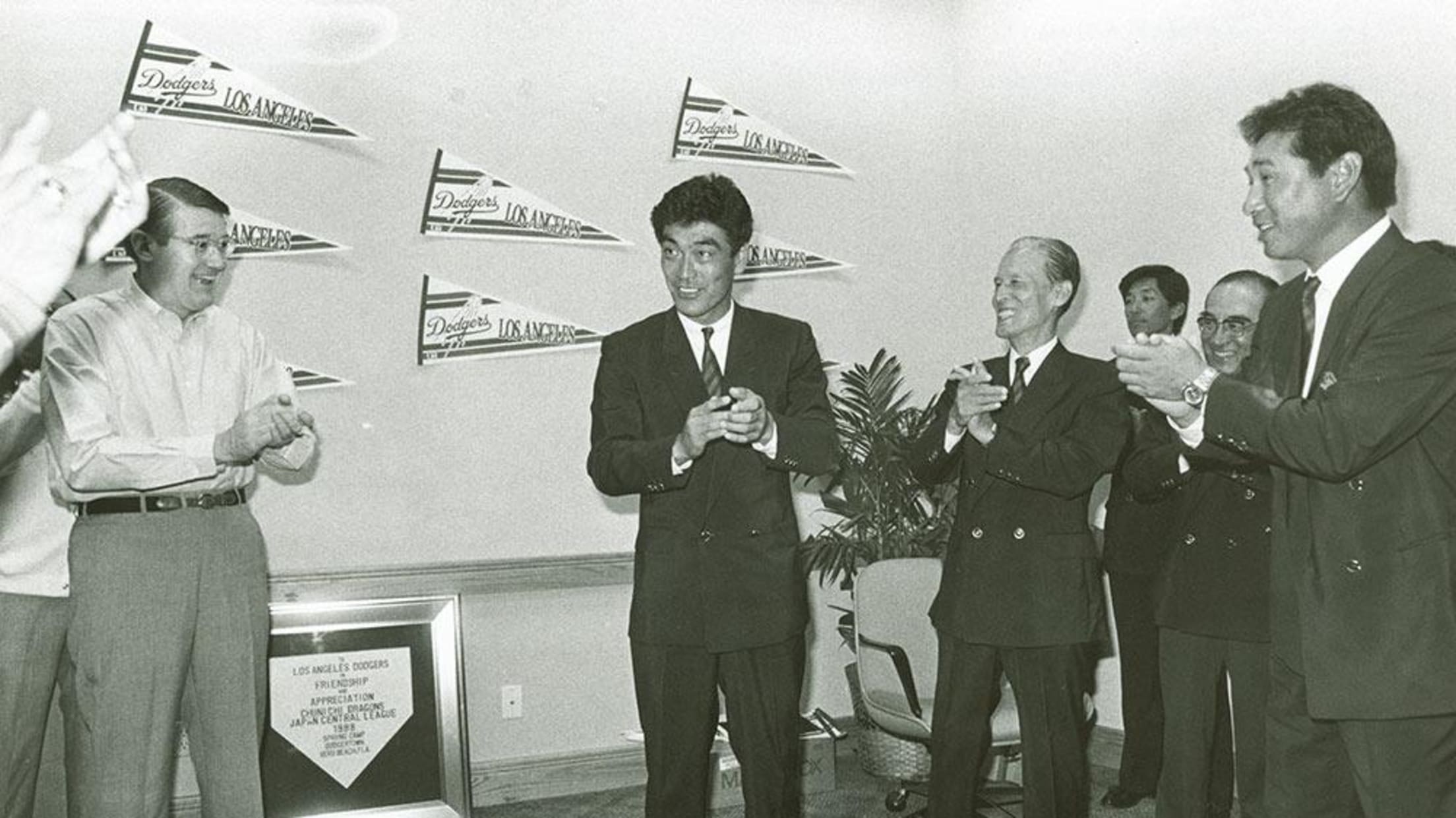 Dodger President Peter O'Malley thanks Chunichi Dragons Manager Senichi Hoshino and the Chunichi team after receiving a special gift. The Dragons had spent their 1988 Spring Training at Dodgertown and presented a framed home plate with their appreciation to O'Malley to commemorate the invitation.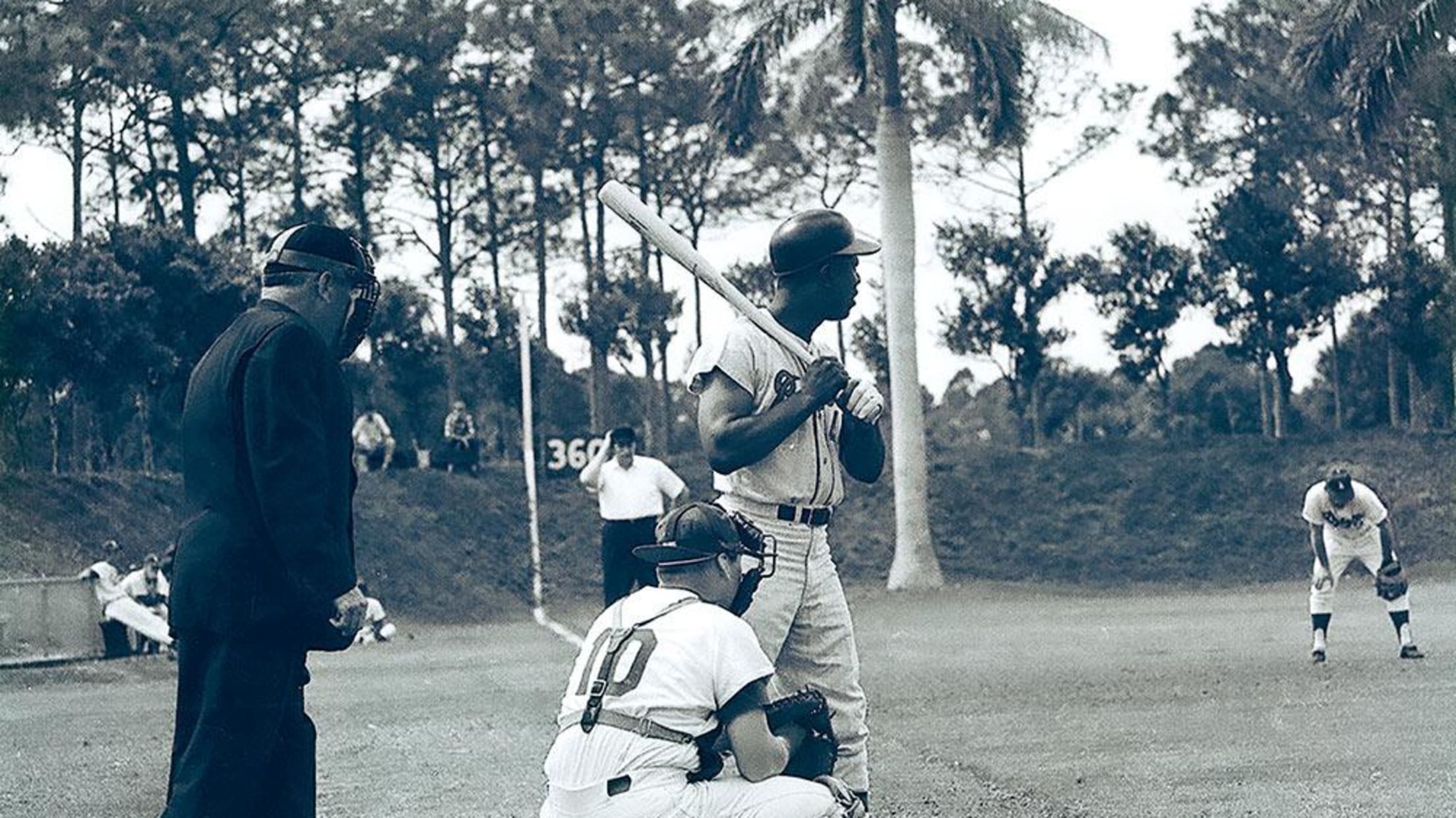 The great Henry Aaron, one of baseball's all-time hitters, awaits a pitch at Holman Stadium at Dodgertown. Aaron made his first Spring Training appearance at Dodgertown in 1958 as a member of the Milwaukee Braves. The Dodger catcher is Jeff Torborg. The photograph was taken by Nobuhisa Ikuhara, brother of Ike Ikuhara, a longtime prominent Dodger official.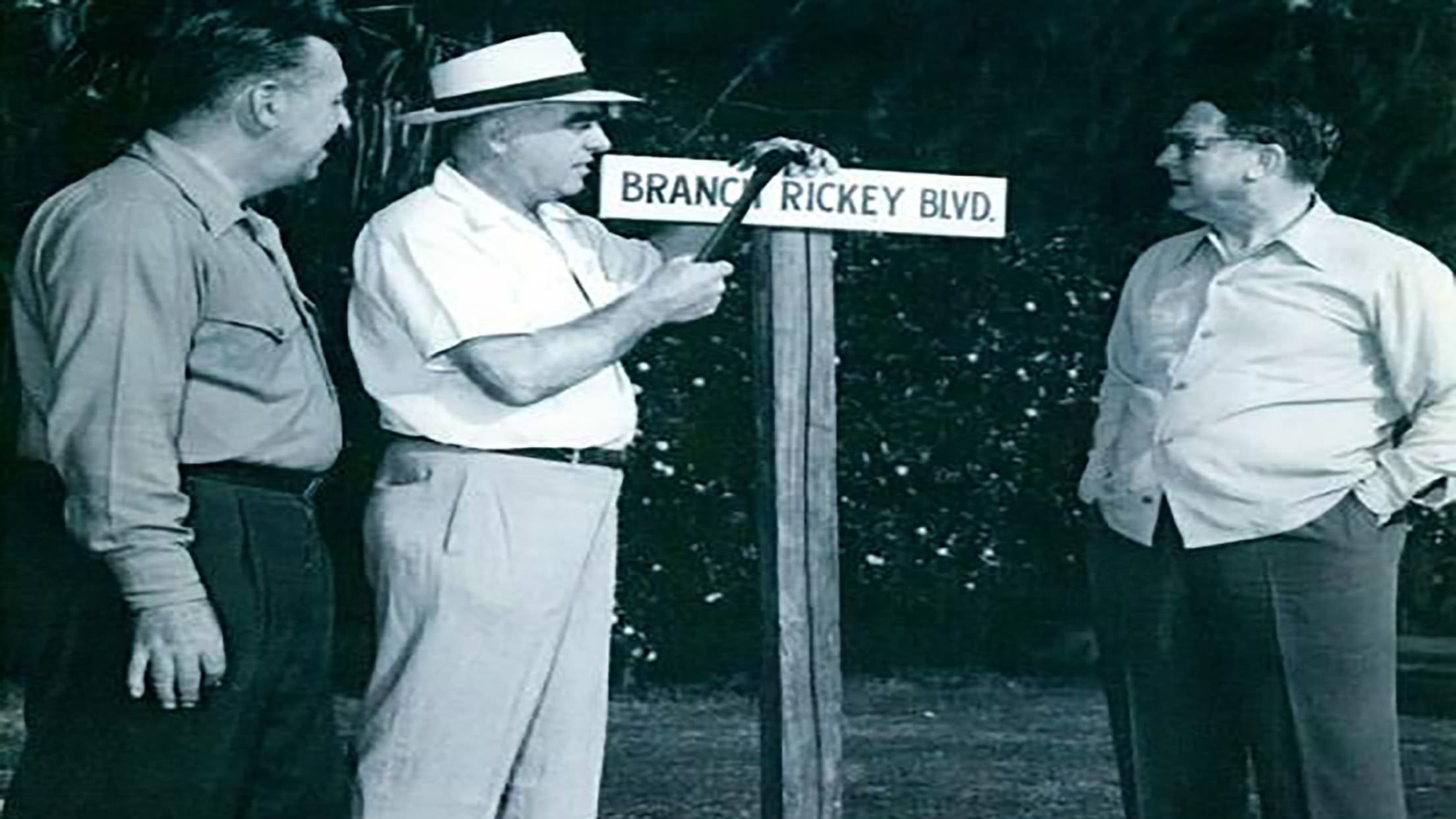 The Spring Training site for the Dodgers was called "Dodgertown" and towns need street signs. In the very earliest years at Dodgertown, Vero Beach businessman Bud Holman puts up a sign to highlight "Branch Rickey Boulevard" as its namesake, Dodger President Branch Rickey, looks on. Dodgertown Camp Director Charlie Blaney brought back the idea to honor Dodger Hall of Fame players with street signs and the tradition is upheld to this day. (L-R) Dodgertown Camp Director Spencer Harris; Vero Beach businessman Bud Holman, Dodger President Branch Rickey.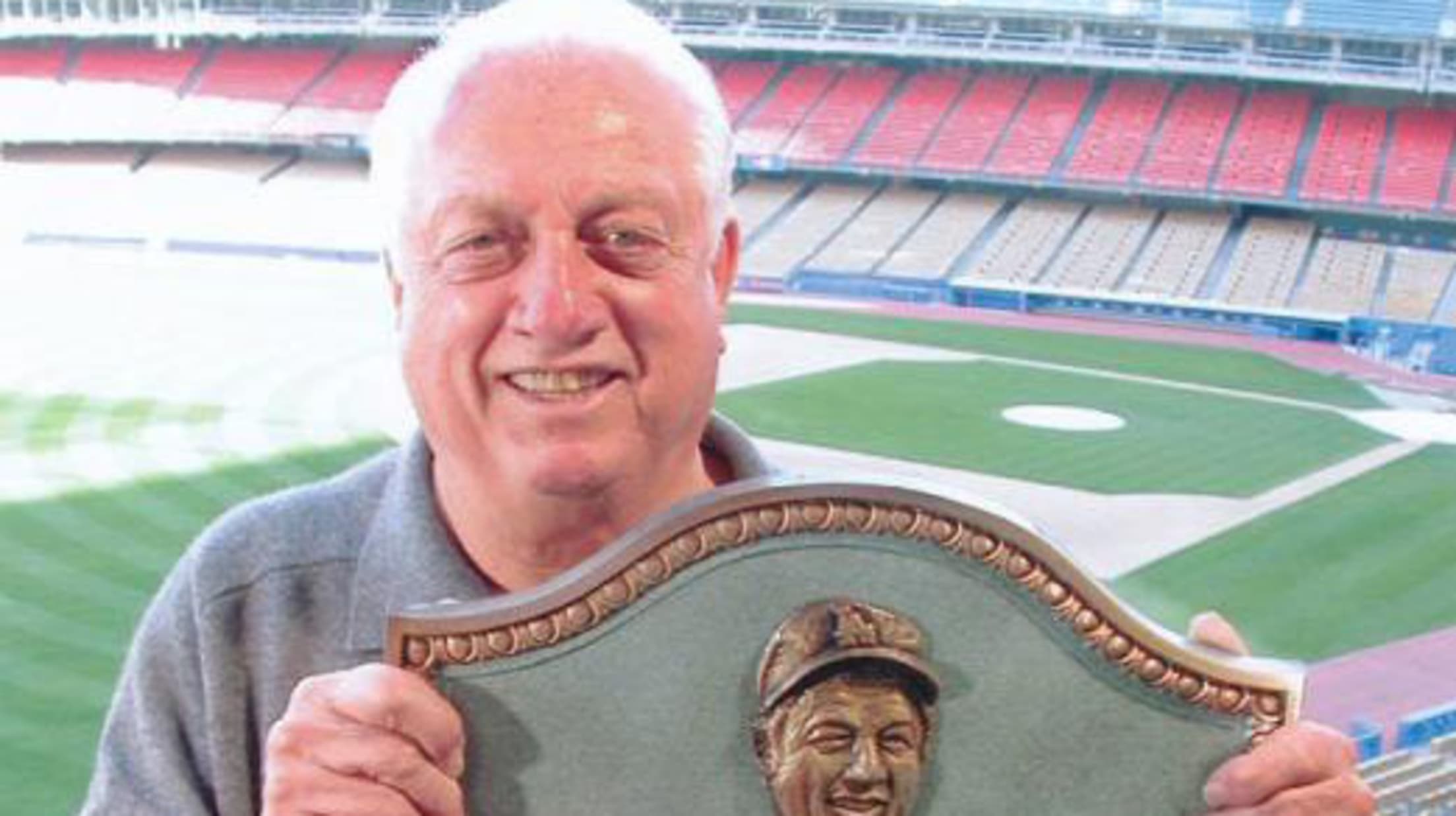 Tom Lasorda proudly holds up the tombstone given to him by Dodger President Walter O'Malley during the 1972 Spring Training. Lasorda at that time was the Dodgers' Triple-A manager at Albuquerque, New Mexico, but had said for years he wanted his tombstone to contain the Dodger schedule so that anyone visiting him could see if the Dodgers were playing in Los Angeles. The tombstone read, "Dodger Stadium was his address, but every ballpark was his home." At the bottom of the marker, alongside the red heart is one drop of the blue blood that Lasorda claimed to possess.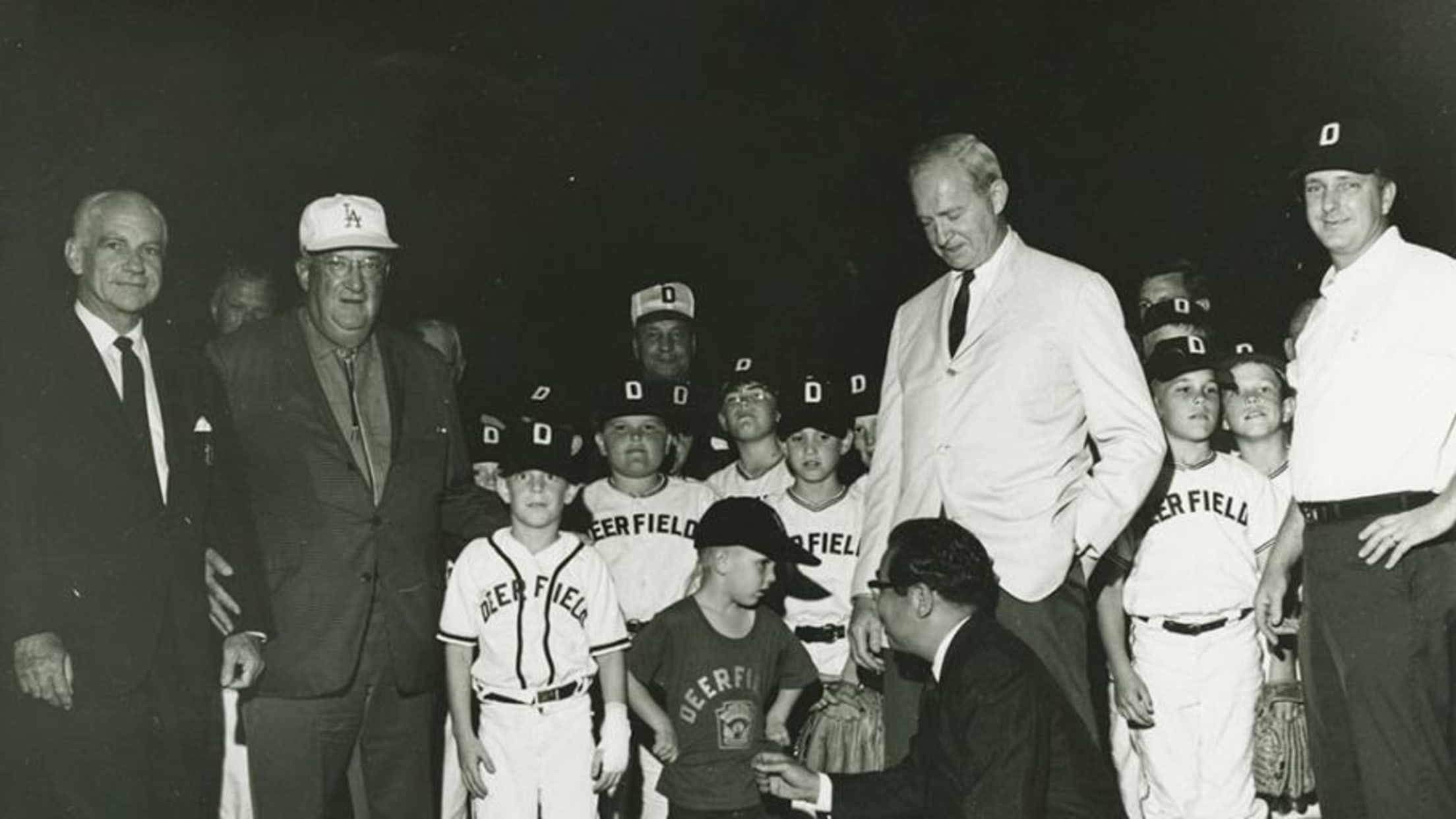 Prominent baseball officials greet members of the Deerfield, Vero Beach, Florida Little League team on March 10, 1967. The Commissioner of Baseball, William Eckert, Dodger President Walter O'Malley, Little League International President Peter McGovern and Yomiuri Giant Chairman Toru Shoriki meet Ace Cappelen, the team manager of the Deerfield team. Standing (L-R) Commissioner William Eckert; Walter O'Malley, Toru Shorki (kneeling); Peter McGovern; Ace Cappelen, Deerfield manager.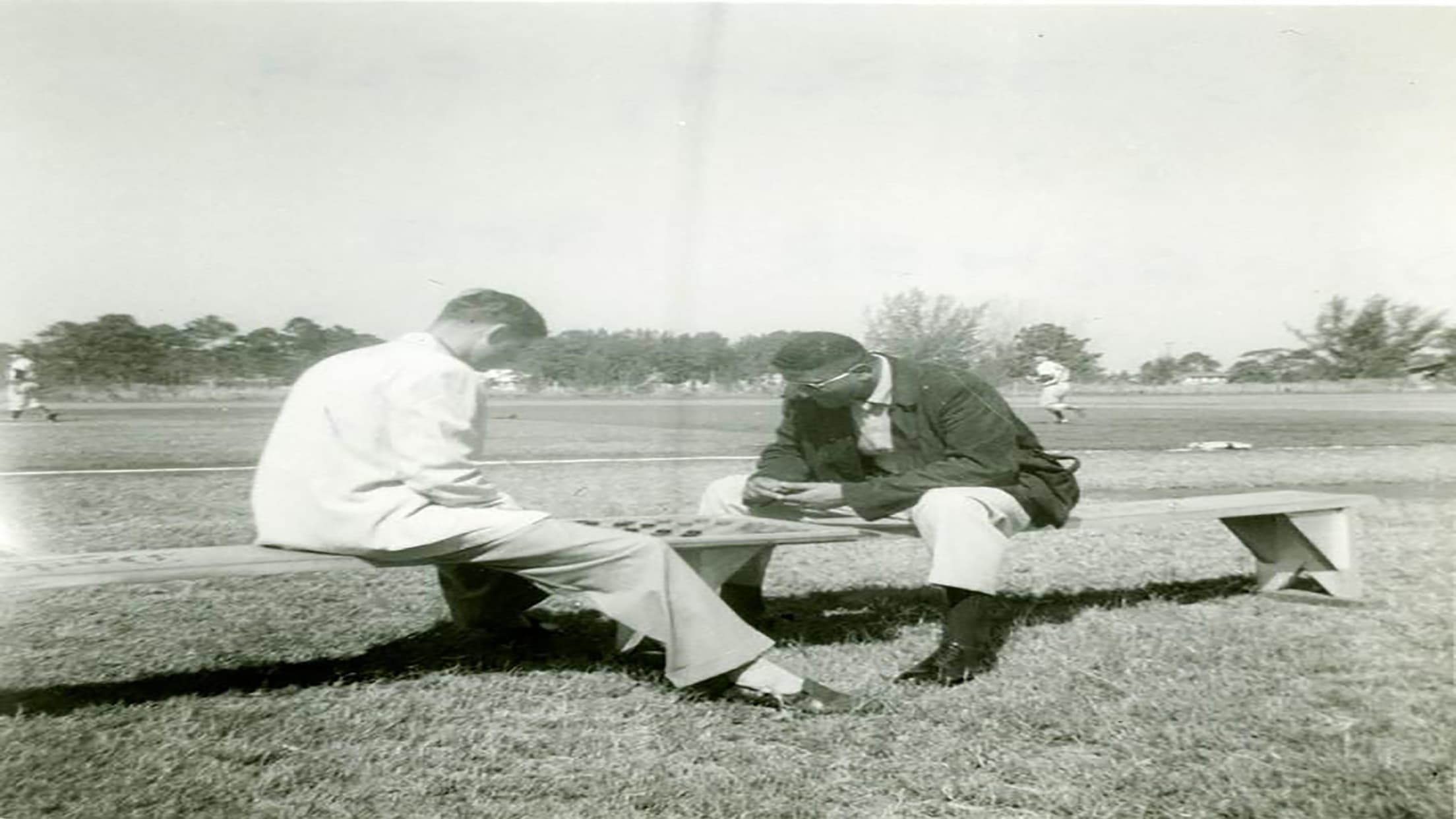 Dodger teammates pitcher Preacher Roe and Don Newcombe engage in competition off the baseball field as they play a concentrated game of checkers by one of the baseball diamonds in Dodgertown in Spring, 1951.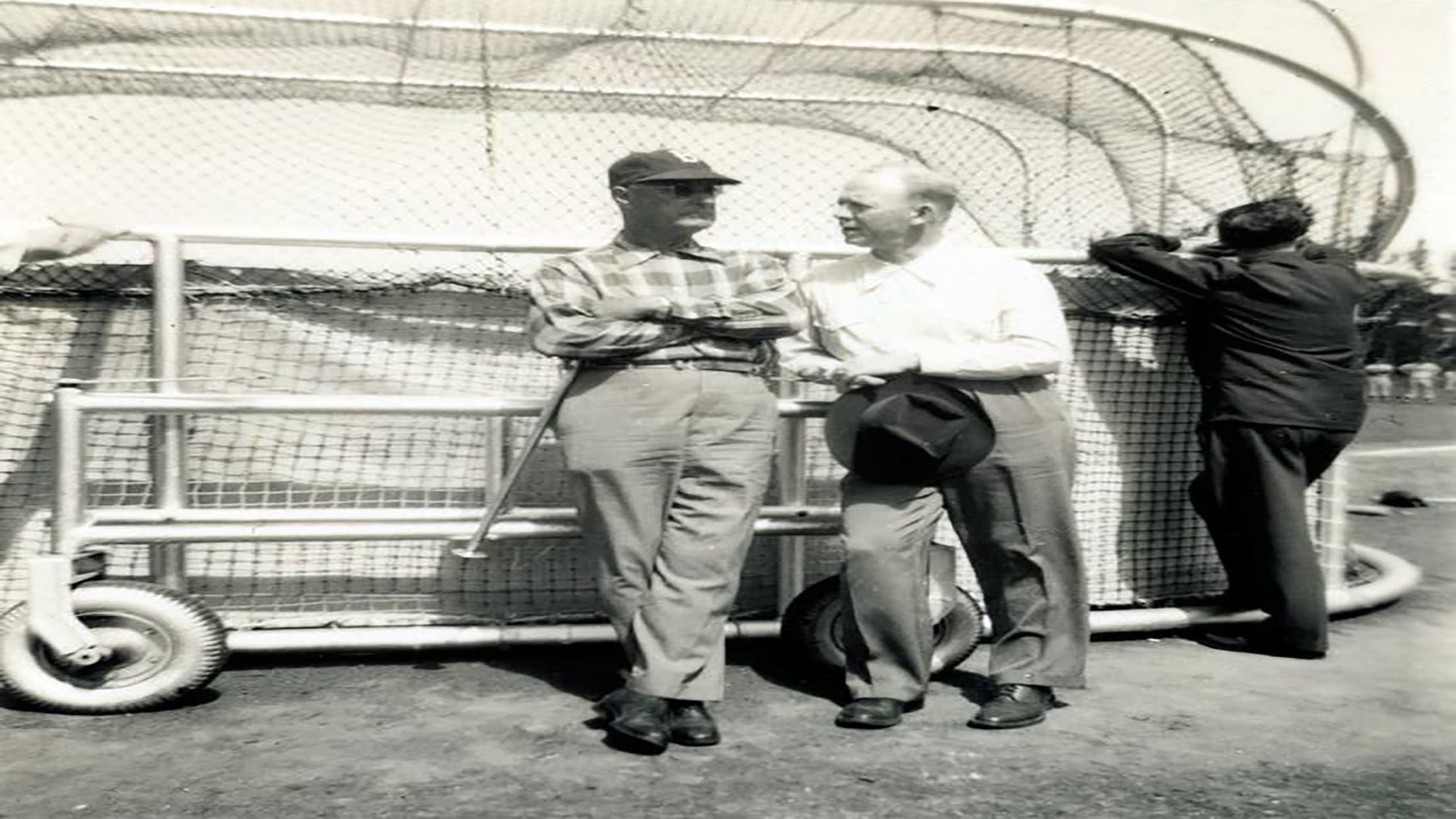 Dodger Manager Burt Shotton and team broadcaster Walter "Red" Barber meet behind the batting cage at Dodgertown, Vero Beach, Florida during Spring Training, 1950 . Shotton managed the Dodgers to pennants in 1947 and 1949 and a second place finish in 1950. Barber was a well-known sportscaster who was the Dodgers' radio voice during the 1940s until 1953.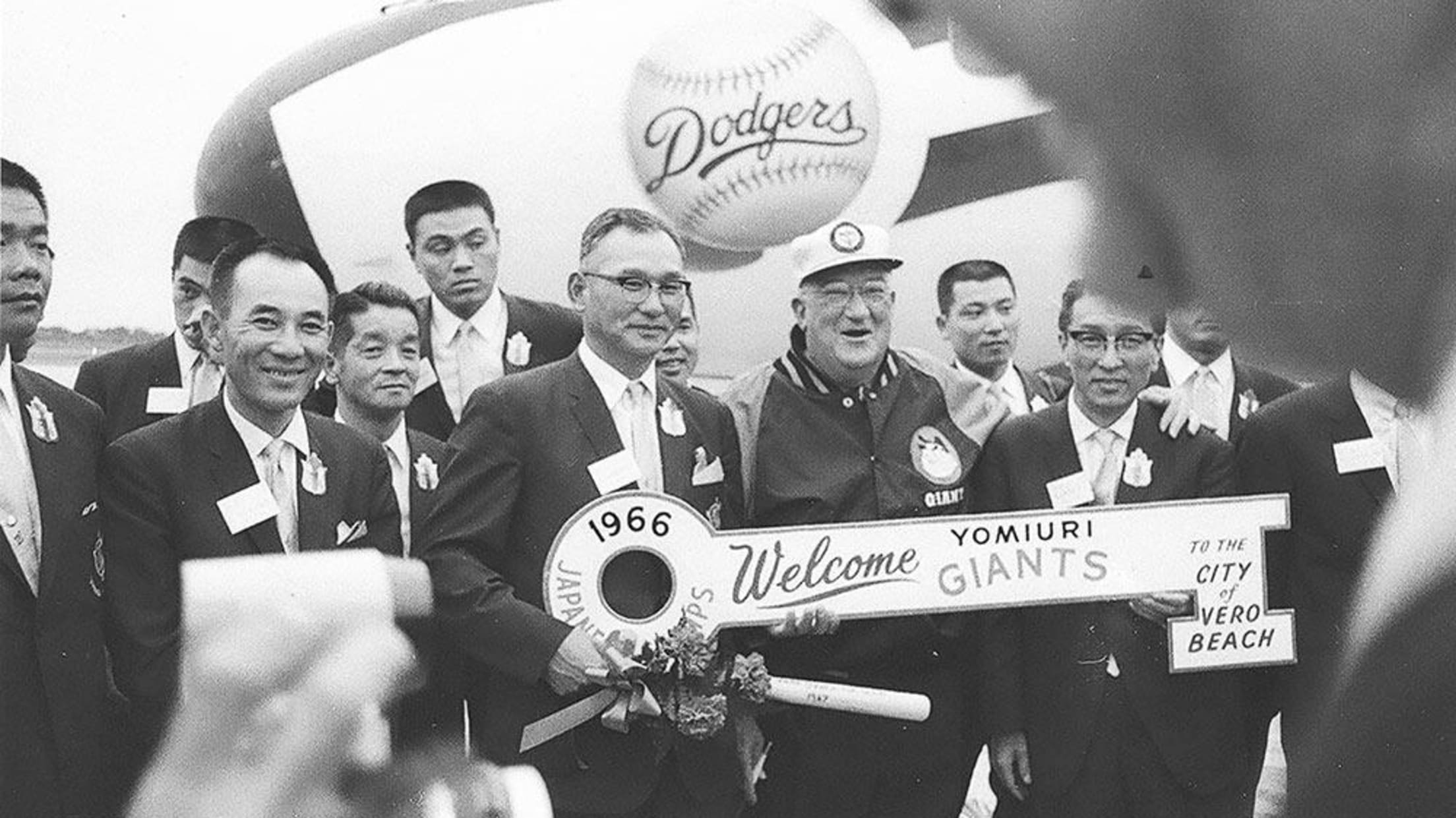 The Yomiuri Giants of the Japan League are presented the key to the City of Vero Beach on their arrival to Dodgertown in 1967. Holding the key are (L-R) Yomiuri Giant Manager Tetsuharu Kawakami; Dodger President Walter O'Malley; Yomiuri Giant General Manager Roy Saiki. The Giants are in Dodgertown for their second Spring Training session with the Los Angeles Dodgers in Vero Beach. The Giants had previously visited Dodgertown as a team in 1961. The Giants won the 1966 Japan League Championship for their fourth title in the previous six Japan League seasons. The Giants were then in their second season of a nine-season Japan League Championship title run from 1965 through 1973.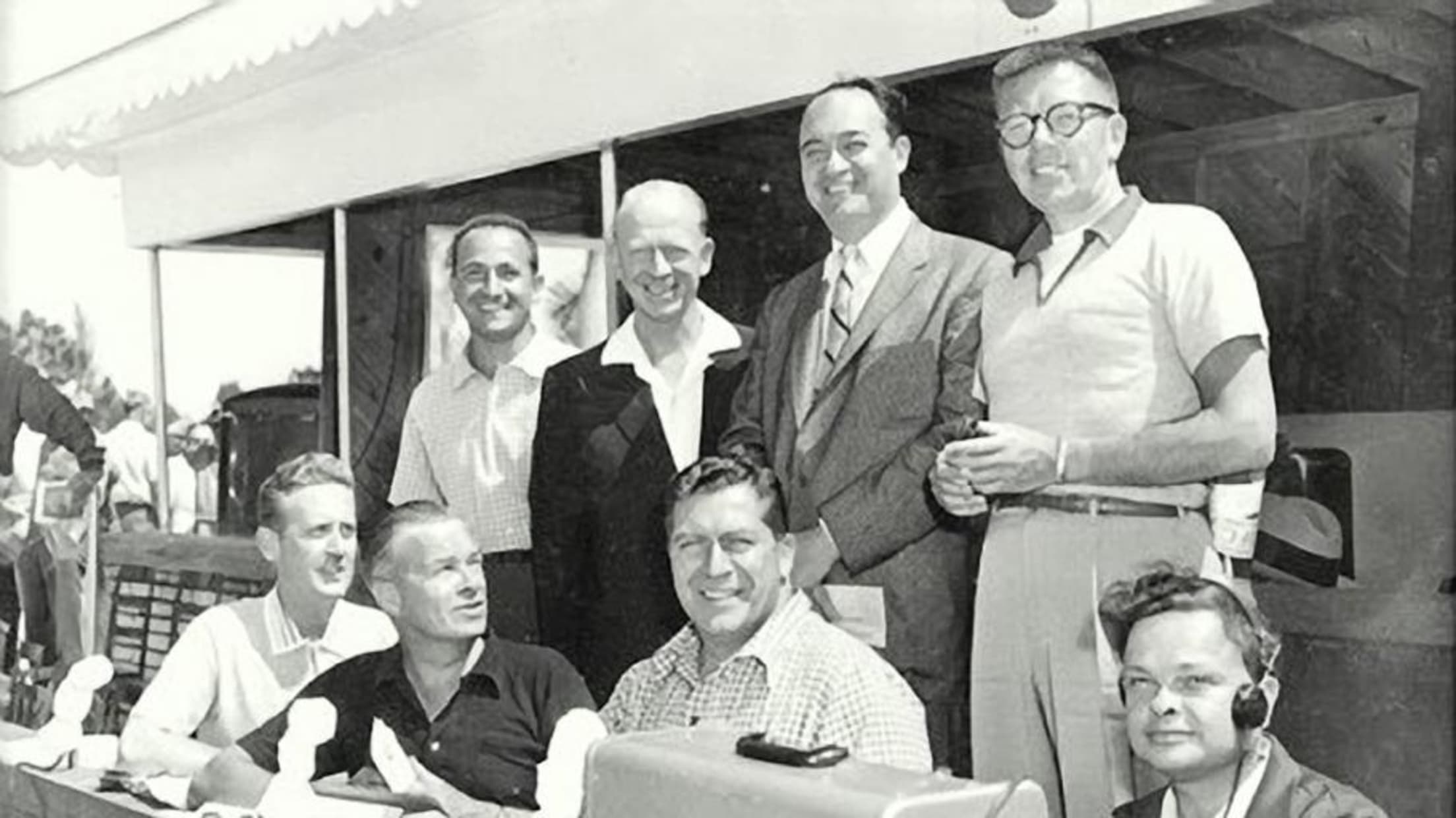 Before the broadcast booths were built at Holman Stadium, this 1954 photo features (front row l-r) Vin Scully, Connie Desmond, Al Helfer, unidentified Dodger radio engineer and back row (l-r) Tom Villante, Red Barber, Mel Allen and Joe Ripley, the New York Yankees radio producer. Scully, Barber and Allen all were later inducted into the National Baseball Hall of Fame. The photo is courtesy of Mr. Villante, who was with BBDO, the ad agency representing the Dodger broadcasts in the 1950s.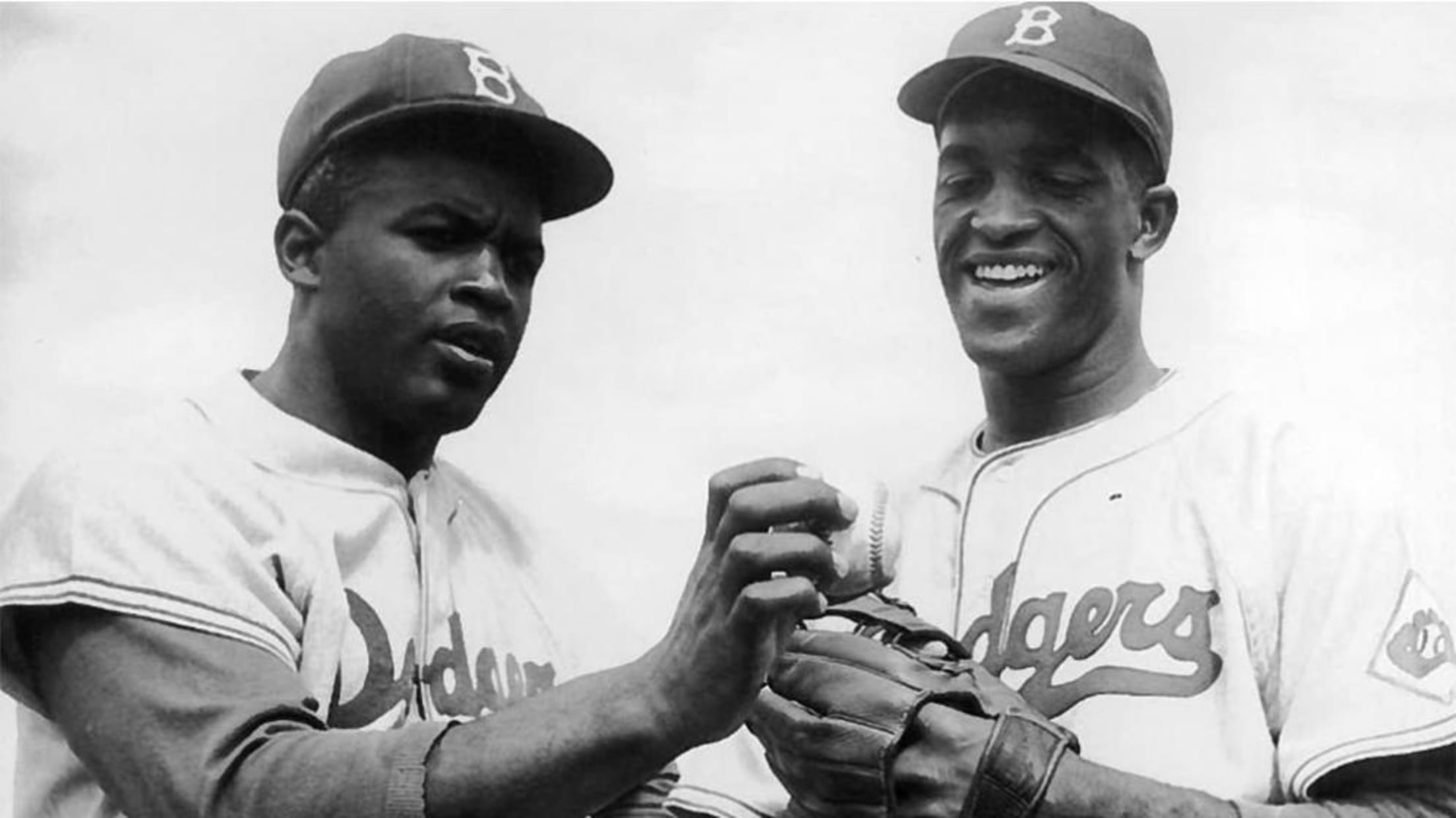 Dodger star Jackie Robinson seems to be giving Dodger rookie pitcher Joe Black some tips about gripping a baseball during 1952 Spring Training at Dodgertown, Vero Beach. The advice must have paid off as Black won National League Rookie of the Year honors in 1952 after winning 15 games and saving 15 more. Photo courtesy of Martha Jo Black.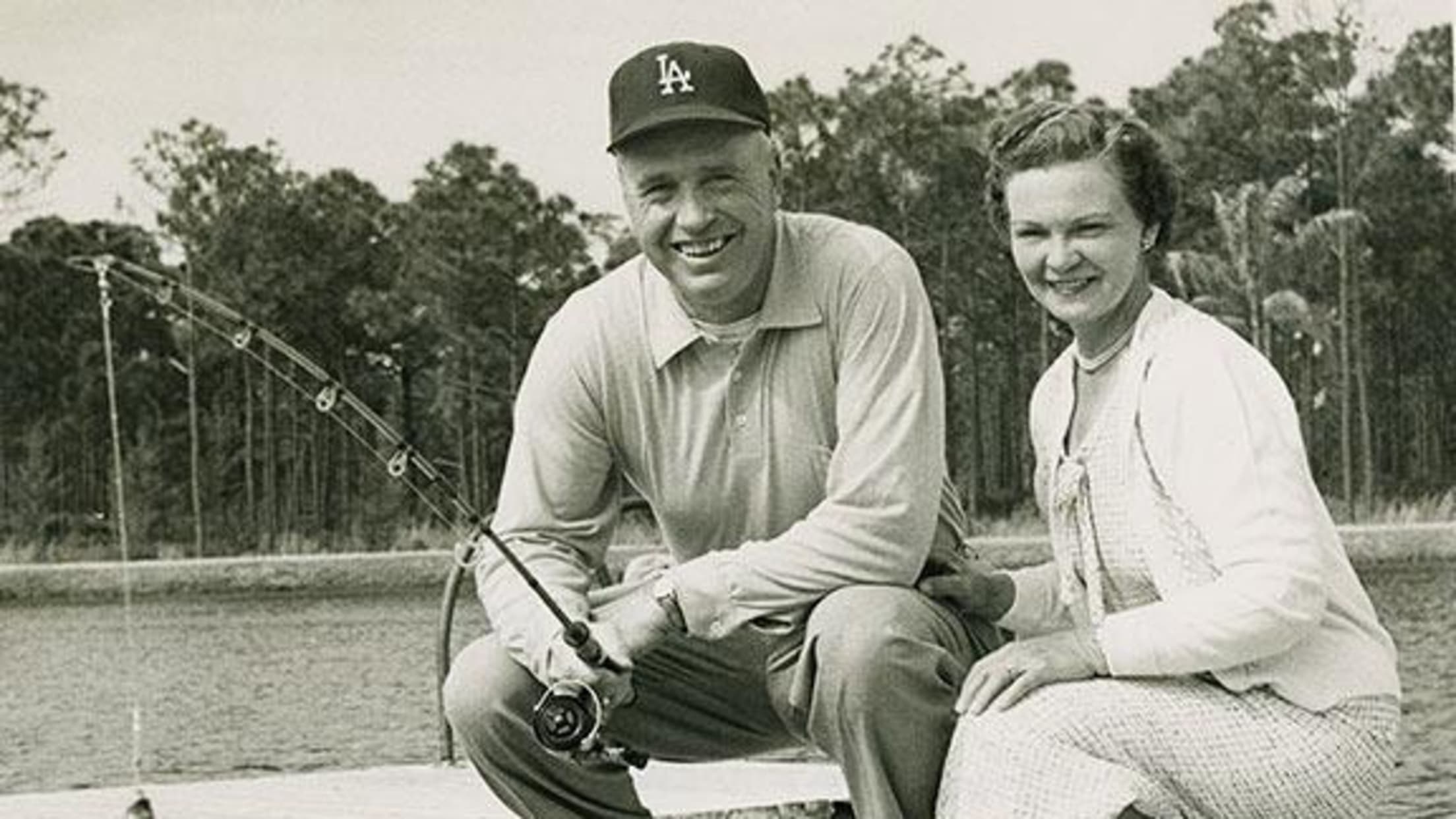 Los Angeles Dodger Manager Walter Alston has hooked a fish on his fishing pole as wife Lela looks on by the heart-shaped lake at Dodgertown. Alston won four World Championships as Manager of the Dodgers in 1955, 1959, 1963, and 1965. Dodger President Walter O'Malley designed the heart-shaped lake as a tribute to his wife Kay and stocked the lake with fish so his players could enjoy some relaxation after a day of Spring Training drills.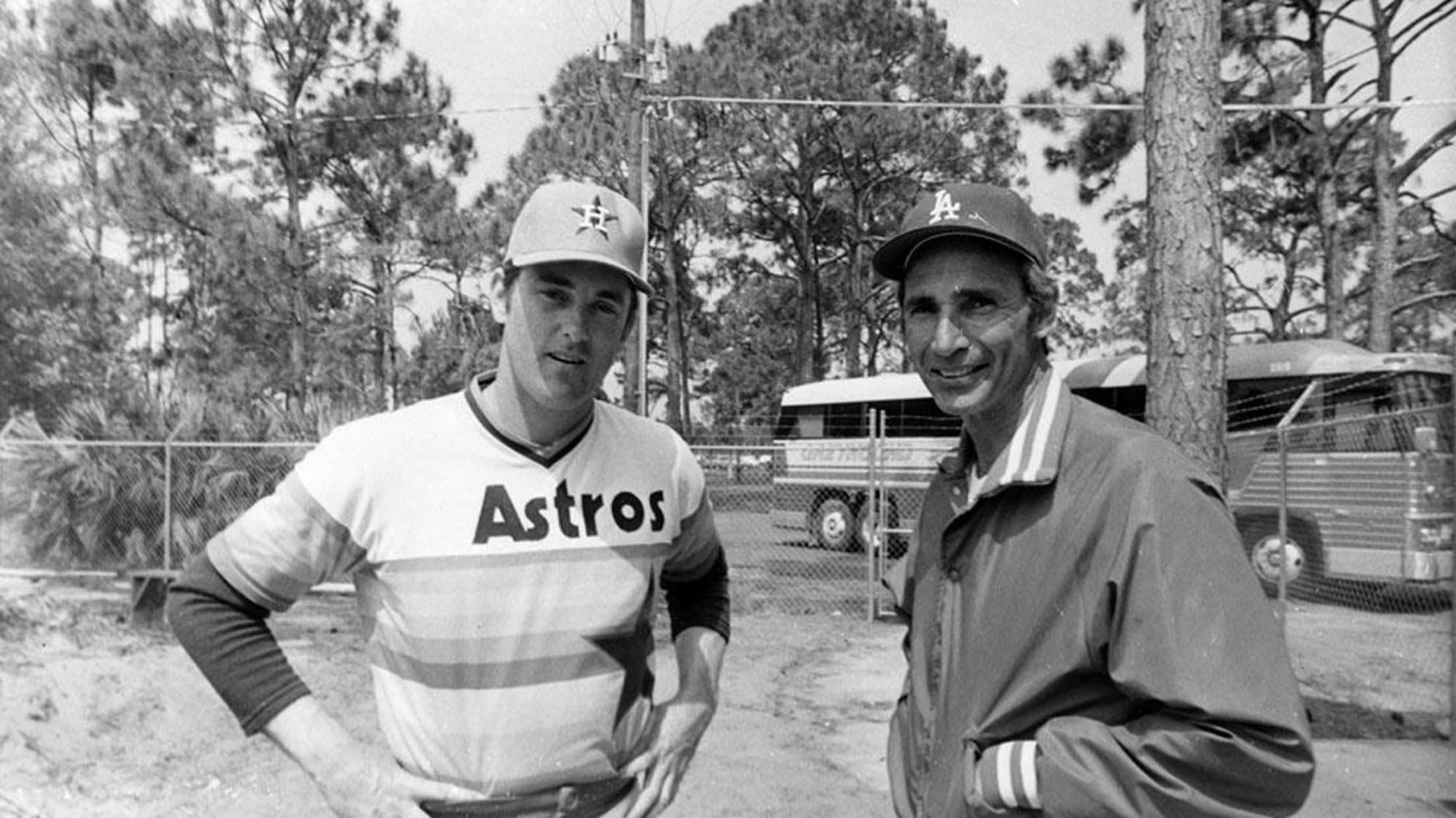 Baseball's greatest strikeout pitcher Nolan Ryan is on the left and maybe the greatest pitcher in baseball history, Sandy Koufax, is on the right as the two meet in Dodgertown in 1980. Ryan won 324 games, threw seven no-hitters and struck out 5,714 hitters in a 27-season career. Koufax won the Cy Young Award in 1963, 1965, and 1966 (when there was just one award), pitched four no-hitters and pitched for three Dodger World Championship teams in 1959, 1963 and 1965.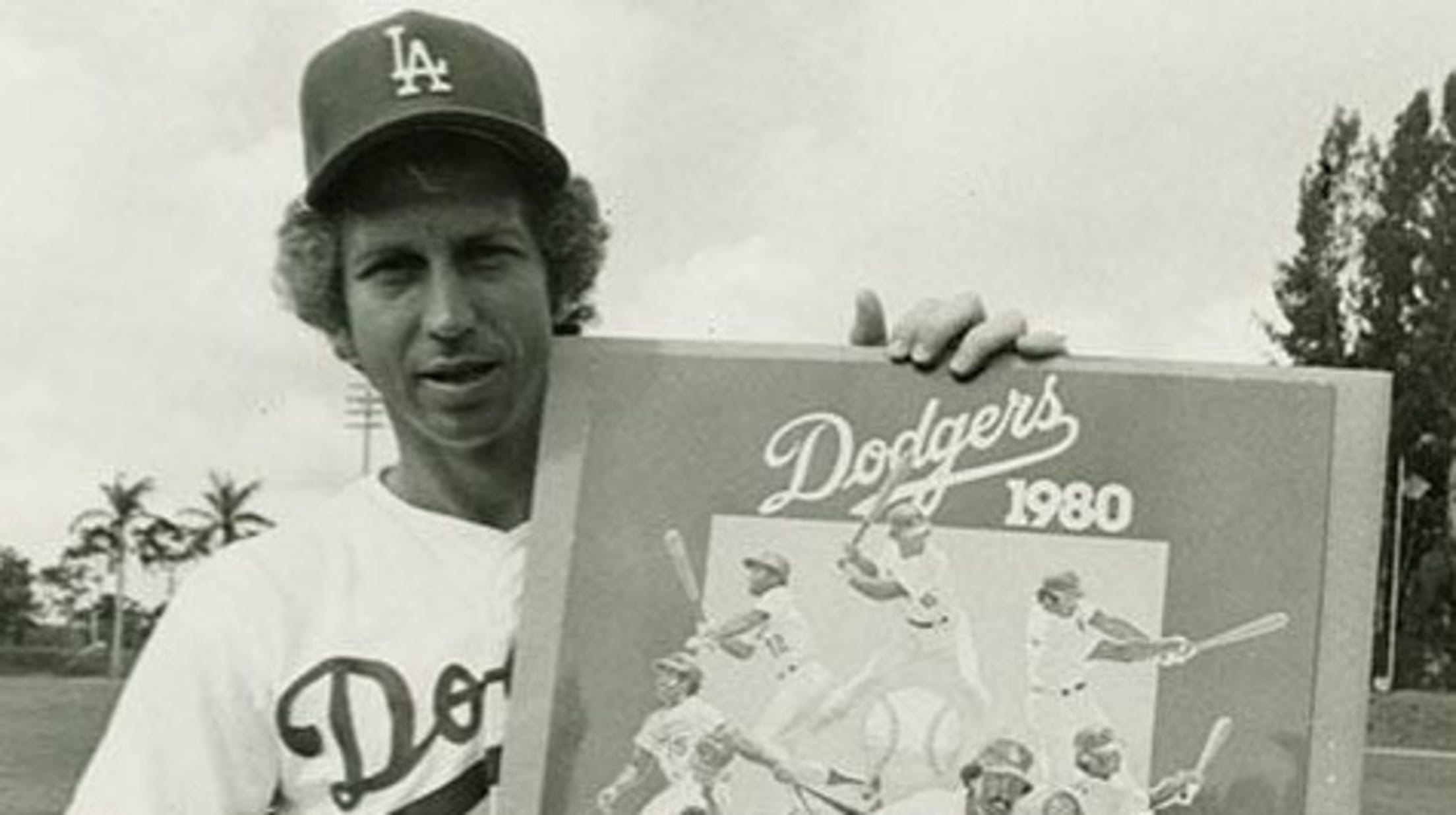 Don Sutton, the winningest pitcher in Dodger history, holds a 1980 promotional poster at Dodgertown. When Sutton's career ended after the 1988 season, he held Dodger career records in wins (233), games started (533), strikeouts (2,696), innings (3,814), shutouts (52) and games pitched (550).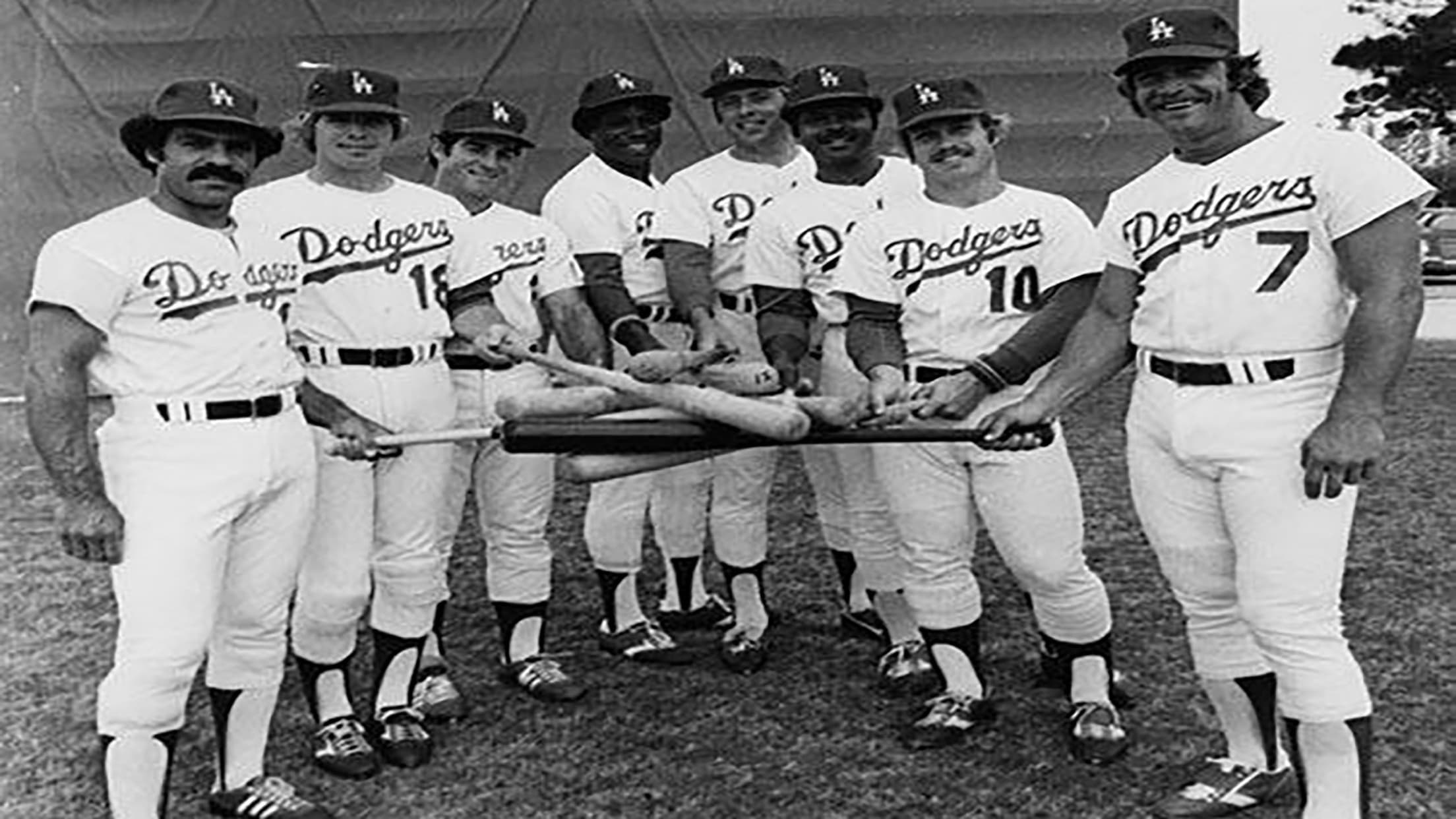 The 1977 Los Angeles Dodgers posed a formidable lineup and they would swing their bats well enough to win the National League Championship. From L-R are: second baseman Davey Lopes; shortstop Bill Russell; first baseman Steve Garvey; leftfielder Dusty Baker; centerfielder Rick Monday; rightfielder Reggie Smith; third baseman Ron Cey; catcher Steve Yeager. All eight players in the photo would play for the 1981 World Championship Dodger team.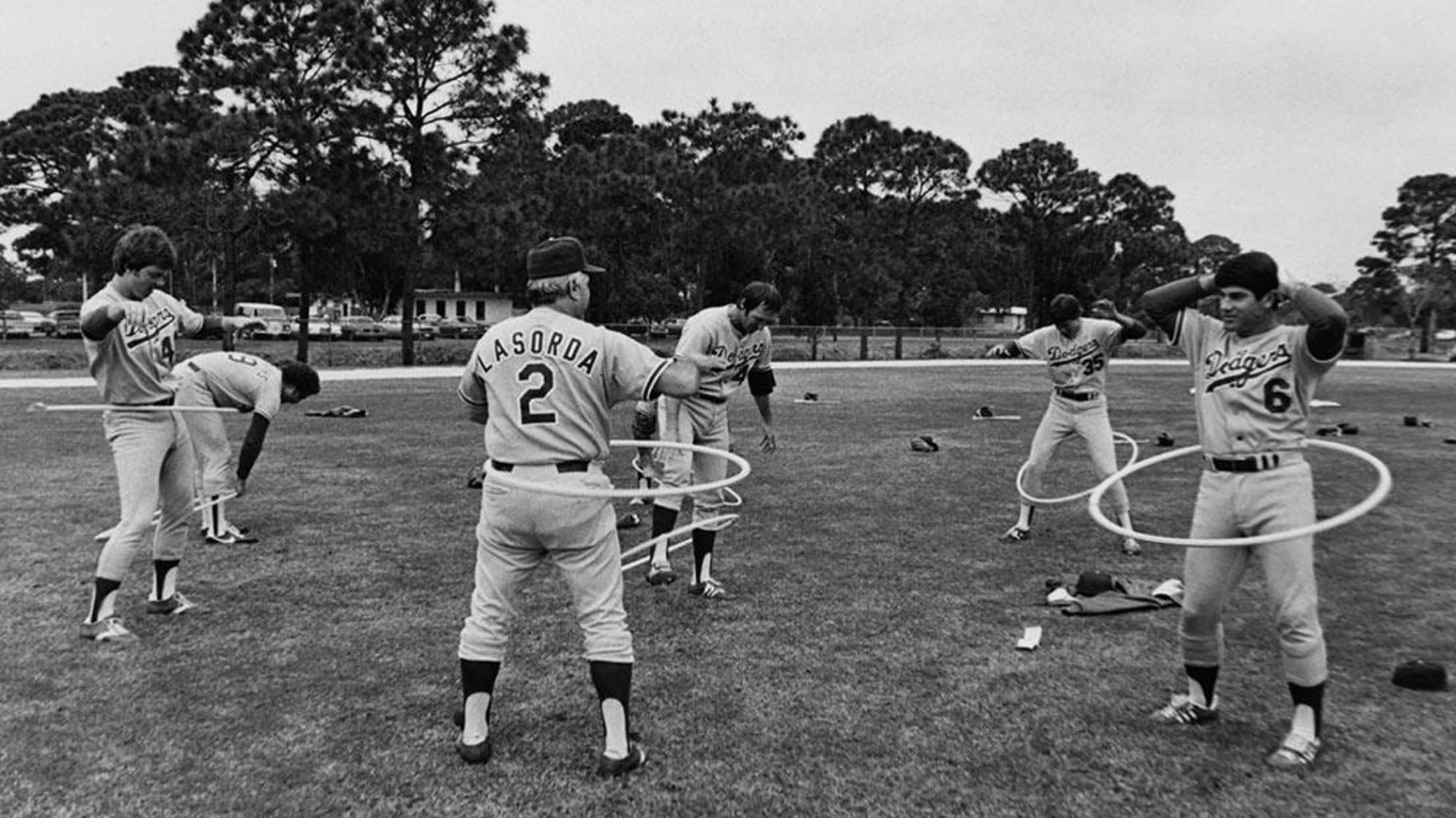 It was not all baseball drills at Dodgertown in Spring Training as Manager Tom Lasorda uses a hula hoop instead of calisthenics to get his players loose. From L-R are Pitcher Rick Sutcliffe; Unidentified; Pitcher Charlie Hough; Pitcher Bob Welch; First baseman Steve Garvey.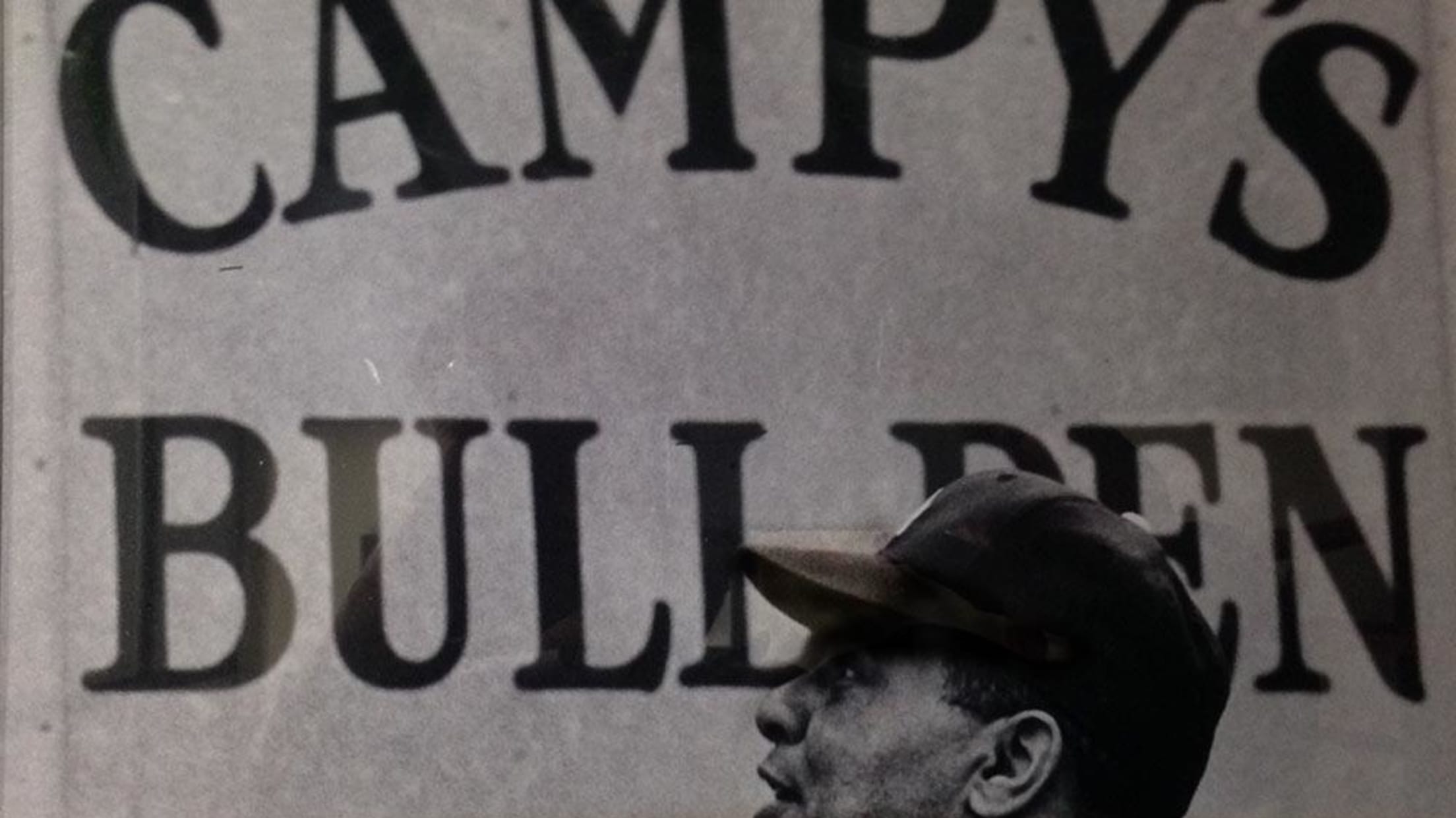 Dodger catching great Roy Campanella is photographed at the area known as "Campy's Bullpen" on the Dodgertown base. After a long day of Spring Training and then dinner in Dodgertown, Campanella would take a seat near the Dodgertown kitchen and enjoyed talking to the chefs and everyone who would come by. Dodger President Walter O'Malley decreed the corner would be named "Campy's Bullpen" and the name is still there today.
Life at Historic Dodgertown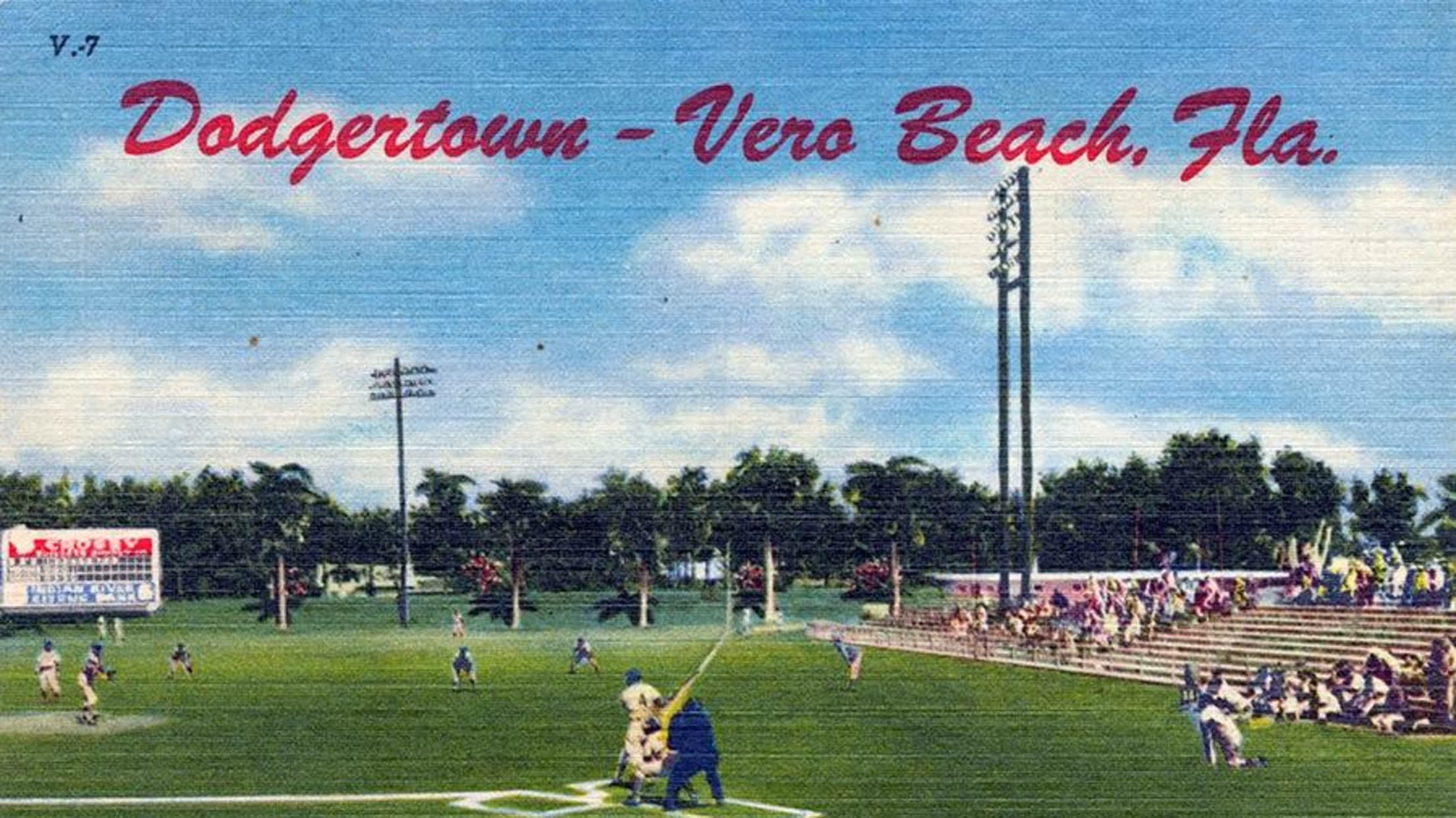 Dodgertown silk postcard with Duke Snider at the plate at Holman Stadium, circa 1950's.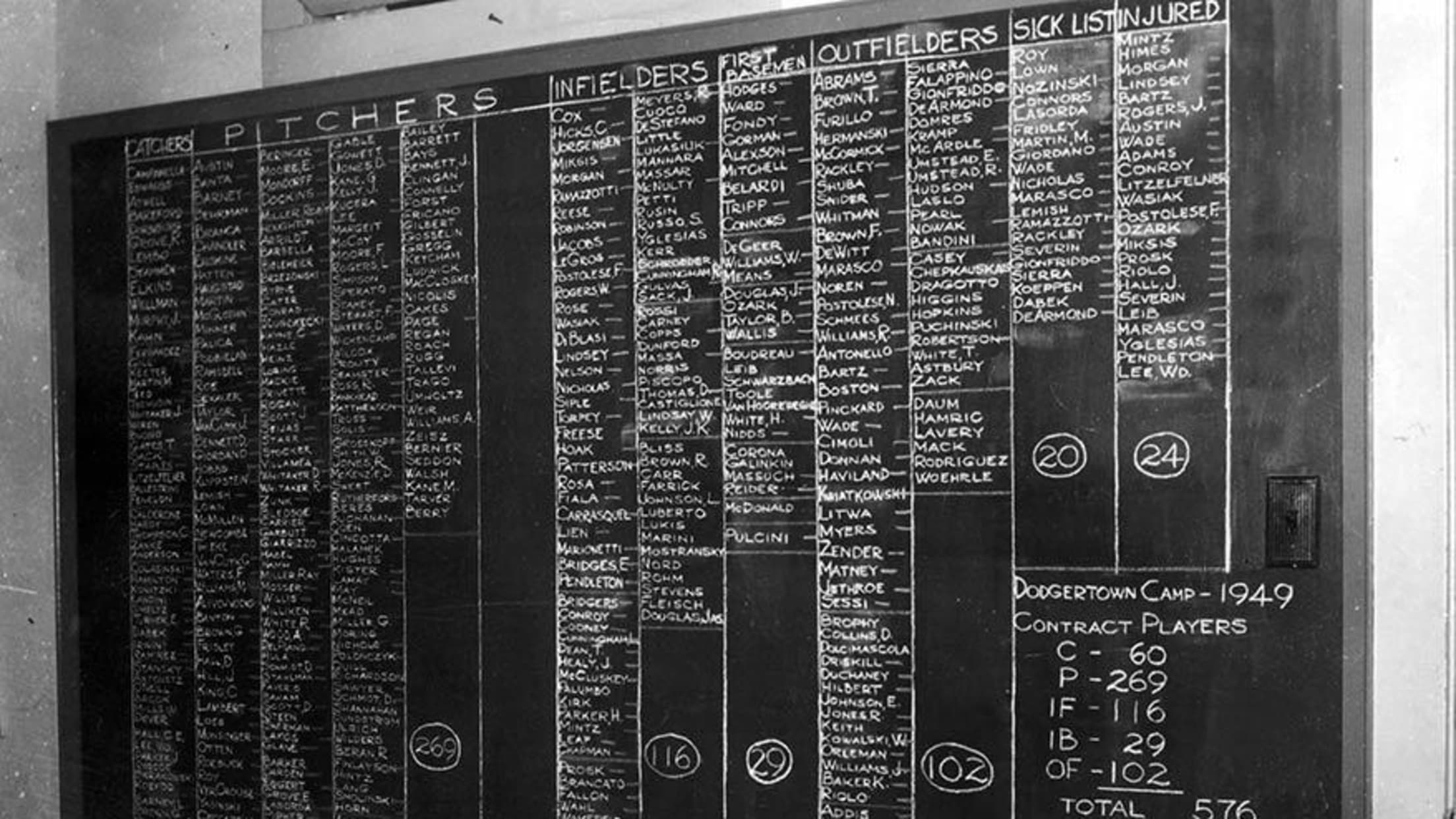 A chalkboard at Dodgertown in 1949 states there were 620 players in camp that included 269 pitchers and 60 catchers. Those players were there for Spring Training to be selected for one of the Dodgers' 24 1949 minor league clubs.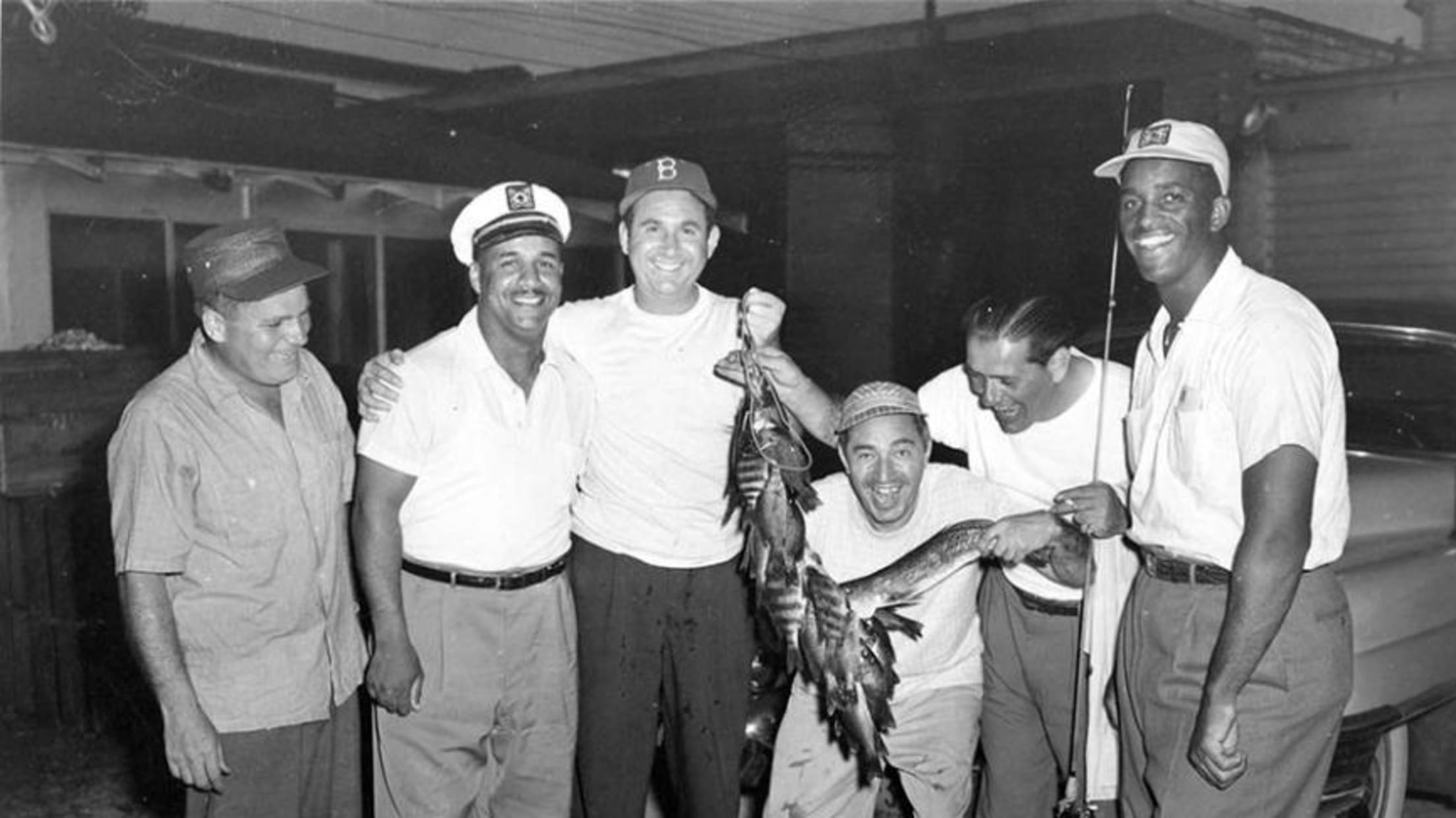 (L-R) Unidentified; Roy Campanella; photographer Herb Scharfman; photographer Barney Stein; Unidentified; Joe Black. A group of fishermen must have had a good day fishing at Dodgertown as Dodger players Roy Campanella and Joe Black see the day's catch held by legendary photographers Scharfman and Stein.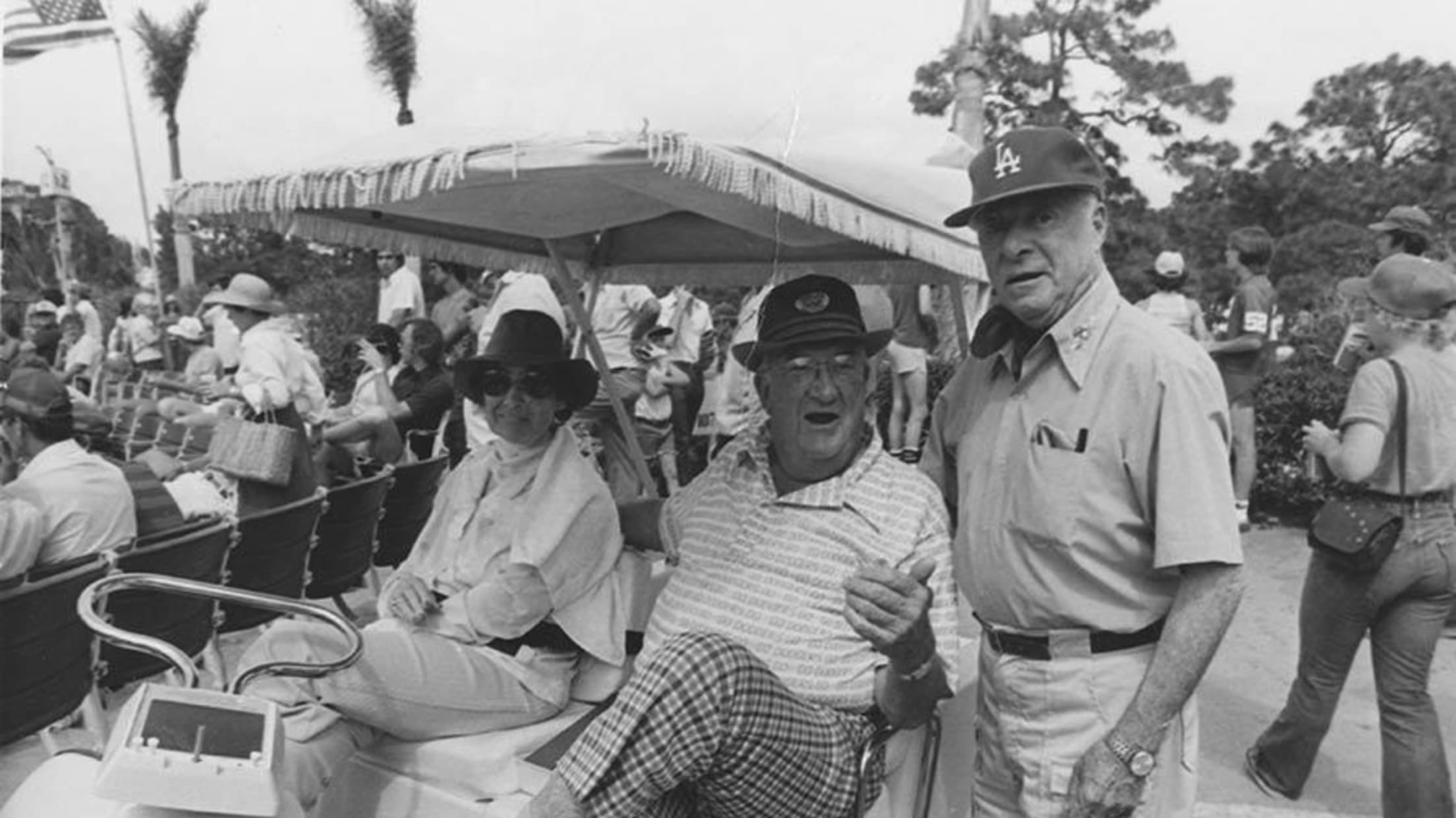 (L-R) Kay O'Malley; Walter O'Malley; George Jessel. Actor and comedian George Jessel, "The Toastmaster General" is with Kay and Walter O'Malley as they watch a Dodger Spring Training game at Holman Stadium. The O'Malleys often would watch the game from a golf cart at the top of the stadium seating area.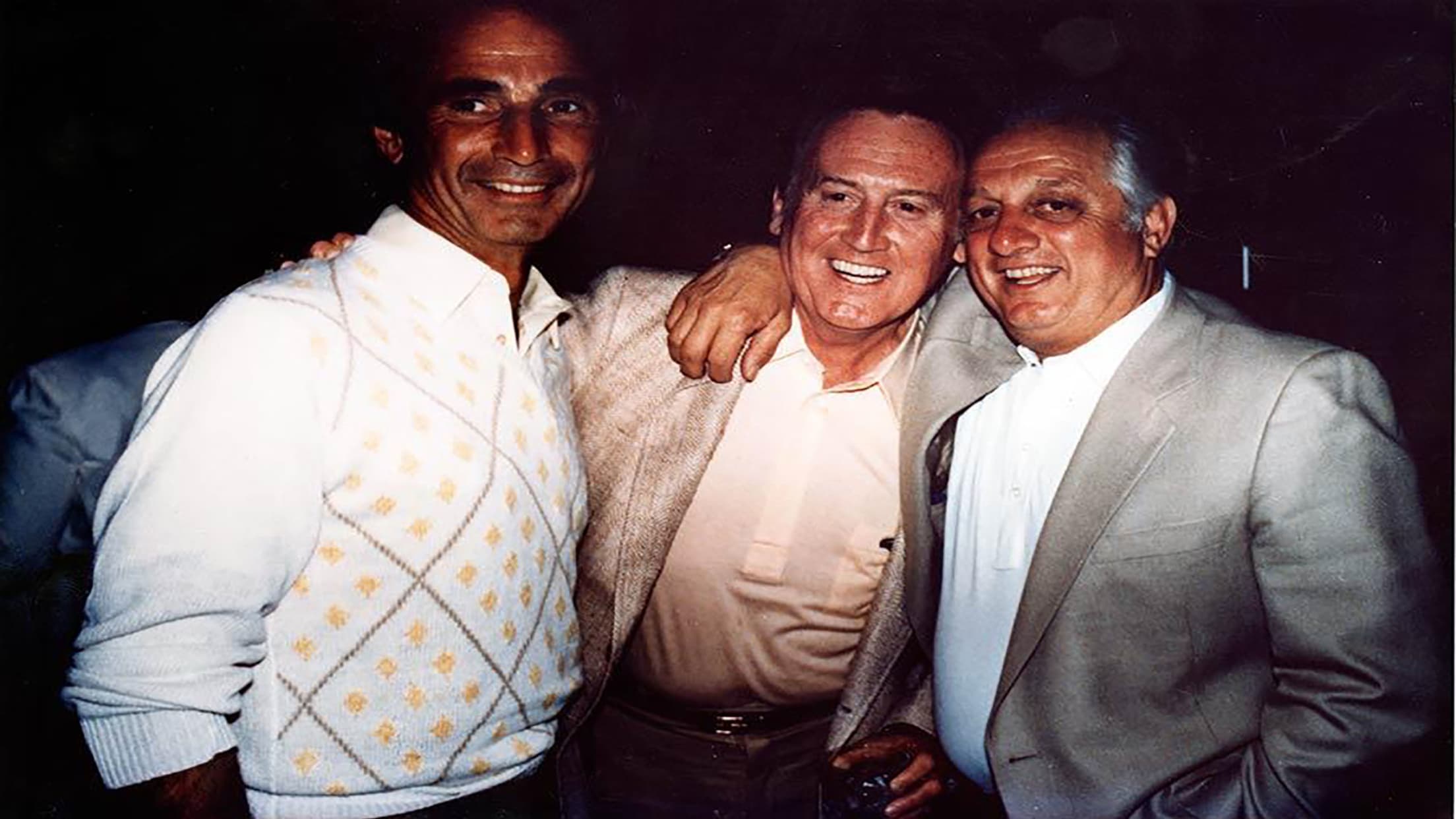 (L-R) Sandy Koufax; Vin Scully; Tom Lasorda. These three Dodgers are all in the National Baseball Hall of Fame: Koufax for being baseball's greatest pitcher, Scully for being sports' greatest broadcaster and a manager who wins World Championships in 1981 and 1988.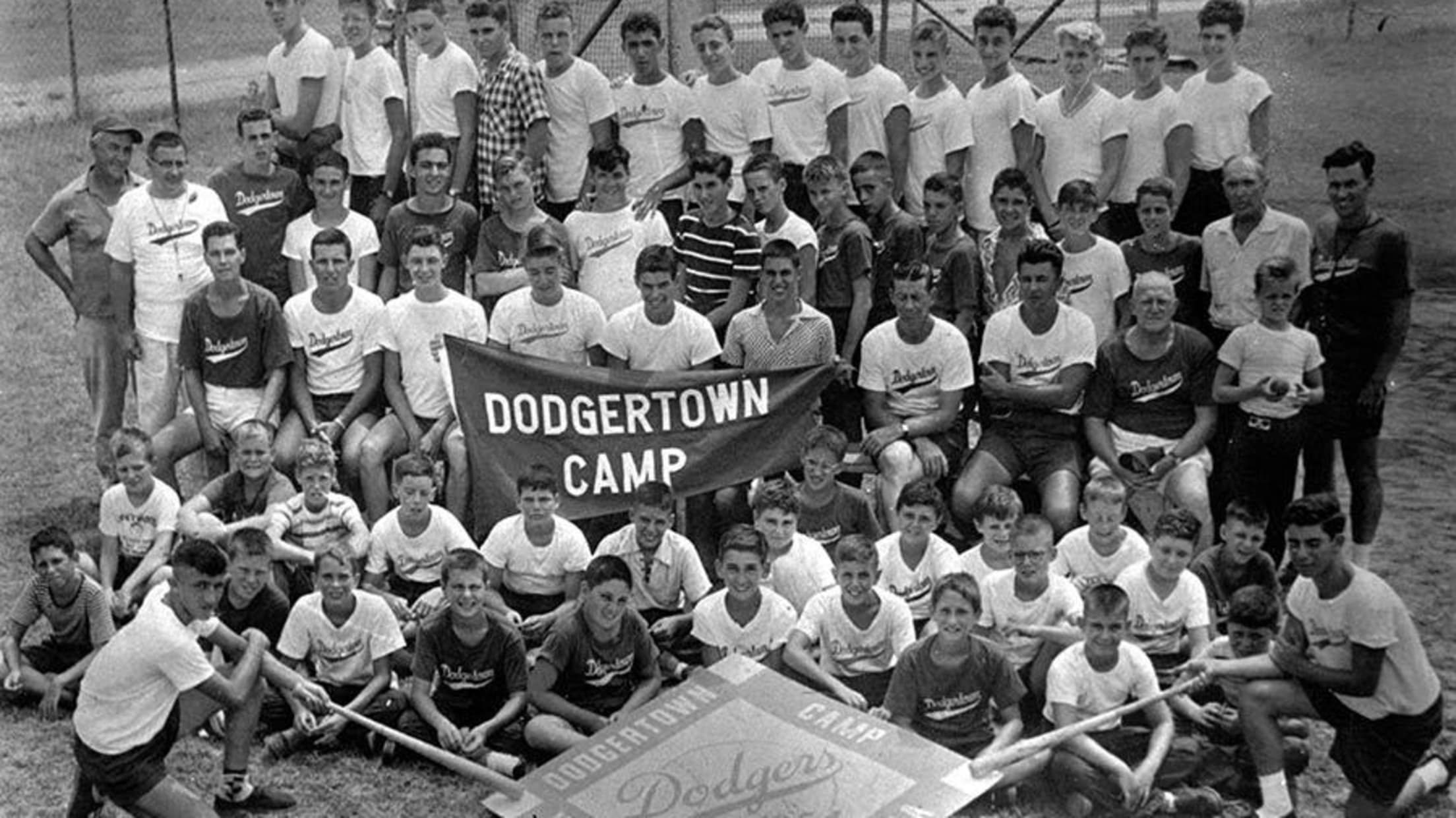 Members of the Dodgertown Camp for Boys pose for their camp picture at Dodgertown in 1954, the first year of the annual summer camp. Camp counselor Peter O'Malley is in the third row, fourth person from the left.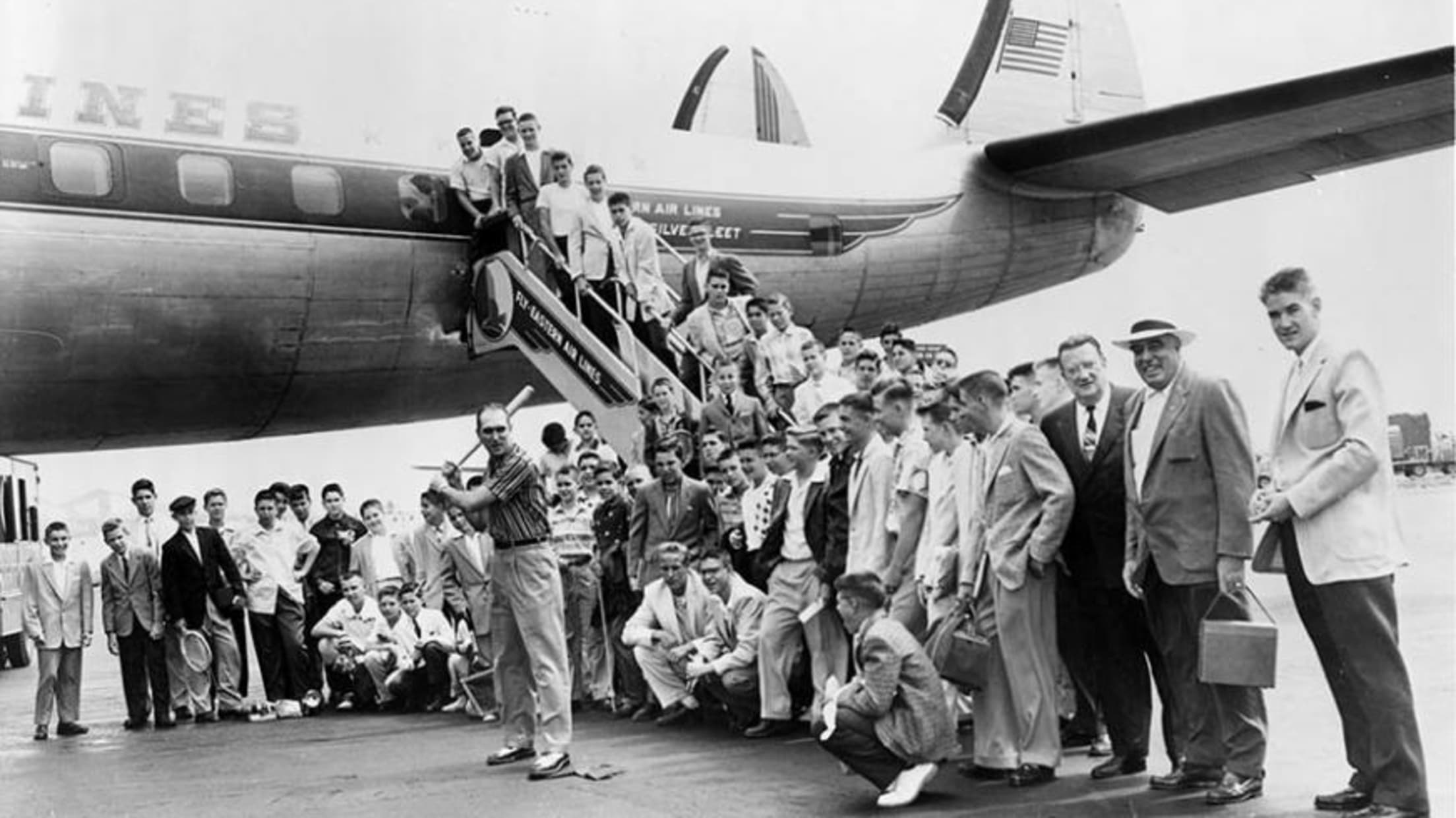 Carl Erskine demonstrates a batting stance for the arrival of this year's group for the Dodgertown Camp for Boys. Erskine was the starting pitcher for the first game at Holman Stadium in 1953 and the Los Angeles Dodgers' first game at the Coliseum in 1958. The Dodgertown Camp for Boys began in 1954 to provide a summer camp atmosphere at Dodgertown and ran until 1962. Also in the photo are Walter O'Malley, third from left; Bud Holman, second from left and Peter O'Malley, far right.
The 1967 Spring Training season has the familiar Vero Beach sign announcing the city as the "Winter Home of the Los Angeles Dodgers and affiliated teams." The sign was a perennial fixture in Vero Beach to welcome the Dodger players, staff, and fans to Vero Beach for another Spring Training. (Photo by Nobuhisa Ikuhara, brother of Dodger official Ike Ikuhara).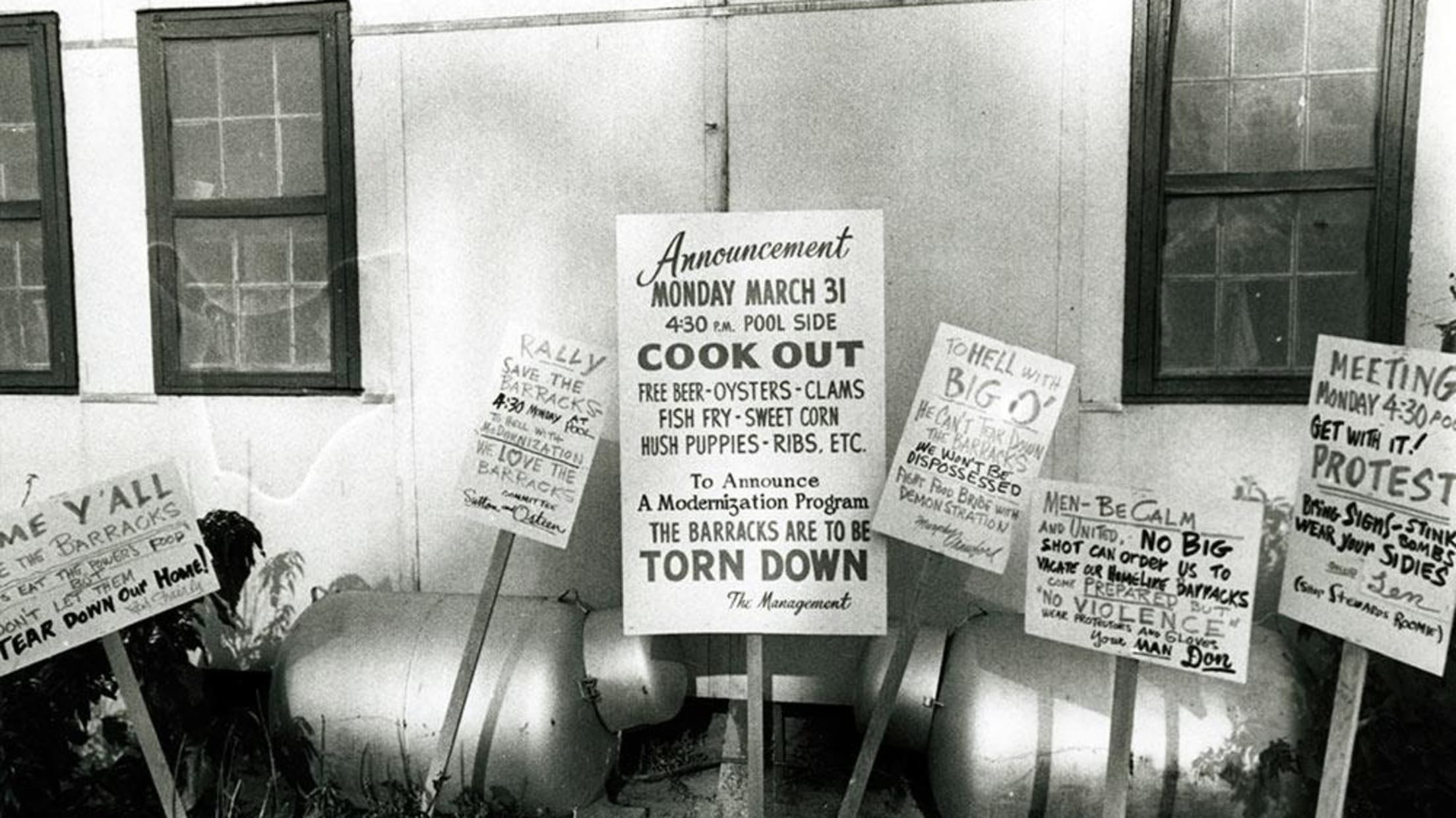 As a practical joke, protest signs are made concerning the demolition of the Naval barracks at Dodgertown. The barracks served as the Spartan rooming quarters for hundreds of players and staff on the Spring Training base. By the early 1970s, the Dodgers would begin a modernization program for sleeping arrangements and a mock protest was staged supporting the old dormitories.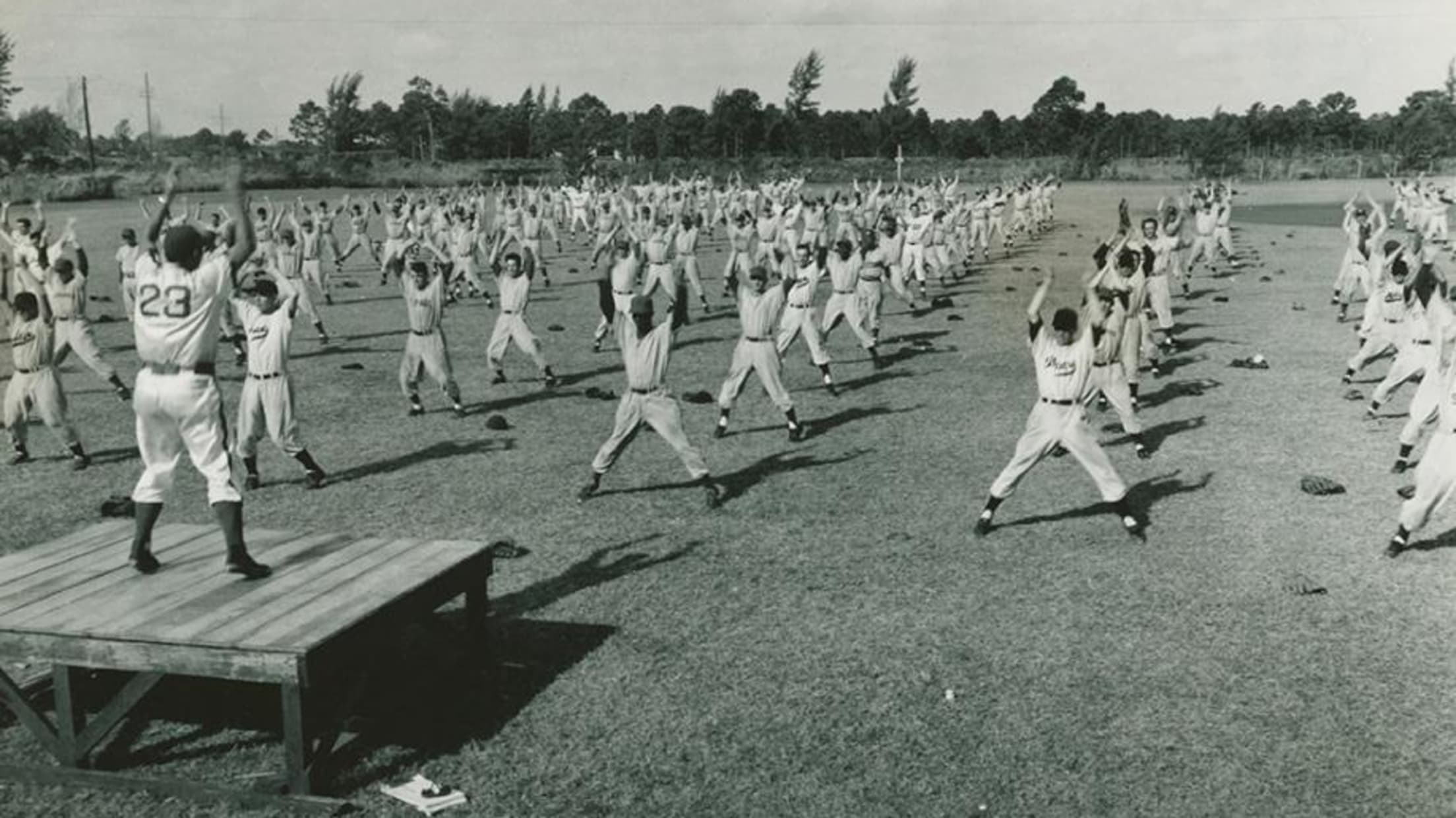 Hundreds of players loosen up for the Spring Training day's workouts at Dodgertown, Vero Beach, Florida. Dodger Scouting Director Al Campanis demonstrated the exercise on a platform to be seen by everyone as these players warmed up at what is still known as Field No. 1.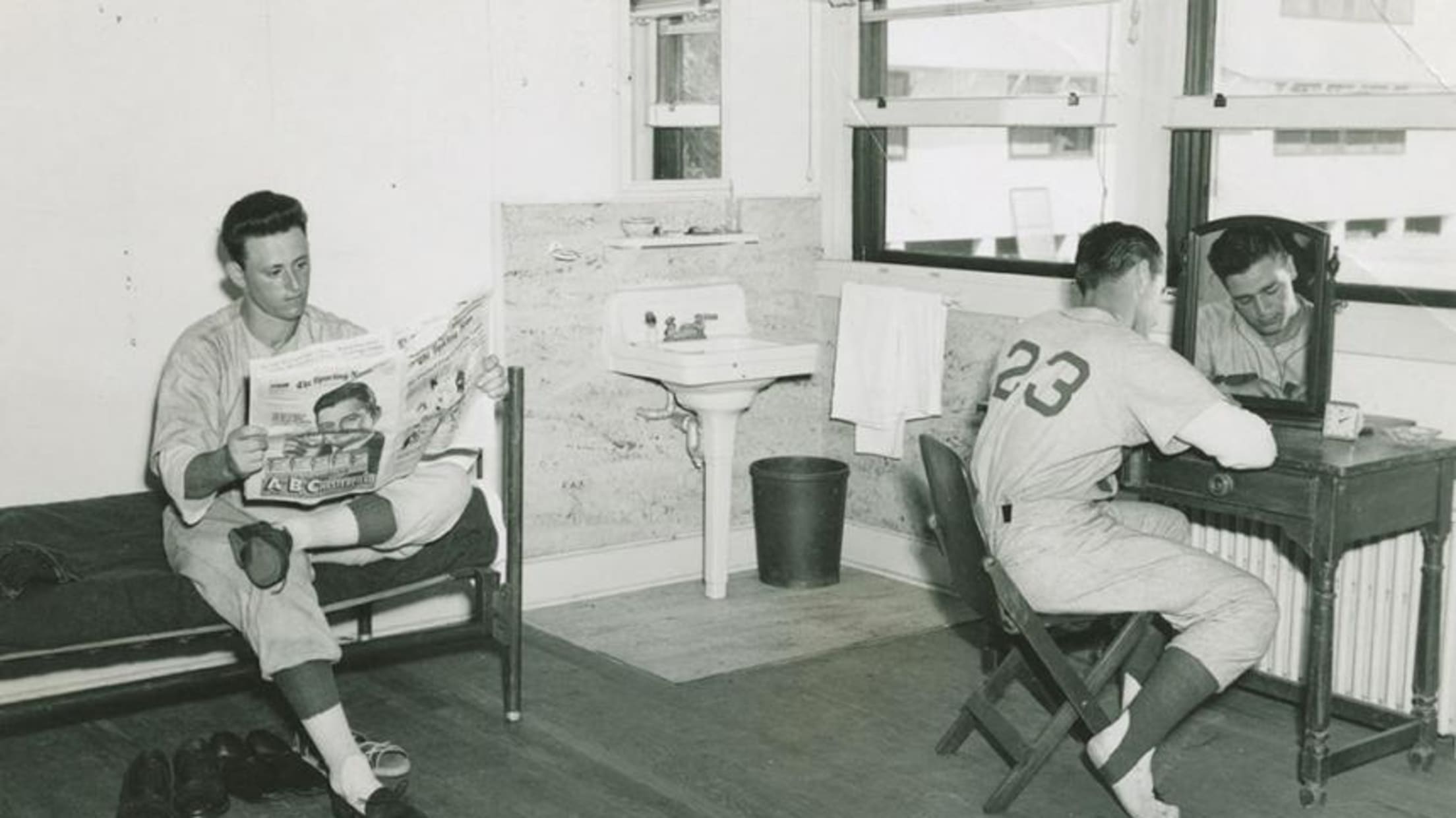 An example of a typical room of the former Naval barracks that served as lodging for players on the Dodgertown Spring Training base. The barracks that once served military personnel in World War II supplied the basic room needs for the hundreds of players that prepared for the upcoming baseball season.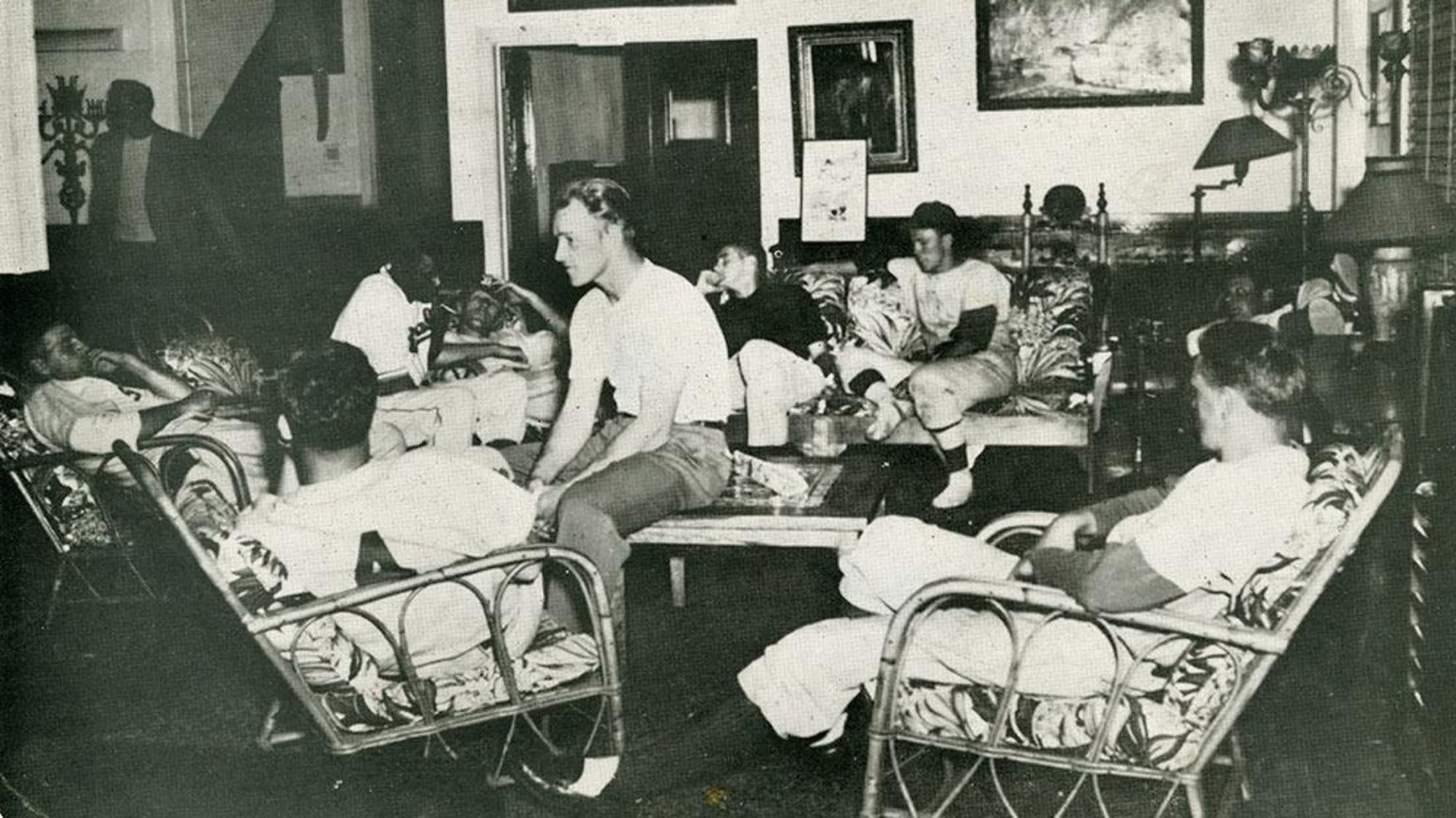 Dodger minor league players gather in the lounge to socialize and unwind from a day of workouts and drills in Dodgertown in preparation for the baseball season.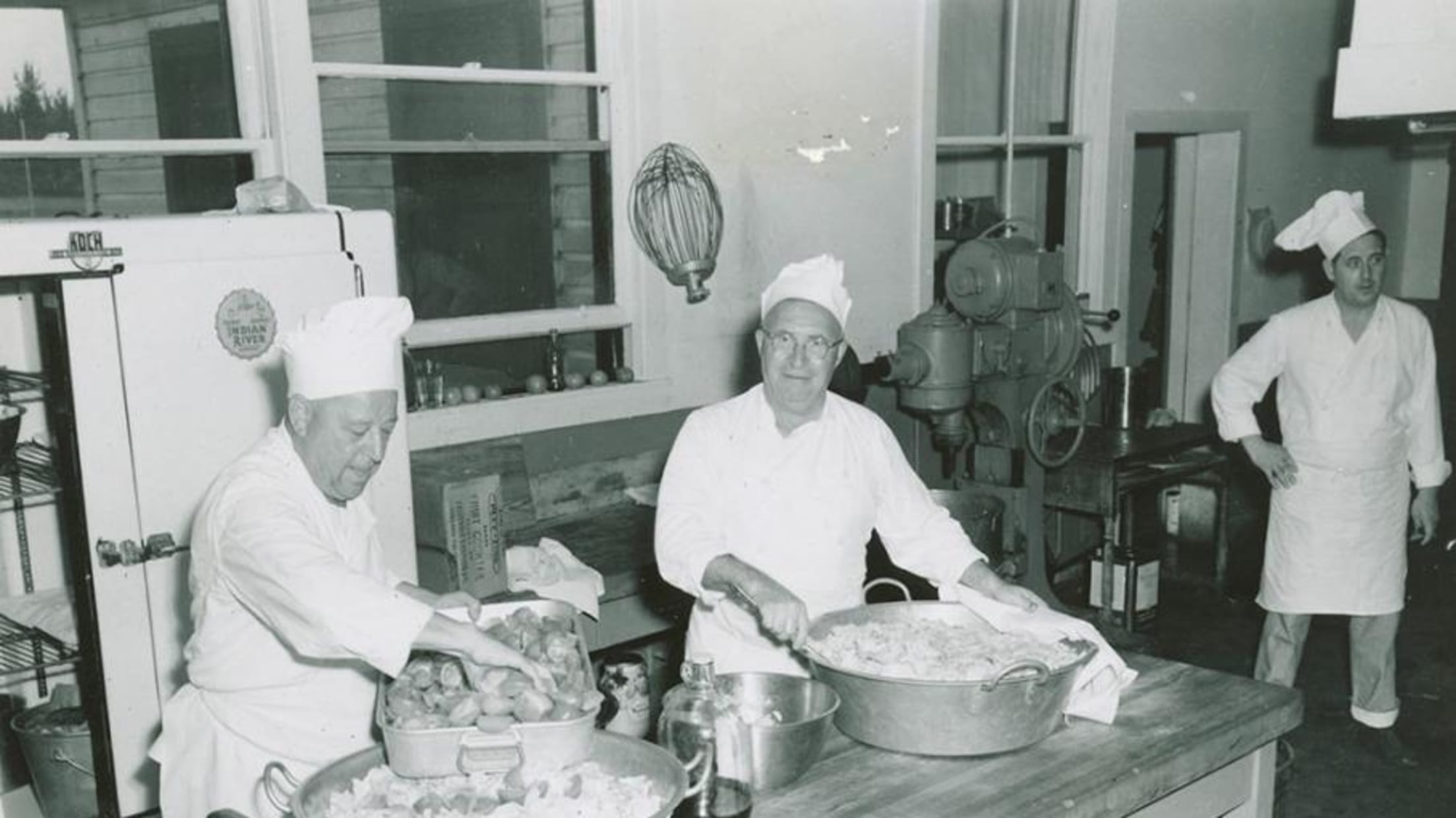 Breakfast, lunch, and dinner were all prepared in the kitchens on the Dodgertown base for the hundreds of players and staff as they prepared for the baseball season in Spring Training.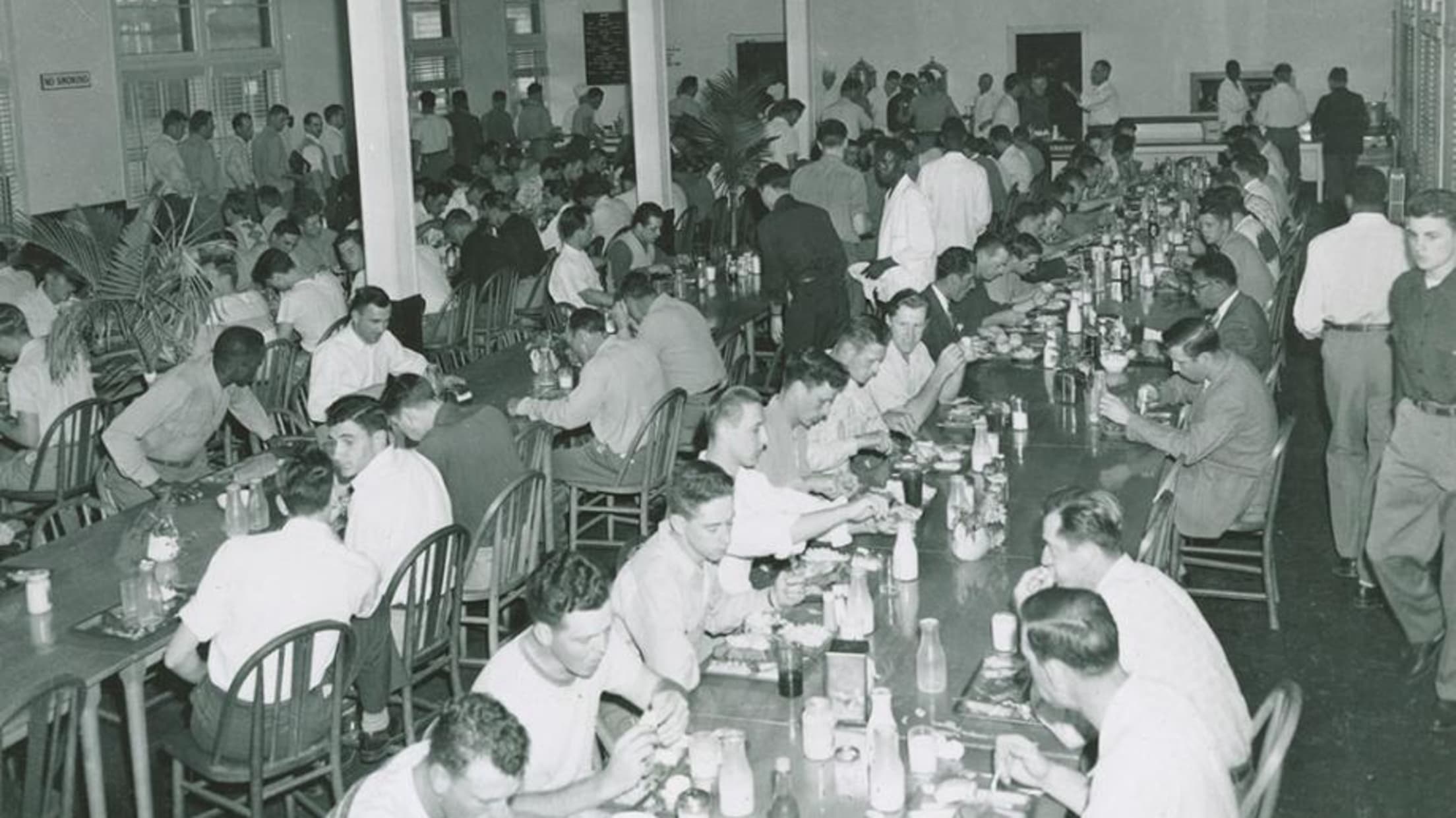 Players and staff ate breakfast, lunch and dinner together in the Dodgertown dining room. Dodgertown opened in 1948 as the only integrated Florida Spring Training camp in baseball where players roomed and dined together as a team in the same living quarters. No other Florida Spring Training camp encompassed all players to live and eat together until the 1962 Spring Training season.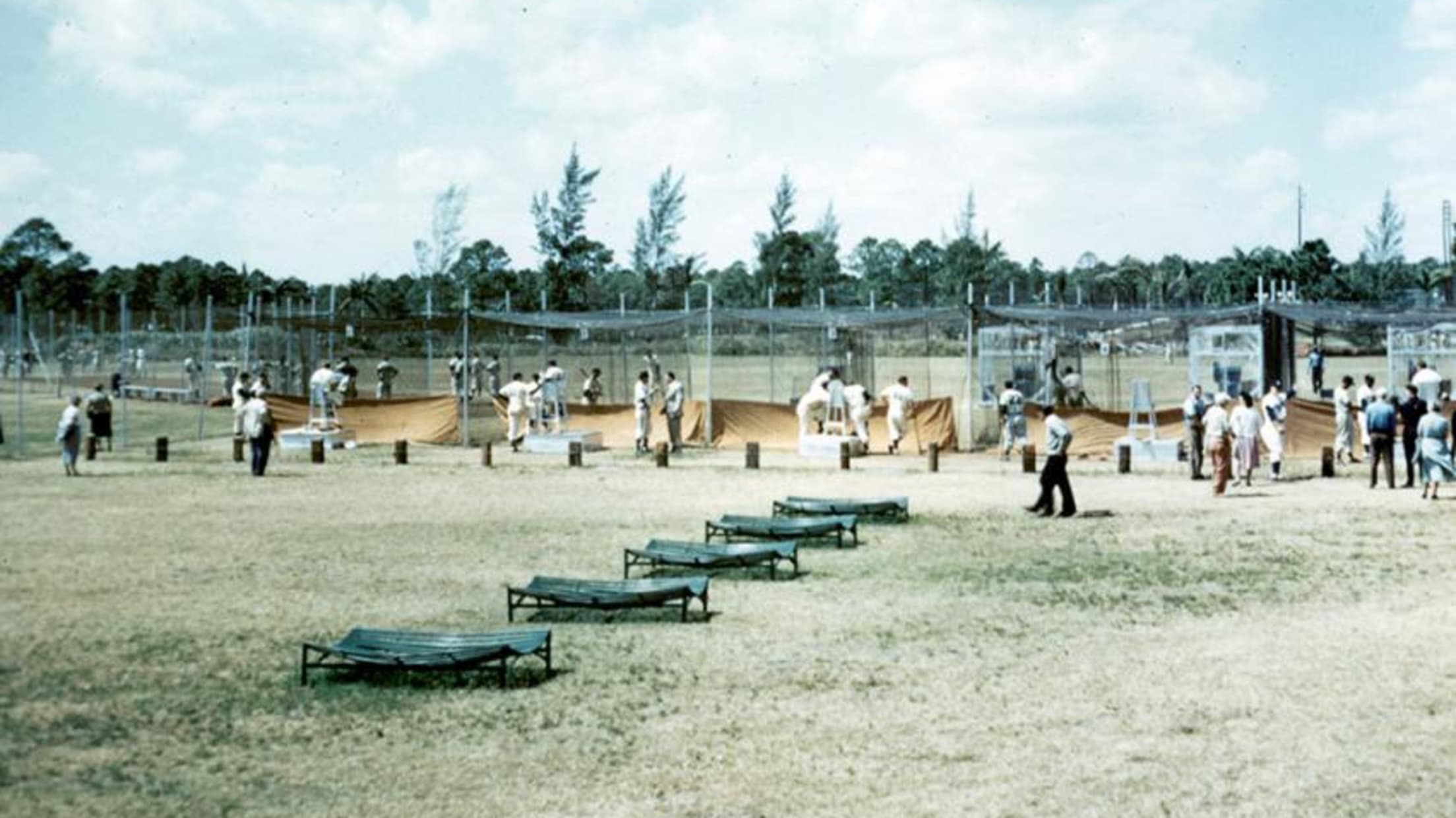 Dodger players take batting practice under Florida skies as they face "Iron Mike" pitching machines. The machines could deliver the pitches at a speed in a close approximation to a human pitcher. A player could get as much hitting as he wanted in Spring Training without wearing out live pitching arms.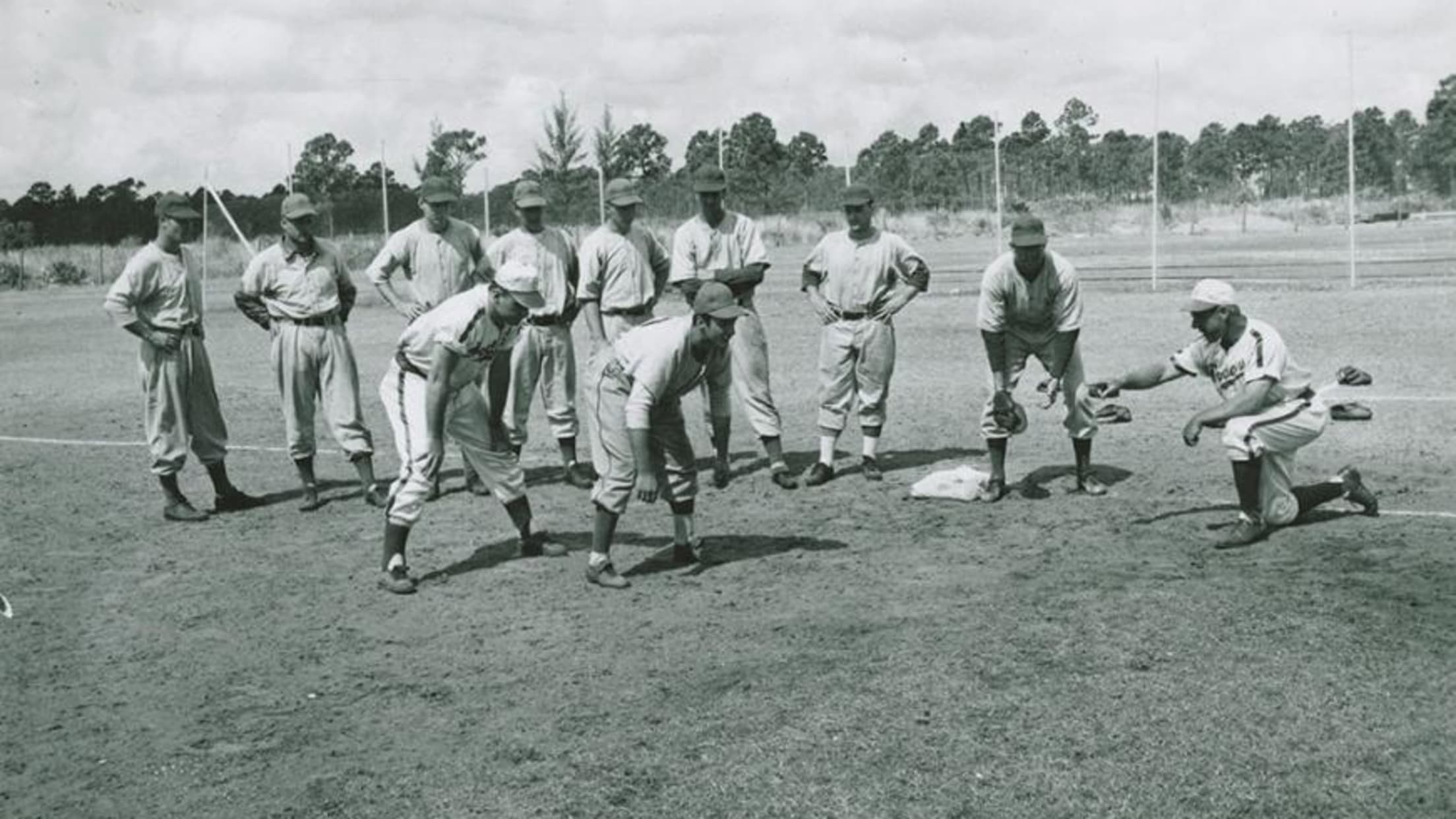 A Dodger team instructor provides guidance for base runners to get "leads" (taking a lead) off first base and "breaks" (the crossover first step) in attempting to steal a base. Two players were used at the same time in the drill to provide more instruction to players and simulate game action as nearly as possible.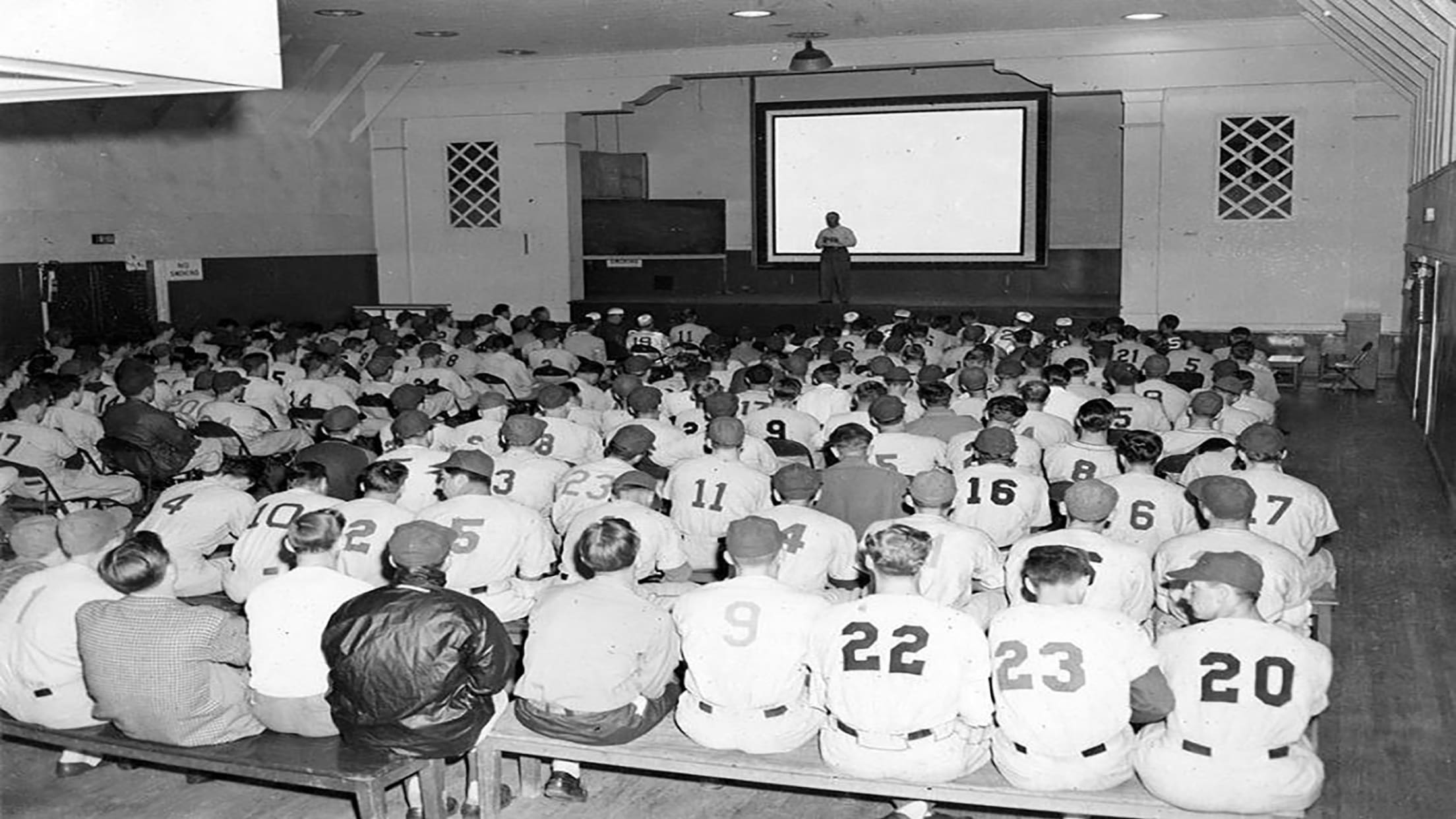 Not all the instruction could be done on the playing fields at Dodgertown. Players regularly gathered for lectures by Dodger instructors on all aspects of the game in pitching, hitting, fielding, throwing, and base running. If inclement weather prevented a workout, the day would not be wasted and the players could receive instruction in the playing rules or any part of the game where they chose to ask questions.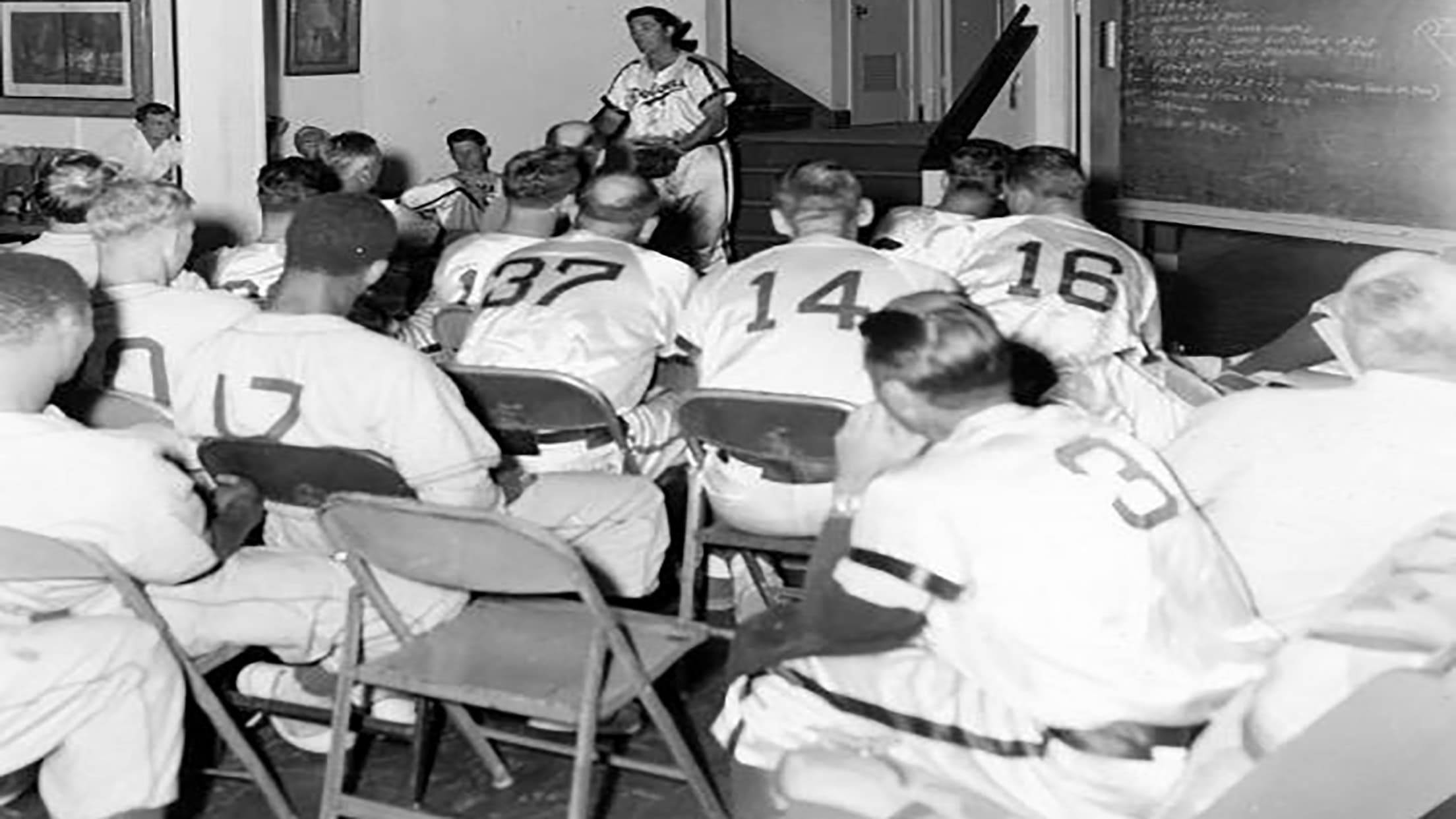 Dodger instructor Al Campanis, later to be scouting director and general manager of the Dodgers, conducts an infield lecture in the gym at Dodgertown. On the chalkboard were the topics he covered in the discussion that included knowledge of the hitter, the infielder's stance, anticipation, and watching the bat of the hitter.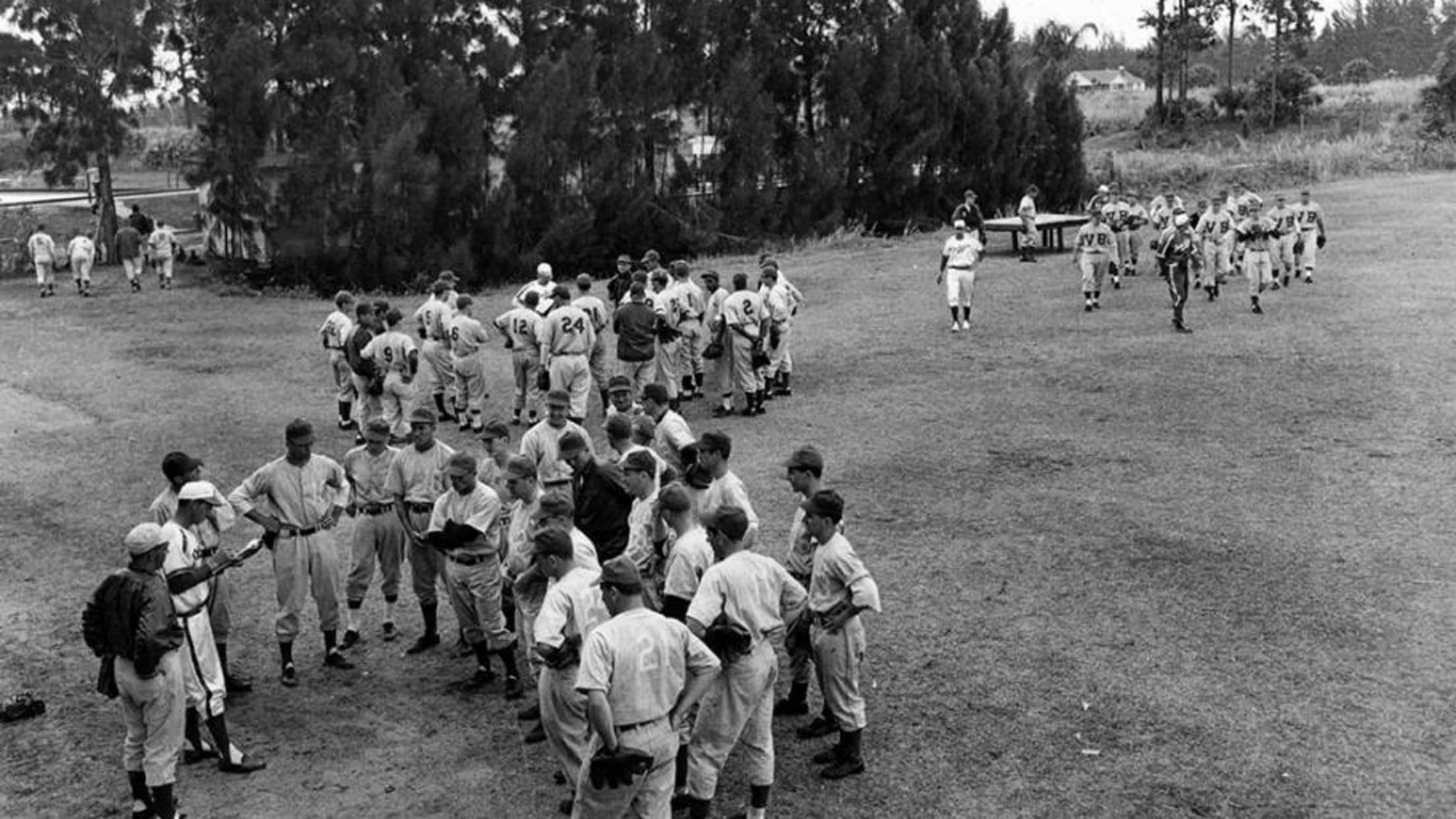 Players gather in small groups on Field No. 1 at Dodgertown as part of the day's schedule and drills. To maximize learning, the players were assigned to different areas and instructors to receive specialized knowledge in all areas of the game. On the far right is the entrance to the area of the Dodgertown swimming pool.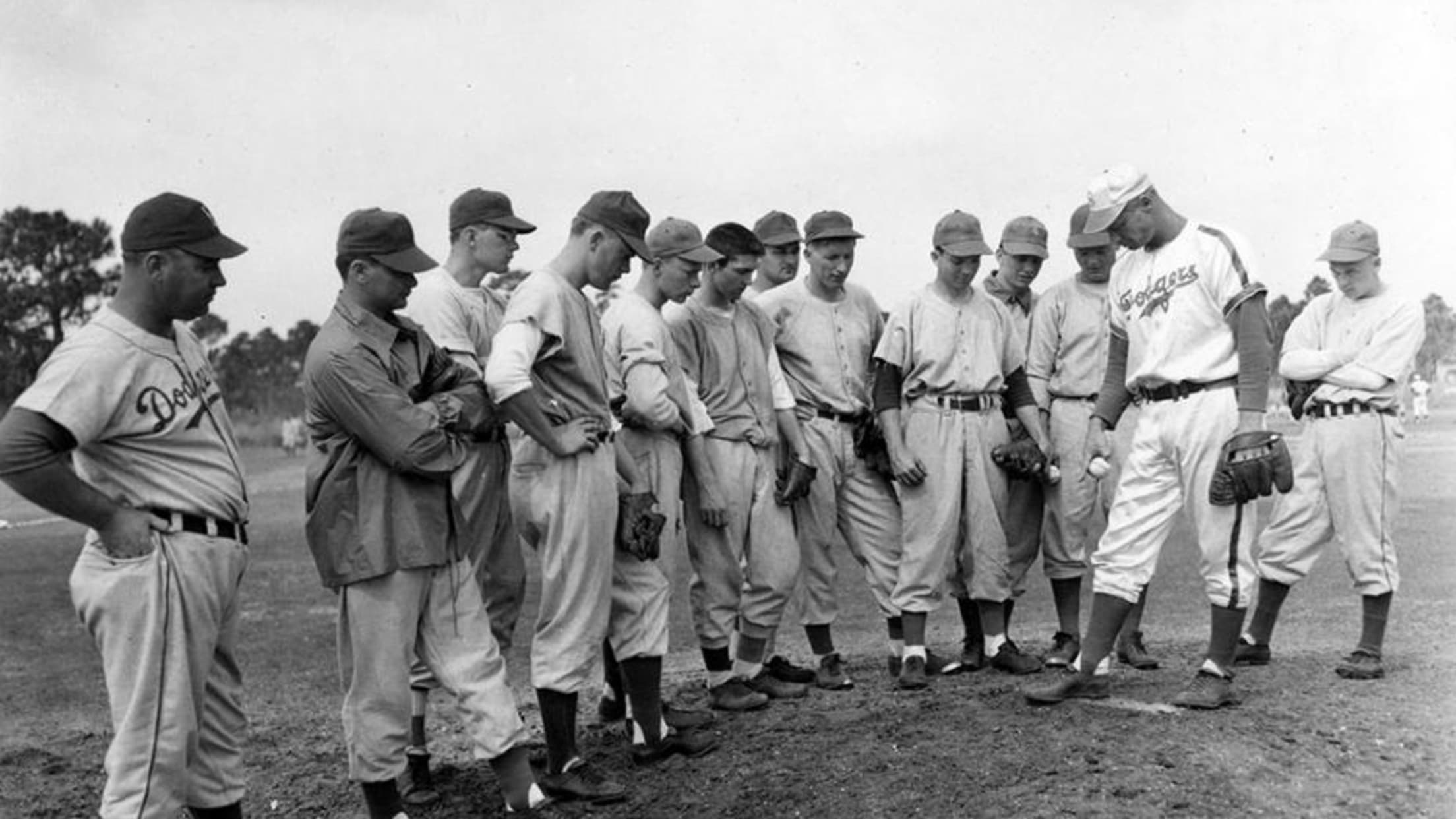 Future Hall of Fame catcher Roy Campanella (standing far left) gathers with young Dodger pitchers and a Dodger pitching instructor as they review the proper placement of a pitcher's foot on the rubber. Campanella knew very well the value of the relationship of a catcher and a pitcher. After his playing career ended, Campanella was a key mentor to develop Dodger catchers such as John Roseboro, Steve Yeager, Mike Scioscia, and Mike Piazza.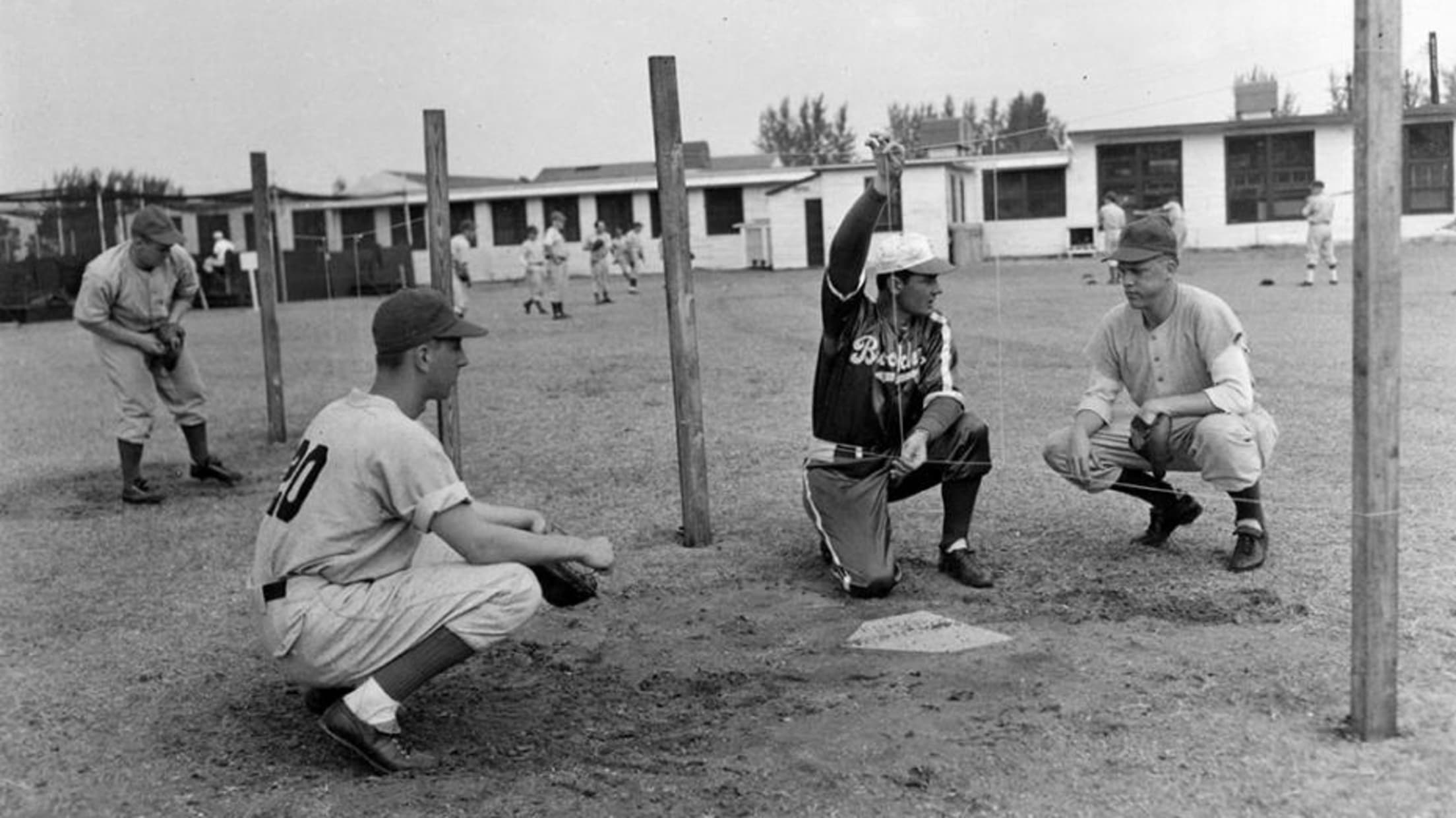 A Dodger minor league pitcher has the concept of the "pitching strings" area explained to him by a Dodger instructor. The strings area at Dodgertown allowed as many as six pitchers to warm up at the same time and the idea was later adopted throughout baseball Spring Training sites. The pitcher warming up could see a physical dimension to a hitter's strike zone. The string strike zone was sturdy enough to present the strike zone, but had sufficient flexibility that a pitch would brush by the strings and allow the catcher to receive the pitch.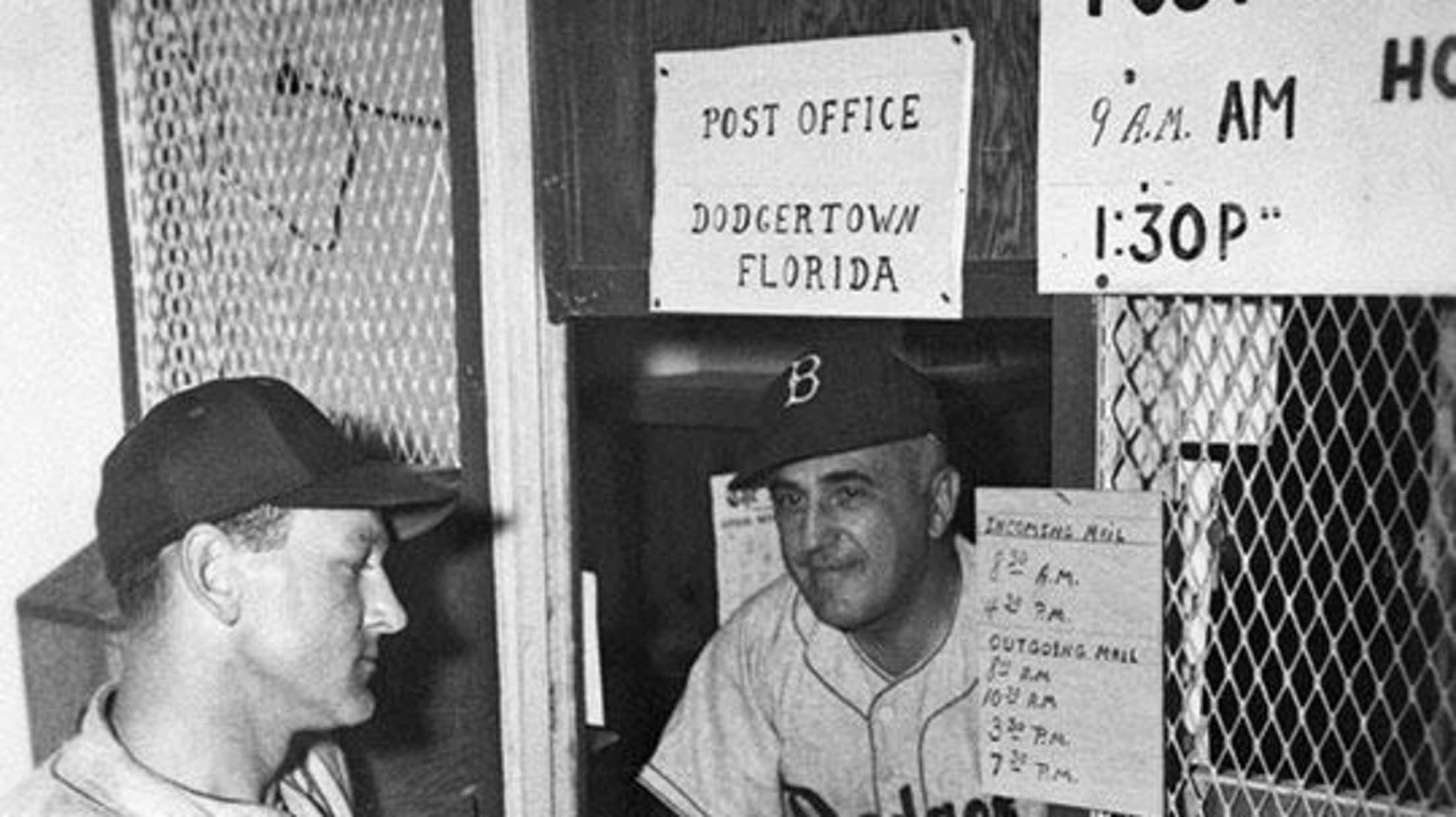 Dodger catcher Bruce Edwards lays his catcher's glove to the side in order to receive mail at the Dodgertown "Post Office." Hundreds of players and staff could send and receive mail in Spring Training through Dodgertown and the location had its own Dodgertown postmark.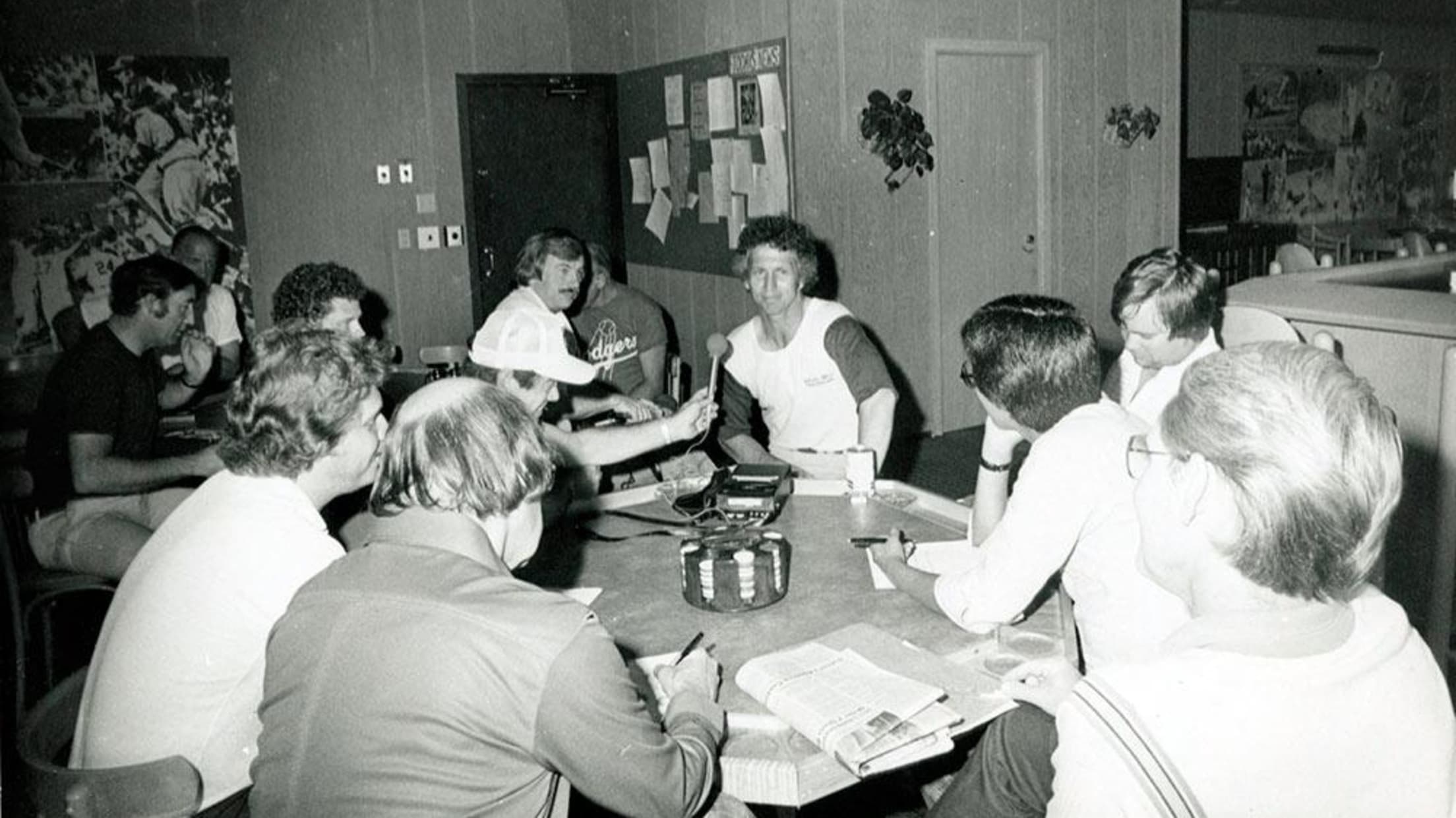 Don Sutton, the all-time winningest Dodger pitcher in the team's history, meets with the print and electronic media in the Dodgertown lounge in 1980. Sutton won more games (233), pitched more shutouts (52), started more games (533), struck out more hitters (2,696) and pitched more innings (3,814) than any Dodger ever.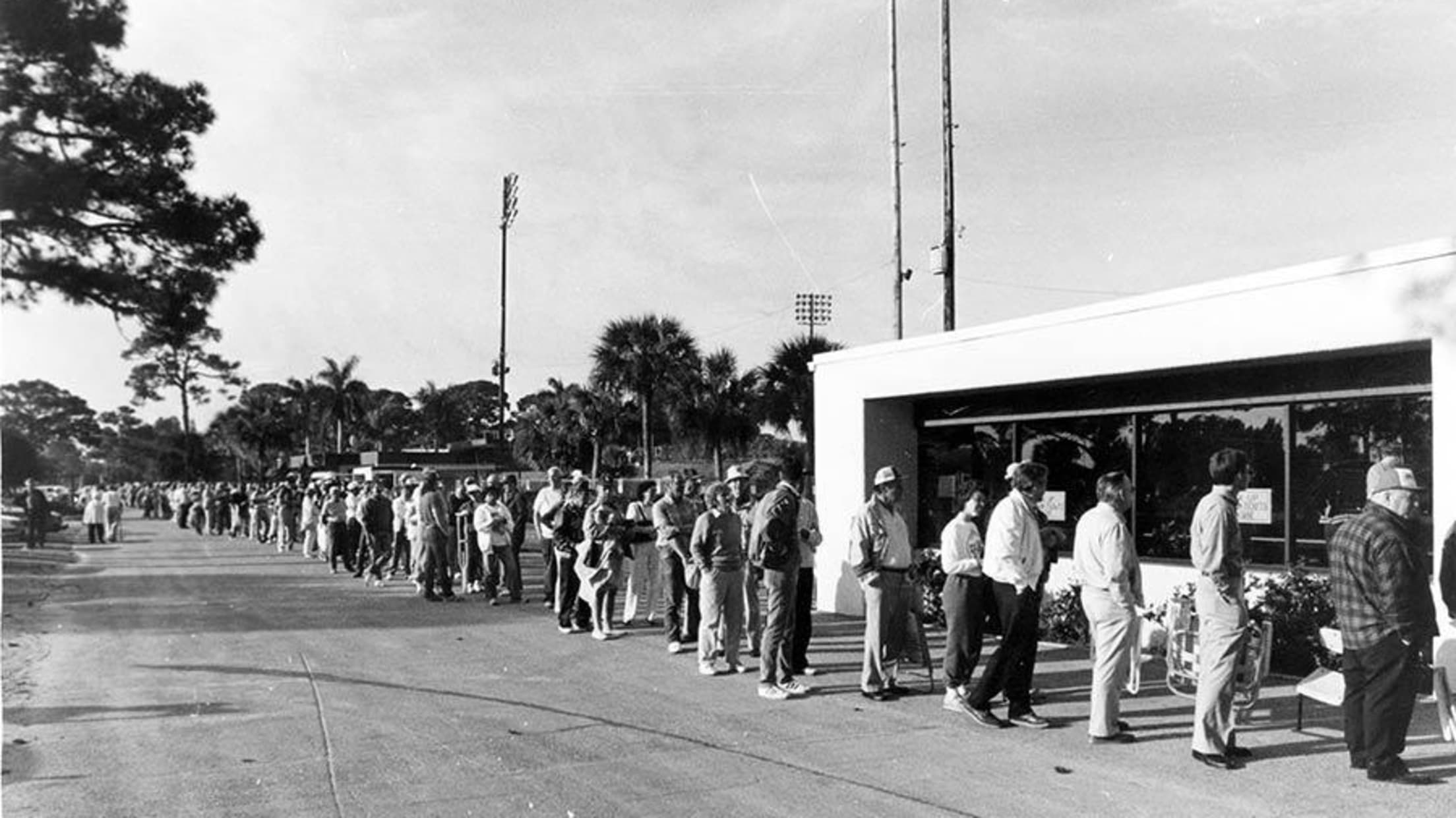 Dodger fans look forward to purchasing tickets for the Spring Training season at Holman Stadium.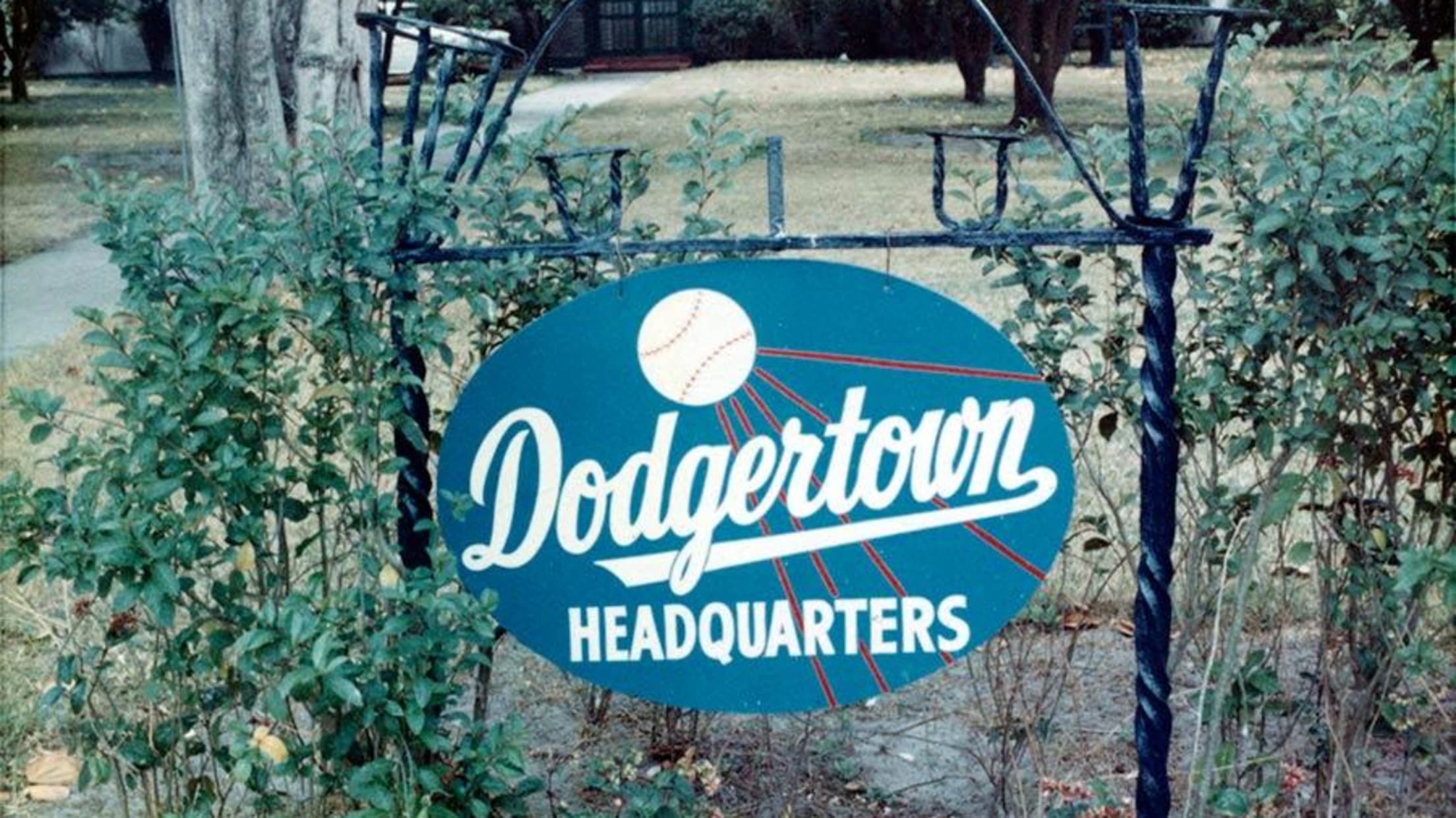 The Dodgertown sign in front of the administration building in 1968.