Rockies Players Weekend nicknames explained
Colorado players offer stories behind monikers, tribute patches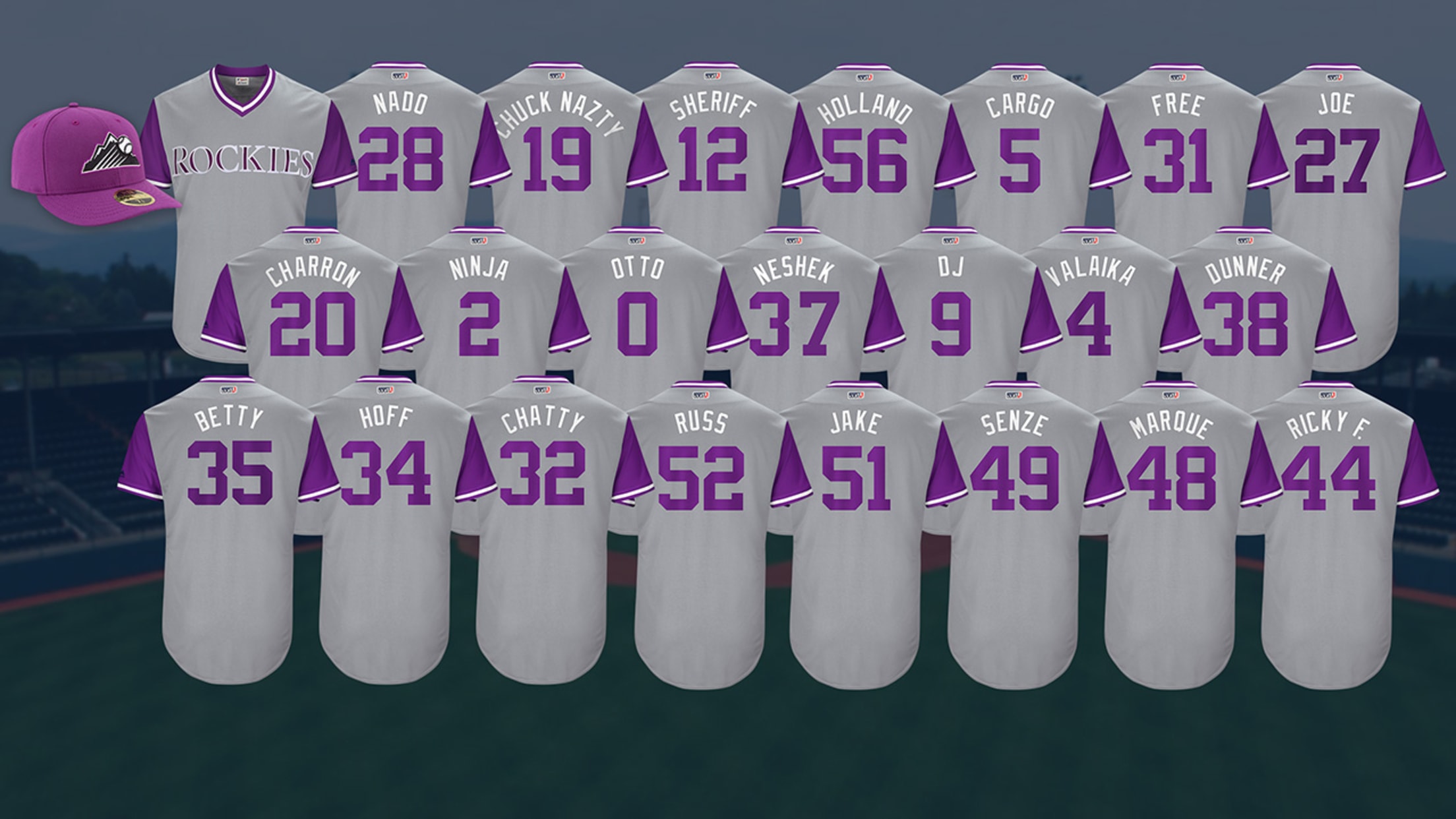 KANSAS CITY -- The jerseys looked like the first ones many of the Rockies received when they were children -- gray pullovers with sleeves in an bright shade of purple and a cool name on the back. Several players looked at them curiously, then smiled and kind of cradled them
KANSAS CITY -- The jerseys looked like the first ones many of the Rockies received when they were children -- gray pullovers with sleeves in an bright shade of purple and a cool name on the back. Several players looked at them curiously, then smiled and kind of cradled them the way a proud young player would.
MLB's inaugural Players Weekend begins Friday, and for the Rockies, it's a three-game set against the Braves at new Sun Trust Park. Players will wear the uniforms with nicknames of their choosing the back -- some have cool stories behind them, others are either derivatives of a last or first name and some just have the player's last name. Also, on the left sleeve is a patch on which the player can honor a person or people who have helped along the way.
Manager Bud Black: Harry
It's his given first name, but how did that come about? "As far back as I can remember, I was Bud," Black said. "Remember the show, 'Father Knows Best'? There was a character on the show by the name of Bud Anderson. My sister, eight years my senior, loved the show, liked the character. I was named after my father and his father, so Harry was a family name. She didn't want to call her little brother 'Harry.' She wanted to call him Bud. Growing up, in school and on my teams, they called me 'Bud.'"
Tribute patch: Mom & Dad -- "My mom and dad, Helen and Harry, who were Canadian, were always supportive," Black said. "My father was an ex-professional athlete, a hockey player for the Los Angeles Monarchs and Hollywood Wolves [of the Western Hockey League, a powerful Minor League circuit before the NHL expanded west in the 1960s]. My dad never pushed me."
• Get Rockies Players Weekend gear
Charlie Blackmon: Chuck Nazty
Blackmon's Twitter handle was an afterthought. Now it's an image. "I spent way too little time thinking about it. ... I spent maybe five seconds thinking about it. I was like, 'Just call me Chuck Nasty with a Z.' Had I known it would have followed me around like this, I probably would have put more thought into it."
Tribute patch: "I wrote my mom and dad on there. Super supportive all throughout, still are. They are my biggest fans and I wouldn't be here without them."
Trevor Story: "Joe"
Story went to Spring Training in 2016 trying to make a name for himself, literally. "I really don't know where it came from," Story said with a chuckle. "It's something that they called me in Spring Training, and it kind of stuck."
Tribute patch:Tyler -- Story's older brother, Tyler, played baseball at University of Texas. "He's the one who kind of pushed me to be better," Story said. "Just growing up with him, competing, I think he had a lot to do with me becoming a good baseball player."
Nolan Arenado: "Nado"
Tribute patch: Arenado family -- Arenado's younger brother, Jonah, is a first baseman in the Giants' system. He says his parents, Fernando and Millie, were there to support and push: "It's always nice to have your parents there because they're going to be honest with you. ... They said things I didn't want to hear that at the end of the day helped me in the long run."
Gerardo Parra: El Yolo
The nickname honors Yolanda Apalmo, Parra's late grandmother and a beloved figure to him and to his entire neighborhood in Santa Barbara, Zulila, Venezuela. "Everybody called her, 'Yola,'" Parra said. "And we were very close. So everybody called me 'Yolo.' In my small city, everybody called me that. She cooked my family's food, cooked everything for me. And every day she was happy. That's why I loved coming there every day. I'm so happy that, here [in the U.S.], my nickname means, 'You only live once.' And she was happy every day. She was funny, telling stories. Everybody came to talk to her. The most beautiful thing is you'd go there and she had a most beautiful smile."
Tribute patch: Santa Barbara
Jon Gray: Gray Wolf
Gray's nickname is a case of life imitating art, in this case, a tattoo. "It's a wolf paw with Celtic design and, of course, it was perfect to put 'GRAY' in the four catchers," Gray said. "I liked the design and thought it was kind of cool. That's where it originated."
Tribute patch: God My Savior
Antonio Senzatela: Senz
Tribute patch: Dios y Mi Familia -- It translates to God and family. Senzatela said his parents supported his love for the game even though they weren't players. And his grandfather, also named Antonio Senzatela, was hands-on, even though he was a carpenter, not an athlete. "He would take me every day to some place behind the ballpark, and he'd throw to me so I could hit," Senzatela said. "He knew I was a good player and helped me a lot. He gave me the confidence. He would say, 'Hey, you need to be confident every time.'"
Carlos Gonzalez: CarGo
Tribute patch: Coquivacoa -- Gonzalez honors his Little League in Venezuela. "A lot of people had something to do with the way I play. They helped me with the process of growing up. Like I always tell people, when you play Little League, you learn more than just playing baseball. You learn about sharing, being a good human being, being next to teammates and learning the process of living with each other and being good to each other. That's one of the things I enjoy the most about playing Little League. It's one of the few Little Leagues in Venezuela that have won the Little League World Series."
Alexi Amarista: Ninja
The nickname came while Amarista was with the Padres, from teammate and catcher John Baker: "Teams don't see Amarista coming. He sneaks up on them."
Tribute patch: De Tronconal sto -- Amarista is honoring the barrio where he grew up in Venezuela.
Raimel Tapia: Fifty
As far as Tapia can tell, his nickname comes from the rapper 50 Cent: "It's what my friends call me. I don't know why, but I like to listen to a lot of his music, and my friends and I sit around and listen to music.
Tribute patch: Mi Familia y Alfonso Soriano -- Soriano, the former seven-time All-Star, is Tapia's mentor and has taught him a lot throughout his baseball career. He is a close family friend and lives near Tapia's family in the Dominican.
Adam Ottavino: Otto
Tribute patch: Brooklyn -- Many MLB players are from the South or West, but Ottavino said he had a quality baseball upbringing in New York: "That's where I learned to play ball, and it's not really one person that helped me. It was the whole community. It was good baseball. A lot of fathers and adults were engaged coaching players, getting guys really good. It was very competitive travel ball when I was younger, all around the boroughs. But Brooklyn was where we had most of the fields."
Mike Dunn: Dunner
Tribute patch: Mom and Dad -- Dunn's father coached him from age 4 until age 18 in summer ball. He credits his father for his competitive spirit and work ethic. "Once you get into the Minor Leagues and stuff like that, it's a true grind. That's one thing that I could say, is my dad taught me how to play baseball and all that, but he really taught me a good work ethic. And that's something I try to hold onto and pass on to my kids now."
Tyler Anderson: Ricky F
Anderson received his nickname from a baserunning mistake he made on Aug. 19, 2016, against the Cubs, when catcher Willson Contreras picked him off first base. The joke was he was like Hall of Famer and basestealer extraordinaire Rickey Henderson. "But Fail: Rickey Fail," Anderson said. However, he noted, "I haven't been picked off since. It's a good learning lesson."
Tribute patch: Mom, Dad & Red Rock LL (Little League)
Ian Desmond: Charron
Desmond's nickname and patch honors his stepfather, Chris Charron, who married Desmond's mother when he was 5. Desmond calls him his dad. "There's really no other time where I can use that name on the back of my jersey," said Desmond, who is participating in Minor League rehab games during the weekend as he works back from a right calf injury. "So the first time they said, 'Hey, you can put something else besides Desmond on the back of there,' this has been it."
Tribute patch: Mom, Dad, Nikki, Paige, Chris, Snappers Family, SHS Family, Caveman, Sensei, 12th Street LL
Mark Reynolds: Sheriff
The name was given when Reynolds broke in with power while with the D-backs. "Mark Grace said on the air, 'There's a new sheriff in town," Reynolds said. "... That kind of stuck, and the announcers for the D-backs called me Sheriff. When I got to Baltimore, it evolved when someone made up 'Swattingham.' But just for the record, nobody calls me that. So it's kind of a pseudo-nickname."
Tribute patch: Greg & Tammy Reynolds -- "They're my parents. My mom was a cheerleader and my dad played basketball," Reynolds said.
Chris Rusin: Russ
Hey, it helps with pronunciation. It's RUSS-in, not ROOS-in.
Tribute patch: My family -- Rusin and his brother played baseball, and his sister played volleyball. That meant parents arranged their work schedules, off-time and finances for various events to help support their children. "They juggled a lot and were able to see all three of us; you can't do anything without your parents' support and help," Rusin said. "They put their free time aside for our sports and the things we like to do."
Pat Valaika: Using his last name
Tribute patch: Mom and Dad -- Valaika and his brother Chris, a former Major League infielder who now coaches in the Cubs' system, made their name in baseball, but their father, Jeff, was actually a basketball player who went into coaching, including some time at USC. "My older brothers, their first sport was basketball, but they weren't really good, so he scratched that and put them in baseball," Valaika said. Even though his dad was a coach, the voice he heard most was mom, Ilona. "She was kind of the tough one. You didn't want to make mom mad. … She was never afraid to get on umpires from the stands. You could always hear her, which was funny. She was very involved -- team mom, keeping score and always around."
German Marquez: Marque
Tribute patch: Mi Familia -- Marquez thanked his parents and older sister, and he is thinking of his younger brother, Geremia, who is 8 years old. "He likes third base. He's pretty good. He always follows my games on MLB.com, and sends me voicemails: 'You're doing pretty well. Keep it up.'"
Scott Oberg: Obie
Tribute patch: Mom & Dad! -- Oberg said, "If I could, I'd add my wife on there, too." Oberg added that his father "never played baseball past Little League but he was a coach of mine for a few years. And there were times I'd play catch with my mom in the backyard. What was good about it was my dad knew he didn't know anything about baseball, so he never tried to impose anything, just 'go have fun.' And when the internet was starting to be a thing, he looked up drills and tried to coach himself on the basic mechanics so he could coach my brother and me, and his team."
Greg Holland: Holland
Tribute patch: Family -- Holland said the idea is all-encompassing. "There were so many people that I really appreciate, from my parents driving me to Little League practices when I was 5 or 6 years old, to high school coaches, to college coaches, to my wife supporting me going through surgery. There wasn't a big enough patch to write all the people who were important in me being where I'm at and enjoying where I'm at. 'Family' encompasses many people as possible."