Bettis focused after two difficult seasons
Right-hander sets goal of return to Rockies rotation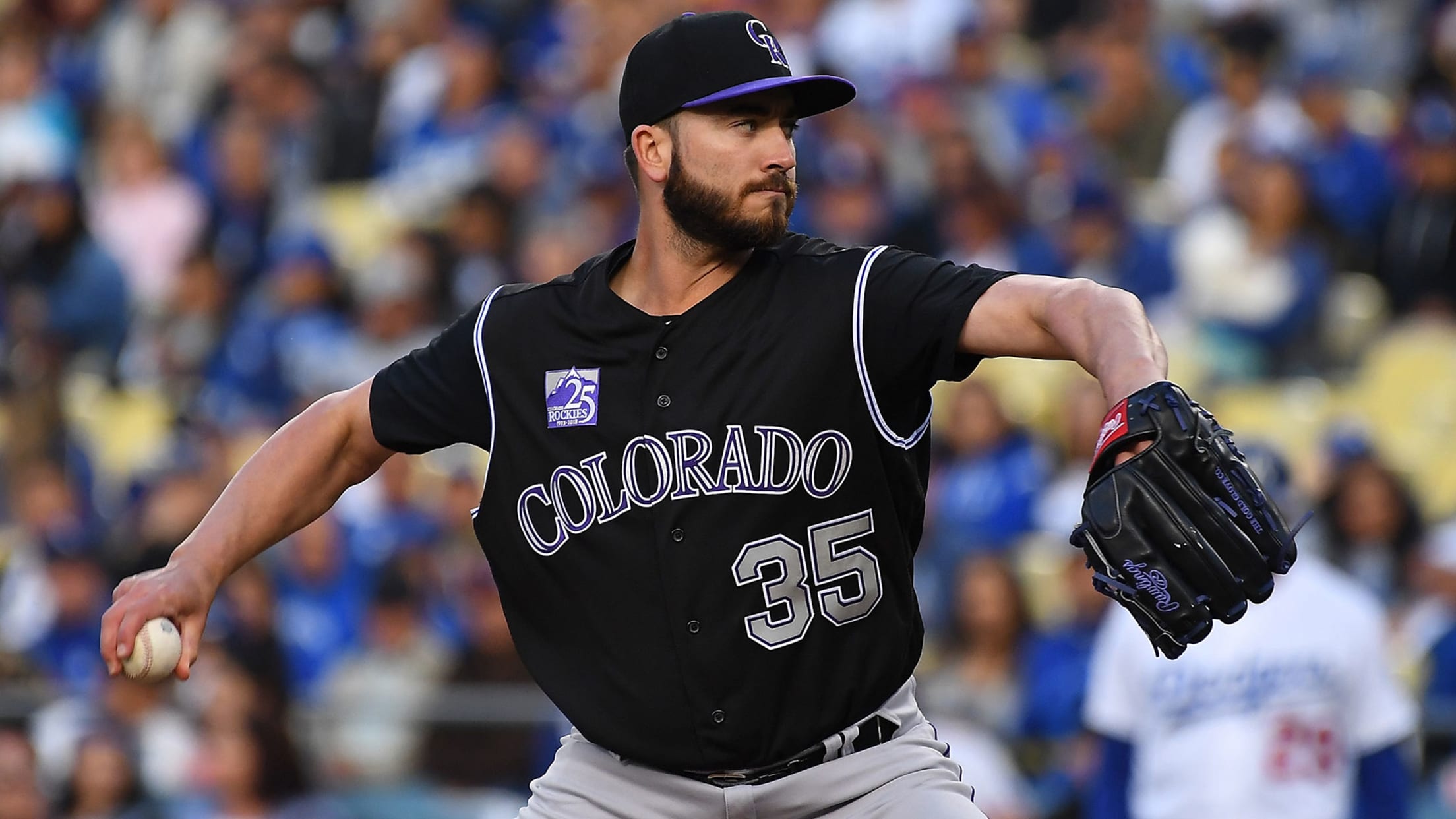 DENVER -- After a year of illness, followed by a year of weirdness, right-handed pitcher Chad Bettis is working on a return to a key role in the Rockies' starting rotation.Bettis was limited to nine starts in 2017 after a bout with testicular cancer -- one that required chemotherapy after
DENVER -- After a year of illness, followed by a year of weirdness, right-handed pitcher Chad Bettis is working on a return to a key role in the Rockies' starting rotation.
Bettis was limited to nine starts in 2017 after a bout with testicular cancer -- one that required chemotherapy after the disease spread to his lymph nodes. In 2018, Bettis was 4-1 with a 3.27 ERA on May 22, when he developed a blister on his right middle finger. It was the first time in his career he missed time due to a blister. He had a second, more severe blister issue on July 1, and was moved to the bullpen by the end of the season, during which he went 5-2, with a 5.01 ERA in 27 games (20 starts).
Bettis, who turns 30 on April 26, sees himself as a candidate for redemption. He believes he has learned to deal with the blister. Immediately after the season he visited the popular Driveline training center near Seattle to correct the motion flaws that crept in while he dealt with the blisters.
Bettis knows there is opportunity for him to regain and build on his form of 2016, when he went 14-8 with a 4.79 ERA and seemed to be emerging as a force in an improving rotation.
Bettis, in his second year of arbitration after earning $2 million in 2018, leads the rotation with 125 total appearances and is tied with Jon Gray in starts with 89, but performance is more important to him than seniority.
"I'm going to Spring Training with the mindset of fighting to win this job," Bettis said. "It's not that I don't feel like I should have the privilege of being part of it. But I don't want to go in there thinking that I've got it made. My mentality is I've got to prove people wrong."
Actually, there was little doubt before the strange last two seasons. Bettis became the first of the current rotation members to make a breakthrough. After struggling early in his career as a reliever, Bettis developed as a starter -- by devoting two Spring Trainings to ground-up work on his motion with pitching coach Steve Foster and bullpen coach Darren Holmes.
As he excelled, Bettis became recognized as a leader, because of his buy-in with the coaching and strategy.
But in 2018, the blisters -- which materialized during starts at Dodger Stadium -- left Bettis simply trying to work on himself and the sudden problem. Lefty Kyle Freeland (17-7, 2.85 ERA, fourth in NL Cy Young Award voting) and righty German Marquez (14-11, 3.77 ERA) emerged as rotation leaders in Bettis' stead.
"Blisters generally show up on a guy in high school and college, but Chad Bettis never had one," Foster said. "It changed the trajectory of his season."
Bettis spoke with the Dodgers' Rich Hill, whose generally standout pitching at times has been interrupted by blisters. He has tried all methods, whether it's acidic juices (lemon, lime, pickle) or lotions, which later became his preferred method.
During his Triple-A rehab assignment from the second bister, Bettis had a solid outing when he added up-and-down glove motion at the start of his windup. But in two starts after his return, the consistency wasn't there and the Rockies moved him to the bullpen.
Bettis proved effective, posting a 2.38 ERA in 11 1/3 innings over seven relief appearances.
"I completely understood the move, and we had good communication and clarity," Bettis said. "After the season, I knew I could be successful in the bullpen -- something I needed to prove after an ugly 2014. But the fact is, I love starting. The work I'm putting in leads to that. If we get to Spring Training and something different happens, we'll address it."
Bettis performing well out of the bullpen doesn't change the Rockies' plans. Manager Bud Black is a believer in asking for innings from his starters, and likes a five-man group. And Foster noted that Bettis, when right, should be part of the rotation mix.
"You've got to have some thoroughbreds to take you deep in games," Foster said. "Chad Bettis will come to camp ready to compete for a chance to help this team win."
Immediately after the Rockies were swept by the Brewers in the NL Division Series, Bettis, Holmes and Rockies relievers Jake McGee and Bryan Shaw went to Driveline -- where Gray plans to go in January to rebound from a rough 2018.
Bettis used its detailed video and statistical analysis to begin forming a strategy for returning to his proper delivery.
"Now I'm trying to build off the understanding that it could have been a great year," Bettis said. "And with the information and my throwing program I'm a step closer to getting back to that next season. It's all systems go."