Hurry! All-MLB Team voting ends today, 3 MT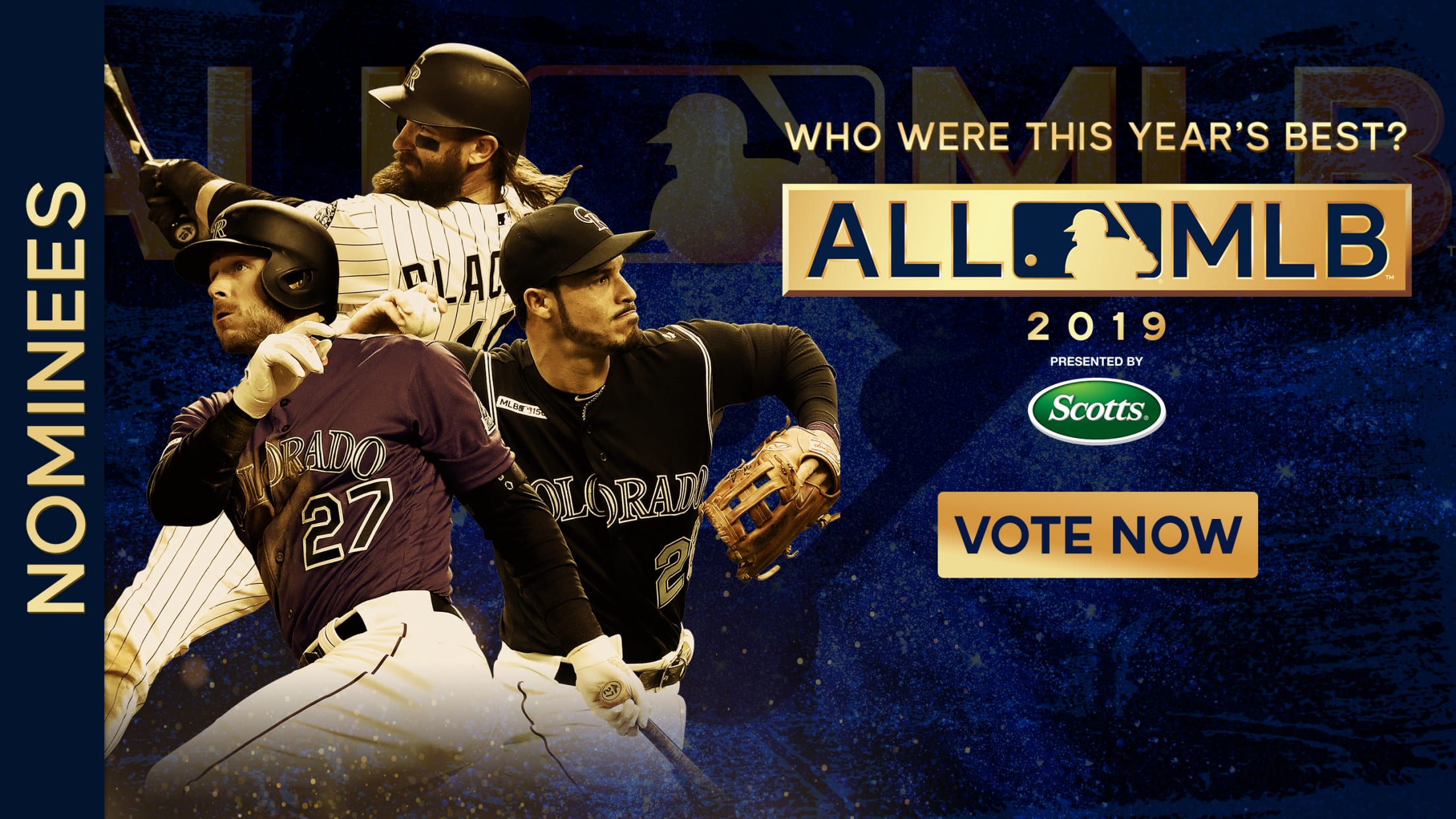 DENVER -- Where did Rockies third baseman Nolan Arenado, shortstop Trevor Story and right fielder Charlie Blackmon fall among 2019's best of the best? Fans can help decide. • VOTE NOW: All-MLB team | All-MLB Team nominees, club-by-club The selection process for the 2019 All-MLB Team began on Monday and
DENVER -- Where did Rockies third baseman Nolan Arenado, shortstop Trevor Story and right fielder Charlie Blackmon fall among 2019's best of the best? Fans can help decide.
• VOTE NOW: All-MLB team | All-MLB Team nominees, club-by-club
The selection process for the 2019 All-MLB Team began on Monday and runs through 3 p.m. MT on Tuesday, Dec. 3, with 50 percent of the vote coming from fans and 50 percent coming from a panel of experts.
Fans can vote right here, and may do so once every 24 hours between now and when voting ends. The inaugural All-MLB Team will be announced on Dec. 10 at MLB's annual Winter Meetings in San Diego.
There will be a first team and second team All-MLB, and voters are asked only to consider performance during the regular season when casting their ballots. Each team will include one selection at each position (including designated hitter and three outfielders, regardless of specific outfield position), five starting pitchers and two relievers.
Two of the three Rockies on the ballot took home end-of-the-season awards, while the other's standout offensive season flew under the radar.
Here are the choices from the Rockies:
• Arenado: His defensive excellence continued. Arenado won his seventh straight Gold Glove Award in as many seasons in the Majors, despite often playing at well below 100% because of injuries to his left arm and hand from being hit by pitches, and his left foot from fouling balls off it repeatedly during a short period of time.
The tight race here is based on offense. Arenado's .962 OPS was third among MLB third basemen, following the 1.010 compiled by the Nationals' Anthony Rendon and the 1.015 mark by the Astros' Alex Bregman. Among third basemen, Arenado finished second in the Majors in hits (185), home runs (41), RBIs (118), batting average (.315) and third in slugging percentage (.583). No other third baseman finished first or second in each of those categories.
• Story: With 35 homers, Story earned his second straight Silver Slugger Award and became the first shortstop in MLB history to begin his career with four seasons of 20 or more home runs. He also became the first player in Rockies history with consecutive seasons of at least 30 homers and 20 steals, and joined Alex Rodriguez as the only shortstops in Major League history with multiple 30/20 seasons.
After a couple of years not being noticed defensively, Story became a finalist for a Gold Glove Award for the first time by leading NL shortstops with 2.98 assists per nine innings and ranked second with plus-17 Defensive Runs Saved and 2.4 defensive Wins Above Replacement, according to Baseball-Reference.
• Blackmon: The 2019 season featured mostly consistent production for Blackmon, who led the NL and finished second in the Majors in batting average with runners in scoring position (.385). Blackmon was a top 10 Major League finisher in extra-base hits (81), doubles (42), triples (seven), hits (182), runs (112) and batting average (.314). He finished 11th in slugging percentage (.576) and 12th in OPS (.940).
Few players could heat up during a game like Blackmon. He led the Majors with 21 three-hit games, and his five four-hit games tied for second.