Notes: Beards, good impressions and bad habits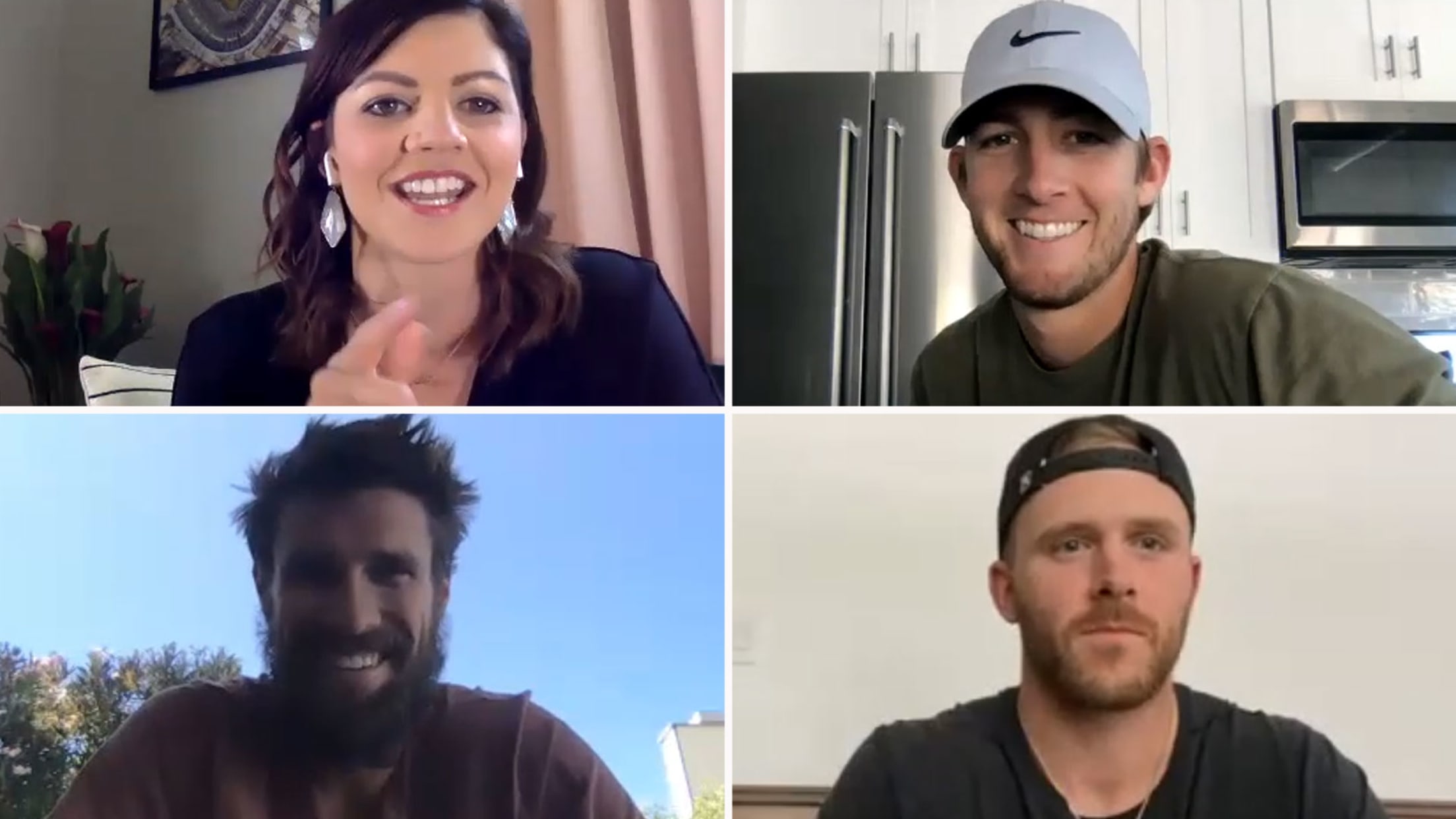 DENVER -- Rockies outfielder David Dahl may be growing a beard during the wait for baseball's return, but he's no Charlie Blackmon. Dahl took some ribbing, and laughed at himself, about the wild facial hair during Wednesday's Zoom meeting with Rockies season-ticket holders -- which was hosted by AT&T SportsNet's
DENVER -- Rockies outfielder David Dahl may be growing a beard during the wait for baseball's return, but he's no Charlie Blackmon.
Dahl took some ribbing, and laughed at himself, about the wild facial hair during Wednesday's Zoom meeting with Rockies season-ticket holders -- which was hosted by AT&T SportsNet's Jenny Cavnar and also included infielder Ryan McMahon and shortstop Trevor Story.
"I just don't care right now," Dahl said. "It doesn't matter, right? I've never been able to grow it this long, because, well, my wife hates it already. She's already telling me to cut it. But I'm not listening to her right now."
Cavnar asked if he's sent pictures to Blackmon, who famously has gone years without cutting off his signature facial hair.
"I did," Dahl said. "I don't think he likes it.
"I did that thing on Instagram where I said, 'Should I cut it?' And I had people vote. Charlie was one of the ones that said I need to cut it."
Beards seem to be the thing to do as players are in some state of stay-at-home/quarantine. But McMahon's lack of bushy hair earned him some good-natured needling.
"You've been growing that since last year," Story said. "It's weird. All of our routines are totally shot right now. We'll get to the field again and get cut up by [the team barber] and looking fresh. But we obviously can't really take those chances right now. We're just playing it safe, and when it comes time, we'll all be looking sharp and David will be back to his GQ ways."
Good impressions noticed
Rockies manager Bud Black, Zoom guest for the Rocky Mountain Chapter of the Society for American Baseball Research monthly lunch meeting, singled out veteran utility man Chris Owings as having made a strong impression during the abbreviated Spring Training.
Owings, 28, a onetime regular for the D-backs who struggled with the Royals and Red Sox last year, was making a bid for not only the then-26-man roster but playing time once the season began. With proposals to return to play most likely to require a larger roster, there could be room for Owings and Garrett Hampson as right-handed-hitting multi-position players.
"It didn't really surprise me -- we'd seen this fellow and were hoping for good things from him," Black said. "He was really playing well in the spring. He missed some time because his wife gave birth to their first baby, but Chris Owings was really showing some good things with the bat and his energy as a player.
"Hopefully when we resume, and if he does make the club, he can add a nice piece to our club."
Black also added that lefty reliever James Pazos, who pitched well at the end of last season, "was throwing the ball well." And he noted that there was more to rookie outfielder Sam Hilliard than his poor statistical spring (.176, 12 strikeouts in 34 at-bats), saying "he's going to turn out to be OK in the long term -- I liked the way he was going about it, even though it didn't show up statistically in the games."
Grandma will be happy
Many agree that some ingrained baseball habits are going to have to be put aside when baseball resumes. McMahon said someone in his family will be quite happy if he can curb one nasty ritual.
"My grandma is going to be happy with the no-spitting rule," he said. "Every time she sees me spit on TV, I'll get a text after the game: 'Stop spitting! Stop spitting!'"
On a serious note, Dahl said he will be especially careful. He had to have his spleen removed after a collision with a teammate while going for a fly ball during a Minor League game. So he has to pay special attention to his immune system.
"There are thoughts a little bit here and there that worry me," Dahl said. "But I do trust MLB and the doctors and everyone that they're not ... [putting] us at extra risk.
"Just looking over all the health and safety protocols, I think they're doing a good job of, you know, what they're trying to implement."