Rockies' nicknames for Players' Weekend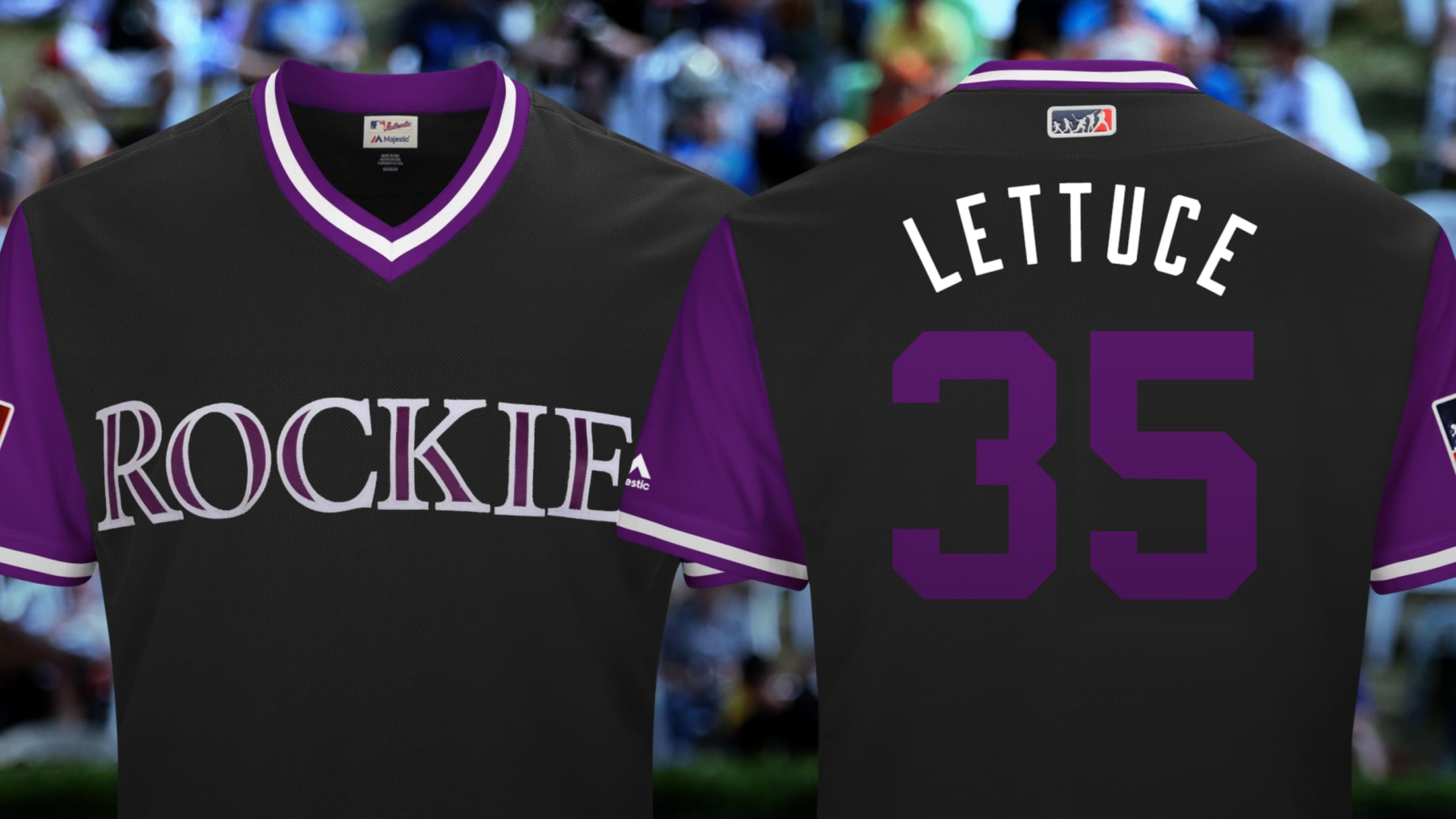 For the second consecutive year, Major Leaguers will put their personalities and passions on the field when Players' Weekend takes center stage during all games from Friday, Aug. 24, through Sunday, Aug. 26.Here are the nicknames the Rockies will wear on their backs while sporting colorful, non-traditional uniforms featuring alternate
For the second consecutive year, Major Leaguers will put their personalities and passions on the field when Players' Weekend takes center stage during all games from Friday, Aug. 24, through Sunday, Aug. 26.
Here are the nicknames the Rockies will wear on their backs while sporting colorful, non-traditional uniforms featuring alternate designs inspired by youth-league uniforms:
:: Players' Weekend presented by Valspar Stain ::
• Shop for Players' Weekend gear
• 2018 Players' Weekend nicknames
• Best nickname for every team
• All you need to know about Players' Weekend
Yency Almonte: "SHOWTIME"
Tyler Anderson: "MR. DUCK"
It's a fitting name for someone who pitched at the University of Oregon.
Nolan Arenado: "NADO"
Really? He promises to get better in the future. "I think so," Arenado said. "But I don't know what. Got to change something up."
But what Arenado lacks in nickname strategy, he makes up for in fashion sense. Last year, the Rockies wore a gray top with raglan sleeves (that's what uniform folk call different-color sleeves) that are best described as radiant orchid -- well shy of Rockies purple on the blue scale. This year's are black with true purple sleeves.
"I think it'll look better at home, with the white pants," Arenado said. "It'll look good. I'm definitely excited for it."
Chad Bettis: "LETTUCE"
Charlie Blackmon: "CHUCK NAZTY"
His Twitter and Instagram accounts, @Chuck_Nazty, have been quite popular with Rockies fans.
David Dahl: "BABY DAHL"
Wade Davis: "WADER"
Ian Desmond: "DEZ"
Mike Dunn: "DUNNER"
Kyle Freeland: "TWO ONE"
Carlos Gonzalez: "CARGO"
Jon Gray: "GRAY WOLF"
Chris Iannetta: "C I"
DJ LeMahieu: "DJ"
German Marquez: "MARQUEE"
Jake McGee: "MACCHEEZ"
Ryan McMahon: "McDOOGLE"
Harrison Musgrave: "MUSKY"
Scott Oberg: "OBIE"
Seunghwan Oh: "오승환"
It's his name in Korean, where the last name, "Oh," comes first. When he played in Korea [2005-13], that's how it was handled. But in Japan (2014-15) and in the Majors (since 2016), his surname has been in English.
Adam Ottavino: "AO"
Gerardo Parra: "EL YOLO"
It's for his beloved late grandmother, Yolanda Apalmo, who was known as "Yola" to his family and the entire neighborhood in Santa Barbara, Zulila, Venezuela. She had a bright smile and personality that Parra emulated, so folks called him "Yolo." Parra said he likes that the acronym "YOLO" stands for, "You only live once."
Chris Rusin: "RUSS"
Antonio Senzatela: "SENZE"
Bryan Shaw: "GEEK"
"I'm a techy guy, nerd kinds of things," Shaw said. "Computer stuff, video game stuff, mainly that kind of thing. I can repair stuff, to an extent."
Trevor Story: "TREV"
Pat Valaika: "BARRELS"
The nickname arose last season, when he led MLB pinch-hitters in RBIs (16), runs (12), doubles (eight) and extra-base hits (12).
Tony Wolters: "T-DUB"