30 prospects crushing it this spring -- 1 per team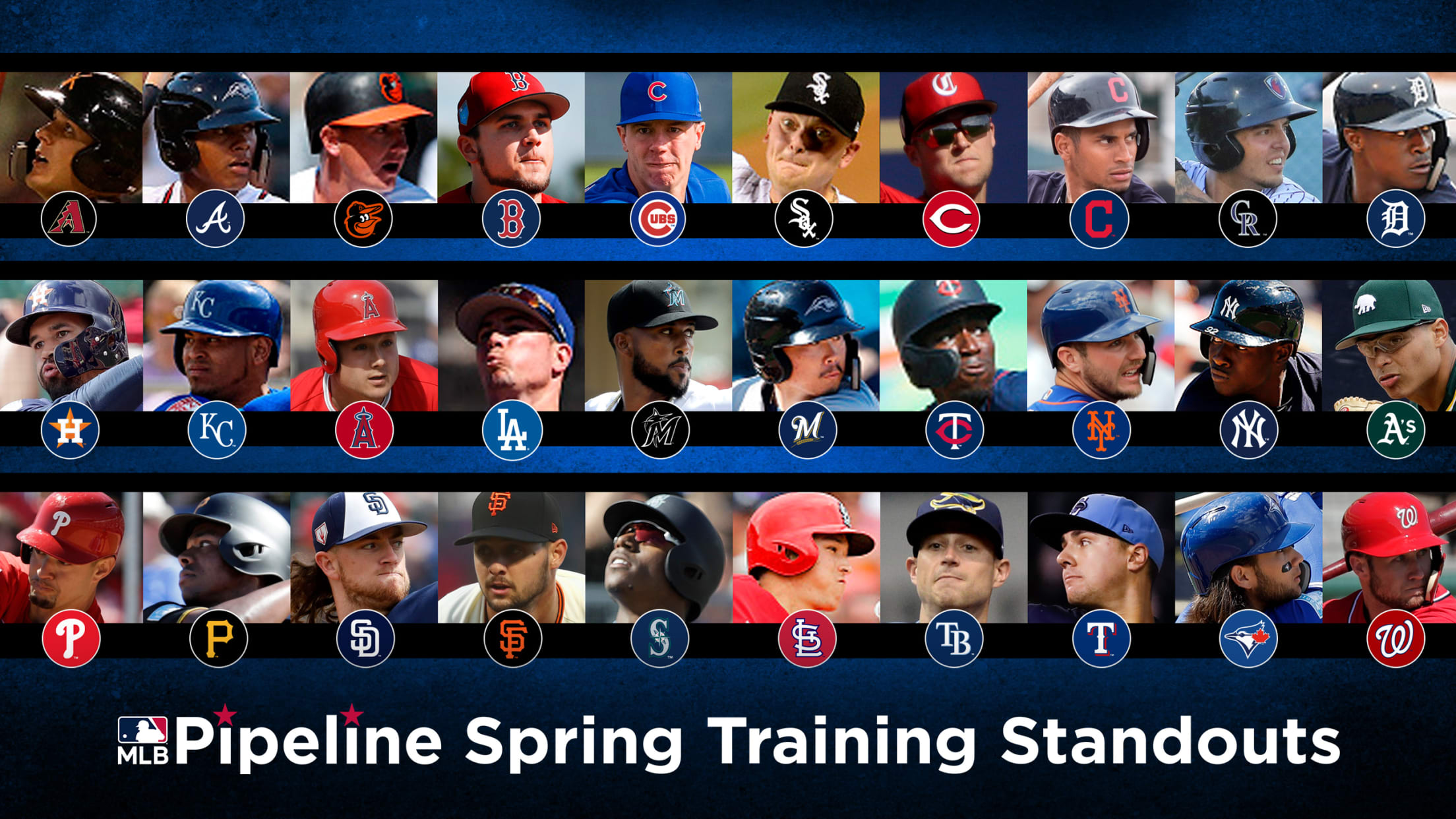 Any talk of Spring Training performances must be prefaced with the "small sample size" caveat. Good or bad, Grapefruit and Cactus League numbers don't necessarily correlate to regular-season production. But for prospects in big league camp, even those not competing for spots on the Major League roster, getting at-bats or
Any talk of Spring Training performances must be prefaced with the "small sample size" caveat. Good or bad, Grapefruit and Cactus League numbers don't necessarily correlate to regular-season production.
But for prospects in big league camp, even those not competing for spots on the Major League roster, getting at-bats or innings can be a fantastic way to open some eyes and make a strong impression with the coaching staff and general manager. The 30 prospects below have all handled themselves very well on the Major League side of Spring Training, perhaps serving notice they will be ready to help out on a full-time, regular-season basis.
• Prospect Spring Training stats
AL East
Michael Chavis, 3B/1B, Red Sox's No. 1 (MLB No. 79)
Though Boston optioned Chavis to Triple-A on Tuesday, he still ranks second in MLB with four Spring Training homers. The Red Sox don't have an opening for his power bat right now, so he'll work on improving defensively at third base and getting more exposure to first and second base.
Estevan Florial, OF, Yankees' No. 1 (MLB No. 57)
Yankees manager Aaron Boone acknowledged earlier this spring that Florial's ceiling stacked up well against anyone in New York's clubhouse, a testament to the center fielder's well-above-average raw power, speed and arm strength. He has had swing-and-miss issues in the Minors but has kept them in check in the Grapefruit League, batting .345/.406/.517 with four steals in 12 games.
Austin Hays, OF, Orioles' No. 4
The first player from the 2016 Draft class to the reach the Majors, Hays was unable to build upon his breakout campaign last season, when a shoulder injury and a stress fracture in his right ankle limited him to just 75 games. Fully healthy this spring, the 23-year-old appears to be back on track. He's hitting .364 through 11 games, during which he's had eight of his 12 hits go for extra bases, including four home runs. His 12 RBIs, meanwhile, leads the organization.
Bo Bichette, SS, Blue Jays' No. 2 (MLB No. 11)
With Vladimir Guerrero Jr. sidelined with an oblique injury, Bichette's bat has taken center stage in Blue Jays camp. The No. 11 overall prospect has crushed the ball this spring, producing a .406 average with four home runs -- the 21-year-old went deep twice as part of a 3-for-5 performance against Minnesota on Sunday -- and a pair of doubles in 15 games.
Brandon Lowe, 2B/OF, Rays' No. 9
Lowe tapped in to more power and slugged his way up to the big leagues last season, totaling 28 home runs and 37 doubles between the Minors and Majors. He's been Tampa Bay's hottest hitter so far this spring, producing a .448/.500/.862 line with two homers, six doubles and 13 RBIs in 10 games.
AL Central
Oscar Mercado, OF, Indians' No. 19
Acquired last summer from the Cardinals in exchange for outfield prospects Conner Capel and Jhon Torres, Mercado was known for his speed and his defensive ability but has impressed the big league staff with his offensive performance this spring. He's hitting .400/.400/.771 with three homers in 35 at-bats.
Nick Gordon, SS/2B, Twins' No. 10
Gordon was added to the 40-man roster this offseason and though he struggled upon reaching Triple-A last year, he's in line to contribute this year. He made a nice impression on the big league staff before getting sent down this week, hitting .300/.333/.450 with a double and triple over 20 at-bats.
Meibrys Viloria, C, Royals' No. 19
Seeing a catcher excel this spring takes on more importance with Salvador Perez out for the year. Viloria will start the year in Triple-A, but he's made it clear he's ready to contribute if/when there's a need in Kansas City by hitting .364/.483/.636 with a pair of homers and seven RBIs in his first 22 Cactus League at-bats.
Ryan Burr, RHP, White Sox's No. 30
Competing for one of the final spots in Chicago's bullpen, Burr has given up one run in 6 2/3 innings while striking out seven and walking none. He's all about power with a mid-90s fastball, mid-80s cutter and low-80 slider, but he doesn't have a history of throwing consistent strikes. He also deserves credit for recreating the famous Aaron Burr-Alexander Hamilton duel with fellow righty reliever Ian Hamilton -- in full costume.
Daz Cameron, OF, Tigers' No. 5
After ascending three levels and finishing the 2018 season in Triple-A, Cameron is showing this spring that he's nearly ready for the Majors. Six of his nine hits have gone for extra bases, and he's compiled a .360/.448/.720 overall while playing center field exclusively through 14 games.
AL West
Nick Tanielu, 3B/2B, Astros
Tanielu couldn't crack our deep Astros Top 30 Prospects list but has opened eyes this spring by hitting .333/.375/.867 with four homers in 30 at-bats. While Houston's similarly loaded big league roster also will be difficult to make, manager AJ Hinch has noticed his penchant for taking quality at-bats and making hard contact.
Brock Burke, LHP, Rangers' No. 9
The key to December's Jurickson Profar trade from Texas' perspective, Burke dominated in Double-A at the end of last season for the Rays and built on that momentum this spring. He allowed one infield single and struck out six in three otherwise perfect innings before getting optioned to Double-A on Tuesday, showcasing an impressive three-pitch mix fronted by a riding 90-96 mph fastball.
Matt Thaiss, 1B, Angels' No. 8
There's no room at first base or DH on the Angels' roster right now, but it's becoming clear Thaiss is ready to answer the call when it comes. After a year that saw him reach Triple-A and hit a combined .280/.335/.467 with 16 homers, he's been hot this spring, with a .379/.400/.759 line over 29 at-bats as seven of his 11 hits have been for extra bases.
Jesus Luzardo, LHP, A's No. 1 (MLB No. 12)
A spot in the rotation is still up for grabs and Luzardo is certainly making it tough to look past him. The young lefty has allowed just one earned run over 9 2/3 IP (0.93 ERA) while striking out 15 and holding hitters to a minuscule .176 batting average. He isn't heading to Japan, but will stay on schedule to pitch in a Bay Bridge Series game against the Giants later this month.
Kyle Lewis, OF, Mariners' No. 7
Lewis was recently sent down to prepare for the Minor League season, but not before showing why he was such a coveted Draft prospect in 2016 before his knee injury that summer that has plagued him since. Now healthy, Lewis went 7-for-18 with a pair of doubles and homers (1.283 OPS) in big league camp.
NL East
Cristian Pache, OF, Braves' No. 4 (MLB No. 37)
He's only 20, with just over 100 at-bats above A ball on his resume, but if his Grapefruit League showing is any indication, he might be closer than anticipated. Pache has hit .458/.500/.875 with a pair of homers in 24 at-bats, and he's already considered the best defensive prospect in baseball.
Dylan Cozens, OF, Phillies
There's no question about Cozens' power, 88 homers over the last three years combined (40 alone in 2016). His ability to make enough contact to get to that power has been a concern, but he's been solid this spring, with a .308/.400/.731 line. Yes, he has 10 K's in 26 at-bats, but he also has three homers.
Sandy Alcantara, RHP, Marlins' No. 5
The best prospect among the four Miami received from the Cardinals in the December 2017 Marcell Ozuna trade, Alcantara can hit 100 mph and flash a plus slider and changeup. After a promising September with the Marlins, he's cementing a spot in their rotation by logging a 1.50 ERA with 14 strikeouts in 12 innings, albeit with 10 walks.
Pete Alonso, 1B, Mets' No. 1 (MLB No. 51)
From hitting tape-measure home runs to laying out Josh Reddick at first base, the No. 51 overall prospect has made his share of headlines this spring. Time will tell whether he begins the season in New York or Triple-A, but so far Alonso has made a strong case by hitting .368 with three homers and four doubles in 14 games.
Carter Kieboom, SS, Nationals' No. 2 (MLB No. 25)
The No. 25 overall prospect tagged Justin Verlander for a pair of impressive home runs on Tuesday. He's now gone deep three times this spring in 16 games, following a 2018 season in which he homered 16 times while reaching Double-A at age 20. Overall, he's batting .333 with nine RBIs and more walks (five) than strikeouts (three) this spring.
NL Central
Jared Young, 1B/OF, Cubs
Chicago's 2018 Minor League player of the year after batting .300/.357/.485 with 16 homers between two Class A stops, Young has gone 5-for-13 (.385) with a pair of homers in big league camp. He has one of the best swings in the Cubs system and moves well enough to play first base, left field and perhaps second base.
Nick Senzel, OF/3B/2B, Reds' No. 1 (MLB No. 6)
While one might think trying to show you can play center field (for the first time) at the big league level while competing to make an Opening Day lineup for the first time would detract from your offensive game, Senzel has shown the same hit tool that put him in this position in the first place, going 8-for-25 (.320) with three doubles over his first eight Cactus League games.
Ke'Bryan Hayes, 3B, Pirates' No. 2 (MLB No. 46)
Hayes has been far from overwhelmed in his first big league camp in Bradenton, giving notice to the third basemen who will break camp with the team that he'll be ready soon to take over if they can't get the job done. In 24 at-bats, Hayes has put up a robust .333/.346/.833 line with two homers (seven extra-base hits total) and nine RBIs.
Keston Hiura, 2B, Brewers' No. 1 (MLB No. 20)
Hiura's three-run shot on Wednesday off of Trevor Bauer was his third home run in his last four games. It also pushed his RBI total to 10, tying him for best on the team. In 2018, the No. 20 overall prospect reached Double-A in his first full season, ultimately hitting .293/.357/.464 with 52 extra-base hits and 15 steals across two levels.
Tommy Edman, SS/2B, Cardinals' No. 13
The switch-hitting infielder's bat has stood out in Cardinals camp, where he's hit .292/.379/.458 across 16 games. He's seen time all over the infield, too, logging time at third base (six games), second (five) and shortstop (four).
NL West
Colton Welker, 3B/1B, Rockies' No. 2 (MLB No. 95)
Nolan Arenado's extension means Welker (not to mention the other third base prospects in the system) have to learn other positions. He'll be focusing on first base this year, but there's little question about his ability to hit (career .337 average). His stay in big league camp was relatively short, but boy did he stand out in his 18 at-bats, finishing with 10 hits (two homers and a double) for a .556/.556/.944 line.
Omar Estevez, SS/2B, Dodgers' No. 20
Estevez was on fire in high Class A in the final six weeks of last season, and he picked up where he left off by going 6-for-19 (.316) with two doubles and two homers before getting reassigned to the Minors on Sunday. He has an efficient right-handed swing, advanced pitch-recognition skills and some line-drive pop.
Tyler Beede, RHP, Giants' No. 24
The two-time first-round pick had a disastrous 2018 season in Triple-A that included a 6.64 ERA with 59 walks in 80 innings. Streamlining his repertoire has worked wonders so far this spring, as Beede has shown a mid-90s fastball, improved curveball and plus changeup while posting a 10/3 K/BB ratio in 8 1/3 innings. A rough outing against the Mariners on Wednesday swelled his spring ERA to 5.40.
Daulton Varsho, C, D-backs' No. 4
The 22-year-old backstop has made the most of his opportunities this spring by hitting .417/.462/.833 with one home run and two doubles in 12 games. A broken right hamate bone limited Varsho to 83 games in 2018, though he still finishing with 12 home runs and a .294 average between two levels.
Chris Paddack, RHP, Padres' No. 5 (MLB No. 34)
The No. 34 overall prospect furthered his bid to break camp in the Padres' rotation -- and perhaps even get the nod on Opening Day -- with an excellent start against the Angels on Wednesday. He allowed one run over four innings while striking out six, bringing his Cactus League ERA to 2.13 ERA and his strikeout-to-walk ratio to 20/2 through 12 2/3 innings (four starts).