Rox confident in Anderson, despite struggles
Left-hander's short start on Sunday could lead to rotation shakeup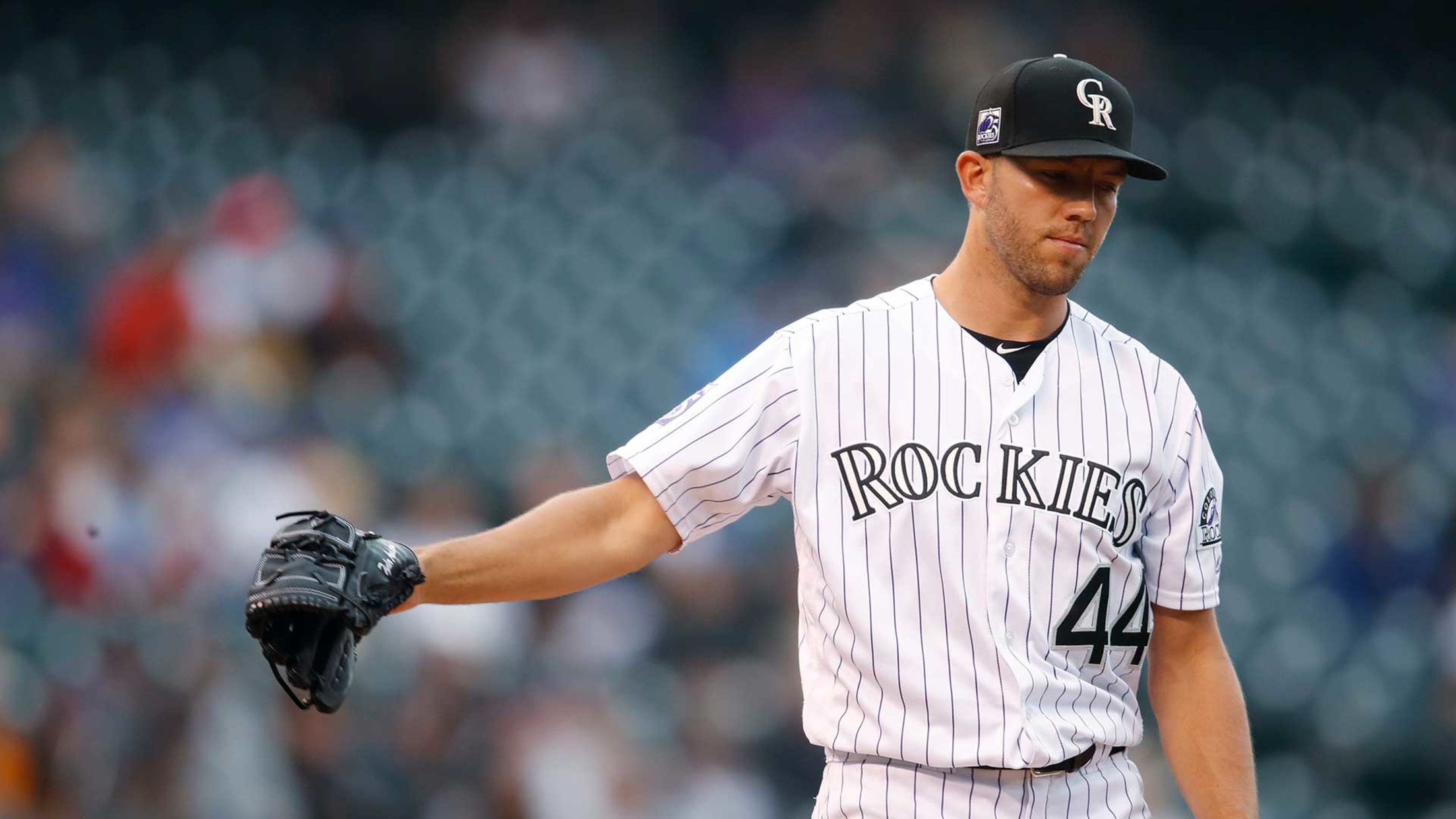 ANAHEIM -- While short-term changes appear to be coming for the Rockies' starting rotation, it does not appear as if left-hander Tyler Anderson will be looking at a new set of duties.Manager Bud Black offered a vote of confidence for the struggling Anderson, but his rough outing Sunday set off
ANAHEIM -- While short-term changes appear to be coming for the Rockies' starting rotation, it does not appear as if left-hander Tyler Anderson will be looking at a new set of duties.
Manager Bud Black offered a vote of confidence for the struggling Anderson, but his rough outing Sunday set off a domino effect that will need to be addressed.
"As we go through this week and into next week, you might see a little change in the rotation," Black said before the start of Monday's Interleague series opener against the Angels. "[Sunday] with Chad [Bettis] having to pitch and [Anderson] having a tough one, we're going to work through our rotation here the next couple of days to let you know what's going on through this weekend and into next week."
Anderson gave up six runs on seven hits while only recording two outs in a blowout defeat to the St. Louis Cardinals on Sunday that dropped the Rockies out of a brief tie for first place in the National League West.
It led to a meeting Monday in Anaheim with Anderson, and Black came away certain the hometown left-hander will be just fine despite a 10.21 ERA over his last six starts.
"You know, we had a good conversation with Andy today about a couple of things," Black said. "You know Andy had a rough August. But he had a great July. That sort of happens in our game where there are peaks and valleys, there are slumps, but you look at Andy in June and July and let's remember that."
In June, Anderson had a 3.52 ERA over six starts. In July, it was even better at 2.16 over five starts. But when just counting his five August starts, Anderson has an 11.39 ERA and has given up 35 hits and eight walks over 21 1/3 innings.
"I know we want to talk about the present but Andy can get back to that for sure," Black said. "There are a couple of things we worked through today with [pitching coach] Steve [Foster] and [bullpen coach] Darren [Holmes] with Andy and I suspect September is going to be different."
After his rough outing Sunday, Anderson sounded up for the challenge of getting back on track for a team that has playoff aspirations.
"It's always frustrating when you're slumping, whether it's April, May, June, July, August, September, whatever," Anderson said. "Winston Churchill said it though, 'If you're going through hell, keep going.' Sometimes you struggle to just keep going."
Black gave no other clues as to what rotation changes might be made this week, but they do not sound drastic. Black has been proud of his rotation's "durability," needing just seven starters all year, with one of those, Jeff Hoffman, starting just once. Only the Houston Astros (six) have used fewer starters.
"They have been the backbone of our success," Black said of his rotation. "I think that anybody will tell you that connected with our team, even the position players -- as good a group as that is, with three All-Star players -- they'll tell you that the pitching has been the main reason we are where we are."
Home again
Black, Nolan Arenado and Ryan McMahon are returning home this week. Black was the Angels' pitching coach from 2000-06, and was a special assistant for the club before taking the Rockies' manager job.
Arenado went to nearby El Toro High School, about a 20-minute drive away in good traffic. McMahon went to sports powerhouse Mater Dei High School in the neighboring city of Santa Ana.
"Just getting off the plane, smelling the air, I don't know ... it's home," Arenado said. "You just get that feeling that you're home and it feels good. It feels good to know my parents are around. My brothers. The people that I am really close with are here. It gives me an energy to go out there. It gives you a perspective to play hard again."
Doug Padilla is a contributor to MLB.com based in Los Angeles.