Lopez pitches into fifth to continue strong spring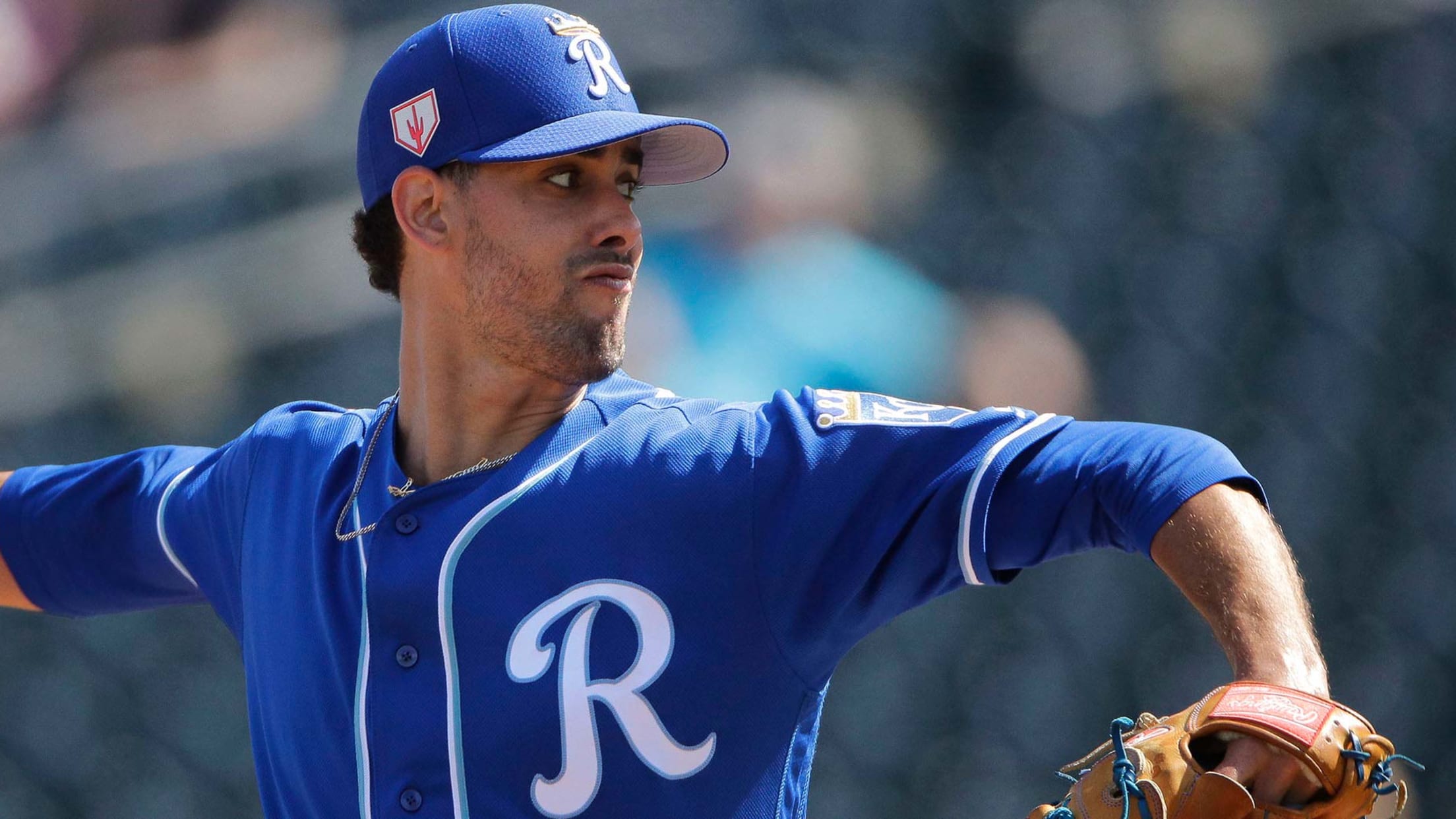 SURPRISE, Ariz. -- Jorge López threw strong and long for the Royals on Sunday, making his third start of this spring and setting a new high-water mark for Kansas City starting pitchers. Lopez threw into the fifth inning and allowed only one run in a game that turned in the
SURPRISE, Ariz. -- Jorge López threw strong and long for the Royals on Sunday, making his third start of this spring and setting a new high-water mark for Kansas City starting pitchers.
Lopez threw into the fifth inning and allowed only one run in a game that turned in the late innings, ending in an 11-6 Royals loss against the Padres.
"It was an amazing day," Lopez said. "I feel great. We simplified my mechanics. All my deliveries felt good; all my pitches were down."
It was the longest outing of the spring for any Royals starter. Three of the five hits Lopez allowed came in the fifth inning, as did the only run against him. Michael Ynoa stranded the two runners Lopez left behind.
"Lopez was really good," manager Ned Yost said. "We tried to get his pitch count to 65, and he got us there in the fifth. Ynoa came in and cleaned that inning up, did a nice job."
Yost has been more concerned about getting pitchers to their target pitch count in the game, rather than sticking to a set number of innings and letting the pitchers keep throwing in the bullpen to hit their pitch count and build their arm strength.
"I was surprised, because we build inning by inning, and I didn't know I was going to go back out there in the fifth," Lopez said, clearly happy with Yost's decision. "I didn't know how many pitches I had. I knew I had [a] low, low pitch [count], so I thought I was going to finish at the bullpen or something, but he told me to go back out. I just tried to finish my job. I had a couple pitches miss in the zone, and I got hurt."
Lopez, focused on pounding the strike zone, had five strikeouts and no walks. He has a 1.93 Cactus League ERA in 9 1/3 innings, with seven strikeouts and one walk.
If he can keep pitching with that kind of command and effectiveness, Lopez should be well-positioned to earn a spot in the Royals' rotation and make his first Opening Day roster.
"I'm going to keep working," Lopez said. "We never know. I just keep working hard every day, work with the guys and simplify everything. Get here, get the work done, try to do my best out there and be ready for the day they tell me, 'You got your spot.' I will be so happy."
Whittling down the roster
The Royals made five cuts from their Spring Training roster Sunday, trimming the number of pitchers to 28.
Kansas City optioned Arnaldo Hernandez, Ben Lively and Jake Newberry to Triple-A Omaha and assigned Jake Kalish and Andres Machado to Minor League camp. The Royals now have 57 players in camp, not including Jesse Hahn (60-day injured list) and Eric Skoglund (restricted list).
On deck
The Royals play their second pair of split-squad games in four days Monday, traveling to Peoria to play the Mariners and playing the Rangers in Surprise as the visiting team. Homer Bailey gets the start in Surprise at 9:05 p.m. CT with Brad Boxberger, Wily Peralta, Scott Barlow and Sam McWilliams slated to follow. Heath Fillmyer starts at 8:40 p.m. in Peoria, followed by Jake Diekman, Scott Blewett, Kyle Zimmer, Chris Ellis and Jason Adam.