Inbox: Will Zimmer make his long-awaited debut?
Beat reporter Jeffrey Flanagan answers questions from Royals fans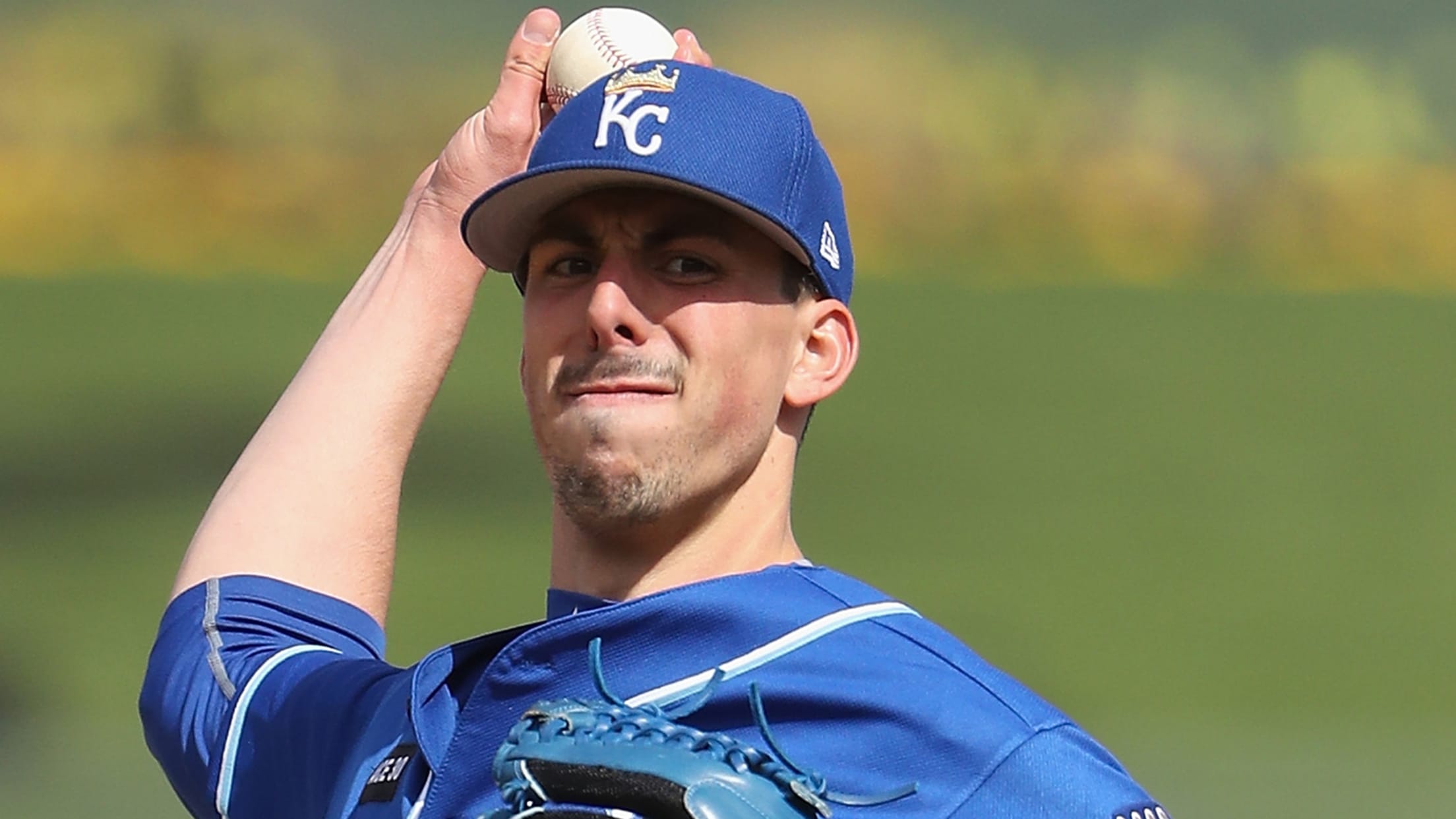 SURPRISE, AZ - FEBRUARY 26: Starting pitcher Kyle Zimmer #45 of the Kansas City Royals throws a warm up pitch during the spring training game against the Texas Rangers at Surprise Stadium on February 26, 2017 in Surprise, Arizona. (Photo by Christian Petersen/Getty Images) (Christian Petersen/Getty Images)
KANSAS CITY -- The Winter Meetings get underway Monday in Las Vegas, and the Royals have positioned themselves well to fill some roster holes either through trade, free agency or the Rule 5 Draft as they have trimmed their 40-man roster to 36.The Royals on Wednesday added utility man Chris
KANSAS CITY -- The Winter Meetings get underway Monday in Las Vegas, and the Royals have positioned themselves well to fill some roster holes either through trade, free agency or the Rule 5 Draft as they have trimmed their 40-man roster to 36.
The Royals on Wednesday added utility man Chris Owings as a potential backup middle infielder on a one-year, $3 million contract, plus $500K in performance bonuses, according to a source. Royals general manager Dayton Moore has also indicated a desire to obtain bullpen help.
Unlike last year at this time when the Royals were monitoring the Eric Hosmer market with great interest, this time around the Royals will have much more modest intentions financially. Still, Moore and his staff will scour the market for upgrades that could accelerate their present rebuild.
• Submit an Inbox question
With that in mind, let's get to this week's Royals Inbox:
Likelihood that we see Kyle Zimmer in KC in 2019 making his MLB debut?

— Tom Krewson (@Krew723) December 4, 2018
When I talked to Kyle Zimmer in October in Surprise, Ariz., I don't think I'd ever seen him so happy. After spending months at the revolutionary Driveline Baseball performance training program earlier this year (Driveline focuses on weighted baseballs to strengthen muscles and improve mechanics), Zimmer said he was throwing pain-free for perhaps the first time in his professional career. The 27-year-old right-hander -- who hasn't pitched in the Minor Leagues since 2017 due to consistent arm and shoulder injuries -- said he was hitting 93-95 mph with ease. I would not be shocked if he made his Major League debut in '19. Let's face it: The Royals could use a pleasant surprise like that.
Have you heard of any interest in Billy Hamilton?

— Ricky⚾️⚾️ (@royalsfan25) December 4, 2018
Billy Hamilton certainly fits the Royals' profile -- speedy, tremendous defender, etc. Certainly he would be a great match for Kauffman Stadium. I would expect the Royals to at least kick the tires on several of these non-tendered free agents, including him. The timing probably isn't right in terms of the rebuild, but they've always admired catcher James McCann's defensive skills (truthfully, they have enough depth behind Salvador Perez with Cam Gallagher and Meibrys Viloria). Reliever Brad Boxberger, a Royals Draft pick in 2006, could be a reclamation project.
Would it be smart, from a financial standpoint, to bring Moose back long term? Or, if at all, would it be another one year to flip deal?

— Rob Welcher (@robwelcher) December 4, 2018
This question will surface a lot this offseason. Look, you never say never about another Mike Moustakas reunion. But would he really want to sign knowing he would be flipped again in late July? The other option would be a long-term deal for Moustakas, but the guess here -- just a guess -- is the Royals want to see what they have in Hunter Dozier or Cheslor Cuthbert at third base. They are in rebuild mode, remember.
Is it time to give up on Buba Starling? Who will start at 1st base and 3rd base? Will they lose 100 games again?

— David Baltuska (@BaltuskaDavid) December 4, 2018
When the Royals non-tendered Bubba Starling last week, the expectation was that he would re-sign to a Minor League deal. That hasn't happened yet but still could. If Starling can stay healthy, there's still a shot he can make his MLB debut for the Royals in 2019. The Royals have speedy Brett Phillips as a potential center fielder of the future, along with veteran Brian Goodwin (and maybe Hamilton). At this point, it looks like Dozier at third base, and Ryan O'Hearn at first base. And an early prediction: The Royals will not lose 100 games in '19.
Where do the Royals stand on defensive shifts now? Seemed to employ them a lot last year, but Ned expressed some skepticism.

— Max Rieper (@maxrieper) December 4, 2018
I think you'll still see some defensive shifts in 2019, but certainly nothing overboard. Manager Ned Yost doesn't object to the shifts as much as you think -- he objects to the way some of the data is calculated. Yost disagrees that routine grounders to the six or four holes are regarded as "shift victories" when the Royals would have had a defender in those spots anyway.
What are the chances that Duffy could be moved to the pen? He did really well there before when he could just pretty much cut it loose

— jhb2006 (@jhb2006) December 5, 2018
A really good question. I brought this up to Yost and Moore after the season, and both indicated they would keep an open mind to moving either Danny Duffy or Ian Kennedy to the bullpen. The Royals will enter Spring Training with eight or nine viable starting candidates, and they are excited about the future of Jakob Junis, Brad Keller, Heath Fillmyer, Jorge Lopez, Eric Skoglund and others. Moore told me he won't go into Spring Training with the thought of moving Duffy or Kennedy to the bullpen, but the Royals will let the best men win starting jobs.
Is Mitch Maier a legitimate managerial candidate?

— Matt (@Matt08392546) December 4, 2018
Royals first-base coach Mitch Maier definitely has a bright future, and I easily could see him managing someday. With all the talk about Mike Matheny possibly being Yost's successor, let's not forget about Maier, catching/quality-control coach Pedro Grifol (who is interviewing for the Orioles' managerial job) and bench coach Dale Sveum as potential fits down the road.
Looks like we have a competitive scenario at thrid with Dozier and Cuthbert, how do you see this playing out? Neither are known for defense. Rotating between DH and the field?

— Judge Smails (@J_Smails) December 4, 2018
The decision to bring Cuthbert back was at least a little curious, but that will open the competition at third base between him and Dozier. Yost raved about Dozier's improvement defensively at third base during the last two months of 2018, and it looks like it will be a spirited competition this spring with Cuthbert, who hasn't been the same player since his breakout year in '16. Cuthbert needs to stay healthy and prove he belongs on the 25-man roster, since he is out of options.