The Absurd Hall of Fame Case: Carlos Peña
He was an original Moneyball player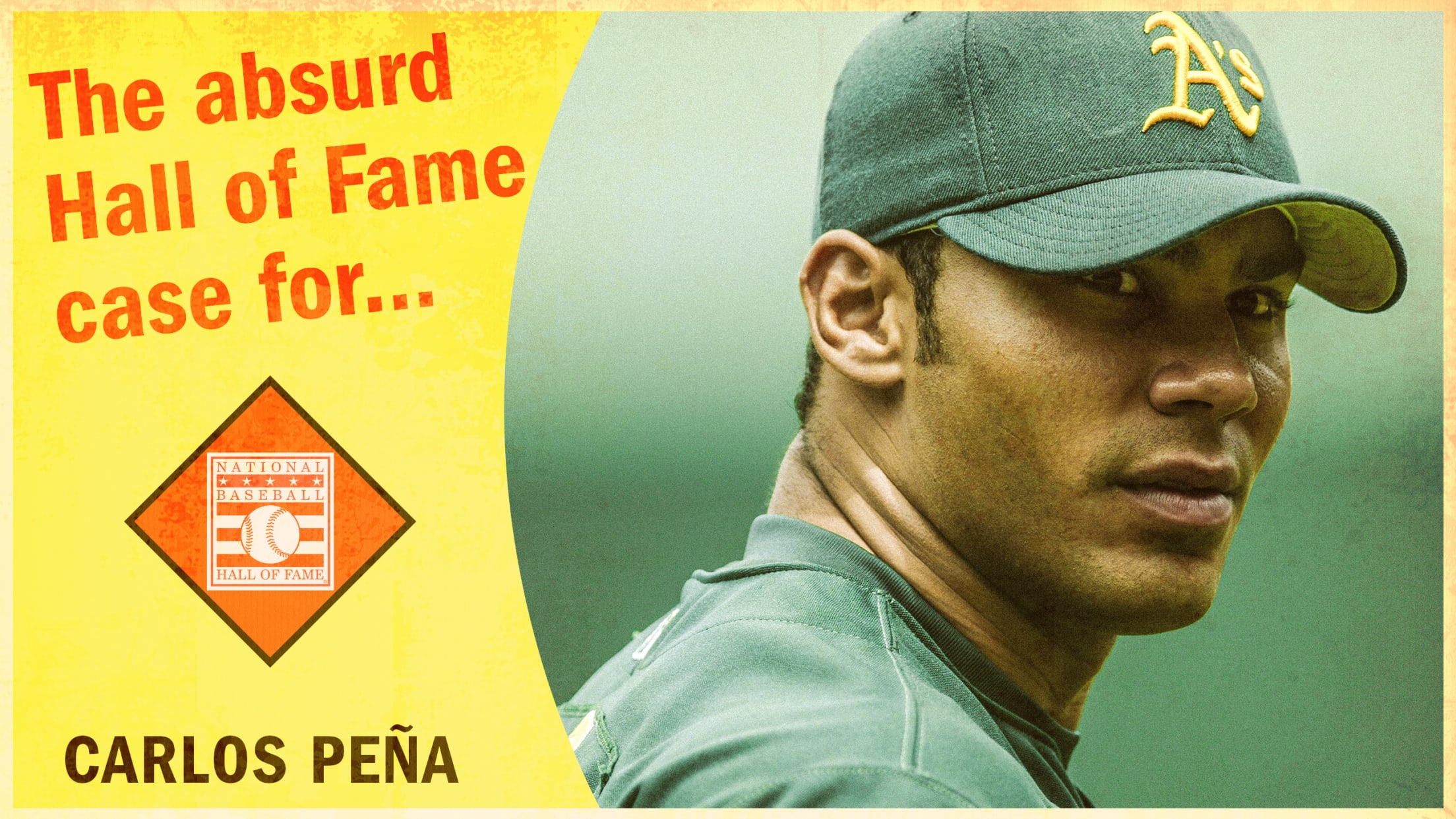 (Tom Forget)
Soon, a select few legends are going to be inducted into the National Baseball Hall of Fame -- icons like, say, Derek Jeter. But there are plenty of other players on the 2020 ballot worthy of remembering. Players who were fun. Players who had great careers. Players who did things
Soon, a select few legends are going to be inducted into the National Baseball Hall of Fame -- icons like, say, Derek Jeter. But there are plenty of other players on the 2020 ballot worthy of remembering. Players who were fun. Players who had great careers. Players who did things you or I could never do on a baseball field. Players like …
Carlos Felipe Peña. Top prospect. All-Star. Owner of a Gold Glove and a Silver Slugger Award. Character in an Academy Award-nominated movie. These words are how people should remember Carlos, alongside his contributions as a husband, father and member of the community. They should also adorn his plaque in the Hall of Fame. That is, if I had my own Hall of Fame.
Peña's place in baseball history was cemented in 2003 with the publication of "Moneyball." Few pieces of writing have impacted the history of the game to the extent of Michael Lewis' book, which examines how the Oakland A's of the early 2000's managed to build a dominant baseball team on a tiny budget. And, Peña was a prominent figure in that story.
Lewis' story begins before the 2002 season with general manager Billy Beane fretting over how to fill the hole at first base vacated by MVP and All-Star Jason Giambi. The early returns on Beane's first idea of converting former catcher Scott Hatteberg into a first baseman during the offseason wasn't working out too well, so he had to explore other options. The solution: Trade for Rangers mega-prospect Carlos Peña.
Peña arrived with high expectations. "Everyone said that Carlos was going to be the next Alex Rodriguez," Lewis quotes Hatteberg as saying.
It was no surprise that he was the team's Opening Day first baseman. He started the first 35 games for the 2002 A's before ultimately being replaced by one of the heroes of Lewis' narrative: Hatteberg.
Not long after he lost his job, Beane traded him to the Tigers as part of a three-team trade in exchange for a pitcher he coveted in Ted Lilly. "In two short months with the Oakland A's," Lewis writes, "Carlos Peña had transformed himself from a player Billy Beane had coveted more than any other minor leaguer into a player everyone valued more highly than Billy did."
For Lewis, Pena's brief stint with the A's offered an essential insight into how he wanted the reader to perceive Beane: He was ruthless and unsentimental in finding advantages wherever he could get them.
When Lewis' book was adapted for the screen, Peña took on an even larger role in the "Moneyball" lore. The movie pits Beane -- played by Brad Pitt -- against manager Art Howe (Philip Seymour Hoffman) in an extended disagreement over Peña's playing time, with Beane pushing for Hatteberg to get the starting job and Howe insisting on keeping Peña there despite his struggles at the plate.
To solve the disagreement, Beane simply trades Peña. Portrayed by Adrian Bellani, Peña is informed that he's been traded from Oakland to the Tigers in a memorable scene where Paul DePodesta -- played by Jonah Hill -- has his first experience delivering bad news to a player.
However, this wasn't at all how it went down. Beane traded Peña while he was down in the Minors as a result of his struggles. The Peña/Hatteberg controversy was purely a Hollywood invention.
After the trade, Peña eventually found his way to the Rays, where he helped lead the team to the first winning season in the history of the franchise and, more importantly, its only World Series appearance to date. But, wait! That wasn't even the most impressive thing he did in Tampa. One morning, he was stung by a sting ray and called 9-1-1 for treatment. That evening, he hit a home run.
Carlos Peña discusses when he got stung by a stingray before a game. 😱 🚑#ChangeUp pic.twitter.com/eOlkfdpP9w

— DAZN USA (@DAZN_USA) April 6, 2019
At the end of the day, Peña was not only a star on the field, but a star of literature and film. We too often get lost asking whether a player was good enough at baseball for the Hall of Fame when we should be asking whether that player achieved the requisite level of fame for enshrinement. When it comes to this "Moneyball" hero, "fame" might as well be his middle name.
Eric Chesterton is a writer for MLB.com. He is an appreciator of the stolen base, the bunt against the shift and nearly every unconventional uniform design. He eagerly awaits Jamie Moyer's inevitable comeback.