Backed by Martinez, Pelfrey blanks Bucs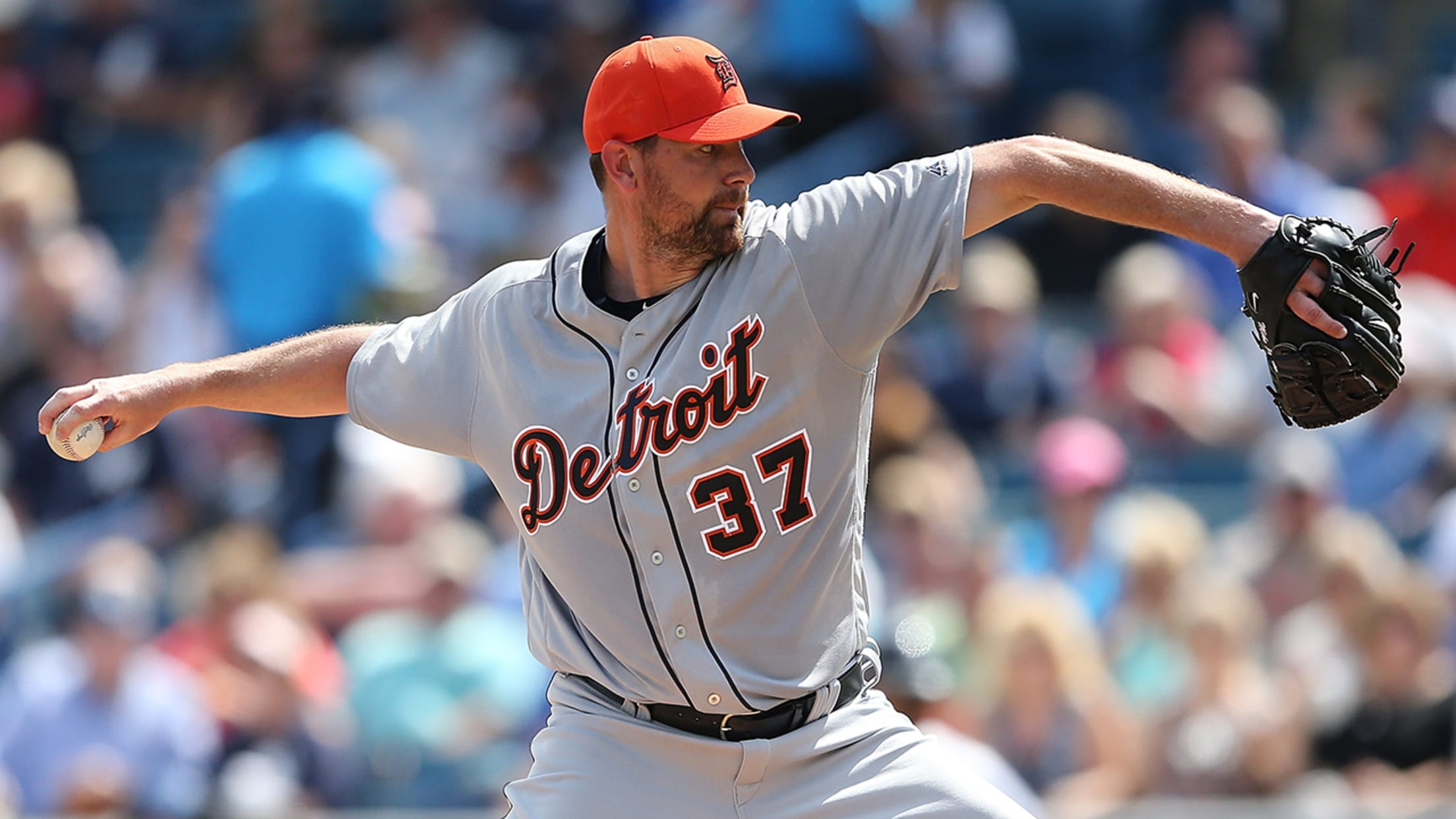 Mike Pelfrey pitched five shutout innings in the Tigers' 3-0 win over the Pirates. (Getty)
LAKELAND, Fla. -- J.D. Martinez's second home run of the spring supported five shutout innings from new teammate Mike Pelfrey and a three-strikeout inning from Francisco Rodriguez in his Tigers debut, sending Detroit to a 3-0 win over the Pirates Saturday afternoon at Joker Marchant Stadium.Pelfrey, making his third start
LAKELAND, Fla. -- J.D. Martinez's second home run of the spring supported five shutout innings from new teammate Mike Pelfrey and a three-strikeout inning from Francisco Rodriguez in his Tigers debut, sending Detroit to a 3-0 win over the Pirates Saturday afternoon at Joker Marchant Stadium.
Pelfrey, making his third start of the spring, stretched out to 64 pitches. Many of those were well-located sinkers, helping induce eight groundouts. Still, he found strikeouts when he needed them, including an offspeed pitch off the plate that sent Danny Ortiz swinging with runners on first and second in the fourth inning.
"Today I thought my rhythm and tempo were good off the mound, and that allowed me to get out front a little better," said Pelfrey. "Just keep progressing, keep building up arm strength, keep building the pitch count until we get to the season. It's progress, just keep going forward."
Pirates starter Jeff Locke matched him well, retiring 10 batters in a row from the first inning into the fourth. Both hits he allowed, however, led to runs. Ian Kinsler singled leading off the first, advanced on a Miguel Cabrera walk, stole third and trotted home when catcher Chris Stewart's throw sailed into left field.
"It felt really good," said Locke, making his third appearance with his tweaked wind-up mechanics. "We've been really working hard between starts. Since the new year with [pitching coach Ray Searage], I've been trying to hammer this delivery down, and the results are starting to come to fruition a little bit."
Martinez broke Locke's luck in the fourth when he sent a pitch deep to the berm in left-center field.
Michael Morse went 1-for-2 with a double and a walk, and Chris Stewart went 2-for-3.
Rodriguez, seeing his first game action this spring after reporting late to camp, changed speeds effectively to strike out the side with a walk and a bloop single mixed in.
"It was more about locating pitches than anything else," said Rodriguez. "Once they had runners on first and third, I was definitely looking for the strikeout. Everything changed after that. But overall, I feel my mechanics were fine. Location, a few pitches would've changed the inning, I missed so close. But other than that, everything's good."
Up next for the Pirates: Gerrit Cole will make his first start of the spring when the Pirates host the Tigers at McKechnie Field at 1:05 p.m. ET on Sunday on MLB.TV. Set back at the start of camp by right rib inflammation, Cole is scheduled to pitch two innings. The right-hander will pitch to catcher Francisco Cervelli with a large portion of the Bucs' likely Opening Day lineup behind him, including the starting outfield trio of Andrew McCutchen, Starling Marte and Gregory Polanco.
Up next for the Tigers: Matt Boyd will make his third start of the spring for Detroit. Nick Castellanos, Jose Iglesias, Anthony Gose and Jarrod Saltalamacchia are among the Tigers who will take their cuts at Cole.