'Out of whack' Norris struggles vs. Royals
Lefty lasts three innings, allowing four runs on three homers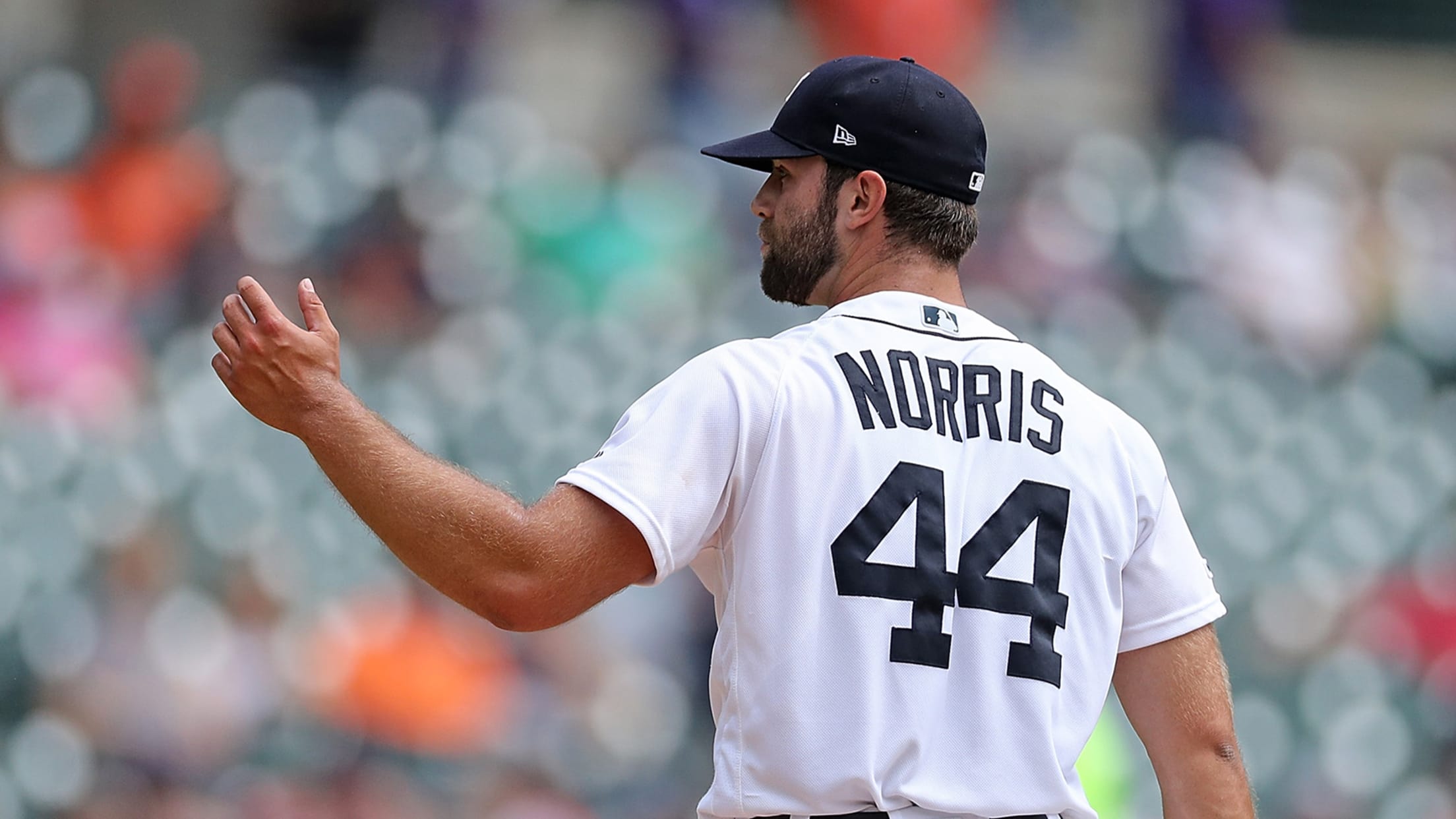 DETROIT -- Ron Gardenhire saw Daniel Norris' first-inning pitches Sunday and wondered what was up. "I said from the first couple pitches, 'Is he hurt?'" the Tigers' manager said. "He was just out of whack." Once it became clear Norris didn't have the changeup that had been such a nasty
DETROIT -- Ron Gardenhire saw Daniel Norris' first-inning pitches Sunday and wondered what was up.
"I said from the first couple pitches, 'Is he hurt?'" the Tigers' manager said. "He was just out of whack."
Once it became clear Norris didn't have the changeup that had been such a nasty pitch for him last month, the Royals whacked his fastball.
"I didn't really have much working early on," Norris said. "I've been dealing with a little blister on my finger, and I've been trying to change my changeup grip to be conducive to throwing that. And I couldn't really find it today, so they eliminated that. And then I left some fastballs middle, and I couldn't get them off that because I couldn't throw anything else for strikes."
It was a bad combination at a bad time for Norris, whose innings are running down for the season. And after Sunday's 10-2 loss to the Royals at Comerica Park, so are the chances for him to make an impression on the Tigers going into a critical decision time this winter.
Norris ended July looking like a pitcher who was figuring things out and finding some consistency, having allowed three runs in 15 1/3 innings with 16 strikeouts over his final three starts of the month. His changeup was a legitimate swing-and-miss pitch with splitter movement, allowing him to use it regardless of his fastball velocity on a given day.
The blister, Norris said, popped up a week or two ago. Two August outings and five home runs later, including three Royals homers Sunday at Comerica Park, the athletic left-hander has to tinker some more. With his fastball in the low-90s now rather than the power heater he had a few years ago, he can't pound hitters with it and expect outs -- especially these hitters.
"You have to find something else," Norris said. "And when they eliminate that out of your arsenal, then they'll sit on something else. You have to be able to throw for strikes. I was just babying the changeup today."
Norris yielded homers to three of his first 13 batters, and barely missed another with Hunter Dozier's triple to the out-of-town scoreboard in right-center. All that damage came from right-handed hitters off fastballs against a Royals lineup that shrugged off Spencer Turnbull's secondary pitches one night earlier and sat on his heater.
"The first inning was kind of on both of us," catcher John Hicks said. "We tried to find the changeup and got into some bad counts, and then missed a little location with the fastball and put it in the spot where we didn't want it. And they didn't miss them."
Not only did the Royals put eight of Norris' 42 fastballs in play, they averaged a 99.6 mph exit velocity in doing so, according to Statcast. Norris seemed to have trouble finishing off his pitches with a delivery that looked out of sync.
"Danny just didn't have it," Gardenhire said. "He didn't use his breaking ball much. He was flying off the ball. So we'll just let him have his days rest and get him back out there in five days."
Norris' extended look in the Tigers rotation was an opportunity created by the many injuries on the Tigers' pitching staff this year. These up-and-down stretches haven't exactly been a surprise as he tries to develop a consistent delivery, fix flaws in-game and work in secondary pitches he had little opportunity to develop as a spot starter and long reliever before core muscle surgery last summer.
Once Jorge Soler followed a Hunter Dozier triple with a home run to left-center, Norris was on his last pitches. He threw 80 pitches over three innings while becoming the second Tigers starter in four days to yield three homers in as many innings, joining Matthew Boyd. The last Tigers starter to do that before this week was Anibal Sanchez on Aug. 6, 2017.
Norris, meanwhile, yielded three home runs for just the second time in his career. The other time was June 23, 2016, when then-Mariner Nelson Cruz hit two off him to add to his career total in Detroit.
Expect more quick hooks down the stretch as Norris nears his innings limit for the season. He threw 56 innings between Detroit and the Minor Leagues last year, not counting his work in winter ball and in MLB's Japan Series. Sunday's outing pushed Norris to 120 1/3 innings for the year, his highest innings total since 2016.
It's a big reason why the Tigers are currently carrying six starting pitchers. One of them, Drew VerHagen, replaced Norris in the fourth inning in what essentially amounted to a piggyback start, shutting down the Royals until Dozier and Soler struck for back-to-back homers in the eighth. Another would-be starter, Tyler Alexander, allowed hits to all four batters he faced in the ninth to put the Royals into double digits.
The Tigers could go with more piggyback starts for Norris down the stretch. They could also move him back to the bullpen, his original role when the season began, and pick and choose where to use his remaining innings. It could be a test of where he fits in the Tigers' plans once Detroit's top pitching prospects begin to arrive next year.
Before then, though, the Tigers face another decision with Norris, who will be eligible for arbitration this coming winter. He avoided arbitration last offseason with a one-year, $1,275,000 contract, as Detroit invested in a chance to continue Norris' development.