Torkelson begins lessons at 'Camp Trammell'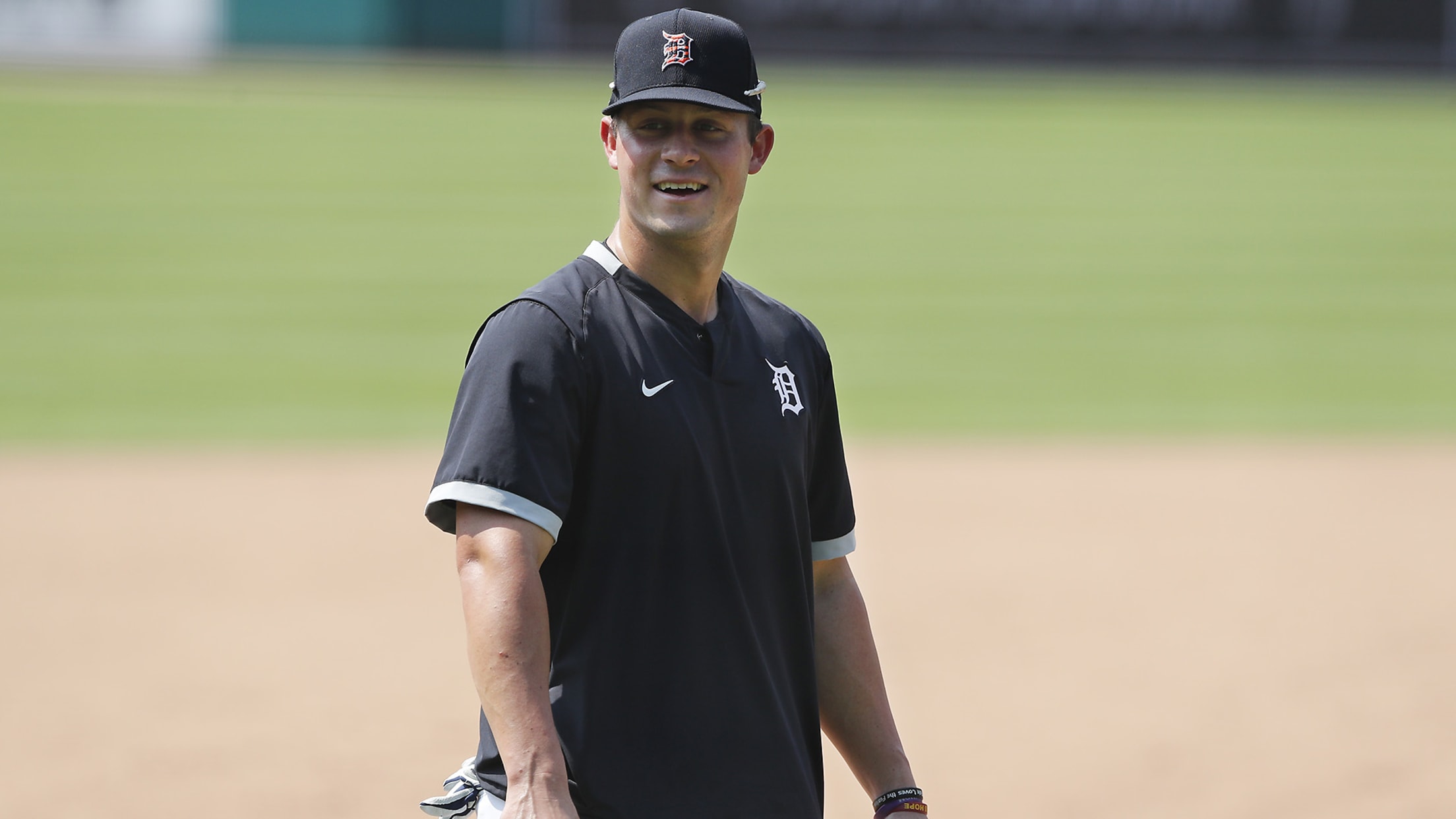 DETROIT -- Spencer Torkelson's first at-bat at Comerica Park came and went with no cheering crowd, no big announcement. It was a pinch-hit groundout to short in an intrasquad game on Wednesday afternoon against Tigers lefty reliever Nick Ramirez. Torkelson's bigger step came earlier in the day. When camp games
DETROIT -- Spencer Torkelson's first at-bat at Comerica Park came and went with no cheering crowd, no big announcement. It was a pinch-hit groundout to short in an intrasquad game on Wednesday afternoon against Tigers lefty reliever Nick Ramirez.
Torkelson's bigger step came earlier in the day. When camp games started on Wednesday, so did "Camp Trammell," as Hall of Fame shortstop Alan Trammell oversees Torkelson's conversion from first to third base.
Spencer Torkelson's first at-bat at Comerica Park is a pinch-hit appearance against Nick Ramirez in an intersquad game. He did not get an ovation. He grounded out to short on first pitch. pic.twitter.com/AjzmdSMpM5

— Jason Beck (@beckjason) July 8, 2020
Before the game, Torkelson was in foul territory behind third base, fielding ground balls from his knees with a pancake glove. Trammell stood nearby, watching Torkelson's technique, offering pointers.
Trammell was in the same spot as Torkelson donned his regular glove and fielded grounders at third, throwing across the infield. Occasionally, Trammell would step in and demonstrate a technique as Torkelson paid attention.
Trammell isn't the only Tiger in charge of Torkelson's transition; infield coach Ramon Santiago is also involved, having used the pancake glove to work with Willi Castro and other infielders in Spring Training. But Trammell, who has worked with infielders in the Tigers farm system since rejoining the organization as a special assistant in 2015, has a gift for it.
• 'Wild week': Torkelson, Mize soak in Tigers camp
"Tram is a Hall of Famer. He's instantly respected by these guys," manager Ron Gardenhire said. "But you still have to be able to relay your message, and no one does it better than him, and in a positive mode. Honestly, every one of those kids are like his kid when he's teaching out there. He makes it known that he wants them to do well. That's just what he's always brought, which makes it really, really special. So Torkelson looking up to a guy like that and having him put all the interest in him and want to help him, I think the kid's pretty lucky, and I think he'll listen. I think most of those guys do.
"If you don't listen to Tram, then you're probably a lost ball in tall weeds."
Tigers announce positive tests
The Tigers acknowledged on Wednesday afternoon that team members have tested positive for COVID-19 while maintaining their policy of not announcing the names of those who have.
The news came in a statement from general manager Al Avila:
"The health and safety of Detroit Tigers personnel is our top priority. Our players, coaching staff and the front office are being closely monitored by our medical staff to ensure Major League Baseball's return-to-play health protocols are being followed. We've had individuals that tested positive for COVID-19, and who were isolated, retested, and passed the protocols to permit them to resume baseball activities. Those individuals that are currently positive are being closely monitored by our medical staff and we hope to have them back on the field soon. Pursuant to federal law and the MLB/PA Basic Agreement, our club will refrain from identifying players who are unable to participate in workouts due to non-work related injuries."
Before camp began, Avila said that one player and one staff member had tested positive. The player, Avila said at the time, had been training in Florida but was not at the team's Spring Training complex in Lakeland. The staffer was not part of the club's baseball operations department.
The Tigers have had a half-dozen members of their Summer Camp player pool missing from the field workouts so far -- three pitchers and three position players. The team has not commented on the absences.
Tigers hit the gridiron for Summer Camp
The last time the Tigers used Ford Field for workouts, they were getting ready for the 2012 World Series in chilly October weather. Now the home of the Lions has become an extra training site for Summer Camp.
That wasn't in the plans when the Tigers opened camp last week at Comerica Park. But when Gardenhire decided to begin intrasquad games on Wednesday afternoon, the team had to figure out what to do with players who weren't involved in the games but needed to work out on a field. The football field next door made plenty of sense.
"It's just a place where we can free up the outfield with all the pitchers we have, to let them do stuff in it," said Gardenhire, who thanked the Lions for allowing them access. "It's really nice for them to let us do that. It gives us a place where those guys can stretch out and get all their running in. It's important for us to be able to clear the field so we can get these games done. They can get their long toss in over there and then they can take off and go home and not spend 10 hours at the ballpark waiting until the field's available."
Intrasquad game highlights
Thunderstorms ended Wednesday's intrasquad game after 4 1/2 innings. Some highlights:
• Michael Fulmer started and tossed two innings, allowing an unearned run on Niko Goodrum's error at shortstop. Fulmer's lone hit allowed was a Harold Castro double. He also recorded a strikeout.
• JaCoby Jones and Frank Schwindel each homered to left field off lefty Tyler Alexander. Jones threw an elbow bump in the air to an imaginary third-base coach on his way around the bases.
• Rule 5 pick Rony Garcia tossed two scoreless innings, with two strikeouts.
The game was a return to a semblance of normalcy for several players while they get used to the new rules for social distancing. Pitchers had to bring their own rosin bag to the mound and take it with them at inning's end. Players had to go in the dugout at one end and out the other.