Here are the Tigers' 2019 Top 30 Prospects 
The Tigers' farm system improved across the board in 2018, with many of the organization's top-ranked pitching and hitting prospects making strides in their development while advancing to higher levels. A crop of young, high-ceiling arms highlight the team's future, as there's a very strong chance that Casey Mize, Matt
The Tigers' farm system improved across the board in 2018, with many of the organization's top-ranked pitching and hitting prospects making strides in their development while advancing to higher levels.
A crop of young, high-ceiling arms highlight the team's future, as there's a very strong chance that Casey Mize, Matt Manning, Franklin Perez and Beau Burrows could all be part of the same Tigers rotation as soon as 2020.
The club's selections of Mize (No. 1 overall pick in 2018) and Manning (No. 9 in '16) reflect a concerted effort by the organization to draft and develop homegrown pitching in recent years. Specifically, they've emphasized adding college arms in each of the last two Drafts, which in turn has given the system quality, high-probability depth beyond the big names. All of this has resulted in the Tigers coming in at No. 10 on our list of MLB's Top 10 farm systems -- the first time they've cracked the Top 10 since we began our rankings in 2015.
Top 30 Prospects lists
| | |
| --- | --- |
| AL East | BAL, BOS, NYY, TB, TOR |
| NL East | ATL, MIA, NYM, PHI, WSH |
| AL Central | CLE, CWS, DET, KC, MIN |
| NL Central | CHC, CIN, MIL, PIT, STL |
| AL West | HOU, LAA, OAK, SEA, TEX |
| NL West | ARI, COL, LAD, SD, SF |
| Division | Team |
At the same time, Detroit has continued to do well in trades, adding players with untapped potential who can also play premium positions. The group includes three players ranked in the Top 10 in Isaac Paredes, Daz Cameron and Willi Castro, and several others (Jake Rogers, Sergio Alcantara, Dawel Lugo) inside Top 20.
Christin Stewart slugged his way up to the Major Leagues and offered a glimpse of his power during a two-homer game against the Royals. He's poised for regular at-bats in 2019, either as a left fielder or DH, and should have plenty of company as the season unfolds considering there are 17 players on Detroit's Top 30 with a 2019 ETA.
With so many players seemingly on the cusp of the Majors, it will be interesting to see how aggressively the Tigers choose to push their top prospects in 2019 as the organization continues to rebuild.
Here's a look at the Tigers' top prospects:
1) Casey Mize, RHP
2) Matt Manning, RHP
3) Franklin Perez, RHP
4) Issac Paredes, SS/2B/3B
5) Daz Cameron, OF
Biggest jump/fall
Here are the players whose ranks changed the most from the 2018 preseason list to the 2019 preseason list.
Jump: Wenceel Perez, SS (2018: NR | 2019: 12) -- He hit .312 across three levels, finishing the season at age 18 in Class A.
Fall: Derek Hill, OF (2018: 13 | 2019: NR) -- Finally healthy in '18, the 2014 first-rounder underwhelmed with his production.
MLB's Top 10 farm systems
Best tools
Players are graded on a 20-80 scouting scale for future tools -- 20-30 is well below average, 40 is below average, 50 is average, 60 is above average and 70-80 is well above average. Players in parentheses have the same grade.
Hit: 55 – Paredes (Cameron, Perez)
Power: 60 – Christin Stewart
Run: 70 – Daniel Woodrow (Brock Deatherage)
Arm: 70 – Sergio Alcantara
Defense: 70 – Jake Rogers
Fastball: 65 – Manning (Gregory Soto, Sandy Baez)
Curveball: 60 – Matt Hall (Manning, Perez)
Slider: 60 – Mize
Other: 70 – Mize
Changeup: 55 – Perez (Beau Burrows)
Control: 60 – Mize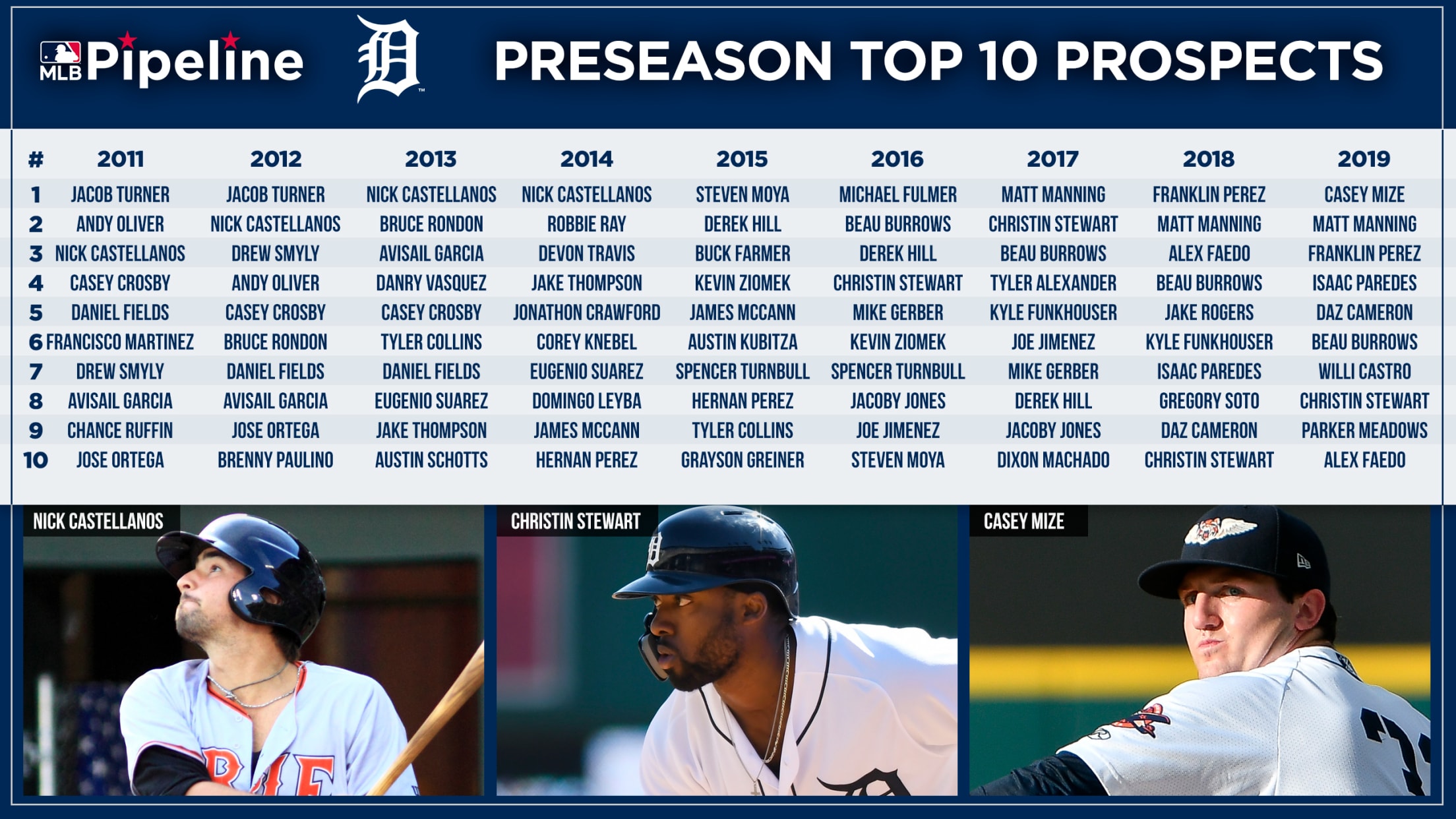 .
How they were built
Draft: 16 | International: 5 | Trade: 9 | Free agent: 0 | Rule 5: 0
Breakdown by ETA
2019: 18 | 2020: 7 | 2021: 4 | 2022: 1
Breakdown by position
C: 1 | 1B: 0 | 2B: 2 | 3B: 0 | SS: 4 | OF: 8 | RHP: 12 | LHP: 3