Tigers' annual Winter Caravan gets underway
Tour on Thursday and Friday includes Red Wings game, State Capitol visit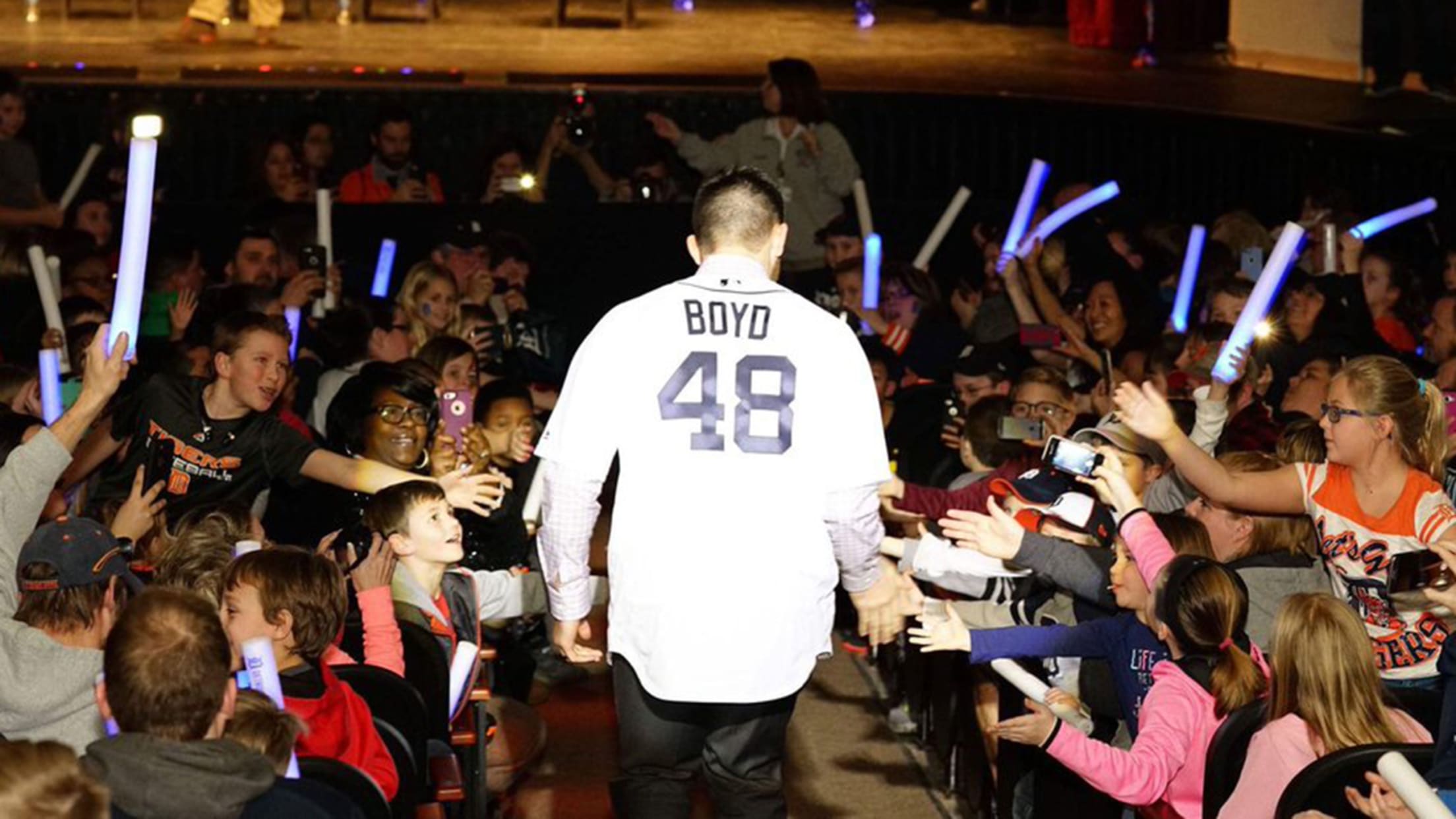 The Tigers' annual Winter Caravan begins Thursday. (Tigers Twitter)
DETROIT -- Before Matthew Boyd and Daniel Norris handle fastballs and changeups at Spring Training, they'll handle deposits and withdrawals as bank tellers at a Comerica Bank in Rochester. Other Tigers players will take in a Red Wings game at the new Little Caesars Arena, honor the U.S. Coast Guard
DETROIT -- Before Matthew Boyd and Daniel Norris handle fastballs and changeups at Spring Training, they'll handle deposits and withdrawals as bank tellers at a Comerica Bank in Rochester. Other Tigers players will take in a Red Wings game at the new Little Caesars Arena, honor the U.S. Coast Guard and Southfield Fire Department, and check out the new cars at the North American International Auto Show as part of the team's annual Winter Caravan.
The tour each January serves as the buildup to TigerFest, and it allows fans who can't make it to Comerica Park on Saturday to check out some of their favorite players in person.
"The start of the Tigers' Winter Caravan signals that spring is in the air, and summer is just around the corner, and we are thrilled to carry on this tradition, filled with excitement and fun, that engages the team with Tigers fans throughout our wonderful communities," Tigers vice president of public affairs and strategic planning Elaine Lewis said in a release.
For a couple of players, the tour began a day early with stops at the annual winter warmups for the nearby Minor League affiliates. On Wednesday, Nicholas Castellanos was inducted into the West Michigan Whitecaps Hall of Fame during the team's annual winter banquet at Frederik Meijer Gardens in Grand Rapids. Tigers closer Shane Greene was also slated to attend, as was former Tigers great and new Whitecaps manager Lance Parrish.
That same night, new Tigers manager Ron Gardenhire, first-base coach Ramon Santiago and outfielder Michael Mahtook were featured guests at the Toledo Mud Hens' "The Flock" Winter Party at Fifth Third Field.
The heart of the caravan activity began Thursday with one bus trekking around metro Detroit and another hitting Lansing, Traverse City, Frankenmuth and other cities across Michigan.
At the Levin Courthouse in Detroit, general manager Al Avila, third baseman Jeimer Candelario and others will present a jersey to honor Judge Damon Keith on Thursday afternoon for 50 years of service. They'll also honor the Coast Guard Sector Detroit for its work while touring the local command center. Tigers personnel will enjoy dinner at the Southfield Fire Department in celebration of its 75th anniversary, and they'll meet with the Groves High School baseball and softball teams.
Boyd and Norris will be on hand Thursday when the Red Wings host the Chicago Blackhawks at 7:30 p.m. ET.
Friday's end of the tour will include a couple of stops that are open to the public. After Candelario and others make a Friday morning visit to patients at DMC Children's Hospital in Detroit, Boyd and Norris will take over behind the counter at the Comerica Park branch on Walton Road in Rochester from 12-12:30 p.m., ahead of their visit to Comerica Park headquarters. Around 2:45 p.m., Boyd, Norris, Candelario, Buck Farmer and other Tigers players will visit the North American International Auto Show and take part in the daily parade before answering questions in the Chevrolet display area.
Tigers star Jose Cabrera was originally scheduled to be part of the Metro Tour, but he will miss the Caravan as well as TigerFest to attend to a family medical issue at home, according to the team. Shortstop prospect Sergio Alcantara also has been scratched while he takes part in winter ball playoffs.
On the north bus, newly elected Hall of Famer Alan Trammell will be honored by both legislative branches at the Michigan State Capitol in Lansing on Thursday afternoon. Trammell, Castellanos and Greene will also venture to Traverse City to visit the flagship Cherry Republic store to greet fans and hand out free samples of the various cherry products the store offers at around 6 p.m. Ten percent of the proceeds from Cherry Republic sales will be donated to the Detroit Tigers Foundation, an affiliate of Ilitch Charities.
After breakfast with the Northern Michigan Rotary Club Alliance in Thompsonville on Friday at 10 a.m., Tigers players including Castellanos, Greene, Michael Fulmer, Jordan Zimmermann, Daniel Stumpf, Drew VerHagen and Alex Wilson will visit Frankenmuth's annual Snowfest around 2:15 p.m.