V-Mart exits game with mild hamstring strain
Tigers DH doesn't consider injury to be serious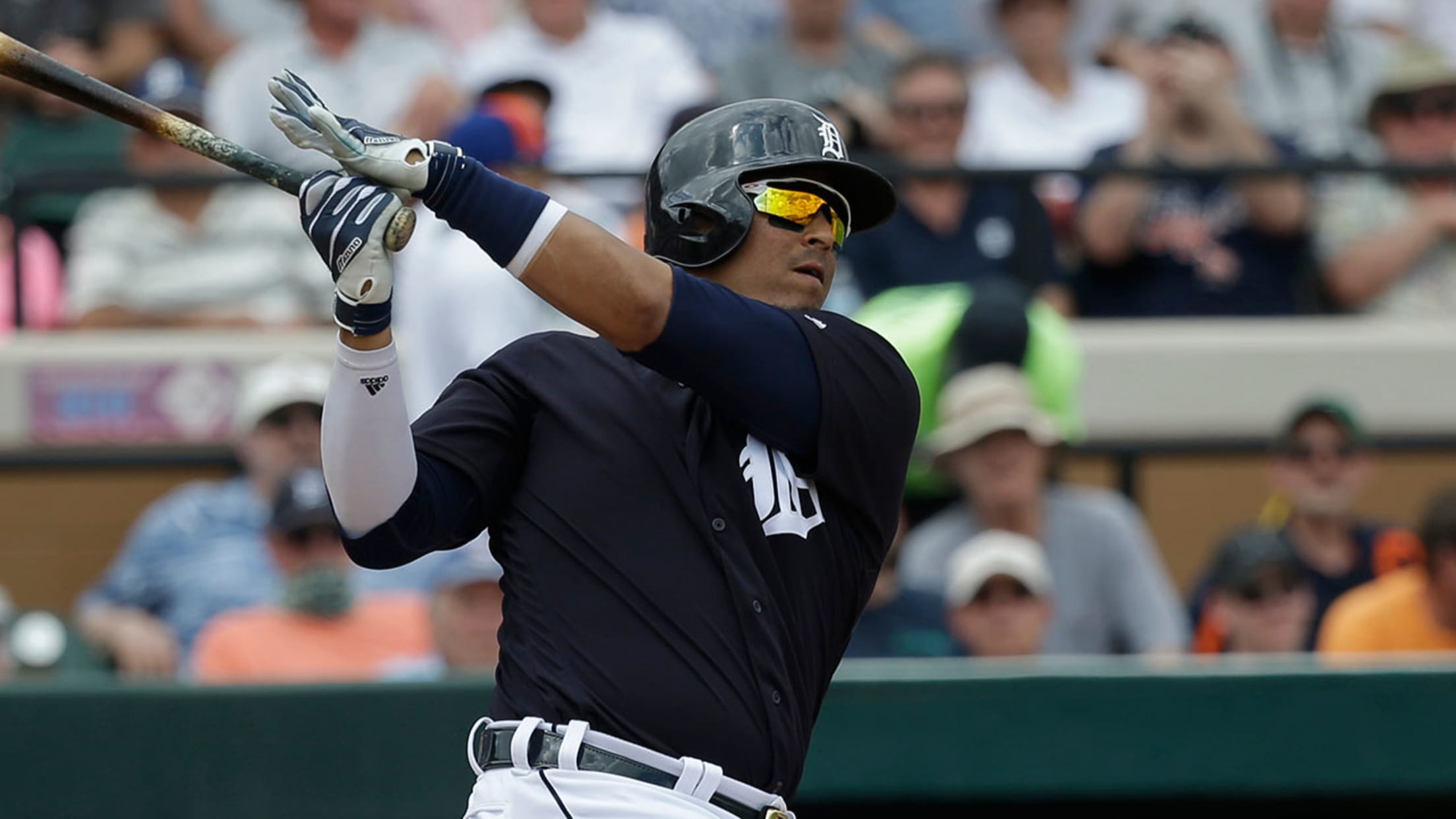 "I just felt it a little bit and made sure to stop. That was it," Victor Martinez said. (AP)
LAKELAND, Fla. -- The relatively healthy spring of the Tigers' stars received a major scare when Victor Martinez grabbed at the back of his left leg rounding first base on a fifth-inning single during Monday's 9-2 win against the Mets. He exited the game with what was diagnosed as a
LAKELAND, Fla. -- The relatively healthy spring of the Tigers' stars received a major scare when Victor Martinez grabbed at the back of his left leg rounding first base on a fifth-inning single during Monday's 9-2 win against the Mets. He exited the game with what was diagnosed as a mild left hamstring strain, according to the team.
"Hamstring kind of grabbed me a little bit," Martinez said. "That's why I stopped. Nothing serious."
Martinez won't play Tuesday. He could miss a few days, depending on how it feels.
"It seems to be a mild strain in the meat of the hamstring, which is good," manager Brad Ausmus said. "I'm sure he'll miss a couple days, but we don't expect this to be lingering. It shouldn't affect his stolen-base numbers."
Martinez, who started as the designated hitter, tried to make an aggressive turn on a single into the outfield. He stopped and turned back, grabbing at his leg on his way to the bag. First-base coach Omar Vizquel signaled for a pinch-runner, and Ausmus came out of the dugout.
"Just felt it right there as I was trying to push to make it to second," Martinez said. "I just felt it a little bit and made sure to stop. That was it."
The fact that Martinez thought about accelerating for second on a single says a lot about how healthy he has felt this spring after dealing with a balky left knee throughout last season. A torn meniscus suffered just before Spring Training didn't keep him off the field during the regular season, but the effects hounded him all year, sending him to some of the lowest offensive production of his career.
His left knee feels stronger this year, and it has reflected in his swing. Still, Ausmus admitted, "I was concerned when it first happened because I thought it was his knee, but when I went out there he said it was his hamstring, so I felt a little bit of a sense of relief right there."
Martinez hadn't felt any issues in his hamstring, but the fact that this popped up won't discourage him, he insisted.
"I've been through a lot more stuff tougher than this," Martinez said. "I can't get down for this."
Or as Ausmus put it, "Not that concerned."
The Tigers are relying on a healthy Martinez to bat cleanup in their revamped lineup. The switch-hitter provides one of just two left-handed bats in an overwhelmingly right-handed-hitting lineup, and his run production is vital to protect Miguel Cabrera in the batting order.
This injury likely won't impact that, nor should it adversely impact his Spring Training preparation. He entered Monday with more at-bats than anyone else on the team.